Turkey's real house prices are plunging
Turkey is in a sort of crisis, and it is reflected in the property market.  One symptom is  a very high level of inflation which means that the apparent rise in Turkish property prices doesn´t reflect reality. 
In fact when adjusted for inflation, property prices are falling.  There are high interest rates, a stalling economy, a plunging currency, and a debt buildup - all of which is not exactly a full-scale economic emergency but might be described as economic influenza. 
For locals, this means that for a couple of years there will be low growth, rising unemployment, and declining property prices.  For foreigners, the currency´s devaluation means that the property market is very attractively priced, which is luring many to Turkey.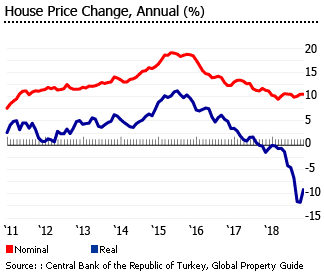 House prices in Turkey fell by 9.2% during the year to November 2018 in inflation-adjusted terms, a sharper decline than the 1.5% inflation-adjusted price drop during the same period last year. Total sales of dwellings in Turkey have also fallen, declining by 2.41% in 2018.  In addition the Turkish Lira´s value has fallen dramatically against the US Dollar, which has helped encourage a large rise in foreign purchases of real estate, primarily by buyers from the Gulf. 
In Istanbul, Turkey´s largest city, nominal house prices rose by 6.3% during the year to November 2018. But when adjusted for inflation, house prices were actually down by 12.6% y-o-y.
In Ankara, the country´s capital, house prices rose by 8.9% y-o-y in November 2018. However, they fell by 10.5% when adjusted for inflation.
In Izmir, the country´s third largest city, house prices went up by 12.3% y-o-y in November 2018, but when adjusted for inflation, prices actually fell by 7.6% y-o-y.
Turkey´s nationwide house price index rose by 10.5% during the year to November 2018, according to the Central Bank of the Republic of Turkey (CBRT).  But when adjusted for inflation, they fell by 9.2% y-o-y.
New homes in Ankara rose by 11.3% during the year to November 2018, according to CBRT, but in inflation adjusted terms this was a decline in prices of 8.46%. Izmir´s new home prices rose by 10% (-9.5% inflation-adjusted), and Istanbul´s by 2.2% (-15.9% inflation-adjusted). 
Political crisis?  Erdoğan stepped on the gas
Between 2012 and 2016 the Turkish market surged, largely due to the rising middle class gaining access to mortgage finance for the first time, says Kate Everett-Allen, Knight Frank´s head of International residential research.   In the years before that, existing house prices in Turkey fell 14.65% (after inflation) during the global crisis of 2008, then fell by 2.82% in 2009, by 3.54% in 2010, and by 2.39% in 2011.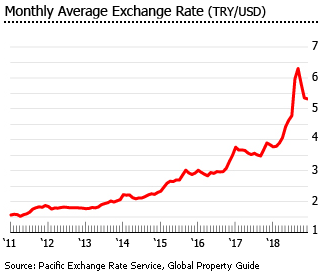 After the coup attempt in 2016 house price rises started to slow again due to economic and political turmoil: terrorist attacks, and political uncertainty, among other factors.  Istanbul´s prime market particularly suffered in 2016; Knight Frank´s prime home index dropped by 8.4%, mostly due to the sharp depreciation of the Turkish Lira. The slower pace of house price rises continued in 2017 and 2018.
However President Ergodan, in response to multiple crises, began to continually expand the Turkish economy. He had the motives; there were terrorist attacks, the 2016 coup, and he needed to generate a feel-good atmosphere to change the constitution in 2017, and to win the presidential election in 2018. But putting his foot on the economic accelerator caused problems - an overheated economy, high inflation, a current account deficit, a debt build-up, and a currency decline - which have recently required tough measures from the central bank.  High interest rates and economic restraint have had the impact on the economy which they always do, and one of the impacts is a decline in real estate prices - and a decline in the Lira.
Istanbul´s streets and shops are full of Gulf tourists - and they´re buying property
Foreign buyers are now buying large amounts of Turkish property, mirroring the substantial increase in Gulf tourism.  As the Lira has fallen visitors have been attracted to Turkey and Istanbul is now so full of Arab visitors that it resembles a Gulf city, with Arabic spoken in shops, and restaurants catering to Gulf tastes. 
In 2017 foreign real estate purchases surged by 78.4%, a sharp increase from 22.2% growth in 2017, according to the Turkish Statistical Institute (TurkStat).  Most foreign buyers bought dwellings in Istanbul, accounting for 36% of the total sales (14,270 sales), followed by Antalya (7,938 sales), and Bursa (2,720 sales).
"The jump in the number of sales is due to new government measures, but as we´ve seen in the past, property sales to foreign buyers have always linked up with tourist figures, and the country´s tourism industry is back to full flow this year (2018)," said Property Turkey director Cameron Deggin,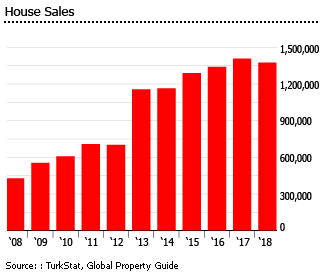 It was only in 2002 that the Turkish property market was first opened to foreign buyers. But they were only allowed to purchase properties in a few zones, and under the "reciprocity clause" only nationals of countries allowing Turkish citizens reciprocal rights - like Britain, Germany and the Netherlands - were allowed to buy properties.  In 2005, the zones were abolished, but reciprocity remained.
The reciprocity requirement was abolished in August 2012, and since then nationals from 183 countries have been allowed to buy properties in Turkey.  Nationals of China, Russia, India and of Gulf Arab states, previously banned because of the reciprocity rules, are now allowed.  The size of land foreigners can buy without special permission was increased to 33 hectares, up from 2.5 hectares.
Tens of thousands of foreigners have successfully acquired properties in Turkey, most notably in the Marmara and Mediterranean regions, Turkey´s major finance and tourist hubs.  In 2017, Turkey was able to attract about US$ 10.8 billion worth of Foreign Direct Investment (FDI) inflows. Around 42.9% of the total FDI (or US$ 4.6 billion) went to real estate and construction, according to the Investment Support and Promotion Agency of Turkey (ISPAT).
"The regulation easing requirements for foreigners to acquire Turkish citizenship, the volatility in the Turkish lira against other currencies and the VAT exemption for foreigners helped spur the sales," said Melih Tavukçuoğlu, head of Istanbul´s Asian-side Contractors´ Association.
Turkey has granted citizenship to foreigners through various means since January 2017, which includes purchasing property worth at least US$ 1 million. New regulations were introduced in September 2018 cutting the investment amount required for Turkish citizenship:
Purchasing real estate worth at least US$ 250,000 now gives you citizenship.
Or a fixed capital investment of US$ 500,000
Or keeping at least US$ 500,000 in a Turkish bank account for a minimum of three years, down from the earlier cap of US$ 3 million;
Or generating 50 jobs, down from 100 jobs.
In 2017, the government introduced other measures to entice foreign home buyers:
Reduction of Land Registry´s title deed fees from 2% to 1.5%, which are payable by both the buyer and the seller (or around 3% in total).
VAT exemptions for property owners who buy a Turkish property but do not live in Turkey, on a condition that they pay for the property with foreign currency. Home buyers must also hold the property for 12 months after purchase.
Stamp duty for "promise to sell agreements" reduced to 0%, from 0.95%.
Treasury and Finance Minister Berat Albayrak also announced a set of tax cuts which became effective on November 1, 2018:
VAT on housing sales and on the furniture sector was cut from 18% to 8%, until December 31, 2019.
The lower title deed fees rate from 4% to 3% (1.5% for seller and 1.5% or buyer) will continue until December 31, 2019.
The suspension of special consumption taxes on domestic appliances continues until June 30, 2019.
Special consumption tax rates for motor vehicles with engines under 1600cc are reduced to 15%.
Reduction of all VAT rates for commercial vehicles from 18% to 1%.  
Istanbul´s rental yields are poor
Gross rental yields in Istanbul are poor, ranging from 1.81% to 4.71%, based on the Global Property Guide research in May 2018. Poorer districts have higher rental yields than richer districts, and in these districts rental yields can be above beyond 4.5%.
Turkey´s currency and debt crisis
President Erdogan has long held eccentric views on monetary policy, believing that inflation is caused by high interest rates which he has dubbed the "mother and father of all evil".  His views cowed the monetary authorities, and the result has been inflation, pushing the lira down. This is ironic because Erdogan´s period in office began with a conspicuous display of fiscal orthodoxy, causing housing loan rates to decline sharply from an average of 48.43% in 2002 to just 9.7% in 2013. This was one of the great successes of Turkey´s AKP government.  However as inflation took off housing loan interest rates started to rise again to double digits and by December 2018, the average interest rate was 27.39%.
Rising inflation sapped the currency, but the lira´s sharp nosedive in August was partly attributable to Turkey´s worsened relationship with the US, which raised import tariffs on Turkish steel by 50% and on aluminium by 20% in protest at the detention of American pastor Andrew Brunson, who is facing charges in relation to the failed coup attempt in 2016.  The Turkish Lira plunged to a record low of TRY 7.2362 per USD in August 2018.  The lira had by then lost more than 40% against the US dollar since the beginning of 2018.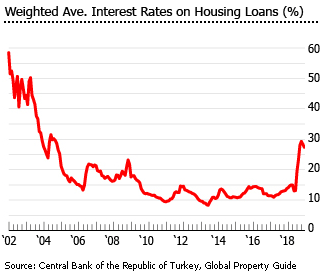 The trade dispute intensified investors´ fears.  Turkey has amassed a large amount of foreign-currency debt due to years of current account deficits, but does not have sufficient reserves to support its liabilities. The current account deficit widened from US$ 33.1 billion in 2016 to US$ 47.3 billion in 2017, according to the Central Bank of the Republic of Turkey (CBRT). Meanwhile, gross external debt has grown from 47.3% of GDP in end-2016 to 53.3% of GDP by the end of 2017.  The plunge of Turkish Lira has made paying the interest on the foreign-currency debt difficult. 
Amid the Turkish Lira´s "extreme volatility" credit ratings agency Standard & Poor´s (S&P) lowered the country´s credit rating from "BB-" to "B+" in August 2018. Moody´s also downgraded Turkey´s credit rating from "Ba2" to "Ba3" the same month. Prior to these two ratings downgrades, Fitch Ratings had cut its rating in July 2018 from "BB+" to now "BB".
In September 2018 the authorities bowed to the inevitable.  The central bank raised the key interest rate to 24% from 17.75%, noting that it had decided "to implement a strong monetary tightening to support price stability".  The Turkish lira began to recover.  In January 25, 2019, the exchange rate closed at TRY 5.2722 = US$ 1.
Also in September, Finance Minister Berat Albayrak unveiled the country´s 2019-2021 economic programme. Significantly the plan, called the New Economic Program (NEP), aims to rebalance the economy through fiscal discipline.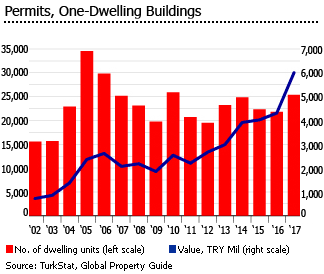 Inflation in February 2019 was 19.67%, almost quadruple of the central bank´s 5% target, but down from 20.35% the previous month. The slowing of inflation started after Turkey announced tax cuts which became effective in November 1, 2018, including an extension of the VAT reduction in housing sales from 18% to 8% until next year, and a lowering of the title deed fees rate from 4% to 3%, among others. The tax cuts were the government´s attempt to mitigate inflation and stimulate demand.
Mortgage loans barely rose in 2018
Over the past twelve years, housing loans in Turkey have increased from about TRY 12.4 billion (US$ 2.34 billion) in 2005 (or around 1.8% of GDP) to TRY 178.4 billion (US$ 33.74 billion) in 2017 (or 5.7% of GDP), or by an average of almost 26% annually from 2006 to 2017.
However this year the increase in loans stalled.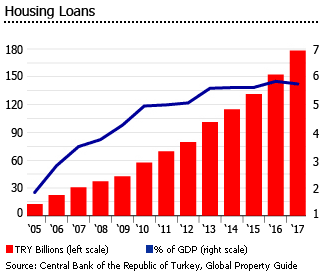 Outstanding housing loans rose by only 0.6% y-o-y to November 2018 (to TRY 178.1 billion (US$ 33.69 billion) according to the Central Bank of the Republic of Turkey (CBRT).
Another 5-year term for President Erdoğan
In the local elections of 31st March 2019, the governing Justice and Development Party lost in Istanbul and Ankara.  In Istanbul the winner was the secularist Ekrem Imamoglu – a result which was swiftly challenged by the ruling party. 
Imamoglu is a quiet compromiser, a complete contrast to the firebrand President. In its early years, Turkey´s AKP government was seen internationally as the Islamic equivalent of Europe´s Christian Democratic parties.
However in recent years President Erdoğan has become increasingly authoritarian. Many journalists are in prison, violence against demonstrators is common, a bizarre purge of the military and of those associated with the Gülen movement has undermined judicial independence, and Erdoğan himself has been implicated in a wide-ranging corruption scandal.
In July 2016, President Erdoğan´s government was tested by a coup attempt by the faction within the Turkish Armed Forces, the "Peace at Home Council". The coup was suppressed by the military, but left 300 people dead, more than 2,000 others injured, and more than 6,000 people arrested.
The government linked the failed coup to Fethullah Gulen, a Muslim cleric who leads a popular religious movement. A series of purges has followed, with many arrests, and many firings, targeting people allegedly affiliated to Gulen´s movement, but in fact spreading much wider.
In April 2017, a constitutional referendum was held to approve 18 proposed amendments to the country´s constitution. The "Yes" vote narrowly won, garnering 51.41% of the total, against "No" votes with 48.59%. Just a year after the referendum, in June 2018, Turkey held a general election in which President Erdogan won another term, now as Executive President ― taking on roles as the country´s head of state and head of government, with 52.6% of the votes.
In parliamentary elections the same day as the presidential elections, the People´s Alliance ― consisting of AKP and MHP - won a total of 344 out of 550 seats in parliament.
Emergency powers over the economy and financial system were granted to President Erdogan by parliament in January 2019, allowing him to take  all measures needed in case "negative developments" occur, and establishing a Financial Stability and Development Committee under the Treasury and Finance Ministry´s supervision.
However the latest elections suggest that not everyone is happy with the President – particularly in the big cities.
Weaker economy ahead in 2019
In 2019, Turkey´s GDP growth is expected to slow to 2.3%, according to Finance Minister Berat Albayrak. However the IMF predicts growth of only 0.4% in 2019 due to "the weaker lira, higher borrowing costs, and elevated uncertainties weigh on investment and demand".  The Turkish economy sharply slowed to 2.6% in 2018 following last year´s 7.4% economic growth, according to TurkStat.  Turkey´s fourth quarter economic performance was dismal, with a GDP decline of 3% y-o-y, according to TurkStat. 
However there is some good news - exports expanded by 7.5% in 2018, while imports fell by 7.9%.
Construction permits for dwellings sharply fell by 58.6% during the first nine months of 2018 to around 485,356 units, according to the Turkish Statistical Institute (TurkStat).  This was in contrast to 2017, when dwelling permits rose by 36.1%, with permits for two or more dwelling residential buildings up by 36.3% on the previous
"We will see a gradual growth increase from now on. Our main goal is to establish 5 percent growth from 2021 onwards," said Finance Minister Albayrak.
In February 2019, annual inflation was 19.67%, almost quadruple the central bank´s 5% target, but down from 20.35% the previous month. The slowing of inflation started after the November 1, 2018 tax cuts.
Unemployment stood at 12.3% in November 2018, an increase by two percentage points from last year´s 10.3%, according to TurkStat.