Total transaction costs are moderate in Turkey
How high are realtors´ and lawyers´ fees in Turkey? What about other property purchase costs?
How difficult is the property purchase process in Turkey?
Foreign ownership in Turkey is ruled by the reciprocity principle. Citizens of countries that allow Turkish citizens or legal entities to own property in their country are allowed to acquire property in Turkey. Citizens of most EU countries (except for Belgium, Cyprus, Czech Republic and Slovakia), the United States, Canada and other countries in Asia, Latin America and Africa can freely purchase properties in Turkey.
Foreign nationals also face restrictions on acquiring properties within municipal areas with less than 2000 registered inhabitants (article 87 of Village Act).Foreigners are also not allowed to purchase properties in the confines of military zones (Military Prohibited and Security Areas Act).
On 07 January 2006, a new law was enacted which put a limit to the amount of land that a foreigner can purchase. Foreigners are allowed to acquire a maximum of 30 hectares (74 acres) of real estate. Any piece of land exceeding 30 hectares requires a permit from the Turkish authorities.
A 10% to 25% deposit is needed during the initial stage of property acquisition, i.e., upon signing of the purchase contract. Permission for sale needs to be acquired by sending the deeds of property and passport translations of the buyer to the local Army Headquarters for approval. The permission for sale usually takes six to eight weeks to secure. Once the permission of sale is secured, the transfer of title of deed ("TAPU") is done at the local Land Registry Office.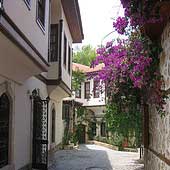 Having a solicitor to do the conveyancing is not a legal requirement, but it is highly recommended. Notarisation of all property sales to foreign nationals by a government-authorised interpreter is, however, a legal requirement. Moreover, both contracting parties (seller and buyer) are required to be present at the entry of title.
The whole process of registering property in Turkey takes seven days to finish. The Turkish government, in turn, takes three to nine months to process the application and release the title deeds for transfer.
---
Footnotes to Transaction Costs Table
The round trip transaction costs include all costs of buying and then re-selling a property - lawyers´ fees, notaries´ fees, registration fees, taxes, agents´ fees, etc.


Registration Fee
Registration fees and related costs are around 1% of the property value.


Mortar Dues
Mortar dues are levied at a flat rate of 4% on the sales price of the property or market value of the property, whichever is higher.
Mortar dues are actually split evenly between the buyer (2%) and the seller (2%) but in practice, the buyer pays for all mortar dues.


Real Estate Agent´s Fee
Real estate agent´s commission is typically 3% to 6% of purchase price, split between buyer and seller. Other real estate agencies do not include VAT in their commission.
Turkey - More data and information