The Philippines is now in its 8th year of a house price boom
The Philippines' residential property market continues to perform very well, due to robust economic growth. Makati CBD property prices have risen by almost 132% from 2010 to 2018. Yet prices are not high, and yields are good, and the Philippine economy is in the 8th year of strong growth.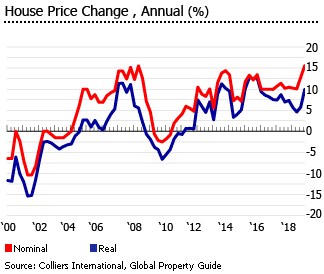 The average price of a luxury 3-bedroom condominium unit in Makati central business district (CBD) soared 15.55% (9.91% inflation-adjusted) during 2018 to PHP230,000 (US$4,371) per square metre (sq. m.), from y-o-y rises of 10.46% in 2017, 9.95% in 2016, 13.43% in 2015, 7.11% in 2014, 14.37% in 2013, and 10.06% in 2012, according to Colliers International. During the latest quarter, condominium prices in Makati CBD increased 5.02% (5.55% inflation-adjusted) in Q4 2018.
House prices continue to rise in other major Metro Manila CBDs:
In Rockwell Center, the average price for a 3-bedroom condominium rose by 10.6% (5.2% inflation-adjusted) to PHP244,500 (US$4,650) during 2018
In Fort Bonifacio, the average price for a 3-bedroom condominium soared by 17% (11.3% inflation-adjusted) to PHP205,500 (US$3,908) per sq. m over the same period.
However, house price growth is more muted nationwide. During the year to Q3 2018, the nationwide residential real estate price index rose by 4.4% (-2.2% inflation-adjusted), according to the Bangko Sentral ng Pilipinas (BSP), the country's central bank. Quarter-on-quarter, the index dropped 0.6% (-2.8% inflation-adjusted) in Q3 2018. The residential real estate price index, published every quarter, is based on bank reports on residential real estate loans.
By property type:
Condominium units saw y-o-y price increase of 5.8% (-0.8% inflation-adjusted) in Q3 2018 from a year earlier
For single detached/attached house, prices rose by a meager 0.2% (-6.1% inflation-adjusted) during the year to Q3 2018
Duplex house prices surged 30.7% (22.5% inflation-adjusted) y-o-y in Q3 2018
Townhouse prices rose by 18.3% (10.9% inflation-adjusted) over the same period
In the National Capital Region (NCR), residential property prices increased 6.8% (0.1% inflation-adjusted) during the year to Q3 2018 while in Areas Outside the NCR (AONCR), prices rose by 2.2% (-4.2% inflation-adjusted), according to the BSP.
Demand remains strong. In 2018, the take-up of pre-sold condominium uits throughout Metro Manila, including fringe locations, reached 54,000 units – surpassing the previous record-high of 52,600 units in 2017, according to Colliers International. This was mainly due to strong demand from starting families and young professionals and the influx of Mainland Chinese in the Philippines. Household formation has increased by an average of 3% every year in the past five years.
Residential property demand is expected to remain robust this year:
"Colliers believes that pre-sales in 2019 will likely remain strong given the strong end-user demand. However, topping the 2018 sales figures might be a challenge given Colliers' projected slowdown in launches due to the dearth of available developable land in Metro Manila and the continued acceleration of land prices in the country's key business districts."
"Local and foreign high net worth individuals continue to drive the residential sale market, typically securing the biggest and most expensive units from high-end and luxury brands to maximize the value appreciation in major markets," said Jones Lang LaSalle in its 2018 report.
In 2018, the Philippine economy expanded by about 6.2%, according to the Philippine Statistics Authority (PSA). It was lower than the average annual growth rate of 6.6% from 2012 to 2017 but still places the country as among the fastest growing economies in Emerging Asia. The economy is expected to grow at a faster pace of 6.7% this year, amidst improving macroeconomic conditions and slowing inflation, according to ADB President Takehiko Nakao.
Land values continue to appreciate
Land prices continue to rise in all major high-end residential areas, according to Leechiu Property Consultants:
In Forbes Park, land prices surged almost 34% y-o-y to an average of PHP375,000 (US$7,123) per sq. m. in 2018.
In Ayala Alabang, land prices increased 15.8% to an average of PHP110,000 (US$2,089) per sq. m. in 2018 from a year earlier.
In Dasmariñas Village, the average land value increased 8.4% to PHP374,000 (US$7,104) per sq. m. in Q1 2018 from the prior year.
In Urdaneta Village, land values rose by 8% to an average of PHP270,000 (US$5,129) per sq. m. in Q1 2018 from a year earlier.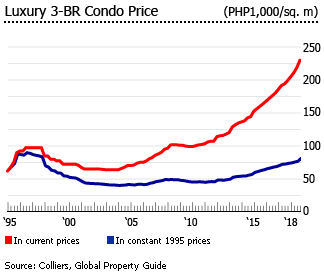 Land prices are projected to continue rising in the medium term.
LAND PRICES IN SELECTED HIGH-END RESIDENTIAL VILLAGES, 2010-Q1 2018

 
PHP per sq. m.
USD per sq. m.
Growth from 2010 to Q1 2018
Dasmariñas Village
374,000
7,104
316%
Forbes Park
300,000
5,698
275%
Urdaneta Village
270,000
5,129
286%
Corinthian
252,000
4,787
288%
Greenhills East
210,000
3,989
265%
Greenmeadows
160,000
3,039
286%
Valle Verde
150,000
2,849
216%
Ayala Alabang
95,000
1,804
222%
Hillsborough
58,000
1,102
314%
Source: Leechiu Property Consultants
Philippine residential property is still below pre-Asian Crisis values!
Surprisingly, despite so much price appreciation, the Philippine housing market has still not recovered from the crash after the 1997 Asian Financial Crisis. Between 1997 and 2004, luxury condominium prices dropped 28% (52% inflation-adjusted), in the biggest property crash of all countries affected by the Asian Financial Crisis.
In current price terms, both rental rates and property values are already far above 1997 levels. However residential property prices in 2018 are still 9% below pre-Asian Financial Crisis levels in real, inflation-adjusted terms.
Residential construction activity rising
After a weak activity in 2017, residential construction has improved in 2018, based on figures from the Philippine Statistics Authority (PSA).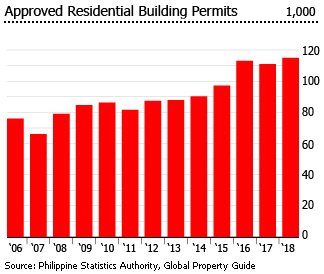 During 2018:
The number of approved residential building permits rose by 3.6% y-o-y to 114,905 units
The floor area of residential building permits surged 27.5% y-o-y to 20,783,947 sq. m.
Total value of residential building permits increased 38.5% y-o-y to PHP227.42 billion (US$4.33 billion).
During the year to Q4 2018, residential constructions increased for all types: residential condominiums (106.5%); duplex/quadruplex (78.3%), apartments (27.2%) and single-type houses (25.2%).
Housing supply continues to rise
The total condominium stock in Metro Manila's CBDs reached 118,870 units in 2018, up by about 11% from 107,100 units in 2017, according to Colliers. In 2018 alone, about 11,800 units were completed, down from 15,900 units completed in 2017 but still up from an annual average of 7,500 units in the past ten years.
Fort Bonifacio and the Manila Bay Area accounted for the biggest share of condominium units delivered in Q4 2018 of 75%, buoyed by the strong demand from offshore gaming employees, as well as local and foreign investors. The major residential projects completed in Fort Bonifacio were Avida Towers Verte, Central Park West, and Grand Hyatt Residences by Federal Land. In the Manila Bay Area, Shore Residences Building 3 were already completed in Q4 2018, which added about 2,000 units to the total condominium stock. In other business hubs such as Makati CBD, Rockwell Center and Ortigas Center, completed residential projects included The Lerato Tower 3, Twin Oaks Place East Tower, and The Proscenium at Rockwell's Kirov and Sakura towers.
In 2019, about 9,300 units are expected to be completed, with about three-fourths of new supply coming from Fort Bonifacio and the Manila Bay Area, according to Colliers.
RESIDENTIAL SUPPLY

Location
Total Stock
Alabang
4,230
Araneta Center
4,550
Eastwood City
8,540
Fort Bonifacio
32,230
Makati CBD
27,020
Manila Bay Area
19,850
Ortigas Center
17,940
Rockwell Center
4,510
TOTAL
118,870
Source: Colliers International
Residential rents rising; vacancy rates falling
Residential rents across CBDs are now rising, amidst strong local and foreign demand and falling vacancy rates.
During 2018:
In Makati CBD, monthly residential rents rose by 2.6% y-o-y to an average of PHP824 (US$15.7) per sq. m.
In Fort Bonifacio, monthly residential rents soared by 40% y-o-y to PHP1,134 (US$21.6) per sq. m.
In Rockwell, monthly residential rents rose by 2.3% y-o-y to an average of PHP893 (US$17) per sq. m.
Rents are expected to remain almost steady this year, amidst a modest increase in supply.
"We see rents in Makati CBD, Fort Bonifacio, and Rockwell Center rising by 0.8% in 2019 despite the delivery of a modest number of new units over the next 12 months," said Colliers.
RENTAL RATES FOR A 3-BR CONDOMINIUM UNIT, 2018

 
Monthly Rent
Y-O-Y change
Q-O-Q change
Location
PHP per sq. m
USD per sq. m
%
%
Fort Bonifacio
624 - 1,020
12 - 19
40.0
0.7
Makatic CBD
550 - 1,098
10 - 21
2.6
0.6
Rockwell Center
744 - 1,042
14 - 20
2.3
0.7
Sources: Colliers International, Global Property Guide
In Metro Manila, the overall vacancy rate stood at 10.6% in Q4 2018, down from 10.8% in the previous quarter and 12.6% a year earlier, according to Colliers International.
Vacancy rates in Metro Manila are expected to fall further to about 10.5% this year and to about 10.3% by 2021, partly due to developers' slower completion of new units in the coming years.
"The stable take-up of units in the secondary market suggests that the market is driven by a strong end-user demand and not by mere speculative demand," said Colliers.
Gross rental yields remain high, but beware of taxes
According to research by the Global Property Guide, gross rental yields in Metro Manila remain good, ranging from 7.01% on the very smallest condominium units of 45 sq. m. to 7.16% on 80 sq. m. condominiums.
These yields are before taxes and other expenses. They are for the high-end areas: Makati CBD, Ortigas CBD, Rockwell, The Fort, and Eastwood City.
This does not mean that foreign investors should necessarily rush to invest in Manila, because transaction taxes (known as 'capital gains taxes', but not actually such), and (if observed) official income tax rates applicable to non-resident investors, are high.
Interest rates rising; mortgage market remains small
Currently, housing loan rates charged by major commercial banks range from 4.99% to 7.5% for one-year fixed loans, and from 7.5% to 9.75% for ten-year fixed mortgages. In March 2019, the BSP has kept its policy rate at 4.75% for overnight borrowing, after raising it five times last year. The overnight lending and repurchase facility (RF) and deposit facility were also held steady, at 5.25% and 4.25%, respectively.
Severe problems impede mortgage market growth. Few major banks offer housing loans. And although loan-to-value ratios of 90% are now in theory being offered and loan tenors can be as long as 30 years, in fact most loans are short-term. Banks are wary because land titling and registration problems are prevalent, as are lengthy delays in the foreclosure process due to the country's very weak court system. Therefore approval of loan applications takes a long time. In addition inter-bank collusion prevails: different banks' loans have strangely similar terms and conditions.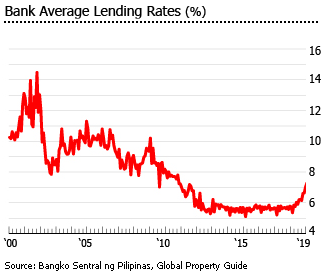 Property buyers also face high transaction costs, corruption and red tape, fake land titles and substandard building practices. Plus, the large informal housing sector and their incentives make it less attractive for low to middle income families to buy or rent properties.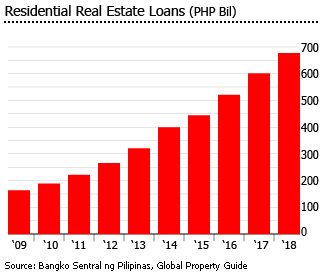 Because of these factors, the ratio of residential mortgage loans to GDP remains small, at around 3.85% of GDP in 2018, a slight increase from 2.03% of GDP in 2009. Most houses in the Philippines are sold for cash or pre-sold, with the developers offering financing.
In 2018, the total outstanding residential real estate loans rose by 12.8% to PHP677.1 billion (US$12.88 billion) from a year earlier, based on figures from the BSP.
Manila's segmented market
Lower down the income scale there is cause to worry.
There are three identifiable segments in Manila's housing market:
The high end. Local high-earners and expatriates occupy this segment.
The middle tier. The mid-end condominium sector, with monthly amortization of around PHP10,500 (US$200), presently requiring a dispensable income greater than PHP34,962 (US$665), to obtain a housing loan of PHP2 million (US$38,037). This segment has been targeted by many developers, and is attractive to overseas foreign workers (OFWs).
The low end. This is where the mass of the population live.
We believe that the middle tier is over-supplied. Many of these lower middle-class condominium developments are ghost cities.
Manila's ghost cities
A visit to any 'Barrio Fiesta' in any city where Philippine OFWs work abroad is dominated by condominium offerings from developers like Megaworld, DMCI, Ayala Land, etc. The Philippines is one of the world's largest remittance recipients, with 10.5 million Philippine Overseas Foreign Workers (OFWs) living and working in 210 countries and territories worldwide, 47% of them permanent migrants, 40% temporary, and the rest "irregular migrants". Among the permanent overseas Filipinos, 65.2% live in the US, followed by Canada (13.1%), Europe (7.1%), Australia (6.8%), and Japan (3.4%), according to the Commission on Filipinos Overseas (CFO). In 2018, total cash remittances reached a record high of US$28.94 billion (or about 8.7% of GDP), up by 3.15% from a year earlier.
It is estimated that 60% of these remittances go directly or indirectly to the real estate sector, according to the World Bank. These OFW remittances power the low-end to mid-range residential property market, housing projects and mid-scale subdivisions in regions near Metro Manila, such as Cavite, Batangas, and Laguna Provinces.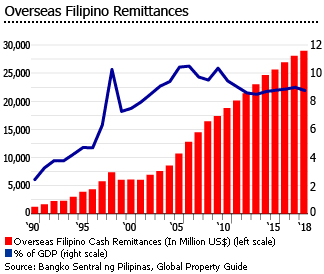 According to the Philippine Housing and Land Use Regulatory Board, 452,198 condominium units were built in Metro Manila from January 2001 to March 2014. The condominium stock increased further in recent years, with an additional 67,699 units covered by licenses to sell in 2015, 99,524 units in 2016 and 104,196 units in 2017. In 2018, about 35,700 units were completed in Metro Manila, mainly coming from Quezon City and Pasay City, according to Jones Lang LaSalle.
There are around 807,496 families or 27.5% of the NCR population who have a dispensable income greater than PHP34,962 (US$672), which is the required monthly income to be able to afford the monthly amortization of PHP10,500 (US$202). PHP10,500 (US$200) is the minimum monthly amortization for a housing loan of PHP2 million (US$38,037), with accommodating loan rates of 90% LTV, with an annual interest rate of 5.7%, and a loan tenor of 30 years.
So for all these newly-built condominiums to be occupied by those who could afford to rent or buy (we calculate for the buying case, but given current interest rates it may be more expensive to rent), the majority of locals who have the financial capacity to occupy them would need to purchase or rent a unit, for the available supply of condominium units to be taken up.
These are problematic numbers given that many of these families already have houses in the first place. The World Bank assumes only 10% of these capable end-users as prospective end-users, indicating a gross oversupply.
In terms of affordability, property developers are building more mid-end condominium units than locally-based Filipinos can afford to occupy. Many of the buyers are OFWs, causing a mismatch between demand and supply.
The average annual growth of remittances from 2009 to 2018 was only 5.8% , compared to 15.5% annually from 2002 to 2009. The World Bank believes the slowdown in remittances is due to:
Stricter implementation of the migrant workers' bill of rights;
Political uncertainties in host countries; and
The slowdown in the advanced economies.
"Affordable" housing shortage
The Philippines has a huge housing need at the low end. Nationwide, the country has a housing shortage of about 4 million units, according to the Subdivision and Housing Developers Association (SHDA). Most of this would need to be socialized housing - units with a selling price of under PHP450,000 (US$8,548). In Metro Manila, as many as 300,000 households reside in informal and semi-uninhabitable housing units, composing 8.7% of Metro Manila's total population. These people live in appalling conditions. Many others live in very poor conditions.
To meet the needs of these families, the government embarked on the National Shelter Program to provide housing for informal settlers and other families who do not have enough income to rent nor buy houses in the prevailing markets rates.
Socialized housing units, or those which cost less than PHP450,000 (US$8,548) can be purchased with a monthly amortization of PHP2,302 (US$44). The Pag-Ibig Fund, (which is the Filipino word for love), the country's state-owned and subsidized housing loan provider, provides a fixed rate of 4.5% for 30 years for socialized housing units.
The problem is that these low-end housing units are usually far from work.
Philippine peso remains weak, amidst a record trade deficit
The Philippine peso lost about 11% of its value against the U.S. dollar in the past three years, from an exchange rate of PHP47.191 = US$1 in December 2015 to PHP52.871 = US$1 in December 2018. In fact, it was its weakest performance in over 13 years, amidst a record trade deficit caused by a surge in imports.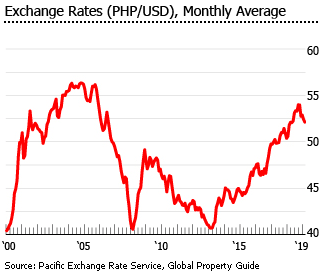 In 2018, the country posted a record high trade deficit of US$41.44 billion, up from US$27.38 billion in 2017 and US$26.7 billion in 2016, as imports surged and exports dropped last year, according to the PSA.
The wider trade deficit resulted in a ballooning current account deficit as more dollars were being spent for importation – putting more pressure on the Philippine peso. In 2018, the country's current account deficit was estimated at US$6.4 billion – over twice larger than the previous projection of US$3.1 billion. The current account deficit is expected to increase further to US$8.4 billion in 2019.
Recently, Socioeconomic Planning Secretary Ernesto Pernia expressed concern over the country's widening current account shortfall.
"A widening current account balance due to rising capital goods imports and anemic exports growth is a cause for concern," said Pernia. "The widening gap emphasizes the need to reform legislation to allow foreign investments in firms catering to the domestic market, in addition to expanding their exporting activities."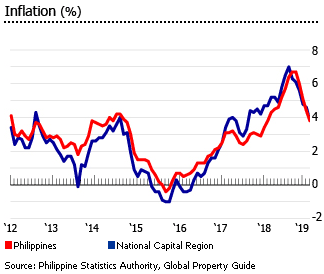 In February 2019, the country's inflation rate was 3.8%, down from 4.4% in January 2019 and 5.1% in December 2018 and within the government's target range of 2% to 4%, mainly due to slower price increases of food and non-alcoholic beverages. Nationwide inflation stood at 5.2% in 2018 – the highest in a decade – as a result of oil price hikes and the impact of the Tax Reform for Acceleration and Inclusion (TRAIN) law signed last December 19, 2017.
Uninterrupted economic growth
In 2018, the Philippine economy expanded by about 6.2%, according to the Philippine Statistics Authority (PSA). It was lower than the average annual growth rate of 6.6% from 2012 to 2017 but still places the country as among the fastest growing economies in Emerging Asia. During Q4 2018, industry had the fastest growth, with 6.9%, followed by services (6.3%) and agriculture (1.7%).
The total number of foreign tourist arrivals rose by 7.7% to 7.1 million people in 2018 from a year earlier, according to the Department of Trade and Industry (DTI). South Korea remained the country's top tourism market with 22.3% share, followed by China (17.6%), the US (14.5%), Japan (8.9%) and Australia (3.9%).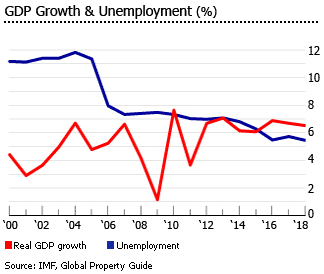 The economy is expected to grow at a faster pace of 6.7% this year, amidst improving macroeconomic conditions and slowing inflation, according to ADB President Takehiko Nakao.
In 2018, the nationwide unemployment rate stood at 5.3%, down from 5.7% in 2017, 5.5% in 2016, 6.3% in 2015, 6.6% in 2014 and 7.1% in 2013, according to the PSA. Unemployment is expected at 5.5% this year, from an annual average of 6.6% from 2008 to 2018, according to the IMF.
The Philippine economy grew by an average of 6.3% annually from 2010 to 2016, thanks to the previous administration's socioeconomic reforms. Former president Benigno (Noynoy) Aquino III (president June 2010 - June 2016) instituted a no-holds barred anti-corruption campaign which wowed foreign investors and caused consumer confidence to surge. The Philippines' investment ratings were upgraded to investment grade by Moody, Standard & Poors', and Fitch Ratings. The Philippines' competitiveness improved sharply, with a Global Competitiveness Index rank of 47th out of 140 economies in 2015-16, up from 52 in 2014, 59 in 2013, and 65 in 2012.
However, the country's competitiveness rank slipped back to 57th in 2016-17 and to 56th in both the 2017-18 and 2018-19 ranking.
During the May 2016 presidential election, former Davao City mayor Rodrigo Duterte won a landslide victory, capitalizing on discontent with rising inequality and on the perceived incompetence of Aquino's chosen successor, Mar Roxas. Duterte vowed to bring progress to all Filipinos, to eliminate government corruption and to substantially reduce crimes, especially the use of illegal drugs. While the government's "war on drugs" is now very controversial having resulted in the death of over 7,000 Filipinos, Duterte's net trust rating remains either "excellent" or "very good", based on the Social Weather Stations (SWS) surveys.
Duterte's push for a charter change to shift to a federal system of government from the current unitary system was also very controversial.
Duterte's "Build, Build, Build" infrastructure program
President Duterte's ambitious US$180-billion "Build, Build, Build" program is designed to modernize the country's infrastructure by rolling out 75 flagship projects, including 6 airports, 9 railways, 3 bus rapid transits, 32 roads and bridges, 4 seaports, 4 energy facilities, 10 water resource projects and irrigation systems, and 5 flood control facilities, among others.
Nine of these projects are currently under construction, including the Clark Airport expansion; the first phase of the Metro Manila subway; the North-South railway projects; the 130-km first phase of the Mindanao railway; the Kaliwa water supply project; and the Cavite flood control project, among others.
Some 28 projects are projected to be completed before the end of Duterte's term in 2022. These projects are expected to sustain strong economic growth, raising annual infrastructure spending by about 3% to 7% of GDP until 2022.
"We will make the next few years the golden age of infrastructure in the Philippines to enhance our mobility and connectivity, and thereby spur development growth," said Duterte. "In other words, we are going to build, build and build."
Unsurprisingly, the Philippine government breached its budget deficit cap last year, as expenditures exceeded target and outpaced the increase in revenues. In 2018, fiscal deficit reached PHP558.3 billion (US$10.6 billion), up 59% from the PHP350.6 billion (US$6.66 billion) gap recorded in 2017, according to the Bureau of the Treasury. As percent of GDP, the deficit was equivalent to 3.2% of GDP in 2018 – overshooting the 3% target for the year.
Revenue generation increased 15% y-o-y to PHP2.85 trillion (US$54.13 billion) in 2018, thanks to the implementation of the Tax Reform for Acceleration and Inclusion (TRAIN) law, which was projected to add PHP63.3 billion (US$1.2 billion) to state coffers in its first year. On the other hand, government spending surged 21% y-o-y to PHP3.4 trillion (US$64.58 billion) in 2018, amidst heightened social protection and infrastructure spending, particularly massive projects under its "Build, Build, Build" program.
For 2019, the government has set a wider deficit ceiling at PHP624.2 billion (US$11.86 billion).
property for sale, properties for sale, list of contract growers in the philippines, raemulan lands inc, property for sale philippines, property finder, house and lot for sale in manila, nicole beach resort nasugbu, properties for sale philippines, siargao lot for sale, philippines property, mercedes residences, property philippines, sellers ayala, land for sale philippines, town and country southville binan laguna, lumina homes cabanatuan, tagaytay fontaine villas, apartment for rent in sampaloc manila, la residencia sta rosa, town and country southville, tagaytay clifton resort suites, capijana village, lot for sale in san jose del monte bulacan, lot for sale philippines, playa azalea samal, house for rent dumaguete, tagaytay house for sale cheap rush, nicole beach resort, villa zaragoza, condo for rent near ust, apartment for rent near ust, arezzo place pasig, rent to own house in cavite, house for sale philippines, contract growing, paenaan, greenhills garden square, lkg group of companies, sunland development corporation, assume balance house and lot, house for rent san pedro laguna, rent to own cavite, casa mira linao, enclave alabang, house for sale in philippines by owner, philippines real estate, bucal calamba laguna, property ph, jasaan beach resort, the enclave alabang, lot for sale in san pedro laguna, villa zaragoza bocaue, apartment near ust, kai garden residences, palmdale heights pasig, rent to own house in carmona cavite, ilustrata residences, green circle realty, badoc island, houses for sale in philippines, casa amaya south, the villas at dasmarinas highlands, house for rent in pacita san pedro laguna, lancaster cavite rent to own, golden meadows binan, seafront residences, pundaquit san antonio zambales, ecrm filinvest, hampstead place marikina, escala salcedo, house for sale in philippines, marcelo green village zip code, clark sunvalley country club, property finder philippines, badoc island resort, villa zaragoza bocaue bulacan, farm lot for sale, house for rent in dumaguete, palmdale heights, lot for sale in tandang sora, house for rent in sampaloc manila, beachfront property for sale philippines, redwood residences, sabungan floor plan, zip code san carlos city neg. occ, houses for sale philippines, summerhills executive village, villa caceres sta rosa laguna, casa amaya tanza, residential lot for sale in quezon city, sunvalley clark, sigma capiz zip code, metrostar realty, house for rent in san pedro laguna, house and lot for sale san pedro laguna, cheapest house and lot for sale in philippines, zip code neg occ, cheapest house and lot for sale, pioneer woodlands price, capitol homes quezon city, casa amaya south tanza cavite, adelina 1 san pedro laguna, solo room for rent near ust, shell residences for sale, sm fairview zip code, hampstead marikina, royale tagaytay estates, hampstead place, hotel for sale philippines, amiya rosa, pundaquit beach san antonio, zambales, meadowood executive village bacoor, the beacon makati for rent, filinvest east homes, bay breeze executive village, club morocco subic, springtown tanza cavite, apartment for rent in grace park caloocan city, apartment for rent in sampaloc manila near ust, rcd royale homes, azalea samal, 60 sqm house, rent to own in cavite, el salvador misamis oriental zip code, farm lot for sale in bulacan, villa zaragoza bulacan, house and lot for sale in bacolod city rush, pundaquit beach san antonio zambales, banana plantation in the philippines, molo iloilo zip code, house and lot for sale in baguio city, lot for sale in sampaloc manila, springtown tanza, montefaro village, land in the philippines, marikina house and lot for sale rush, summer hills antipolo, eastwood residences, rent to own townhouse, house for rent in las pinas near rfc, house and lot for sale baguio city rush, filinvest east, marulas zip code, apartment for sale in manila, townhouse rent to own, house for rent in matina davao city, cavite rent to own, commercial space for rent in marikina, villa caceres sta rosa, lot for sale dumaguete, rcd royale homes silang, laguna bel air for sale, ormoc zip code, shang salcedo place for rent, house and lot for sale in caloocan city, lot for sale in marikina, pioneer woodlands studio type, rush house and lot for sale in dumaguete city, farm land for sale in bulacan, zip code santa rosa laguna, seafront residences batangas, rent to own house in imus cavite, acropolis cabanatuan, real estate website philippines, neo calapan, soto grande tagaytay, rush house and lot for sale in dasmarinas cavite, rent to own house cavite, lot for sale in lapu lapu city, playa azalea, waterwood park, house and lot for sale in san pedro laguna, amaia scapes rizal, subdivision houses in the philippines, lot for sale paranaque, house and lot for sale in zamboanga city, apartment for rent in manila sampaloc, beach house philippines, condo near ust, playa laiya, meadowood executive village, rica rivera, urban deca homes ortigas, eton parkview, farm lot for sale in batangas, marcelo green village paranaque zip code, sun valley clark, studio type for rent in pasig 3k, blue mountain antipolo, room for rent in san pedro laguna, lot for sale in bohol, house and lot for sale in tondo manila, lots for sale in quezon city, room for rent makati 3000, lot for sale in rizal, mabalacat zip code, rent to own houses in cavite, zip code of sta rosa laguna, private beach house for rent in batangas ,kong, real estate in cambodia, indian real estate market forecast 2018, real estate companies in india, vietnam real estate, jeju island real estate, vietnam real estate agents, buy property in vietnam, property developers in dubai, property management companies in dubai, real estate agents bangkok, property developers melbourne, buying a house in korea, vietnam real estates, can foreigners buy property in vietnam, real estate agency bangkok, real estate agents in dubai, hong kong real estate agent, hong kong real estate companies, buying properties in hong kong, china real estate company, real estate agent in bangkok, property developers in malaysia, countries with no property tax, vietnam realestate, property developers in uae, buy property in cambodia, real estate agents in bangkok, real estate developers in india, builders in india, buying property in vietnam, property agents hong kong, hong kong property agent, property agent hong kong, buy house in vietnam, developers in the philippines, shanghai real estate, philippine.real estate bubble, property agents bangkok, property agent bangkok, seoul real estate, vietnamese real estate agent, buy a house in south korea, philippine real estate bubble, china real estate companies, buying land in the philippines, buy land in china, cambodia real estate, buy property in hong kong, buy house in korea, buying a house in south korea, saigon real estate, real estate companies in japan, buying properties in vietnam, buying property in thailand, country with no property tax, danang real estate, chinese real estate company, laos real estate, real estate agency in dubai, buy condo philippines, property indonesia, property agency hong kong, buying land in vietnam, guangzhou real estate, osaka real estate, real estate agency hong kong, buy land in vietnam, osaka houses, realtors in dubai, vietnam property, phuket real estates, nha trang real estate, buy land in philippines, buying land in china, buying property in singapore, buying property in philippines, can foreigners buy property in usa, real estate agency dubai, penang real estate, buy property in china, buying property in bali, can foreigners buy property in china, indian real estate market forecast 2017, buying property in china, manilla condominiums, real estate agent philippines, real estate ho chi minh city, commercial property hong kong, can a foreigner buy a house in usa, commercial real estate hong kong, hokkaido real estate, buying properties in singapore, developer in malaysia, buy land in cambodia, buying properties in the philippines, buy apartment in seoul, shanghai property, japanese real estate agent, property developer in malaysia, vietnam real estate foreign ownership, buying property in cambodia, buying land in japan, philippine real estate market, dubai real estate companies, condo in manila, shanghai apartments for sale, vietnam real estate market, buying a house in the philippines, chinese real estate developers, countries without property tax, buy house in china, real estate agent in dubai, vietnamese real estate market, countries with no property taxes, buying properties in canada, buy land in japan, real estate companies in singapore, bali real estate agent, real estate agent bangkok, developers in dubai, real estate in vietnam, buy condo hua hin, condominiums in manila, china real estate price, philippines real estate bubble, thailand airbnb, can you own land in china, buying properties in china, buying property in hong kong, buying house in vietnam, asian property, buy house in singapore, real estate agent dubai, buying land in cambodia, bangladesh real estate, condos in manila, buying japanese property, korean real estate agent, malaysia real estate, real estate agents in thailand, buy property in singapore, chinese real estate companies, buy property in the philippines, buying property in the philippines, buying land in philippines, buying real estate in the philippines, property investment in vietnam, real estate agents philippines, property agent in bangkok, buy land in the philippines, buying properties in philippines, property in vietnam, buying house in philippines, phuket real estate agent, realtor vietnam, chinese real estate agency, house for sale in laos, best place to live in malaysia, can foreigners buy property in thailand, land in china, philippines real estate market, commercial lease hong kong, vietnam property for sale, condo phuket, buying property in japan, can americans buy property in canada, buy house in philippines, buying a condo in the philippines, can foreigners buy property in japan, buying in korea, buy property in philippines, buy property in japan, property developer melbourne, china developer, vietnam properties, malaysia real estate market, condominiums manila, property for sale in ho chi minh city vietnam, condo phils, buying a house in china, real estate vietnam, condominium in manila, ho chi minh city real estate, buy apartment shanghai, shanghai property for sale, buying in japan, buy condo in philippines, macau real estate, buy house in bali, houses for sale in vietnam, new zealand real estate companies, real estate agent manila, japanese realtors, buying houses in thailand, buy condo in bangkok, countries where foreigners can buy land