India's property market remains weak, amidst a slowing economy
India's housing market remains weak. Homes sales and residential construction activity continue to fall. Except for Hyderabad, which registered an impressive double-digit price growth during the year to Q2 2019, prices have been largely flat in other major cities. In addition, India´s economic growth is flagging, undermining its arguably overvalued property market.
During the year to Q2 2019, according to PropTiger:
Hyderabad witnessed the highest y-o-y price increase at 17%, to an average of INR 5,131 (US$75) per sq. m.
In Bangalore, prices rose by 3% y-o-y to INR 5,157 (US$75) per sq. m.
In Chennai, prices were steady at an average of INR 5,174 (US$75) per sq. m.
In Ahmedabad, prices rose by 1% y-o-y to an average of INR 2,857 (US$41) per sq. m.
In Gurgaon, the average house price fell by 3% y-o-y to INR4,950 (US$72) per sq. m.
In Mumbai, the average house price rose by 3% y-o-y to INR 9,396 (US$136) per sq. m.
In Kolkata, prices rose by 1% y-o-y to INR 3,936 (US$57) per sq. m.
In Pune, prices rose by 2% y-o-y to INR 4,821 (US$70) per sq. m.
In Noida, prices were unchanged at an average of INR 3,899 (US$57) per sq. m.
During 2018, the National Housing Bank's composite house price index for 50 cities rose by 3.9%, following y-o-y rises of 3% in 2017, 6.4% in 2016, 5.6% in 2015 and 1.1% in 2014. However when adjusted for inflation, house prices actually fell 1.2% in 2018 from a year earlier.
Residential construction activity is falling. In Q2 2019, only 37,852 housing units were launched, down 47.4% from a year earlier. Except in Gurugram, new launches fell across all other cities in Q2 2019.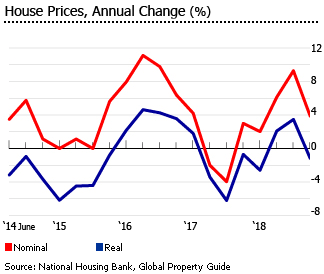 Demand is also depressed. In Q2 2019, home sales in India's 9 major markets (including Ahmedabad, Bengaluru, Chennai, Gurugram, Hyderabad, Kolkata, Mumbai, Noida, and Pune) fell by 10.8% to 71,957 from the same period last year, according to PropTiger.
"Home sales may see some improvement in the times to come with the Reserve Bank of India lowering repo rate to record low," said PropTiger. "Banks have also been lowering interest rates to pass on the benefits of policy transmission among homebuyers."
"In the recently announced Budget, the government has also increased the deduction on the home loan interest component to Rs 3.50 lakh on affordable housing. This would also trigger fresh demand for affordable homes. As a result of renewed sales activity, inventory stock would also decline."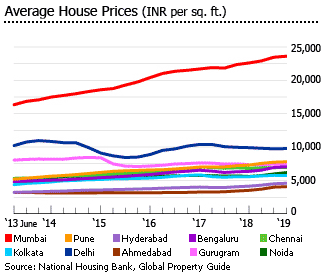 A foreign national resident in India does not require approval of RBI to purchase immovable property in India. This is because once he is a resident in India, he gets rights like any other resident. This freedom is however not available to citizens of Pakistan, Bangladesh, Sri Lanka, Afghanistan, China, Iran, Nepal or Bhutan. However, a foreign national of non-Indian origin resident outside India cannot buy any immovable property in India. It is illegal for foreign nationals to own property in India unless they satisfy the residency requirement of 183 days in a financial year (a tourist visa lasts for 180 days). It is also illegal to buy property on a tourist visa.
Moreover property cannot be purchased jointly in the name of one eligible person with one non-eligible person. That means a non-resident Indian (NRI) or foreign national of Indian origin (PIO) cannot buy a property jointly with a foreigner.
Homes sales are falling
In Q2 2019, home sales in India's 9 major markets fell by 10.8% to 71,957 from the same period last year, according to PropTiger. Noida registered the biggest drop in demand, with sales falling by 56% y-o-y to 3,304 units in Q2 2019, followed by Ahmedabad (-36%), Bangalore (-17%), Mumbai (-14%) and Chennai (-2%).
In contrast, home sales continue to rise in Gurugram (32% y-o-y growth), Hyderabad (10%), Kolkata (10%) and Pune (5%).
Mumbai and Pune are India´s two biggest markets, accounting for 31% and 21% of total sales in the country's top 9 cities.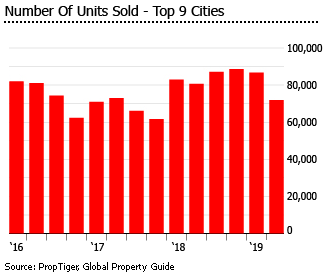 Total housing units sold on completed projects rose by 18.5% y-o-y to 13,378 units in Q2 2019 while home sales on projects still under-construction dropped 15.5% y-o-y to 58,579 units.
Residential construction plummeting
In the second quarter of 2019, only 37,852 housing units were launched, down 47.4% from a year earlier, according to PropTiger. Except Gurugram, new launches fell across all other cities in Q2 2019.
Ahmedabad suffered the most, with the number of launches plunging by 89% y-o-y to just 824 units in Q2 2019 from 7,499 units in Q2 2018
In Mumbai, launches plummeted 62% y-o-y to 8,757 units
In Hyderabad, launches fell by 56% y-o-y to 2,416 units in Q2 2019
In Noida, launches fell by 52% y-o-y to 1,835 units
In Pune, launches fell by 42% y-o-y to 8,528 units
In Bangalore, launches fell by 41% y-o-y to 5,169 units
In Chennai, launches dropped 32% y-o-y to 2,374 units
In Kolkata, launches fell by 30% y-o-y to 2,004 units
Gurugram is an exception, with launches surging by 130% y-o-y to 5,945 units in Q2 2019
The total unsold inventory stock in India's top 9 cities fell by 12% to 797,623 units in Q2 2019 from a year earlier, according to PropTiger.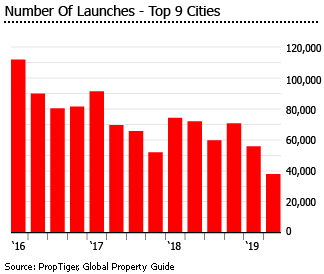 Likewise, overall inventory overhang declined to 30 months in Q2 2019, from 33 months in the previous year. Hyderabad has the lowest inventory overhang of 15 months while Noida has the highest of 41 months.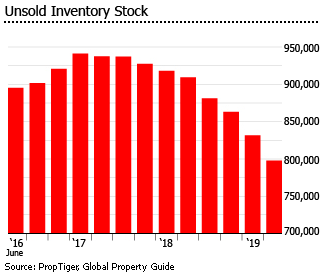 "The severe liquidity crunch and harsh market conditions have forced realtors to exercise extreme caution with new launches, in order to survive. This pattern may continue going forward too," said PropTiger.
Rental yields are very low
Rental yields in India are low, according to Global Property Guide research.
In South Mumbai, average yields range from 2.4% to 2.5% gross.
New Delhi rental yields remain very poor, at between 2.9% and 3.2%.
Bangalore has higher yields, ranging from 3.3% to 4.0%, but these are still much lower than yields seen in 2007, which ranged from 7.2% to 10%.
Yields data from real estate company Magic Bricks paint the same picture:
AVERAGE RENTAL YIELDS (%)

City
Average Rental Yields (%)
Delhi
2.47%
Mumbai
2.55%
Bangalore
3.80%
Pune
2.67%
Chennai
2.81%
Kolkata
3.73%
Hyderabad
3.84%
Source: Magic Bricks
Ambit Capital notes that if the Indian real estate market was correctly priced, the rental yield should tend to be somewhere close to the cost of borrowing. Instead, Mumbai (e.g.) has a rental yield of around 2% to 3%, while the lending rate is around 9% to 10%.
Falling (but still high) interest rates
By end-July 2019, Housing Development Finance Corporation (HDFC), India's largest mortgage company, lowered its interest rates by 10 basis points for both new and existing home loans. Earlier this month, the State Bank of India (SBI), the country's largest lender, also reduced its lending rates by 5 basis points for all its loan offerings, including housing loans.
Since June 2019, many banks such as Bank of Maharashtra, Corporation Bank, Oriental Bank of Commerce, and IDBI Bank have also lowered their loan interest rates.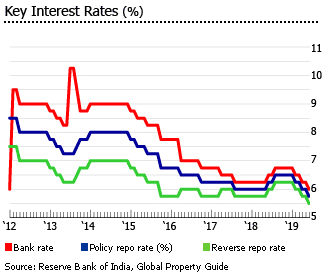 The rate reductions come after the Reserve Bank of India (RBI) slashed its policy interest rate by 25 basis points to 5.75% in June 2019 and changed its monetary policy stance from "neutral" to "accommodative". Similarly, the reverse repo rate was also lowered from 5.75% to 5.5% and the bank rate from 6.25% to 6%. It was the third consecutive rate cut this year, amidst concerns about the sharp slowdown in investment activity coupled with the continuing moderation in private consumption growth.
The rate cuts are expected to buoy the weak real estate market, which continues to grapple with a liquidity crisis along with concerns like delayed housing projects and piling up inventory.
Currently, interest rates for home loans in India range from 8.5% to 22%. Home loan interest rates are linked to the bank's MCLR (Marginal Cost of Funds Based Lending Rate), which indicates the bank's cost of funds. MCLR-linked home loan rates are reset every 12 months and directly impacts a borrower's EMI (equated monthly installments). For an instance, consider a INR2.5 million (US$36,184) home loan for a 10-year tenure from the State Bank of India (SBI). Supposed the bank's interest rate ranges from 8.55% to 8.75% before the rate cut. This translates to an EMI of INR 31,332 (US$453) at the highest rate. If SBI cuts its home loan interest rate to 8.5% as a result of the RBI's move, the EMI will be reduced to INR 30,996 (US$449). The bigger the amount of the loan, the higher the benefits of interest rate cut to home loan borrowers.
HOME LOAN INTEREST RATES FOR SELECTED BANKS, MAY 2019

Banks
Interest rates (%)
MCLR (%)
Processing fee
Andhra Bank
8.80 - 9.95
8.75
0.50% (max INR10,000)
Bank of Baroda
9.70 - 10.20
8.70
0.25% to 0.50% (INR7,500 – INR20,000)
Bank of India
8.80 - 8.85
8.70
0.25% (INR1,000 - INR20,000)
Central Bank of India
8.55
8.55
0.50% (max INR20,000)
Punjab National Bank
9.05 - 12.50
8.45
Up to 0.50% (min INR10,000)
State Bank of India
8.50 - 9.70
8.45
INR2,000 - INR10,000
Axis Bank
8.90 - 10.60
8.80
Up to 1% (min INR10,000)
HDFC Bank
8.55 - 8.90
8.70
Up to 0.50% (max INR11,800)
ICICI Bank
8.80 - 9.25
8.75
0.50% - 1% (min INR1,500)
Karnataka Bank
8.9% - 10.45%
9.40
INR12,000
Sources: RBI, bankbazaar.com
Additional tax breaks will boost demand
In June 2019, the tax breaks on interest paid on affordable housing loans increased by INR150,000 (US$2,171) to INR350,000 (US$5,066) per annum. The increased tax breaks are applicable to loans taken up to March 31, 2020 for homes valued up to INR 4.5 million (US$65,131).
subsidy under the Credit Linked Subsidy Scheme (CLSS) first-time homebuyers will get the additional deduction of INR 150,000 (US$2,171) on top of the existing deduction of INR 200,000 (US$2,895).
The CLSS, introduced in 2016 focuses on helping middle income groups, economically weaker sections, and lower income groups in the country by bringing down their housing loans´ monthly installments. It is implemented by the Housing Urban Development Corporation (HUDC) and the National Housing Bank (NHB).
The following table shows the very significant effect of tax incentives and the CLSS on effective interest rates on mortgages:
FY2019
FY2002
FY2000
Loan amount (INR) Less: Subsidy under CLSS
2,700,000 230,156
2,700,000 -
2,700,000 -
Revised loan amount
2,469,844
2,700,000
2,700,000
Nominal interest rate
8.85%
10.75%
13.25%
Max deduction for interest allowed Deduction on principal
200,000 150,000
150,000 20,000
75,000 20,000
Tax rate
30.90%
31.50%
34.50%
Tenure (years) Total amount paid per year Interest component Principal repaid Tax amount saved Effective interest paid on home loan
20 368,581 218,581 150,000 108,150 110,431
20 321,636 290,250 31,386 53,550 236,700
20 376,812 357,750 19,062 32,775 324,975
Effective interest on home loan
4.1%
8.8%
12.0%
Source: Housing Development Finance Corporation (HDFC)
India's mortgage market is growing very rapidly
Total housing loans in India amount to slightly less than 10% of GDP, low compared to, for instance, China at 20% of GDP, the UK at 88% of GDP, or the US at 81% of GDP. Nevertheless, the combined property portfolios of banks and specialized housing finance companies has risen by 20% annually over the last decade. Banks have made US$ 142 billion of real estate loans, according to Ambit Capital, while Housing Finance Companies have a real estate exposure of US$ 68 billion.
Acute shortage of affordable housing
The state of housing in much of India is miserable. Around 80% of dwellings in rural areas do not have basic amenities, such as safe drinking water, toilets, bathroom, etc. Millions of dwellings are made of mud, straw or bamboo.
The worst housing shortage is concentrated in Uttar Pradesh, Maharashtra, Bihar, Andhra Pradesh, Tamil Nadu, and West Bengal. According to the Economic Times Housing Finance Summit, there are just about 3 houses built per thousand population per year as against to the required construction rate of 5 houses per thousand population.
In 2015, the Prime Minister Awas Yojana's 'Housing for All' project was launched in an effort to address the housing shortage amongst low-income households in cities by building 20 million houses by 2022. A rural component to the program was later added, which aims at building and/or upgrading 10 millions houses this year.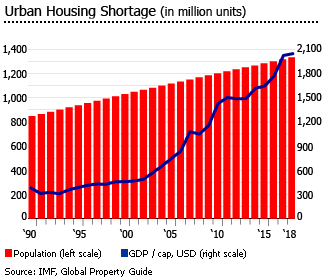 RERA protects homebuyers
The Real Estate Regulatory Act (RERA), giving rise to India's first real estate regulator, was finally implemented on May 1, 2016, nine long years after its conception.
The act requires each state to have its regulator protecting buyers' interests and maintaining speedy dispute resolution. The regulator addresses issues like delays and quality of construction, among others. All real estate projects should be registered with RERA, including alterations made and revenues collected.
Developers are now required to pre-approve their advertisements, including pre-launch ads. Developers should also inform buyers of their other ongoing projects. If the developer defaults on its delivery date, it will have to return the money invested by the buyers, with interest. If the buyers opt not to take the money, they will be paid monthly interest for every month of delay. Errant builders can be slapped with a fine of up to 10% of the total project cost or up to 3 years imprisonment. Developers as a resulted have shifted their focus to project execution, rather than new launches.
Enemy Property (Amendment and Validation) Bill
Against the backdrop of Prime Minister Narendra Modi's disturbingly nationalist-toned government, the Indian Parliament recently passed the Enemy Property Bill, amending a 49-year old law. In 1968, after the Indo-Pakistan War of 1965, the Enemy Property Act was enacted to administer "properties belonging to, held or managed on behalf of an enemy, an enemy subject or an enemy firm" and it listed the powers of the Custodian of Enemy Property for India, where such properties are vested.
Under the amendment bill, successors of those who migrated to Pakistan and China during partition will no longer have any claim over properties left behind in India. To date, around 9,500 enemy properties have been identified, majority of which belonging to Pakistani citizens from the time of the wars.
Below are some of the bill's important provisions:
The Custodian is made the owner of enemy property retrospectively from 1968
All legal sales undertaken by enemies of enemy properties since 1968 are void
Indian citizens who are legal heirs of enemies are prohibited from inheriting enemy property
Civil courts and other authorities are prohibited from hearing certain disputes relating to enemy property
Indian economy slowing; unemployment rising
In the fiscal year ending in March 2019, the Indian economy expanded by 6.8% - the lowest growth for five years. Likewise, the country's annual growth rate in the most recent quarter slowed to 5.8%, the lowest in more than four years and the first time that India's quarterly growth trailed that of China in two years.
The auto industry's predicament is an example of the effect of this slower growth.  In June 2019, car sales fell by almost 16%, and some manufacturers shut their production lines due to low demand for vehicles.
The Indian economy expanded by an average of 8.8% annually from 2003 to 2007. Growth slowed to 3.9% in 2008 but quickly bounced back the next year, growing 8.5%. Recent GDP growth rates were 10.3% in 2010, 6.6% in 2011, 5.3% in 2012, 6.4% in 2013, 7.4% in 2014, 8% in 2015, 8.2% in 2016 and 7.2% in 2017.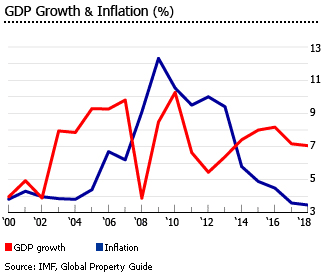 In May 2019, Narendra Modi won a dramatic second landslide election, returning him for another five-year term as India's prime minister, giving a convincing mandate to his Hindu nationalist Bharatiya Janata Party (BJP).
But aside from addressing the flagging economy and rising unemployment, PM Modi is now confronted with questions about whether economic growth in his first term was nearly as strong as official figures claimed. This is because in June 2019, Arvind Subramanian, a former IMF staffer and Modi's ex-chief economic adviser, authored a Harvard paper claiming that India's GDP growth was considerably lower than the official figures showed. Based on Subramanian's estimates, India's economy grew by an average of 4.5% between 2012 and 2017, not the above 7% average growth that the official figures suggest. For instance, he questioned India's GDP growth rate of above 7% in 2016 after the government's chaotic move to pull all high-denominated currency bills out of circulation. Lending credence to his argument, Subramanian has pointed out that no country has grown over 7% with exports growing below 5%.
India's unemployment rate is now at record high. During FY2018, the nationwide jobless rate rose to 6.1% - the highest since 1972-73, the earliest year for which comparable data is available. Over the same period, urban unemployment stood at 7.8% while rural unemployment was 5.3%, according to the Periodic Labour Force Survey (PLFS) of the National Sample Survey Office (NSSO). The youth (aged 20-24 years), who constitute about 40% of India's labour force, have an unemployment rate of 32%.
India will have 18.9 million jobless people this year, according to the International Labour Organization (ILO). Recently, the World Bank estimated that India needs to create 8.1 million jobs every year to maintain its employment rate, which has been declining.
Sources: