Turkey is in a sort of crisis, and it is reflected in the property market. One symptom is a very high level of inflation which means that the apparent rise in Turkish property prices doesn't reflect reality.

In fact when adjusted for inflation, property prices are falling. There are high interest rates, a stalling economy, a plunging currency, and a debt buildup - all of which is not exactly a full-scale economic emergency but might be described as economic influenza.

For locals, this means that for a couple of years there will be low growth, rising unemployment, and declining property prices.  For foreigners, the currency's devaluation means that the property market is very attractively priced, which is luring many to Turkey.

House prices in Turkey fell by 9.2% during the year to November 2018 in inflation-adjusted terms, a sharper decline than the 1.5% inflation-adjusted price drop during the same period last year. Total sales of dwellings in Turkey have also fallen, declining by 2.41% in 2018.  In addition the Turkish Lira's value has fallen dramatically against the US Dollar, which has helped encourage a large rise in foreign purchases of real estate, primarily by buyers from the Gulf. 

In Istanbul, Turkey´s largest city, nominal house prices rose by 6.3% during the year to November 2018. But when adjusted for inflation, house prices were actually down by 12.6% y-o-y.
In Ankara, the country´s capital, house prices rose by 8.9% y-o-y in November 2018. However, they fell by 10.5% when adjusted for inflation.
In Izmir, the country´s third largest city, house prices went up by 12.3% y-o-y in November 2018, but when adjusted for inflation, prices actually fell by 7.6% y-o-y.
Turkey's nationwide house price index rose by 10.5% during the year to November 2018, according to the Central Bank of the Republic of Turkey (CBRT).  But when adjusted for inflation, they fell by 9.2% y-o-y.

New homes in Ankara rose by 11.3% during the year to November 2018, according to CBRT, but in inflation adjusted terms this was a decline in prices of 8.46%. Izmir's new home prices rose by 10% (-9.5% inflation-adjusted), and Istanbul's by 2.2% (-15.9% inflation-adjusted). 

Foreign ownership in Turkey is ruled by the reciprocity principle. Citizens of countries that allow Turkish citizens or legal entities to own property in their country are allowed to acquire property in Turkey. Citizens of most EU countries (except for Belgium, Cyprus, Czech Republic and Slovakia), the United States, Canada and other countries in Asia, Latin America and Africa can freely purchase properties in Turkey.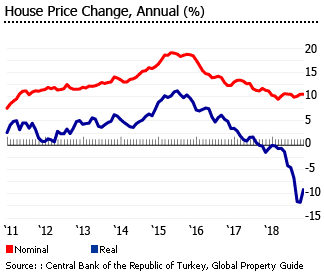 Turkey has granted citizenship to foreigners through various means since January 2017, which includes purchasing property worth at least US$ 1 million. New regulations were introduced in September 2018 cutting the investment amount required for Turkish citizenship:

Purchasing real estate worth at least US$ 250,000 now gives you citizenship.
Or a fixed capital investment of US$ 500,000
Or keeping at least US$ 500,000 in a Turkish bank account for a minimum of three years, down from the earlier cap of US$ 3 million;
Or generating 50 jobs, down from 100 jobs.

In 2017, the government introduced other measures to entice foreign home buyers:

Reduction of Land Registry's title deed fees from 2% to 1.5%, which are payable by both the buyer and the seller (or around 3% in total).
VAT exemptions for property owners who buy a Turkish property but do not live in Turkey, on a condition that they pay for the property with foreign currency. Home buyers must also hold the property for 12 months after purchase.
Stamp duty for "promise to sell agreements" reduced to 0%, from 0.95%.

Treasury and Finance Minister Berat Albayrak also announced a set of tax cuts which became effective on November 1, 2018:

VAT on housing sales and on the furniture sector was cut from 18% to 8%, until December 31, 2019.
The lower title deed fees rate from 4% to 3% (1.5% for seller and 1.5% or buyer) will continue until December 31, 2019.
The suspension of special consumption taxes on domestic appliances continues until June 30, 2019.
Special consumption tax rates for motor vehicles with engines under 1600cc are reduced to 15%.
Reduction of all VAT rates for commercial vehicles from 18% to 1%.