St Petersburg's housing market booms, as Russian real estate gains momentum
Most of the action in the Russian real estate market is in the big cities, as interest rates fall.  The nationwide price index for resale apartments rose by 6.91% during the year to Q2 2019, an improvement from the previous year's 1.55% growth, according to the Federal State Statistics Service (Rosstat). When adjusted for inflation, however, the price index for resale apartments increased by just 1.83% during the year. Quarter-on-quarter, resale prices rose by 0.48% in Q2 2019 (-0.41% inflation-adjusted).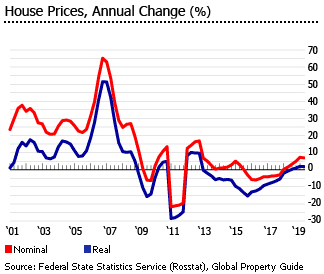 However in St. Petersburg, resale apartment prices surged by 14.6% y-o-y to Q2 2019, a sharp improvement from the prior year's 2.22% growth. Inflation-adjusted prices rose by 9.16%.
In Moscow, the price index for resale apartments rose by 3.16% during the year to Q2 2019, in contrast to an annual decline of 2.82% in Q2 2018. Inflation-adjusted apartment prices fell by 1.75% y-o-y.
In the first half of 2019, real estate investment in Russia rose by 24% to RUB 102 billion (US$1.6 billion) from the same period last year, in contrast to a 39% decline in 2018, according to JLL.
"Growth in the first half of this year can be explained by the closure of several large transactions," said Natalia Tischendorf of JLL Russia & CIS. "Increased stability in the financial markets and the CBR easing monetary policy are helping the recovery of real estate investment market activity."
About 27% of the total real estate investment was for residential properties. Total housing debt outstanding rose by 18.9% to RUB 7.16 trillion (EUR 100.49 billion) in September 2019 from the same period last year, according to the Central Bank of the Russian Federation. One of the biggest deals was  the residential complex Prime Park, purchased by A1, the investment arm of Alfa Group.
Moscow remains the most important market in Russia, accounting for about two-thirds of real estate investment in 2018. It was followed by St. Petersburg, which represents more than 21% of total investment.
Both locals and foreigners can own landed properties, according to the Land Code of 2001. The legislation was extended to Moscow in January 2006.
Local house price variations
The average price of a second-hand apartment in Moscow was RUB 176,605 per sq. m. in September 2019, according to analytics center irn.ru. In dollar terms, the average price of apartments was up to USD 2,710 per sq. m. while it increased to EUR 2,458 per sq. m.
"The cheaper mortgages had a positive effect on the capital´s secondary real estate market," said irn.ru.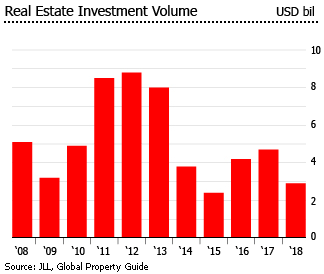 Ostozhenka, one of Moscow's most prestigious and beautiful neighborhoods, has the most expensive housing with an average price of RUB 370,582 (EUR 5,214) per sq. m. in September 2019. It was followed by Tverskoy with an average price of RUB 360,695 (EUR 5,075) per sq. m. and Yakimanka, with RUB 356,048 (EUR 5,010) per sq. m.
Other expensive areas include the center of Moscow, Arbat, Khamovniki, Zamoskvorechye, Presnensky, Krasnoselsky, Meshchansky and Tagansky.
Residential construction remains weak nationwide, strong in both Moscow and St. Petersburg
In 2018, the total number of apartments built in Russia fell by 5.6% to 1,075,741 units, following declines of 2.4% in 2017 and 2.3% in 2016, according to Rosstat. In the Central Federal District, which accounts for 30% of the market, the number of apartments built was down 3.4% y-o-y to 319,995 units last year.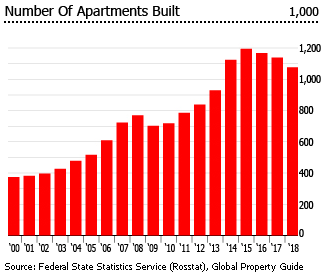 Yet the major cities are doing well.
In Moscow, there were 58,544 apartments built in 2018, up 9.1% from a year earlier.
In St. Petersburg, there were 78,174 apartments constructed last year, up 12.5% from a year ago.  
In 2018, the total area of housing stock was 3.78 billion square meters, up 1.9% from a year earlier.
How oil prices impact Russia's housing market
Russia experienced a massive housing boom from 2000 to 2007 as oil prices surged, with secondary housing market prices skyrocketing by 436%, while primary market prices rose 362%.
The country fell deep into recession in 2009, after global energy prices fell. Apartment prices suffered a sharp dip in the second quarter of 2009 which lasted over two years. The market began to recover in 2012, with existing home prices rising by 16.9% y-o-y during the year to Q4 2012 (9.7% inflation-adjusted).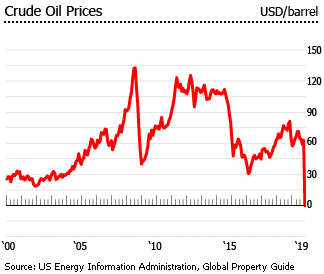 However another global oil price decline, plus economic sanctions imposed by the US and the EU, pushed Russia into economic recession from 2015 to 2016. During this period, house prices fell 11% y-o-y from 2015 to 2017 (-22% inflation-adjusted).
The housing market started to recover again in early-2018, amidst improving economic conditions.
Central bank key rate falling
In September 2019, the Central Bank of Russia (CBR) lowered its benchmark interest rate for the third consecutive month by 25 basis points to 7%, amidst slowing inflationary pressures.
Inflation slowed to a record low of 2.9% last year, from 3.7% in 2017, 7% in 2016 and 15.5% in 2015.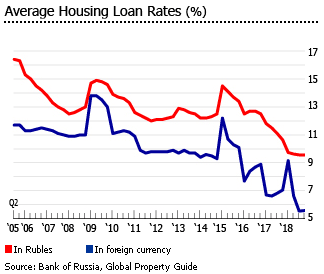 The central bank started tightening its monetary policy in late 2014, raising its key rate to a peak of 17% in December 2014 to mitigate inflation pressures brought by a weaker currency. However the central bank has cut the rate from 17% in December 2014 to 7.25% in March 2018, though it briefly reversed gear, raising the key rate to 7.75% in December 2018.
"The inflation slowdown is continuing," said the central bank. "Most inflation indicators reflecting the most sustainable price movements are close to 4%."
Low interest rates fuel mortgage lending growth
Low interest rates are behind the continuous growth of mortgage lending, with total housing debt outstanding strongly up by 18.9% to RUB 7.16 trillion (EUR 100.49 billion) in September 2019 from the same period last year. In August 2019, the average interest rate for ruble-denominated mortgage loans was 9.91%, down from 11.41% in August 2017, 12.75% in August 2016 and 13.95% in August 2015.
The Russian government also allocated worth RUB 600 billion of subsidized mortgages to young families starting last year. Families with a second or subsequent child born from 2018 to 2022 will be allowed to get mortgages at 6%, significantly below the current rate, which will be held fixed for three to five years, subject to a recalculation after the initial period.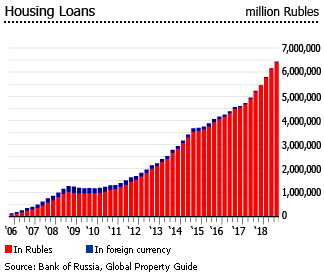 The banks' mortgage portfolio quality has improved as loans in foreign currency have fallen. In Q3 2019, the amount of overdue housing loans stood at only 1.1% of the total loans extended, despite the rapid growth in the volume of housing loans issued. Foreign currency debt now accounts for only less than 1% of the total mortgage debt, sharply down from almost 30% in early-2007.
Rental yields poor in Moscow, good for very small apartments in St. Petersburg
Gross rental yields in Moscow's upper-end areas are quite low, ranging from 3.07% to 3.82%, mainly due to very high prices, based on Global Property Guide research of July 2019. An apartment in an elite neighborhood in Moscow costs on average EUR 10,000 to EUR 14,500 per sq. m. This means that a million euros can only buy a small apartment. A 75 sq.m. apartment costs, on average, EUR 750,000.
Monthly rents in Moscow's elite areas range from EUR 32 per sq. m. to EUR 41 per sq. m., or around EUR 3,800 per month for a 120 sq. m. apartment.
In St. Petersburg, rental yields are higher, ranging from 3.46% to 6.2% with smaller apartments offering higher yields. Prices of apartments in the city currently stand at EUR 3,860 to EUR 6,600 per sq. m. Monthly rents in St. Petersburg's elite areas are lower than in Moscow, ranging from EUR 18 to EUR 20.
Round trip transaction costs can be very high for foreigners buying residential property in Russia.
New property laws have caused anxiety
From January 1, 2014 the cadastral value of real estate has been used in calculating tax, replacing the inventory value approach. One problem is that the cadastral values of many land plots have exceeded their market values, given that the mass valuation criteria used for revaluation in 2012 did not take into account land characteristics.
A tax rate of 0.1% has been imposed on real estate properties with cadastral value around RUB 300 million (EUR 4.21 million) or less since January 1, 2015, while residential properties with cadastral value higher than RUB 300 million have tax rates ranging from 0.5% to 1%, according to Knight Frank.
A new federal law came into effect on January 1, 2017 brought changes to the system of state cadastral valuation. The new law sets a transition period between January 1, 2017 and January 1, 2020, wherein state cadastral valuation may be performed under both the "old" and the "new" rules.
Some of the changes in the new legislation:
Only employees from a state-financed institution will be allowed to conduct state cadastral valuations. In the past, appraisals were performed by independent appraisers chosen through a state procurement system.
The Rosreestr (the Federal Service for State Registration, the Cadastre and Cartography) is now tasked to supervise state cadastral valuations.
State cadastral valuations should be conducted not more than once every three years (not more than once in two years for the cities of Moscow, Saint-Petersburg and Sevastopol), but not less than once in every five years.
An unscheduled state cadastral valuation may be performed under special circumstances. For example, if the real market index of a certain area fell by at least 30% from the previous state cadastral valuation, then an unscheduled valuation is held.
Real estate owners can now submit a declaration of the features of relevant real estate items. Such declaration includes information required to calculate the cadastral value.
Regarding disputes concerning a computed cadastral value, applications can now be filed either to the commission or to the court. In the past, addressing the dispute to the commission first is mandatory.
Russia's economic crisis and recovery
The Russian economy has had a rough time in recent years. Following an annual average growth of 4.4% in 2010-12, economic growth slowed to 1.8% in 2013 and to 0.7% in 2014. The country's GDP contracted by 2.3% in 2015 and grew by a miniscule 0.3% in 2016, according to the IMF.
A brief snapshot of key events:
First, a catastrophic collapse in the price of oil, of which Russia is a major producer
Then, Russia's intervention in Ukraine, which caused the country to be placed under an economic embargo
The ruble then collapsed. The ruble devalued to an all-time low (US$ 1 = RUB 85.91) on January 21, 2016
Rapidly rising inflation followed; inflation went up to 15.5% in 2015
The central bank raised the key interest rate in six rapid steps to 17% in December 2014
Russia sovereign debt was then downgraded to "junk status" (BB+) by Standard & Poor's (S&P) in January 2015, a move followed a month later by Moody's
Low incomes combined with skyrocketing prices have pushed millions of Russians into poverty since 2014. Russia's economic downturn prompted ordinary Russians to protest against the economic crisis. In 2015, real wages in Russia fell by 9.5%, to an average of just over RUB 30,300 (EUR 426) per month, according to official data.
Russia's poverty rate reached a peak of 16% of the population in 2016, up from 11.2% in 2014. Almost 20 million Russians were living on less than 9,691 rubles (EUR 136) per month or roughly 13.5% of the population.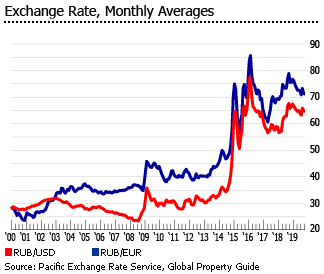 The economy started to improve in 2017, registering real GDP growth of 1.6%. This was mainly due to a rebound in oil prices, following the agreement between the Organization of Petroleum Exporting Countries (OPEC) and other non-OPEC members to cut oil production. Almost 70% of Russia's GDP is directly or indirectly dependent on oil.
In 2018, the Russian economy expanded by 2.8% from a year earlier – the highest growth in six years.
The overall jobless rate fell to 4.8% last year, from an average of 5.4% in 2012-17 and 7.7% in 2000-11, based on IMF figures. In September 2019, Russia's unemployment rate stood at 4.5%, up from an all-time low of 4.3% in the previous month, according to Rosstat.
Russian's fragile economy, a new set of US & EU sanctions
The Russian economy grew by 0.9% y-o-y in Q2 2019, an improvement from the previous quarter's 0.5% growth but sharply down from last year's 2.2% expansion, according to a central bank press release in August 2019. It was the country's 11th consecutive quarter of positive growth.
The central bank has recently revised down its 2019 GDP growth forecast to 0.8% - 1.3%, from an earlier estimate of 1% - 1.5%, amidst the worsening US-China trade conflict.
"The growth in our main trade partners, China and the EU, is slowing down, so Russian export has slowed down as well, and it's one of the main external factors that caused deceleration of the Russian economy in the first half of this year," said Russian central bank governor Elvira Nabiullina.
Following a two-year price growth, oil prices have been falling again lately. In September 2019, Brent crude, the global benchmark for crude oil prices, was trading at US$ 62.83 per barrel, down 20.4% from a year earlier. Likewise, US benchmark West Texas Intermediate traded at US$ 56.95 in September 2019, down 18.9% from a year ago.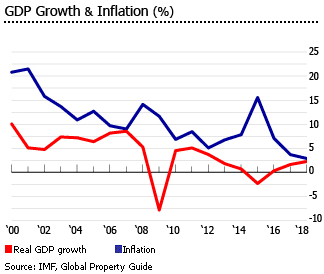 The weak growth was partly attributed to capital outflows following the extension of US sanctions against Russia. Aside from that, the government also raised its VAT rate from 18% to 20% at the start of 2019, which dampened consumer spending.
In March 2019, US President Donald Trump extended sanctions against Russia for another year, until the spring of 2020. The travel bans and asset freezes were first imposed over Russia's annexation of Crimea in 2014 under former US president Barack Obama. The punitive measures have been extended and expanded since.
In a similar manner, the European Union also extended its economic sanctions again until January 31, 2020, putting pressure on Moscow to accomplish the Minsk ceasefire agreement.
Russian President Vladimir Putin will lead the country for another six years, having won a second consecutive term during the March 2018 presidential elections with 77% of the vote. Putin's nearest competitor, Pavel Grudinin of the Communist Party only got almost 12% of the vote, while Putin's most serious competitor and the main opposition leader Alexei Navalny was barred from the race due to an earlier criminal conviction for corruption.
Sources: