Transaction costs are very high in the Philippines
How high are realtors´ and lawyers´ fees in the Philippines? What about other property purchase costs?
How difficult is the property purchase process in the Philippines?
Foreigners cannot own land, but can own condominium units or apartments in high-rise buildings as long as the foreign proportion does not exceed 40%. They can also buy a house but not the land on which it is built. Leases on land up to 50 years, renewable for another 25 years, are available.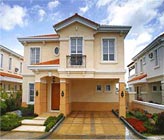 If a foreigner is keen on acquiring land, there are several options. One, if married to a Filipino citizen, is to have the ownership of the land under the Filipino´s name. Even though a foreigner cannot buy land, he may acquire land through inheritance. Another option is to acquire land through a corporation. Corporations can only be, at the maximum, 40% foreign-owned.
The maximum area that may be acquired for residential purposes is 1,000 square meters of urban land or one hectare of rural land.
When buying new property, it is important to look for properties backed by established developers and licensed real estate agents/ brokers, especially in cases of off-plan or pre-selling (the property is at the planning stages and non-existent during the time of the sale).
In general, property can be acquired by simple agreement. After deciding what property to buy as well as inspecting the premises and documents, the buyer usually signs a binding notarized Deed of Sale. Employing the services of a reputable sales agent is convenient because they not only provide vital information regarding the transaction and property, but also assist the buyer in getting mortgage loans.
Buying condominiums
A down payment of 10% to 30% is usually required. Ownership of condominium units is evidenced by the Condominium Certificate of Title (CCT) but the transfer of title is usually not executed until the property is fully paid. Foreigners can only own up to 40% of a condominium project.
Holders of Special Resident Retiree´s Visa (SRRV), a non-immigrant resident visa, can get additional benefits aside from being allowed to buy a condo unit or lease a parcel of land or a house and lot. The SRRV holders can reside in the Philippines permanently, with multiple-entry privileges and zero travel taxes. Other benefits and information about the SRRVisa is available on the Philippine Retirement Authority Website.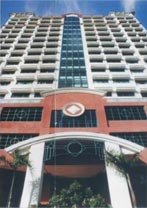 Buying land
The process of buying land in the Philippines is cumbersome and tedious. Aside from the fact that foreigners are not allowed to buy land, the system of land registration and classification should make any investor think twice. The farther you are from the capital the more caution one must take.
However, serious land problems also exist in the NCR. There are 11 laws directly related to land registration and nine others indirectly related to land disposition and administration. Aside from the Department of Environment and Natural Resources and the Bureau of Lands, there are several agencies that have direct and indirect control over land. The courts also have the authority to award land ownership.
Legal Procedures in transfer of title (land and apartments)
Owner and Buyer agree on sale of a piece of land. Through a lawyer, a Deed of Absolute Sale (DOAS) is created and notarized.
A Land Tax Declaration is secured from the Bureau of Internal Revenue (BIR) and submitted to the city or municipal Assessor´s office.
Buyer pays real estate tax to the City Treasurer´s Office.
The Assessor´s office assesses the market value of the property.
Transfer taxes are paid by the buyer to the Assessor´s Office.
Capital Gains Tax and Documentary Stamp tax are paid to BIR.
The Registry of Deeds (RD) cancels old title and issues a new one in the name of the buyer.
The buyer, now the new owner, obtains a photocopy of the new title and requests tax declaration from the Assessor´s office.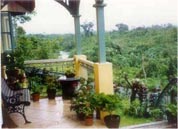 Ownership is evidenced by the Transfer Certificate of Title (TCT) in the case of single houses and raw land, and The Land Registration Act requires the owners of property to register titles with the Registry of Deeds. The titles must be registered in the same province as the property. However, the records are inaccurate in such that overlapping might exist. There is a proliferation of fake and double titles. The completion of survey of all the lands in the country, mandated by the 1903 Public Land Law, is nowhere in sight.
The whole process of registering property may take around 39 days to complete eight procedures.
Value Added Tax
According to RA 9337, the following sales of property are VAT-Exempt
Sale of real properties not primarily held for sale to customers or held for lease in the ordinary course of trade or business;
Sale of real properties utilized for low-cost housing as defined by R.A. No. 7279, otherwise known as the "Urban Development Housing Act of 1992" and other related laws, such as R.A. No. 7835 and R.A. No. 8763 wherein the price ceiling per unit is PHP450,000 (US$9,000) or as may from time to time be determined by the Housing and Urban Development Coordinating Council (HUDCC) and the National Economic Development Authority (NEDA);
Sale of real properties utilized for socialized housing as defined under R.A. No. 8763, wherein the price ceiling per unit is PHP450,000 (US$9,000) or as may from time to time be determined by the HUDCC and the NEDA and other related laws;
Residential lot valued at PHP1,919,500 (US$38,390) and below, house and lot, and other residential dwellings valued at PHP3,199,200 (US$63,984) and below: provided, that not later than January 31, 2009 and every three (3) years thereafter, the amounts herein stated shall be adjusted to their present values using the Consumer Price Index, as published by the National Statistics Office (NSO).



It takes around 32 days to go through the nine procedures needed to register a property in the Philippines.
---
Footnotes to Transaction Costs Table

The round trip transaction costs include all costs of buying and then re-selling a property - lawyers´ fees, notaries´ fees, registration fees, taxes, agents´ fees, etc.

Notary Fee
Notary fees are generally around 1% to 2% of the property value. Notary fees are negotiable.



Local Transfer Tax:
Local transfer tax is 0.50% for properties located in provinces, and 0.75% for properties located in cities and municipalities in Manila.

Documentary Stamp Tax
Documentary stamp tax is around 1.5% and it is levied on the selling price or fair market value of the property, whichever higher.


Capital Gains Tax:
Capital gains tax is really a transaction tax on selling or transferring real estate properties classified as capital assets. The capital gains tax is levied at 6% of the gross selling price or fair market value of the property, whichever is higher.
For taxation purposes, properties are treated as capital assets if it is not used in trade or business, and properties are treated as ordinary assets if it is used in trade or business, such as rental property. Ordinary assets are not subject to the 6% Capital Gains Tax.

Real Estate Agent´s Fee:
The real estate agent´s fee is generally around 3% to 5% of the property value. Real estate agents will usually do the registration process without any additional payments aside from the commission. br>
house and lot for sale in manila, nicole beach resort nasugbu, properties for sale philippines, siargao lot for sale, philippines property, mercedes residences, property philippines, sellers ayala, land for sale philippines, town and country southville binan laguna, lumina homes cabanatuan, tagaytay fontaine villas, apartment for rent in sampaloc manila, la residencia sta rosa, town and country southville, tagaytay clifton resort suites, capijana village, lot for sale in san jose del monte bulacan, lot for sale philippines, playa azalea samal, house for rent dumaguete, tagaytay house for sale cheap rush, nicole beach resort, villa zaragoza, condo for rent near ust, apartment for rent near ust, arezzo place pasig, rent to own house in cavite, house for sale philippines, contract growing, paenaan, greenhills garden square, lkg group of companies, sunland development corporation, assume balance house and lot, house for rent san pedro laguna, rent to own cavite, casa mira linao, enclave alabang, house for sale in philippines by owner, philippines real estate, bucal calamba laguna, property ph, jasaan beach resort, the enclave alabang, lot for sale in san pedro laguna, villa zaragoza bocaue, apartment near ust, kai garden residences, palmdale heights pasig, rent to own house in carmona cavite, ilustrata residences, green circle realty, badoc island, houses for sale in philippines, casa amaya south, the villas at dasmarinas highlands, house for rent in pacita san pedro laguna, lancaster cavite rent to own, golden meadows binan, seafront residences, pundaquit san antonio zambales, ecrm filinvest, hampstead place marikina, escala salcedo, house for sale in philippines, marcelo green village zip code, clark sunvalley country club, property finder philippines, badoc island resort, villa zaragoza bocaue bulacan, farm lot for sale, house for rent in dumaguete, palmdale heights, lot for sale in tandang sora, house for rent in sampaloc manila, beachfront property for sale philippines, redwood residences, sabungan floor plan, zip code san carlos city neg. occ, houses for sale philippines, summerhills executive village, villa caceres sta rosa laguna, casa amaya tanza, residential lot for sale in quezon city, sunvalley clark, sigma capiz zip code, metrostar realty, house for rent in san pedro laguna, house and lot for sale san pedro laguna, cheapest house and lot for sale in philippines, lamudi, lamudi philippines, house and lot for sale, apartment for rent, room for rent in makati, apartment for rent in makati, apartment for rent in quezon city, condo for rent makati, how to get your pag ibig number online, hlurb, land for sale, house for rent, foreclosed properties, rent to own house, house for rent in quezon city, apartment for rent in mandaluyong, house and lot for sale in quezon city, room for rent, deed of absolute sale, maceda law, room for rent in mandaluyong, contract to sell, condo for rent, commercial space for rent, room for rent in quezon city, room for rent makati, zinnia towers, camaya coast, apartment for rent in manila, manila sale, bpi foreclosed properties, lot for sale, condo for rent in manila, rent to own condo, apartment for rent in pasig, townhouse for sale, foreclosed properties bpi, foreclosure philippines, house for sale, apartment for rent in cebu, room for rent cebu, apartment for rent quezon city, rent to own house in cavite, room for rent in pasay, resa law, pag ibig benefits, rent to own house in quezon city, apartment for rent in pasay, apartment for rent makati, solo room for rent in mandaluyong, sale, transient house in baguio, room for rent mandaluyong, house for rent in davao city, real estate philippines, house for rent in makati, famous festival in philippines, deed of sale, flair towers for rent, pag ibig fund foreclosed properties for sale 2018, capital gains tax, house and lot for sale in cavite, condominium, rent to own, recto law, ayala alabang village, commercial space for rent in quezon city, house and lot for sale in baguio city, real property tax philippines, pag ibig acquired assets, rent to own house in manila, apartment for rent in taguig, metro manila skyline, rent to own house in cebu, warehouse for rent, apartment for rent mandaluyong, rent to own condo in makati, shell residences for rent, room for rent in manila, contract of lease, makati apartment for rent, apartment for rent manila, house for rent in cebu, deed of donation, townhouse for sale in quezon city, lamudi portal, myproperty.ph, house and lot for sale in cebu, house and lot for sale in laguna, pagibig acquired assets, house and lot for sale quezon city, condo for rent mandaluyong, condo for rent in quezon city, lot for sale in quezon city, apartment for rent in cainta, apartment for rent in davao city, condo near ust, affordable house and lot for sale in quezon city, apartment for rent in muntinlupa, apartment for rent antipolo, baguio house and lot for sale, house and lot for sale in marikina, quezon city, apartment for rent in marikina, tagaytay house and lot for sale, sun residences for rent, apartment for rent muntinlupa, apartment for rent in paranaque, pagibig foreclosed properties, lamundi, apartment, rhapsody residences, house for rent marikina, house for rent in dasmarinas cavite, room for rent in mandaluyong for couple, baguio apartment for rent, apartment for rent near sm north, apartment for rent pasig, house for rent in cavite, sea residences for rent, condo for rent quezon city, pag ibig foreclosed properties, house for rent in pasig, room for rent quezon city, lot for sale in davao city, lot for sale las pinas, rent to own house in antipolo, apartment for rent cainta, ortigas condo for rent, condo for rent in makati, apartment for rent in las pinas, apartment for rent bgc, commercial space for rent in cavite, dorms near up diliman, house for rent quezon city, axis residences, pag ibig foreclosed, punta fuego, house for rent near me, the one torre de santo tomas, lamudi cebu, apartment for rent in ortigas, house for rent in mandaluyong, house for rent in baguio, house for sale las pinas, house and lot for sale in bulacan, studio type for rent in mandaluyong 5k, house and lot for sale in manila, rent to own condo in mandaluyong, room for rent pasay, apartment for rent alabang, condo for sale, house and lot, apartment for rent cubao, properties for sale, bpi properties for sale, house for rent san pedro laguna, property for sale, ayala alabang house for sale, makati condo for rent, rent to own apartment in quezon city, rent to own quezon city, apartment for rent in baguio city, studio type for rent, house for sale in cavite, apartment for rent in imus cavite, condo for rent in bgc, house and lot for sale in taguig, apartment for rent taguig, capital gains tax philippines, apartment for rent in taguig 5k, house for rent pasig, rent to own houses, commercial space for rent in makati, real estate news philippines, lamudi ph, office space for rent in makati, house, mirea residences, foreclosed house and lot, manila on sale, cambridge village, real estate broker, foreclosed house and lot for sale in baguio city, rent to own house in makati, house design, house for rent in san pedro laguna, condo sharing ortigas, room for rent in bgc, pagibig acquired asset, house for rent in quezon city 5000, room for rent near bgc, condominium for sale, house for rent in pasay, house for rent in cainta, house and lot for sale in san pedro laguna, studio type for rent in pasay, peninsula garden midtown homes, lot for sale in baguio city, house for rent antipolo
Philippines - More data and information