Is Saudi Arabia's house price decline about to end?
Saudi Arabia´s house prices were the worst performers in the world last year up to Q3, according to Knight Frank´s
Q3 2018 Global House Price Index
.   Saudi Arabia´s real estate index for the residential sector declined by 6.1% (-8.3% inflation-adjusted) during 2018, and fell by 2.6% (-1.9% inflation-adjusted) during the latest quarter, according to Saudi´s
General Authority for Statistics
(GAStat).
Prices of residential plots fell by 6.3% (-8.5% inflation-adjusted) during 2018.
Apartment prices fell by 3.5% (-5.9% inflation-adjusted) during 2018.
Villa prices dropped by 4.7% (-7% inflation-adjusted) in 2018.
The real estate index for houses declined by 0.7% (-3.1% inflation) during 2018.
The real estate index indicator released by GAStat was launched in April 2017, based on the available registry data of real estate transactions from the Ministry of Justice.    
Apartment prices in Jeddah fell by 7% during 2018, and by 3% during the latest quarter, according to JLL. Sale prices of villas also dropped by 7% y-o-y and by 3% q-o-q in Q4 2018.
However the price decline may be coming to an end.  During the latest quarter, apartment prices increased by 0.4%  when adjusted for inflation and house prices rose by 1.3%.  In Riyadh, the capital city, apartment prices declined b 1% during the year to end-Q4 2018, according to Jones Lang LaSalle (JLL), but remained unchanged from the previous quarter. Sales prices of villas also dropped by around 3% y-o-y in Q4 2018, but unchanged from the previous quarter.
The Saudis have been encouraging residential investment
Mindful of the lessons of the 1970s to early 1980s, the Saudis have in recent years spent their petrodollars cautiously, reinvesting a large portion of the windfall into real estate and encouraging foreign investment.
After deep recession in the 1990s, a Foreign Investment Law was passed in April 2000 to encourage a service-oriented economy.   A new Real Estate Law allowed legally-resident non-Saudis to own a private residence, provided they obtained a license from the Ministry of Interior, and to own real estate to conduct business and accommodate employees, again with Ministry of Interior permission. To prevent speculation, five years must elapse before property can be sold. However, real property ownership by foreigners is forbidden in the holy cities of Mecca and Medina. Non-Saudi Muslims can only obtain leases of up to two years in these cities.  From 2002 to 2005, house prices rose by 13.7% annually while average land prices rose 16.5% per year, according to the National Commercial Bank Capital (NCBC).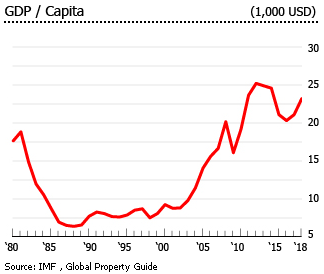 Strong house price rises have continued in recent years. During 2014, the average sales price of villas in Riyadh rose by 4% to 7% while apartment sales prices increased by 6% to 9%, according to KPMG Real Estate Advisory.
The impact of the oil price decline 
The recent fall in property prices have largely been caused by an economic slowdown, reflecting the dramatic decline in the price of oil in 2014.  Ironically, it was the Saudis themselves who helped drive oil prices down, battling to keep their share of the oil markets.
One aim was to hurt Iran. Iran´s economy needs oil to trade around $135. Saudi Arabia´s own breakeven oil price at which the national budget is in balance is around $100 per barrel, according to Crude Oil Peak, an industry analysis site.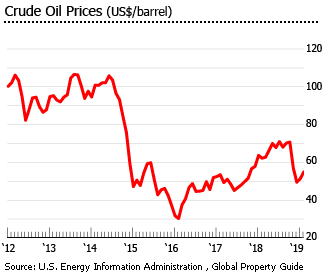 Saudi Arabia also has far larger cash reserves and is thus able to withstand a downturn in prices for much longer. Saudi Arabia is the world´s largest oil producer and exporter, and also has huge clout as leader of the Organization of the Petroleum Exporting Countries (OPEC). Petroleum accounts for more than 75% of government revenues and 90% of exports.
Saudi Arabia has compensated for its reduced oil revenues by running fiscal deficits. There was a deficit of 14.8% of GDP in 2015, 12.9% of GDP in 2016, and 8.9% of GDP in 2017. This was in sharp contrast with budget surpluses of about 13% of GDP from 2003 to 2013.
The sharp increase in Saudi Arabia´s budget deficit in 2015 and after can be attributed to the following:
Sharp decline of crude oil prices,
Following King Salman´s recent accession to the throne in January 2015, he immediately spent a substantial amount of money on subsidies and public job bonuses, including extra months of additional salary to all government employees, in an effort to increase his popularity.
Significant military expenditures directed on the conflicts in Yemen, Syria, and Egypt.
From having the lowest share of public debt in the world at less than 2% of GDP in 2014, the kingdom´s public debt ballooned to around 19.1% of GDP in 2018, and is expected to rise to 21.7% of GDP in 2019.
In April 2016 the Saudis launched a deep-seated reform strategy called Vision 2030, reflecting the personal initiative of Crown Prince Mohammad bin Salman Al Saud.
By year 2030 the strategy aims to:
Increase non-oil exports as a proportion of non-oil GDP from 16% to 50%
Cut unemployment from 11.6%, to 7%
Raise women´s participation in the workforce to rise from 22%, to 30%
Raise the private sector´s contribution to GDP from 40%, to 65%
In April 2019, Saudi Aramco  started issuing bonds in order to finance its acquisition of another major state-controlled company, SABIC. Aramco´s first bond issuance has generated a massive amount of interest from the international market, with demand for bonds surging above US$ 100 billion, 10 times worth the US$ 10 billion that the bond issue was expected to raise.
Prior to Aramco´s first international bond issue, it was announced that the company signed a purchase agreement worth US$ 69.1 billion, buying a 70% majority stake in SABIC from the country´s sovereign wealth fund Public Investment Fund (PIF). The PIF plays a key role in the Vision 2030 as it mainly supports the kingdom´s economic diversification by financing the Vision´s projects and investing in strategic sectors.    
Other government drives include a "National Transformation Program 2020" (June 2016), and a "Fiscal Balance Program 2020" (December 2016).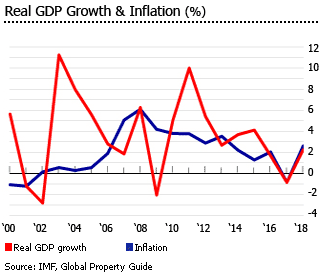 Though the Saudi government´s budget deficit had fallen to only 4.6% of GDP in 2018, the IMF expects a deficit of 7.9% in 2019.  "We expect the [Saudi] authorities to continue tapping domestic and foreign debt sources to finance the fiscal deficits," said Institute of International Finance (IIF) chief economist for the Mena region Garbis Iradian.
Nevertheless during the last quarter of 2018, the Saudi economy had its fastest expansion in three years, growing at 3.6% y-o-y, following the 2.4% y-o-y increase in Q3 2018. This was attributed to the strong oil production in Q4 2018, posting an output of 10.75 million barrels per day (mbpd). The robust oil production has propelled the oil sector´s growth to around 6% y-o-y, as opposed to the non-oil sector´s sluggish growth of 2% y-o-y in Q4 2018. 
However the kingdom´s economy is expected to slow in 2019 to 1.8% growth, reflecting a round of oil production cuts announced in December 2018, according to the  IMF´s Gita Gopinath.  Also the whole region´s growth is slowing due to geopolitical tensions, weak oil output, tightening financial conditions in Pakistan, and US sanctions on Iran.  In December 2018,  OPEC and its allied oil-producing countries (except Iran, Venezuela, and Libya) decided to do another round of oil production cuts in the beginning of 2019, reducing a total of 1.2 million barrels per day off the market for the first six months of the year. OPEC´s supposed mid-year meeting in April 2019, which was meant to review the market conditions and make necessary adjustments, was canceled last March. This means that the production cuts that they agreed upon will continue.
In February 2019, the kingdom´s consumer price index declined by 2.2% y-o-y, down from -0.6% y-o-y in the same period last year, according to Saudi´s General Authority for Statistics (GAStat). Unemployment stood at 6% in Q4 2018, unchanged from the same quarter last year.
As of August 2, 2019, crude oil traded at US$61.21 per barrel.
Rental yields are high in Saudi Arabia
In Riyadh, the average gross rental yield kin 2017 was 9.02%, and around 8.03% in Jeddah, according to the 2017 STC Real Estate Index published by Stephane Tajick Consulting.
However, Saudi Arabia´s rental market has been trending down. At the lower end, some expatriate families have left the country due to the implementation of the expat dependent tax in July 2017. The tax started at SAR 100 (US$ 26.67) per month in 2017, and had to be paid by an expat worker for every dependent (including spouse, children, parents, etc.). The monthly fee increased to SAR 200 (US$ 53.33) in 2018, and to SAR 300 (US$ 80.00) in 2019. In 2020, the monthly fee will increase again to SAR 400 (US$ 106.67).
In Riyadh:
Apartment rents dropped by 1% y-o-y, but were unchanged from the previous quarter in Q4 2018, according to JLL.
Villa rents also fell by around 2% y-o-y, and unchanged from the previous quarter in Q4 2018.
In Jeddah:
Apartment rents plunged by 13% y-o-y and by 4% q-o-q in Q4 2018.
Villa rents fell by 12% y-o-y and by 4% q-o-q in Q4 2018.
"The new regulations on expats are affecting the outflow of foreigners, which means population will decline, affecting demand," said Al Rajhi Capital´s head of research Mazen al-Sudairi. From 10.78 million in Q2 2017, the non-Saudi workers dropped by around 900,000 to 9.98 million in Q2 2018, based on the figures from the General Authority for Statistics (GAStat).
In Riyadh, villa rental rates are expected to decline in 2019. This declining trend began since the implementation of the white land tax, according to KPMG. Meanwhile, apartment rental rates will still be under pressure due to the expat levy and slow economy.
In Jeddah, villa rental rates had been falling in 2018 and such market condition is expected to continue in the short to medium term, as investors and end-users remain cautious. Apartment rental rates and sales prices saw a 8% to 10% drop in 2018, according to KPMG. However, Firas Hassan, Head of real estate at KPMG AL Fozan and partners said that "the market drivers seem to be positive for the long term, backed by the favorable demographic, and government's focus on the real estate sector as part of the diversification process."
Housing supply continues to rise
Housing supply continues to rise in Riyadh and Jeddah, according to Jones Lang LaSalle (JLL).
In 2018:
In Riyadh, the total housing supply was around 1.29 million units by the end of 2018, up from 1.26 million units at the end of 2017, according to JLL.
In Jeddah, the total housing supply stood at 817,000 units, also an increase from 813,000 units recorded at the end of 2017.
The capital city´s housing supply is expected to rise by around 30,000 units both in 2019 and in 2020. In Jeddah, housing supply is predicted to increase by around 7,000 units in 2019, and by 16,000 units in 2020.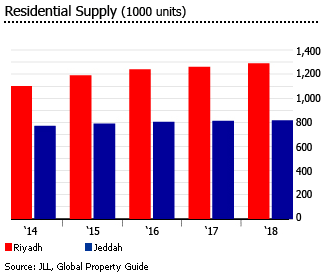 Despite rising housing supply, Saudi Arabia still faces a housing shortage of around 1.5 million units, according to the Ministry of Housing. In an effort to tackle this dilemma, Saudi Arabia´s cabinet approved a 2.5% tax on undeveloped and idle urban land plots or "white lands" in June 2016. The new tax will be implemented in four stages and will be applicable to landowners of plots exceeding 5,000 square metres.
Boosting home ownership
The Kingdom´s population of 32 million is growing by more than 2% annually. It is dominated by young middle-class Saudis who are first time homebuyers, as 45% of the country´s population are below 20 years old. Demand from expatriates exacerbated the housing shortage, with about 5.5 million expat workers in the country. Low and middle-income households make up about 80% of the unmet demand.
In order to boost affordable housing and the property market in general, the government has been devising some measures since 2016. Several recently revealed new programs are meant to make mortgage financing more accessible for Saudis:
These measures are part of Saudi Arabia´s National Transformation Program 2020, which aims to increase the percentage of homeowners from 47% to 52% of households by 2020. The program intends to raise the percentage of real estate financing to non-oil GDP from 8% to 15%, and to increase the share of residential units developed by approved property developers to around 30% by 2020.
Earlier, the Ministry of Housing launched the ESKAN (the Arabic word for housing) housing scheme in March 2014 to assist Saudi families buy a house through state-subsidized home loans or subsidized sales of land or housing units. The government allocated about SAR250 billion (US$66.7 billion) for the construction of 500,000 new dwellings in coming years.
ESKAN will "help initiate a housing market take-off to tackle the needs of the middle class, where most of the demand lies," said John Sfakianakis of Saudi investment firm MASIC. "Once people see the supply being addressed, there will be fewer concerns about systemic risks and housing market imbalance."
Small but expanding mortgage market
The Saudi Arabian Monetary Agency (SAMA), the kingdom´s central bank, made its fourth consecutive interest rate hike as it raised its repo rate to 3% in December 2018. Prior to the recent hikes, interest rates had been progressively cut. The kingdom´s central bank pushed the repo rate down to 2% since January 2009. This was unavoidable, as the Saudi riyal is pegged to the US dollar (at 1US$=SAR3.75).
Yet the low interest rates hadn´t helped much, because the mortgage market itself is way too small. According to the Saudi Real Estate Refinance Company (SRC), there were only around 160,000 mortgages outstanding in a population of more than 31 million.
Over the last few years, the government has been crafting measures that could boost mortgage financing. Among them was a SAR 120 billion (US$ 32 billion) mortgage market plan that includes a SAR 18 billion (US$ 4.8 billion) loan-guarantee and a SAR 12.5 billion (US$ 3.33 billion) down payment support program.
The mortgage market for residential units grew by 64% y-o-y in 2018, according to the Real Estate Development Fund (REDF). The REDF predicts the market size to double this year (2019).
"In the past, the private sector´s contribution to real estate finance did not exceed 35%. Now more than 25,000 contracts have been signed in the past year. This year, we aspire to exceed 125,000 financing contracts. We also estimate that the investment volume in the real estate sector will reach SR 60 billion this year," said the Housing Minister and Chairman of REDF´s Board of Directors Majed Al-Hogail, during REDF´s Second Housing Finance Conference held in March 2019.
The Real Estate Development Fund (REDF), a state-funded entity, currently dominates the home financing market.
Major real estate developments
The Kingdom is preparing new real estate projects that will be built through public-private-partnerships as part of its Vision 2030. These projects include mega developments: NEOM, the Red Sea Project, Qiddiya, and Amaala.
The urban project NEOM is a 26,500 sq. km. planned mega-city and business zone worth US$ 500 billion, which will be located on the Red Sea near Saudi Arabia´s northeast border with Jordan and Egypt. This was unveiled by Saudi Crown Prince Mohammed bin Salman bin Abdulaziz in October 2017 during a Public Investment Fund (PIF) conference. The construction of NEOM Bay, the first urban area within the development, began in the first quarter of 2019 and is expected to be completed in 2020. The whole project is expected to be fully completed in 2025.
Another ambitious project, the Red Sea project, had its masterplan approved in January 2019. This development by The Red Sea Development Company (TRSDC) is a 34,000 sq. km. tourism centre located between the cities of Umluj and Al-Wajh, which includes around 10,000 hotel rooms. The completion of the project´s Phase 1 is due in 2022, consisting of 14 luxury and hyper-luxury hotels with a total of 3,000 hotel rooms, and facilities such as an airport, yacht berths, and recreational facilities.
Qiddiya Entertainment City is a 334 sq. km. entertainment development located 40 km from Riyadh city centre that will feature a Six-Flags-branded theme park, along with other leisure facilities and hotels. The project´s construction is reported to commence in 2019.
The Kingdom is also setting a wellness tourism destination called Amaala. This 3,800 sq. km. development will be built at the Kingdom´s northwestern coast and will consist of about 2,500 luxury hotel rooms, 200 retail establishments, 700 villas, a dedicated airport, marinas, and art galleries. The project´s Phase 1 is expected to open in Q4 2020, and is set to be fully competed in 2028.
Saudi Arabia also has other construction projects planned, aiming to improve infrastructures, diversify its economy, and raise the citizens´ living standards. The Kingdom´s other top construction projects, among many others, include:
The Riyadh Metro
Riyadh Rapid Bus Transit System
Jeddah Tower
The third expansion of Makkah Grand Mosque
Expansion of the King Fahad Medical City
King Abdullah Bin Abdulaziz Medical Complexes
Sakani Homes
King Salman Energy Park (Spark)
Political uncertainty under the new Crown Prince; Vision 2030 under threat after Khashoggi´s murder
Saudi Arabia is currently shrouded in political uncertainty. In June 2017, Mohammed bin Salman was appointed as Crown Prince, after the king deposed Muhammad bin Nayef and relieved him of all his positions. The kingdom started a massive corruption crackdown, which led to the arrests of at least 11 princes, four ministers, several ex-ministers and businessmen. Among the arrested were billionaire Prince Al-Waleed Bin Talal bin Abdulaziz Al Saud.
The purge was seen as consolidating the crown prince´s power. It was immediately followed by a 1.1% decline in the Saudi Stock Exchange in early trading on Monday, November 6, 2017. The anti-corruption campaign has also weakened investor confidence.
Aside from local political unrest, the crown prince´s aggressive stance in foreign policy threatens the region´s stability. Crown Prince Mohammed is said to be behind the economic boycott of Qatar since June 2017. The crown prince has also been in a word war with Iran recently after he called Iran´s Supreme Leader "the new Hitler of the Middle East", in an interview with the New York Times.
Saudi Arabia also faced a political crisis due to the disappearance and killing of the journalist Jamal Khashoggi, last seen at the Saudi Consulate in Istanbul on October 2, 2018.  The news of Khashoggi´s murder initially deterred  potential investors in doing business in the kingdom. One of the first executives to negatively reacted to the news was British billionaire Richard Branson, who suspended his advisory role for the two Vision 2030 projects in the Red Sea that he´s involved with. Branson also suspended talks with the Saudi government regarding a US$ 1 billion investment in Virgin´s space companies. "Furthermore, Saudi Arabia's bungled response has probably intensified the negative sentiment," according to Hani Sabra, Middle East analyst and founder of Alef Advisory.
SOURCES: