Colombia's robust house price rises continue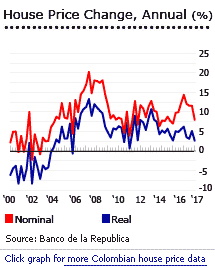 In the eleven year of a strong housing market, Colombia´s house and apartment prices went up by 8% (2.66% inflation-adjusted) during the year to Q1 2017, according to the Banco de la Republica Colombia (Banrep) index, which covers second-hand houses and apartments.
The Banrep house price index includes nine cities (the three major cities: Bogotá (the capital, with a population of 8.1 million), Medellin (pop: 2.5 million), and Cali (pop: 2.4 million), plus Barranquilla, Bucaramanga, Cucuta, Manizales, Neiva and Villavicencio).
Colombia´s property market has seen impressive house price increases over these eleven years:
+ 14.05% (9.38% inflation-adjusted) in 2006
+ 16.66% (10.55% inflation-adjusted) in 2007
+ 17.76% (10.03% inflation-adjusted) in 2008
+ 10.40% (5.94% inflation-adjusted) in 2009
+ 6.97% (4.56% inflation-adjusted) in 2010
+ 8.33% (4.74% inflation-adjusted) in 2011
+ 11.33% (7.91% inflation-adjusted) in 2012
+ 10.06% (7.80% inflation-adjusted) in 2013
+ 8.09% (4.99% inflation-adjusted) in 2014
+ 9.61% (4.42% inflation-adjusted) in 2015
+ 13.13% (5.19% inflation-adjusted) in 2016
New house prices are rising at a similar rate. The new house price index from Departamento Administrativo Nacional de Estadística´s (DANE) rose by 10.05% (4.69% inflation-adjusted), while new apartment prices went up by 7.65% (2.41% inflation-adjusted) during the year to Q1 2017.
Another interest rate cut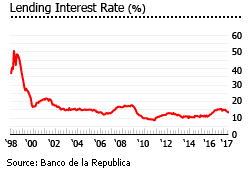 Colombia´s central bank, Banco de la Republica Colombia (Banrep), made its eighth consecutive key policy rate cut since December 2016, slashing the interest rate by 25 basis points to 5.25% in August 2017. In July 2017, Colombia´s prime lending rate declined to 13.58%, from 15.28% in July 2016.
One of the factors that influenced the decision noted by Banrep was "weakness in economic activity and the risk of a slowdown beyond what is compatible with the deterioration in the dynamics of income due to the fall in oil prices". While this move is an attempt to boost economic activity, it was also done at a time when inflation is continuously declining, falling back within the bank´s 2% to 4% target ― at around 3.4% y-o-y in July 2017, which gives the central bank flexibility.
Despite the slowdown, Banrep expects inflation to rise in the second half of 2017 due to higher food prices. The bank also noted that "the available figures of economic activity suggest that the slowdown of the economy has bottomed out, and that higher growth can be expected during the second half of the year".
Mortgage lending in Colombia remains low. Only 3% of the adult population have mortgages, and as of September 2016, outstanding mortgages amounted to only around 6.44% of the country´s GDP, according to Bancolombia, Colombia´s largest bank.
The number of houses financed by mortgages rose by 12.88% in 2016. Much of this increase was new houses financed by mortgages, which rose 29.7%. On the other hand, used home mortgages contracted further by 11.3% in 2016, following a 10.1% contraction in 2015.
Robust house price growth in major cities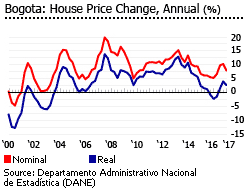 Colombia´s three major cities all enjoyed house price rises during the first quarter of 2017.
In Cali nominal new house prices rose 10.2% during the year to Q1 2017, or up 4.84% when adjusted for inflation.
In Medellin, new house prices rose 8.51% (3.23% inflation-adjusted) during the year to Q1 2017.
In Bogota new house prices increased by 7.99% (2.73% inflation-adjusted).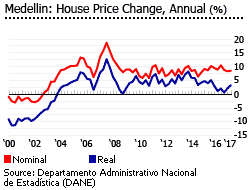 Other areas also posted robust house price hikes. New house prices in Pereira rose by 14.06% (8.51% inflation-adjusted), followed by Armenia with 11.49% (6.07% inflation-adjusted), and Barranquilla with 6.58% (1.39% inflation-adjusted). On the other hand, new house prices in Bucaramanga fell by 1.47% when adjusted for inflation, according to DANE.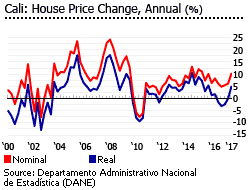 From 2011 to 2016, house prices in Bogota have risen by 59.61%, followed by Medellin (50.53%), and Cali (48.29%).
Good rental yields
Gross rental yields in Bogota are moderate to good, according to the Global Property Guide´s research of October 2014. Apartment yields range from 5.55% for 200 sq. m. apartments, to 6.98% for 120 sq. m. apartments in Chapinero Alto. In Chico, apartments yields range from 5.85% to 7.05%. Yields on apartments in Santa Barbara range from 6.38% to 6.43%.
Typical apartment costs in Bogota:
Chapinero Alto - from US$ 143,850 (75 sq. m.) to US$ 493,800 (200 sq. m.)
Chico - from US$ 189,150 (75 sq. m.) to US$ 525,800 (200 sq. m.)
Santa Barbara - from US$ 158,400 (75 sq. m.) to US$ 385,600 (200 sq. m.)
The tourism sector´s rapid growth
Colombia´s tourism industry, one of the significant sectors in the country´s economy, has shown rapid expansion in the recent years. Travel and total contribution went up from 4.5% of GDP in 1995 to 5.8% of GDP in 2016, according to the World Travel and Tourism Council (WTTC).
In 2016, tourist arrivals went up by 13.3% y-o-y to around 2.59 million visitors. Most of the visitors came from the United States (19.2%), Venezuela (13.6%), and Brazil (7%), which made up almost 40% of the total arrivals in 2016, according to the Ministry of Commerce, Industry and Tourism.
The country´s selling points include: UNESCO World Heritage Sites in Cartagena; the surrounding areas of San Andres, Santa Marta, and Providencia y Santa Catalina; the Colombian coffee growing axis, which houses the popular cities of Armenia, Pereira, and Medellin; and the country´s capital, Bogota, which recently became more popular with tourists due to major urban renovations and rehabilitations and improved facilities and museums.
The city of Cartagena (pop: 972,000), one of the country´s oldest colonial cities, is the city of most interest to many foreign buyers.  Founded in 1533 by Spaniards, Cartagena was a trading port and a slave port where Africans were sold and shipped to other Latin American countries.
Cartagena is a large and intact colonial town of great beauty. The city has a port, fortresses, and monuments on the UNESCO World Heritage List. The revival of Cartagena´s historic centre occurred in early 2000s, when wealthy expatriate Colombians began to buy and restore run-down colonial buildings. This eventually drove prices up by as much as 300% to 600% (in some cases) from 2004 to 2009, according to Patrick Enste, general manager of the real estate company La Heroica.
Cartagena is currently one of the most dynamic and most expensive property market in the country, whose property prices rival those in Bogota. The city´s property market started to heat up around 20 years ago, as colonial houses and mansions were restored, or transformed into luxury hotels or boutiques, according to Paul Juan, owner of the brokerage Paul Juan Realty.
"Nowadays, there are as many foreign buyers and investors looking for already-renovated properties as for properties to renovate," said Verónica Dávila, director of Julio Corredor Christie´s International Real Estate Colombia. According to Davila, Colonial and Republican-style properties are priced between US$ 1 million to US$ 10 million.
A two-bedroom apartment in the city could cost around US$ 300,000, according to Juan. However, sales of low-end properties have slowed in the previous year, due to "scarcity of good-quality properties".
Residential property prices in Castillogrande, a popular neighborhood of Cartagena, range from US$ 700,000 for a two- or three-bedroom apartment to US$ 2 million for a penthouse, according to Davila.
Bocagrande is also becoming popular among investors, because of its long beaches, shopping malls, high-rise hotels, and upscale apartment complexes. In Bocagrande, one-bedroom apartments without water views but located near the beach could cost around US$ 180,000, while three- to four-bedroom bayside apartments are priced at around US$ 1 million, according to Juan.
Colombia has huge ecotourism potential because of its unique biodiversity and variety of natural scenery such as the deserts in La Guajira, the Amazon and Andean regions, and Caribbean and Pacific coasts.
Conflict with FARC has ended
The country´s 52-year war with the FARC is finally over, as the last batch of weapons were turned over in a UN-supervised disarmament by the FARC in August 2017, a year after the Colombian government and the Revolutionary Armed Forces of Colombia (FARC) announced their agreement to a ceasefire deal.
"With the laying down of arms ... the conflict is truly over and a new phase begins in the life of our nation," according to President Santos.
The original June 2016 ceasefire deal, ending a conflict that had lasted half a century, was rejected by voters in a national referendum (50.2% against to 49.8% in favour). A revised peace deal signed on November 24, which was approved by the Colombian Congress on November 30, 2016.
The FARC formally ceased to be an armed group on June 27, 2017, and turned over its weapons to the United Nations. FARC later on announced its transformation as a legal political party and is expected to participate in the upcoming elections next year.
Juan Manuel Santos´ peacemaking approach to the FARC rebels
In the presidential election of May 2014 incumbent Juan Manuel Santos was re-elected President, gaining 50.95% of votes in the 2nd round, and defeating the more right-wing Óscar Iván Zuluaga of the Democratic Center (Centro Democrático). Santos ran for the Social Party of National Unity, commonly referred to as "Party of the U".
Santos´ first term had begun in August 2010. He was a key ally of his predecessor Alvaro Uribe. As defense minister, Santos had been instrumental in weakening the FARC, Colombia´s biggest left-wing rebel group.
With graduate degrees in economics and journalism from the London School of Economics and Harvard, his win was welcomed by investors and businesspeople. In March 2011, Colombia´s credit rating was upped to investment grade by Standard and Poor´s (S&P), a vote of confidence in Santos´ reform agenda, which included changing the management of oil and mining royalties, and a health care overhaul. Colombia showed resilience during the global crisis, as a result of sound fiscal management and careful use of oil revenues.
Though a scion of a well-known traditional political dynasty, Santos was willing to negotiate with the rebels.  In fact, during his first term Santos was strongly criticized for discontinuing the anti-terrorist measures of former president Alvaro Uribe, and for opening peace talks with the Revolutionary Armed Forces of Colombia (FARC). Santos´ peacemaking approach resulted in low popularity ratings, as well as prompting Uribe´s departure from the Party of the U to create the right-wing  Democratic Center movement in January 2013, which chose Zuluaga as its candidate.
After his re-election, Santos focused on the peace negotiations which had been held in Cuba since November 2012. In April 2015, the president began to lose patience and called for a deadline. "We must put deadlines on this process and if (the FARC) want peace they must demonstrate with deeds and not with words," said Santos.
Happily in June 2016, the Colombian government and FARC finally announced that they had agreed a ceasefire deal, ending a conflict that had lasted half a century. The agreement includes the disarmament of an estimated 7,000 FARC rebels.
The country has a turbulent history.  After his election as president in 2002, Alvaro Uribe implemented a tough line against left-wing guerrillas, but also against right-wing paramilitaries. Though Uribe polarized opinion, few would dispute his economic achievements. From 2003 to 2007, the economy expanded by an average of 5.5% annually. Such growth rates had not been seen in Colombia since the end of the 1970s. In 2006, Uribe sought a constitutional revision to allow re-election for a second 4-year term. This was approved by Congress, and Uribe was reelected with a 64% of the votes, more than enough, given the 50%+1 requirement to avoid a run-off.
Hit by the global economic meltdown and by the credit crunch, GDP growth slowed to 2.7% in 2008 and 1.5% in 2009. Despite the economic slowdown Uribe remained highly popular. He sought another constitutional revision to allow a third term but this was shot down by the Constitutional Court. So his defense minister and long-time ally, Juan Manuel Santos, ran as his successor.
Better economic outlook expected during the rest of 2017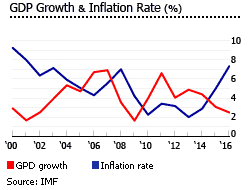 The Colombian economy posted its lowest growth for seven years in 2016, expanding by only 2% in 2016, according to the Departamento Administrativo Nacional de Estadística´s (DANE). This was a slowdown from 3.1% in 2015, 4.4% in 2014, 4.9% in 2013, and 4% in 2012.
The economy´s weaker performance was due to the 6.5% y-o-y contraction in the oil and mining sector, the main culprit for Colombia´s economic slowdown over the last three years, since oil is one of Colombia´s main exports. In contrast, the financial, insurance, business services, and real estate sector (which official statistics consider as one industry) surged by 5% y-o-y, making it the best performing sector in 2016. Other strongest-performing industries include construction (4.1% y-o-y) and industrial manufacturing (3.0% y-o-y).
In Q2 2017, the economy slightly grew by 1.3% y-o-y, following 1.2% in the first quarter. The IMF expects Colombia´s economy to grow by 2.3% in 2017. "As the current year elapses, the economy will gradually recover from the shocks that have affected growth," says Bancolombia in a note to investors. "We estimate that the acceleration cycle that will begin this year will extend over the next two years. Our base scenario for 2017 growth is 2.3%."
The export decline also caused the Colombian peso´s devaluation. In February 2016, the currency reached a historic low of around COP 3,400 per USD, having lost about 28% of its value over the past 12 months, but has since recovered to under USD1 = COP 3,000.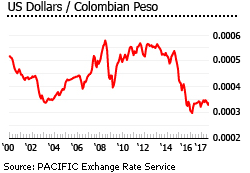 In 2017, Banco Bilbao Vizcaya Argentaria (BBVA) expects a slight appreciation of the average exchange rate, due to higher external interest rates, factors such as "the higher oil prices, the closing the current account deficit, and the appetite of foreign capital for the country will mean that the average exchange rate will be around 2,973 throughout the year".
In August 2017, inflation went up to around 3.9% from 3.4% in July, however the price level is still within the central banks´ 2%-4% target rate.
Unemployment in Colombia rose to 9.7% in July 2017, a sharp drop from 11.7% in January 2017, but almost similar to the 9.8% rate recorded in July 2016.
Housing deficit falling
Like many 3rd world countries Colombia measures its "housing deficit", i.e., the proportion of households either poorly housed, or not housed at all. Colombia´s housing deficit has fallen to only around 1,647,093 units in 2012, or around 27% of households, according to research by the Banco Bilbao Vizcaya Argentaria (BBVA).  In 2005, the housing deficit had been 2.4 million housing units. 
During Santos´ 1st term housing further initiatives were launched, aiming to build 1 million houses from 2010 to 2014. Much was achieved through subsidizing low-income families´ home purchases.
The two main programmes were:
Priority Interest Housing (Vivienda de Interés Prioritario, VIP), introduced in 2012, which provided 100,000 free homes to the poorest
Social Interest Housing (Vivienda de Interés Social, VIS), which offers subsidies to low-income families. To qualify for VIS, families´ monthly incomes must not exceed four times the minimum wage (or around US$ 1,360). Houses for the VIS programme are built by private developers.
Other government housing programmes include:
Vivienda para Ahorradores (Homes for Savers) wherein buyers get subsidies for down payments as well as interest payments (the government decides which residential developments are eligible)
National Savings Fund (Fondo Nacional del Ahorro, FNA), which provided access to loans
Stimulus Plan for Production and Employment (Plan de Impulso a la Productividad y el Empleo, PIPE), which subsidises mortgaged properties priced from COP 80 million (US$ 31,296) to COP 198 million (US$ 77,459).
In December 2014, a new programme was launched to help middle-income Colombian home buyers (with incomes between two to four times the official minimum wage) called "Mi Casa Ya" (My House Now) which will last to January 2018. It consists of a subsidy worth COP 12 million (US$ 4,094) for a home´s down payment, and also a subsidy of four percentage points on the mortgage interest rate, reducing the interest rate from 12.5% to 8.5%. It is for homes worth between around COP 48,261,850 (US$ 16,466) and COP 93,076,425 (US$ 31,755). Around 130,000 families are expected to benefit from this program between 2015 and 2018, according to Colombia´s Ministry of Housing, City and Territory.