Chile's housing market strengthens
Chile's housing market continues to grow stronger, thanks to falling interest rates and robust economy. The average price of new apartments in Greater Santiago surged by 12% in Q2 2019 from a year earlier (9.05% inflation-adjusted), a sharp improvement from the previous year's 6.02% growth, according to the Chilean Chamber of Construction (CChC). Quarter-on-quarter, house prices rose by 3.66% in Q2 2019 (2.72% inflation-adjusted).
Western Santiago saw the highest price rises for new apartments, with 18.2% increase during the year to Q2 2019 (15.1% inflation-adjusted), followed by Southern Santiago with 15.7% price increase. Central and Eastern Santiago saw price increases for new apartments of around 9.7% and 8.2%, respectively.
Yet sales are mixed. The total number of residential properties sold in Greater Santiago fell by 4.4% to 8,588 units during the year to Q2 2019, according to the CChC.
Residential construction is falling. During the first seven months of 2019, the total number and area of dwellings authorized fell by 10.9% and 9.7%, respectively.
Most foreign buyers in Santiago are from the United States or Europe, though interest from Chinese investors is growing. Lastarria and Bellas Artes, which are close to downtown and museums, and have a walkable 'European feel' are popular to foreign buyers, said Nathan Lustig of Andes Property. El Golf, a sophisticated, upper scale neighbourhood located in Las Condes, Santiago, tends to attract wealthy foreigners with its private golf club, luxury housing, five star hotels, renowned restaurants and fancy shopping destinations.
Any individual or corporate body can acquire and own real estate in Chile, whether or not they are residents, except near the country's boundaries. Chile has strong legal protection of property rights.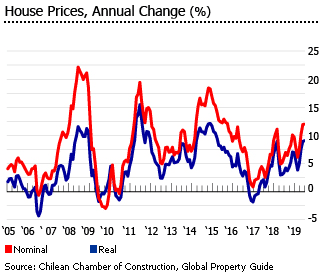 Properties for sales are typically quoted in Unidad de Fomento (UF), a currency tied to the Chilean peso (CLP) but regularly adjusted for inflation. The Central Bank of Chile posts the daily UF-to-CLP exchange rate on its website.
The economy expanded by a robust 4% last year, the highest growth since 2013. Economic growth is projected at 3.4% this year and 3.2% in 2020, according to the International Monetary Fund (IMF).
Impact of property sales tax fading
In January 2016, VAT of 19% was imposed on property sales in Chile by "habitual sellers" such as real estate companies, or persons who sell their properties in less than a year. The VAT added around 4% to 11% to the price of new properties, making older homes more attractive.
This, as well as weak economic growth, led to a slight housing market  downturn in 2016. Greater Santiago's house prices went down by 1.8% y-o-y by the end of 2016.  Nationwide home sales and housing starts plummeted in 2016 by around 35% and 31%, respectively.
But the impact of the property sales tax quickly waned, with house prices rising again by 6.7% in 2017 and by another 6.9% in 2018.
Prior to the VAT imposition, home prices rose 67% from 2004 to 2016. Even the global financial crisis of 2009 only caused a small decline of 0.7% (from May to September 2009). After the 2010 earthquake house prices bounced back, rising 9.5% in 2011, followed by 5.5% growth in 2012, 4.2% in 2013, and 11.7% in 2014, with strong demand in the northwest and southern areas of Greater Santiago from the beginning of 2014, mainly in the apartment market. In 2015, house prices in Greater Santiago rose 4.4%. Now, after a pause, house price are surging once again.
A tax modernization project to boost the country's growth was announced in August 2018. It includes 13 measures. One measure will raise property values benefiting from VAT credit from 2,000 UF or CLP55.2 million (US$ 76,350), to 4,000 UF or CLP110.4 million (US$ 152,700), which will surely encourage middle class housing purchases.
The bill, also aimed to boost investment and cut red tape, is still advancing in Congress.
Property sales mixed
The value of sales rose by 11.1% y-o-y n Q2 2019, to 35.64 million UF or CLP983.5 billion (US$1.35 billion), according to the CChC.
Apartment sales rose by 8.8% y-o-y to 26.49 million UF or CLP730.82 billion (US$1.01 billion) in Q2 2019
House sales surged 18.5% y-o-y to 9.16 million UF or CLP252.67 billion (US$348 million) in Q2 2019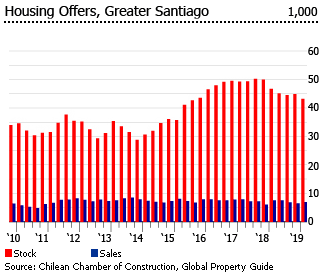 But the number of residential properties sold in Greater Santiago fell by 4.4% to 8,588 units during the year to Q2 2019.
The number of apartments sold fell by 7.6% y-o-y to 6,939 units in Q2 2019
The number of houses sold rose by 12.2% y-o-y to 1,649 units in Q2 2019
Housing construction slowing
Dwellings authorized fell by 10.9% y-o-y to 83,696 units in the first seven months of 2019, following growth of 12.4% in 2018 and 8.9% in 2017, according to the Instituto Nacional de Estadisticas (INE).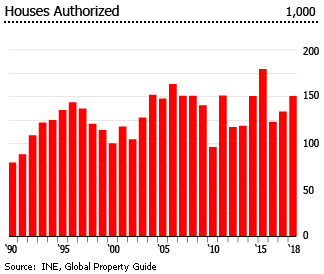 Metropolitan Region saw the highest number of dwellings authorized at about 35% of the total in July 2019, followed by Región del Biobío (16.6%) and Región del Maule (11.7%).
Interest rates falling
In September 2019, the Central Bank of Chile reduced the benchmark rate by 50 basis points to 2%, the lowest in nine years, amidst weaker domestic demand and falling exports due to global trade tensions. 
However housing loan interest rates have been much more stable, with the average rate floating down only gradually from 2006 to a record low of 2.55% in July 2019.
Inflation was 2.2% in July 2019, at the lower end of the central bank's target range of 2% to 4%.
Mortgage market continues to expand
Chile's mortgage market is one of the most developed in Latin America, having grown steadily from 11.3% of GDP in 2001 to 25.1% of GDP in 2018.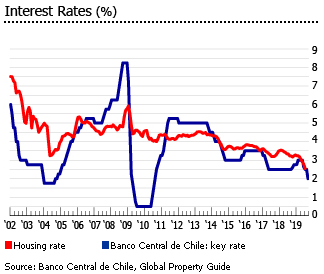 Most mortgages are fixed rate with maximum LTV ratios of around 75% to 80%, which helps contain the banking system's credit risk.
Chile's banks do not usually lend to foreigners, even to those with a resident's permit. Banks have strict lending criteria which are almost impossible for foreigners to satisfy. These tight controls on mortgage lending may have reduced the country's exposure to the global financial crisis.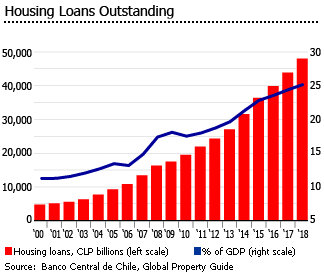 In the second quarter of 2019, the country's outstanding mortgage loans increased by 10.1% y-o-y to CLP 50.28 trillion (US$ 69.28 billion), according to the Central Bank of Chile.
Moderate rental yields in Santiago
Chile has a small but competitive rental market. Unsurprisingly, there are great variations in rental yields in Chile's capital, Santiago, but the overall results from Global Property Guide research conducted in December 2018 was pretty clear – that a square metre of residential property in upscale districts tends to go for around US$3,200 to US$3,700 per square metre (sq. m.). These include the richer districts of Barrio Lastarria, Barrio Brasil, Bellavista, La Dehesa, El Golf. Las Condes, La Reina, Metro Alcantara, Metro Escuela Militar, Nunuoa, Providencia, and Vitacura. Such apartments command a rental yield of around 4%.
A 120-sq. m. apartment in Greater Santiago might, as a rough average, rent for about US$1,340 per month.
Chile's successful housing program
Chile's housing shortage has been reduced by a very successful housing policy. The Ministry of Housing and Planning (Ministerio de Vivienda y Urbanismo or MINVU) was created in the 1970s, and has dominated the housing sector since. It is the country's largest real estate firm, and its second largest mortgage bank.
The special law Decreto con Fuerza de Ley 2 (DFL-2) encouraged affordable housing of less than 140 square metres (sq. m). DFL-2 properties are exempt from income tax, and enjoy 50% off the Real Estate Tax for corresponding periods, according to land area.
Economy to grow modestly
The economy expanded by a robust 4% last year, more than thrice the previous year's expansion and the highest growth since 2013, thanks to strong growth in mining and investments. In Q2 2019, the economy grew by 1.9% from a year earlier, following y-o-y expansions of 1.6% in Q1 2019, 3.6% in Q4 2018, 2.6% in Q3 2018 and 5.3% in Q2 2018 and 4.7% in Q1 2018, according to the central bank.
Economic growth is projected at 3.4% this year and 3.2% in 2020, according to the IMF.
Recently, President Sebastián Piñera unveiled plans to construct thousands of miles of roads, in an effort to buoy economic growth and create jobs.
Chile is an upper-middle income economy with a track record of sustained growth, its GDP having grown at an annual average of 5.6% from 1990 to 2007, among the highest growth rates in the world. Strong growth continued from 2008 to 2012, with an economic contraction of only 1.6% in 2009, amidst the global financial crisis. Chile then rebounded with 5.8% growth in 2010, despite the earthquake. From 2011 to 2013 there was average growth of 5.2%.
However, since then the economy has been hit by the decline in global demand for mining products. In 2014 GDP expanding by only 1.8%, in 2015 by 2.3%, in 2016 by 1.7% and in 2017 by only 1.3%.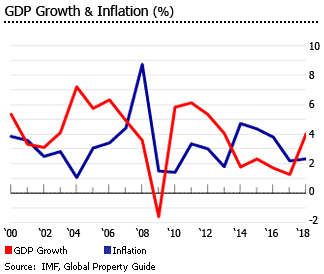 Fiscal discipline is one of the pillars of Chile's solid international image. From 2000 to 2012, Chile recorded an average budget surplus of 1.7%, reaching a record high of 8.8% of GDP in 2007. The budget surplus not only transformed Chile from a debtor to a creditor country, but also placed the country in solid position to weather global economic volatility. In May 2010, Chile became OECD's first Southern American member, highlighting reduction of poverty from 45% in the late 1980s to around 14% in 2009. There were other advances, such as strengthening of state institutions and fighting corruption.
In 2018, fiscal deficit narrowed to 1.9% of GDP, from 2.8% of GDP in 2017, and 3.1% of GDP in 2016, driven by a growth in receipts, coupled with a reduction in public spending, according to the Ministry of Finance. Chile's government debt stood at about 25.6% of GDP in 2018, up from 23.5% in the prior year.
Chile's unemployment rate was 7.2% in July 2019, slightly down from 7.3% a year earlier, according to INE. Jobless rate averaged 6.4% in the past seven years.
Sources: