Luxembourg has strong tenant protection laws
This content is archived and no longer updated.
Rents: Can landlord and tenant freely agree rents in Luxembourg?
Rentals are regulated. Dwellings built or substantially renovated after 10 September 1944 cannot produce for the landlord more than a 5% return on the capital invested in the building.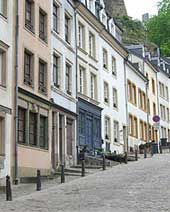 The 'capital invested' is the amount spent on the physical construction, valued either at time of construction, or re-valued at the date of entry into effect of the law. Those who cannot document their cost of construction must accept the opinion of the Commission on Rented Apartments. The landlord can propose to the tenant to use the acquisition price, but if the tenant objects, the view of Commission on Rented Apartments will prevail. If the construction took place more than twenty years ago, the value invested capital is deemed reduced by 10%. Rentals thus fixed may only be altered every three years.
The rent of furnished apartments cannot be more than double the previous rates.
Pre-1944 dwellings of more than 9 sq. m. may not be rented for more than 600 francs if they are 'sans confort'; 1,000 francs if they are 'avec confort'; and 1,500 francs if they are 'avec confort moderne'. The rentals of smaller dwellings are proportionately reduced.
These limits do not apply to independent houses, villas, and apartments occupied by one single household with at least 7 rooms and 'confort moderne'.
Deposits
A maximum of three months deposit can be asked.
What rights do landlords and tenants have in Luxembourg, especially as to duration of contract, and eviction?
Contracts may be agreed for any term, but the tenant always has the right to renew the lease, unless the landlord can prove that he needs the dwelling for occupation by himself, his descendants or ascendants, parents-in-law, or brothers or sisters; or because the tenant does not fulfill his duties; or for other serious and legitimate reasons.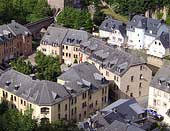 A judge is permitted to suspend an eviction order on request of the tenant for three months, and can renew this suspension two times.
When terminating a lease, tenants are required to notify the landlord at least three months in advance, by registered mail, unless shorter notice is inserted in the contract. A diplomatic clause that will allow you to break your lease on short notice in case of a sudden transfer.
Legislation
The Civil Code Arts 578-636 and 1708-1767, and above all the Act 'Baux à Loyer' of 29 August 1987.
How effective is the Luxembourgian legal system?
EVICTION FOR NON-PAYMENT OF RENT

Duration until completion of service of process
380
Duration of trial
20
Duration of enforcement
120
Total Days to Evict Tenant
240
Courts: The Lex Mundi Project
Luxembourg - More data and information