House price slowdown in South Korea; soaring prices in Seoul
Foreigners have been buying more properties in South Korea in recent years, though the country has a reputation of not being easy to navigate.  The housing market is unusual, with huge key money deposits (the Chonsei system), and significant government intervention.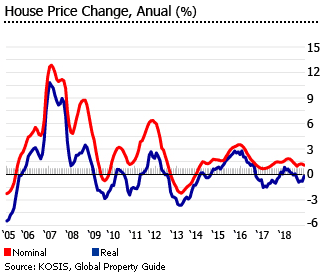 Yet judging by results this is a well-run market. It has been stable since the 2007 crisis.
Last year, in a typical intervention, the authorities decided to put a brake on the market.  In November the Bank of Korea (BOK) raised the key interest rate to 1.75% from 1.5%.  The Financial Services Commission (FSC) also released a detailed set of mortgage regulations applicable to loan applications for new mortgages from September 14, 2018. There were anti-speculative measures to curb house prices in so-called "overheated speculative zones", including Seoul, Gwacheon and Sejong City.
The results of all this caution have been good:  unsold houses on the market have gone down from 2009´s peak figure of 123,297 housing units, to 57,330 units in 2017. The banking system is in good health, with the average bank loan-to-deposit ratio at 115.16 in Q3 2018, down from a range of 120 to almost 140 between 2007 and 2009.
Seoul´s house price index was up by 6.2% y-o-y (4.8% inflation-adjusted) in December 2018.  Country-wide, the national housing purchase price index rose 1.1%, according to the Korean Statistical Information Service (KOSIS). However, when adjusted for inflation, house prices were actually down by 0.2%.
Gwangju, the country´s sixth biggest city, had the second highest house price rise, increasing by 3.9% during the year to December 2018.
Seoul and Gwangju were followed by Daegu (3.6%), Daejeon (2.5%), and Incheon (0.7%).
Ulsan, the country´s seventh largest city, saw the sharpest price decline of around 6.9%. House prices in Busan also dropped by 1.5%.
Out of the country´s 9 provinces, Jeonnam had the highest house price increase of 2.9%, followed by Gyeonggi (1.9%), and Jeju (1%).
The province of Gyeongnam had the sharpest price decline by around 4.8%, followed by Chungbuk (-2.5%), Gyeongbuk (-1.9%), Chungnam (-1.8%), Gangwon (-1.6%), and Jeonbuk (-0.01%).
In Seoul a supply gap is driving up property prices (there´s a "housing supply ratio" of only about 97.8% of housing actually required (2017)).  So the central government has decided to build around 300,000 houses by 2020 in Seoul.  In the provinces, on the contrary, over-supply is the problem, with a housing supply to households ratio of 103.5 to 100, according to the Ministry of Land, Infrastructure and Transport (MOLIT)).
What the government subsidises with one hand it taxes with the other.  In so-called "overheated speculative zones" it taxes dwelling-owners harshly. Households owning two homes have been required to pay an additional 10% in capital gains tax (CGT) upon the sale of a property since April 2018, in addition to a baseline CGT of between 6-40%, depending on the size of the gain and the holding period. Investors with three or more homes pay an extra 20%. In September 2018, the government also revealed plans to impose tougher ownership tax on properties worth over KRW 600 million (US$ 534,093), by increasing the tax from the initial proposal of 0.5%-2% to around 0.5%-3.2%.
Property buyers had previously been encouraged to invest by the BOK´s low key rate, cut twice in 2015 ― from 2% to 1.75% in March, then to 1.5% and to 1.25% in June 2016.  The country´s household debt rose in response by around 6.7% y-o-y to KRW 1,514 trillion (US$ 1.35 trillion) in Q3 2018, according to the Bank of Korea (BOK).
Mortgage lending still up; tighter lending rules
Then in November 2017 restraint began. The Bank of Korea (BOK) raised the key interest rate to 1.5%.  In November 2018 the key rate raised was raised again to 1.75%. Aside from this, the government introduced the ´debt service ratio´ (DSR) system for bank assessments of mortgage loans which, according to financial authorities, will better reflect borrowers´ ability to repay debts. In this DSR system, lenders will look at the borrower´s overall debt-to-income ratio, including interest payments, not just the borrower´s mortgage and interest payments.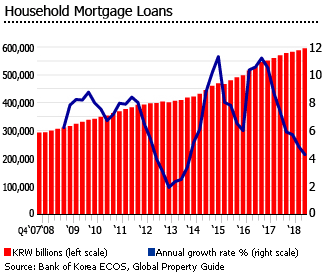 The Financial Services Commission (FSC) also released detailed mortgage regulations in September 2018  applying to applications for new mortgages beginning September 14, 2018. These regulations include:
Multiple home owners are banned from taking out mortgages when purchasing new homes in "speculative zones".  Loans to single home owners only allowed in "exceptional circumstances" such as job-relocation.
Mortgages only allowed for houses worth more than KRW 900 million (US$ 801,139) when intended for residential purpose.
Multiple home owners, and those with annual household income worth KRW 100 million (US$ 89,015), not allowed to have a public guarantee for rental deposit under the jeonse rental system.
A loan-to-value (LTV) ratio of 40% will be applied to the mortgages of housing rental business providers, when buying a housing for rent in  the "speculative zones".
Housing rental business providers prohibited from taking out a mortgage when buying a "high-priced house".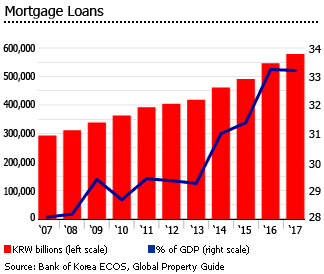 Unique rental system hits young people
In Korea´s unique chonsei (or jeongsei) rental system, the tenant deposits a lump-sum amount to the owner for the use of the property, with no additional requirement for periodic rent payments. The deposit is fully refunded at the end of contract period with no interest.
The Chonsei system eliminates the likelihood of tenant´s default on monthly rent as the deposit is maximized until the end of the contract period. However, the lump-sum deposit, equivalent to 70% to 80% of the property value, imposes a huge burden on younger renters and new households.
According to Population and Housing Census Report 2000, 54% of households live in owner-occupied houses, while 28% are under chonsei contracts. The remaining 18% are under a monthly rental system called wolse.
Korean house prices are strongly steered by the government
The peak of South Korea´s house price boom was reached in 2006, when Seoul prices rose almost 20%. Then the government applied the brakes, imposing controls on housing loans, and hiking capital gains taxes on "speculative areas".
These cooling measures caused a slight slowdown in 2007 and 2008. In 2009, the Lehman shock, and government curbs has led to a sharp slowdown, followed by a house price drop in 2010. The government began reviving the housing market in 2009 by purchasing KRW 2 trillion (US$ 1.79 billion) worth of unsold newly built housing, and KRW 3 trillion (US$ 2.68 billion) of land from construction firms wishing to repay their debts. This was followed by a more intensive expansion measures in 2010 and 2011.
However these measures were not enough. There were house price declines from 2012 to 2013. Further measures were taken such as introduction of tax breaks to induce more demand, as well as other supply control measures for the improvement of prices. The effects of these measures were seen after a year, and were also reflected on the gradual improvement of prices from 2015 to 2016. House prices started to slowdown again towards the end of 2016, as the government started another set of tightening measures, in combination with the rising house supply.
Nominal and Inflation-adjusted House Price Change in Seoul

Nominal
Inflation-adjusted
2007
9.81
5.99
2008
9.56
5.21
2009
2.81
0.01
2010
-1.12
-4.03
2011
0.69
-3.33
2012
-4.75
-6.09
2013
-1.41
-2.52
2014
1.13
0.29
2015
4.60
3.43
2016
2.14
0.79
2017
3.64
2.20
2018
6.22
4.83
Source: Korean Statistical Information Service (KOSIS)
Borrowing rates are still low; gov´t plans on transitioning mortgage borrowing to fixed-rate
Interest rates in Korea are quite low. The average interest rate on housing loans was around 3.19% in of December 2018, down from 3.42% in December 2017, and significantly lower than the 7.58% peak recorded in October 2008, according to the Bank of Korea (BOK).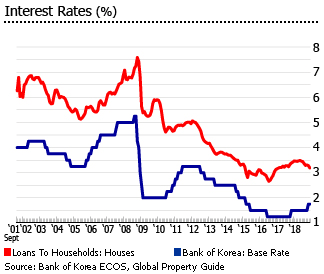 The Korea market has historically been very sensitive to interest rate changes, as traditionally around 80% to 95% of housing loans have been floating rate. The Korean government has promoted fixed rate loans to reduce default risks since the second half 2011. In February 2014, South Korea´s Financial Services Commission (FSC) stated that by 2017 banks will be obliged to hold a minimum of 40% of the banks´ mortgage portfolios in fixed-rate and amortising home loans, with targets of 20% for 2014, 25% in 2015 and 30% in 2016.
In 2016, the government raised the target for fixed-rate loans issued by banks to 45% in 2017. The fixed-rate loan target was also raised to 47.5% by the end of 2018.    
However, it seems that new borrowers still prefer floating rate loans. As of December 2018, only about 35.2% of total new homes were financed by fixed-rate loans, with the rest floating rate, according to the BOK.
Exports pose risk to 2019 economic growth; President Moon revives the "Sunshine Policy"
Korean GDP growth was 2.7% in 2018, the country´s slowest growth in six years. The economy was mostly supported by government spending, especially in the last quarter, when local governments elected in the June 2018 elections resumed many projects that had been on hold, according to Bank of Korea´s (BOK) HYPERLINK "http://koreajoongangdaily.joins.com/news/article/article.aspx?aid=3058527"director general of economic statistics, Park Yang-su.  Such spending kept the economy afloat, with all government spending rising 5.8%  Private consumption expanded by 2.8%, while lower construction investment (-4% y-o-y) pulled down growth.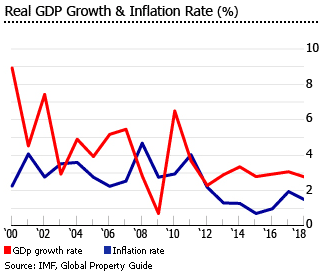 Semiconductor exports remained buoyant till the last quarter. Yet shipments to China unexpectedly plunged by 14% y-o-y in December 2018, the sharpest drop in more than two years, which caused South Korea´s exports to decline by 1.2% y-o-y.
"With growth in China and the U.S. (South Korea´s two largest trading partners) set to slow in 2019, the outlook for the South Korean export sector is challenging," said ANZ economist Krystal Tan.
This was also one of the reasons why South Korea´s Finance Ministry recently slashed economic growth estimates to between 2.6% and 2.7 for 2018 and 2019. 
In January 2019, inflation stood at 0.8% y-o-y, unchanged from January 2018.
Unemployment was 4.5% in January 2019, an increase from 3.7% in the same month last year, according to the Korean Statistical Information Service (KOSIS).
After being sworn into office in May 2017, South Korean President Moon Jae-in pledged to revive the "Sunshine Policy", which meant to improve South Korea´s relationship with North Korea. President Moon´s efforts in reengaging with North Korea has led to three inter-Korean summits in 2018, two in Panmunjom (held in April 2018 and in May 2018) and one in Pyongyang (September 2018). The relationship of both North and South Korea also seemed to have gotten better over the previous year as reflected on some events that involved both countries:
The reopening of the Seoul-Pyongyang hotline;
North Korea sent a delegation to the 2018 Winter Olympics, headed by Kim Jong-un´s sister, Kim Yo-jong;
South Korean K-pop stars performed a concert in Pyongyang;
Both countries pledged to remove nuclear weapons from the Korean Peninsula;
North and South Korea combined teams in some events during the 2018 Asian Games;
Military leaders from both countries signed an "Agreement on Reconciliation, Non-Aggression, Exchanges and Cooperation" (or "the Basic Agreement"), which aids in easing military tension between both countries.