---
Strong house price growth continues in Colombia
July 14, 2015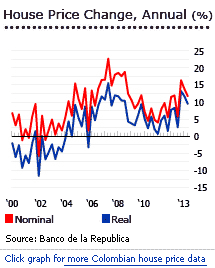 Colombia's house and apartment prices surged by 12.46% in 2014 (8.60% inflation-adjusted), based on figures from the Banco de la Republica Colombia (Banrep).  This was the ninth year of house price increases.  House prices rose by 16.85% (12.86% in real terms), while apartment prices rose by 8.63% (4.92% in real terms).
Colombia's property market has seen spectacular house price rises over the past nine years:
+ 14.32% (9.64% inflation-adjusted) in 2006
+ 17.08% (10.95% inflation-adjusted) in 2007
+ 18.33% (10.57% inflation-adjusted) in 2008
+ 10.55% (6.10% inflation-adjusted) in 2009
+ 6.91% (4.49% inflation-adjusted) in 2010
+ 8.13% (4.55% inflation-adjusted)  in 2011
+ 11.78% (8.35% inflation-adjusted) in 2012
+ 10.09% (7.83% inflation-adjusted) in 2013
+ 8.80% (5.68% inflation-adjusted)  in 2014
Colombia's house price index includes nine cities (the three major cities: Bogotá (the capital, with a population of 7.96 million), Medellin (pop: 3.5 million), and Cali (pop: 2.3 million), plus Barranquilla, Bucaramanga, Cucuta, Manizales, Neiva and Villavicencio).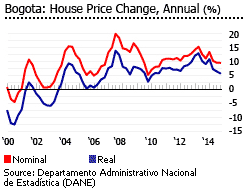 The price of new houses rose 9.47% (5.73% in real terms) during 2014, with a 1.88% price-rise during the latest quarter (1.37% in real terms), according to the Departamento Administrativo Nacional de Estadística (DANE).
There were strong house price increases in most metropolitan areas, led by Barranquilla where house prices rose 15.25% in 2014 (DANE), followed by the three major cities: Cali (11.10%), Bogotá (9.45%), and Medellin (7.91%).
However Banco Bilbao Vizcaya Argentaria (BBVA) Research noted that new housing prices in urban areas decelerated in 2014. According to BBVA, the moderation might be due to the ending of subsidies to the middle class.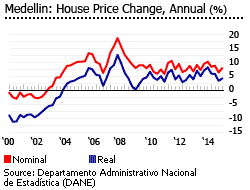 From 2006 to 2008, house prices in the three major cities rose strongly. Cali rose by 42.95%, followed by Bogota (37.95%), and Medellin (24.85%).
In 2009, house price growth in Bogota sharply slowed to 5.13% y-o-y from 16.48% y-o-y growth in 2008, reflecting the same trend as the national prices. As compared to Bogota, Cali's housing market was severely affected by the economic slowdown with prices plunging by 5.76%, after 15.09% growth in 2008. In contrast, house prices in Medellin rose by 9.11% in 2009, even stronger than 7.97% y-o-y growth in 2008.
In 2010, house prices in both Bogota (10.51%) and Cali (4.54%) started recovering, while prices in Medellin slowed (5.83%).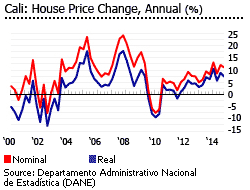 Since then, house prices in these three major cities have remained buoyant. From 2011 to 2014, house prices in Bogota rose by 37.04%, followed by Cali (29.15%), and Medellin (26.94%).
Yields are moderate to good
Gross rental yields in Bogota, Colombia are moderate to good, according to the Global Property Guide research of October 2013, ranging from 7.26% for 250 sq. m. apartments to 8.07% for 70 sq. m. apartments in Chapinero Alto. Apartments in Chico have yields ranging from 6.60% to 7.40%. In Santa Barbara, apartments have yields ranging from 6.51% to 7.88%, while houses have yields from 6.01% to 9%.

Typical apartment costs in Bogota:
Chapinero Alto – from US$ 137,930 (70 sq. m.) to US$ 735,000 (250 sq. m.)
Chico – from US$ 215,580 (60 sq. m.) to US$ 901,500 (250 sq. m.)
Santa Barbara – from US$ 162,720 (60 sq. m.) to US$ 440,400 (200 sq. m.)
A growing tourism industry
The tourism industry, a small yet rapidly growing sector, is one of the significant sectors in Colombia's economy. From 1990 to 2014, the direct contribution of travel and tourism has grown from 1.3% of GDP to 1.9% of GDP, while its total contribution rose from 3.6% of GDP to 5.9% of GDP, according to the World Travel and Tourism Council (WTTC).
In 2014, tourist arrivals in Colombia rose by 4.7% from the previous year, reaching 1.138 million visitors. The biggest share of arrivals came from Europe (51.7%), followed by the Americas (15.9%), and Asia Pacific (23.1%), according to the World Tourism Organization (UNWTO).
The country's selling points include: UNESCO World Heritage Sites in Cartagena; the surrounding areas of San Andres, Santa Marta, and Providencia y Santa Catalina; the Colombian coffee growing axis, which houses the popular cities of Armenia, Pereira, and Medellin; and the country's capital, Bogota, which recently became more popular with tourists due to major urban renovations and rehabilitations and improved facilities and museums.
Colombia also has a huge potential in ecotourism because of its unique biodiversity and variety of natural scenery such as the deserts in La Guajira, the Amazon and Andean regions, and Caribbean and Pacific coasts.
The city of Cartagena (pop: 855,000), one of the country's oldest colonial cities, is Colombian city of most interest to many foreign buyers.  Cartagena, which was founded in 1533 by Spaniards, was a trading port and a slave port where Africans were sold and shipped to other Latin American countries.  It is a large and intact colonial town of great beauty.
The city has a port, fortresses, and monuments on the UNESCO World Heritage List.  The revival of Cartagena's historic centre occurred in early 2000s, when the activity of buying and restoring run-down colonial buildings started by wealthy expatriate Colombians. This has partly helped in improving the real estate market in the area, and eventually drove prices up by as much as 300% to 600% (in some cases) from 2004 to 2009, according to real estate company La Heroica's general manager Patrick Enste.
Cartagena is now the most dynamic and most expensive property market in the country, aside from some parts of Bogota. "Good-quality apartments with unobstructed water views" have home prices rising by around 5% to 10% a year according to Paul Juan, owner of the brokerage Paul Juan Realty. According to Cartagena First Realty's Jim Main, it is difficult to find a property within the historic centre that is priced below $1 million, and if there is one, it would be a house that needs renovation. Restored houses in the historic centre could be bought at around COP 10 million per sq. m., or US$ 372 per sq. ft.
Aside from the historic centre of Cartagena, Bocagrande is also becoming popular among investors with its long beaches, shopping malls, high-rise hotels, and upscale apartment complexes. "There is a scarcity of good-quality inventory, so construction is high right now, with about 10 projects going on now in the Bocagrande area," according to Juan. Small vacation apartments in the area are priced at around COP 6.5 million per sq. m., or US$ 242 per sq. ft.
Prices of unrestored colonial houses are relatively lower in Getsemani, located at the east of old city, at around COP 4 million per sq. m., or US$ 150 per sq. ft., according to Juan.
Relatively low interest rates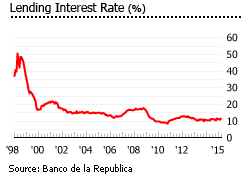 In May 2015, Colombia's central bank, the Banco de la Republica Colombia (Banrep), maintained its key rate at 4.5% despite a temporary inflation spike to 4.4% y-o-y in May 2015, slightly beyond the central bank's 2% to 4% inflation target. Inflation expectations for May and December 2016 are still stable and close to 3%. In 2014, the central bank had raised the rate from the 3.25% which had prevailed since March 2013, by steps to 4.5%. Colombia's prime lending rate rose in May 2015 to 11.51%, up from 10.61% in May 2014.
Despite relatively low interest rates, mortgage lending in Colombia remains low. According to Bancolombia, the largest bank in Colombia, outstanding mortgages were only around 7.29% of GDP as of September 2014. Only 3% of the adult population have mortgages.
The total number of houses financed by mortgages fell 5.68% in 2014. Used house mortgages fell 12.14%, while new houses financed by mortgages fell by 0.42%, according to DANE.
A second term for president Juan Manuel Santos
In the presidential election of May 2014 incumbent Juan Manuel Santos retained his position, gaining 50.95% of the votes in the second round, against Óscar Iván Zuluaga of the Democratic Center (Centro Democrático). Santos ran for the Social Party of National Unity, commonly referred to as "Party of the U".
During his first term, Santos was strongly criticized for discontinuing the anti-terrorist measures of former president Alvaro Uribe and for opening peace talks with the Revolutionary Armed Forces of Colombia (FARC) guerrilla group. Santos' peacemaking approach to the FARC resulted to low popularity ratings, as well as Uribe's departure from the Party of the U. Uribe, along with former vice president Francisco Santos Calderón and other allies, then formed the Democratic Center movement in January 2013, and chose Zuluaga as its candidate for the elections.
After being elected, Santos pledged to continue his efforts to "defend the life and the liberty" of Colombians. The re-elected president's campaign focused on the peace negotiations, currently being held in Cuba, that he launched in November 2012. In April 2015, the president called for a deadline on the peace talks. "We must put deadlines on this process and if (the FARC) want peace they must demonstrate with deeds and not with words," said Santos.
Santos' first term began in August 2010. He was a key ally of his predecessor Uribe. As defense minister, Santos was instrumental in weakening the FARC, Colombia's biggest left-wing rebel group. Although he is a scion of a well-known political dynasty, he has shown some willingness to act as a "traitor to his class." With graduate degrees in economics and journalism from the London School of Economics and Harvard, his win was welcomed by investors and businesspeople.
In March 2011, Colombia's credit rating was upped to investment grade by Standard and Poor's (S&P), a vote of confidence in Santos' reform agenda, which includes changing the management of oil and mining royalties, and a health care overhaul. Colombia has shown resilience during the global crisis, as a result of sound fiscal management and careful use of oil revenues.
The country has a turbulent history. It was ravaged in the 1990s by a decades-long conflict involving guerrilla insurgencies, drug cartels, and gross violations of human rights. In 2002 a hard-line right-leaning president, Alvaro Uribe, took power and implemented a tough line against left-wing guerrillas and right-wing paramilitaries.
In 2006, Uribe sought a constitutional revision to allow reelection for a second 4-year term. This was approved by Congress, and Uribe was reelected with a 64% of the votes, more than enough, given the 50%+1 requirement to avoid a run-off.
Uribe has been resoundingly successful. Though within Colombia Uribe polarized opinion, few would dispute the economic achievements. From 2003 to 2007, the economy expanded by an average of 5.5% annually. Such growth rates have not been seen in Colombia since the end of the 1970s. Hit by the global economic meltdown and by the credit crunch, GDP growth slowed to 2.7% in 2008 and 1.5% in 2009.
Despite the economic slowdown Uribe remained highly popular. He sought another constitutional revision to allow a third term but this was shot down by the Constitutional Court. Uribe's defense minister and long-time ally, Juan Manuel Santos, ran as his successor. Santos won 46.7% of votes leading to a run-off, which he won with 69% of votes.
Though Uribe's military focus was on combating leftist militias, he also challenged the paramilitary Autodefensas Unidas de Colombia (AUC), responsible for many recent kidnappings and murders.
Slower growth in 2015 amid lower oil prices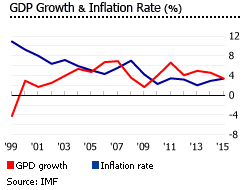 For the past three years, Colombia's economic growth has been between 4% and 5% annually. In 2014, the country's economy grew by 4.6%, a slight slowdown from 4.9% in 2013, but still better from 4% in 2012, according to the International Monetary Fund (IMF).
"These results confirm our position as the fastest growing economy among the six largest in Latin America, and as the seventh in the world among all countries, according to The Economist magazine. This growth is noteworthy, since it is expected that growth in Latin America, according to the IMF is 1.2% for 2014," said Finance Minister Mauricio Cardenas.
The construction sector, which recorded 9.9% growth, has been an "important engine for economic activity", stressed Cardenas. Other sectors that performed well in 2014 include social services, trade, and financial services.
In Q1 2015, Colombia's GDP rose by 2.8% y-o-y, the lowest growth since Q3 2012, due to the declining price of oil, which accounts for more than half of the country's exports. In 2015, Colombia's economy is expected to grow by 3.4%.
From 2003 to 2008, the country had robust economic growth averaging 5.2% per year. The economy slowed sharply in 2009, with growth of 1.7% before returning to 4% in 2010 and 6.6% in 2011.
Unemployment, after reaching a historical low of 8.9% in March, rose again to 9.5% in April 2015.
In May 2015, inflation moderated to 4.4% from the previous month's 4.6%, a little closer but still beyond the +/- 1 percentage point around the 3% target. The recent price hike was mainly affected by higher food prices and healthcare.
Housing deficit falling
Like many 3rd world countries Colombia measures its "housing deficit", i.e., the proportion of households either poorly housed, or not housed at all.
Colombia's housing deficit has fallen to only around 1,647,093 units in 2012, or around 27% of households, according to the recent report of the Banco Bilbao Vizcaya Argentaria (BBVA) Research.  In 2005, the housing deficit had been 2.4 million housing units.
Only 5.5% of all households did not have a home in 2012, down from 12.6% in 2005. 10.9% of all households lived in sub-standard housing in 2012, down from 14.4% in 2005.
For the first four months of 2015 67,981 dwelling permits were issued, up by 6.10% as compared to the same period in 2014, according to DANE.  
Dwelling permits issued to the leading 88 municipalities:
In 2010, permits rose by 45.28% to 161,282
In 2011, permits were up by 32.25% to 213,299
In 2012, permits fell by 17.86% to 175,203
In 2013, permits rose again by 19.67% to 209,657
In 2014, permits were down by 8.29% to 192,268
The boost in the construction sector was partly due to housing initiatives during the first term of President Juan Manuel Santos which targeted building 1 million houses from 2010 to 2014. Much was achieved through subsidizing low-income families buying homes, as well as building free homes.
The two main programmes implemented since President Santos took office were:
Priority Interest Housing (Vivienda de Interés Prioritario, VIP)
Social Interest Housing (Vivienda de Interés Social, VIS)
The VIP programme, introduced in 2012, targeted the most vulnerable, providing 100,000 free homes to beneficiaries registered with the Administrative Department for Social Prosperity.
The VIS programme, implemented April 2013, offers subsidies to low-income families. To qualify for VIS, families' monthly incomes must not exceed four times the minimum wage (or around US$ 1,360). Houses for the VIS programme are undertaken by private developers.
Other government housing programmes include:
Vivienda para Ahorradores (Homes for Savers) wherein buyers get subsidies for the down payment as well as the interest.  The government decides which residential developments are eligible;
National Savings Fund (Fondo Nacional del Ahorro, FNA), which provide access to loans to help families attain home ownership; and
Stimulus Plan for Production and Employment (Plan de Impulso a la Productividad y el Empleo, PIPE), which also gives interest rate subsidies on mortgaged properties priced at COP 80 million (US$ 31,296) to COP 198 million (US$ 77,459).
Colombia - More data and information