Property boom in Hungary continues in 2017
November 10, 2017

Hungary is in the fourth year of a continuous house price boom. The national house price index went up by 11.6% y-o-y (8.6% inflation-adjusted) y-o-y to the 1st quarter of 2017, based on the Hungarian National Bank's (MNB) house price index. Budapest's house prices surged by 16.9% (13.8% inflation-adjusted) y-o-y.

While by 2015 property prices had already matched pre-crisis levels in nominal terms - a year when property prices rose 14.69% across Hungary (or 14.1% after inflation) and rose a nominal 24.44% in Budapest - in real terms property prices are still below pre-crisis levels, according to the Ministry for National Economy.

Housing transactions were up almost 10% in 2016, with strong increases during the first half of the year. From around 86,000 in 2012, transactions rose to around 131,000 in 2016. Prices of existing dwellings rose by 10.23% (9.8% inflation-adjusted) in 2016, while prices of new dwellings increased by 8.63% (8.2% inflation-adjusted), according to the Hungarian Central Statistical Office (KSH).

Higher demand for both new and existing dwellings was reflected in a surge of housing credit, with credit for second-hand homes rising by 34.6% and for new homes by 63% y-o-y in 2016.

Dwelling permits issued rose by 10.61% during the first half of 2017.

"Rising real income and favourable labour market conditions contributed jointly to the improvement in long term income expectations which are of key importance in terms of housing investments," said the MNB's Housing Market Report in May 2017. "In 2016, lending processes also continued to support the recovery of housing market demand."

The recovery has been partly caused by a series of government steps. First, at the beginning of 2013, the government increased the amount of 5-year loan subsidies, the maximum value of subsidized loans, and the loan house price threshold, causing significantly stronger credit demand in the second half of 2013.

From July 1, 2015 a non-refundable subsidy, the family housing allowance (CSOK) became available. It can be used for buying new- and used homes, for apartment expansions, and for home construction.

On December 15, 2015, the National Assembly lowered the VAT rate for new dwelling units to 5% from the previous 27%, in a further attempt to boost the property market. The new VAT rate will be effective from 2016 to 2019. The amendment also contained other measures to improve construction sector's performance and reduce red tape, according to the Ministry for National Economy.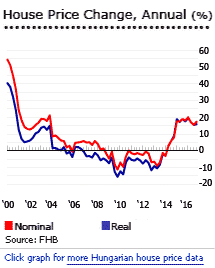 Hungarian law requires that real estate purchases shall be concluded through private contract (purchase agreement) countersigned by a lawyer. Non-Hungarian citizens are further obliged to gain the approval of the relevant Administrative Office in order to purchase property as a private person. According to regulations most foreigners should receive a permit within 2-3 months.

Most lawyers advise foreign nationals to set up a company registered in Hungary in order to purchase property. In this case, no permit is needed. This is a fairly swift and easy procedure (taking 1-2 days), and all expenses can be written off.