Singapore: house prices rising strongly, but challenging year awaits
Lalaine C. Delmendo | April 17, 2019

The private residential property index rose by 7.86% during 2018, a sharp improvement from meagre growth of 1.09% in 2017, according to the Urban Redevelopment Authority (URA). When adjusted for inflation, house prices rose by 7.32% y-o-y last year.

During the latest quarter (i.e. q-o-q in Q4 2018), residential property prices were almost unchanged.

All regions saw rising house prices:

In Core Central Region (CCR), prices of non-landed private residential properties rose by 6.7% (6.2% inflation-adjusted) during 2018, according to URA. However, prices dropped 1% (-0.9% inflation-adjusted) during the latest quarter.
In the Rest of Central Region (RCR), property prices were up by 7.4% (6.9% inflation-adjusted) during 2018. Quarter-on-quarter, prices increased 1.8% (1.9% inflation-adjusted) in Q4 2018.
In Outside Central Region (OCR), property prices rose by 9.4% (8.8% inflation-adjusted) during 2018. During the latest quarter, prices increased 0.7% (0.8% inflation-adjusted).


Housing sales down last year, but from a record high
Home sales, including new sales, sub-sales and resales, fell by 11.5% in 2018 to 22,139 units, according to URA. Despite this, it was the second highest sales level recorded since 2013.

"Although latent demand is strong, the cooling measures have moderated the rate of sales and developers must now price with finesse according to their projects' attributes," said Alan Cheong of Savills Research.

Residential construction is rising strongly. In 2018, there were 8,769 uncompleted private residential units launched in Singapore, up from 6,020 units in 2017, and 7,877 units in 2016, according to URA.

With new market-cooling measures, demand is expected to be subdued this year while house prices are projected to either increase slightly or remain steady. An economic slowdown caused by the US-China trade war is also expected to adversely affect the housing market.

"Private property prices are now a lot more expensive, which has turned away some buyers," said Chris Koh of property firm Chris Koh International. "We could see private home prices increase by 2% to 3% in 2019, which means only an increase of 0.1% to 0.5% per quarter," Koh added.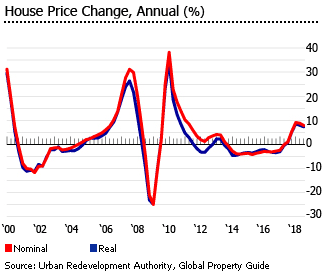 Singapore's economy grew by 1.9% in Q4 2018, the lowest y-o-y growth since Q4 2015, mainly due to a decline in the manufacturing and exports sector amidst the US-China trade war, according to the Ministry of Trade and Industry (MTI). Overall, the economy expanded by 3.2% in 2018, a slight moderation from the 3.9% growth in 2017. The economy is expected to expand by less than 2.5% this year.

Foreigners have been able to buy any apartment without prior government approval since the Residential Property Act of July 19, 2005. However, foreigners still cannot purchase vacant land and landed properties without permission from the Singapore Land Authority. Non-residential property is not subject to these ownership restrictions.