Tunisia's housing market slowing sharply
Tunisia's housing market is slowing sharply, despite booming tourism and improving economic conditions. This is largely due to rising mortgage interest rates.  Residential property prices are now falling, in real terms. Demand is down and construction activity is weak.
During 2018, the nationwide residential property price index rose by a miniscule 0.47%, a sharp slowdown from y-o-y rises of 10.23% in 2017, 14.8% in 2016, 5.99% in 2015, and 10.28% in 2014, according to the National Institute of Statistics. In fact, it was the slowest annual growth since the statistics agency started collecting data in 2000. When adjusted for inflation, prices actually dropped 6.5% in 2018 from a year earlier.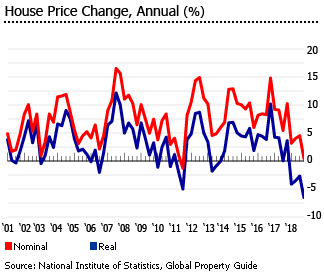 While apartment prices are now falling, house prices continue to strengthen. During 2018, apartment prices fell by 4.18% (-10.8% inflation-adjusted), in start contrast to a strong growth of 9.77% in 2017. On the other hand, house prices continue to rise strongly by 8.89% (1.32% inflation-adjusted), up from an increase of 6.18% in 2017.
There were also wide regional variations. The Southern region registered the biggest annual increase in residential property prices of 10.13% during 2018, followed by Midwest (9.02%), Northwest (5.58%) and Mid-eastern region. In contrast, Grand Tunis and Northeast saw house price declines of 0.47% and 3.44%, respectively.
Demand is falling rapidly. In the fourth quarter of 2018, the total volume of real estate transactions fell by 13.3% from a year earlier, according to the National Institute of Statistics. Sales for houses plunged 37.2% while apartment sales also dropped 6.4%.
While the housing market is projected to remain weak during the remainder of the year, property demand is expected to eventually increase in the coming years, driven by improving tourism and the government plans to provide affordable housing through its various programs, especially the newly launched "Programme Premier Logement".
Tunisia's economy grew by 2.5% in 2018, up from expansions of 2% in 2017, 1.1% in 2016 and 1.2% in 2015, according to the National Institute of Statistics. The economy is expected to improve further, with projected GDP growth of 2.7% this year and 3.2% in 2020, based on estimates from the International Monetary Fund (IMF).
Land price rises also slowing
Nationwide land prices rose by 1.48% (-5.6% inflation-adjusted) in 2018 from a year earlier – a sharp slowdown from a y-o-y rise of 11.43% in the prior year.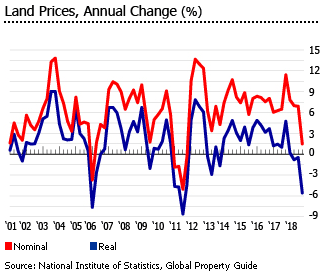 By region:
Grand Tunis: land prices fell by 3.07% during 2018 (-9.8% inflation-adjusted)
South: land prices rose by 9.32% (1.72% inflation-adjusted)
Midwest: land prices rose by 6.89% (fell slightly by 0.54% when adjusted for inflation)
Northwest: land prices rose by 14.56% (6.6% inflation-adjusted)
Mideast: land prices rose by just 0.76% (but fell by 6.25% when adjusted for inflation)
Northeast: land prices rose by a meager 0.85% (but fell by 6.16% when adjusted for inflation)
Property hotspots in Tunisia
Tunis, the capital, is a modern city. It is filled with historic sites including the 8th century Zitouna mosque. It is also the gateway to the ruins of the ancient city of Carthage.
The favourite residential areas for Tunis´ political and business elite are the northern suburbs, the city centre and the business district of Tunis Berges du Lac. These have the most expensive houses, with prices ranging from TND 1,500 (US$500) to TND 3,000 (US$1,000) per sq. m.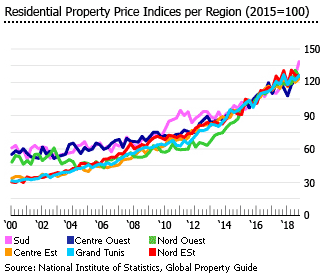 Well located and with good infrastructure, this affluent neighbourhood has been developed since the 1980s after building polders in Tunis Lake. It harbours many embassies, prestigious companies, and institutions. Residential apartments in Berges du Lac are typically 2 or 3 bedroom units of 110-150 sq m. Berges du Lac I is now almost fully developed and therefore provides more services and facilities than Berges du Lac II, but as the buildings are somewhat older in Berges du Lac I, there is little difference between the rental levels achieved in the two areas.
"If it is difficult today to buy an apartment or a villa, it is because rents are interesting and rewarding, owners do not want to sell," said Ms. Salma Jedidi, manager of a real estate agency which a few years ago moved from the center of Tunis to Berges du Lac.
Other popular locations for expats are the northern suburbs of Greater Tunis such as Carthage and La Marsa. There is a relatively strong market for residential units to lease and for sale. Tunis Ennasr, a small posh neighborhood in the farthest northern corner of the urban sprawl of Tunis, is also a growing real estate hotspot.
Cheap districts are Tunis Ain Zaghouan, a historic site known for its 90-km aqueduct supplying Carthage with water, and the southern suburbs of Tunis, mostly hilltop villages, having the lowest house prices in the capital.
Other areas of interest to property buyers include:
Jardins de Carthage. South of the historic site of Carthage, this new neighborhood has become a hotspot for luxury real estate. With a popular tourist site in close proximity, Jardins de Carthage is an attractive option for luxury real estate developers, and house-hunters, looking to invest in upscale property. Prices in Carthage range between TND 2,500 (US$835) to TND 3,500 (US$1,170) per sq. m.
Coastal towns along the Mediterranean
Hammamet, 65 km southeast of Tunis, is a popular destination for swimming and water sports due to its exceptional white beaches. It is among the tourists zones in Tunisia with the most expensive houses. Residential units cost TND1,800 (US$600) to TND3,000 (US$1,000) per sq. m.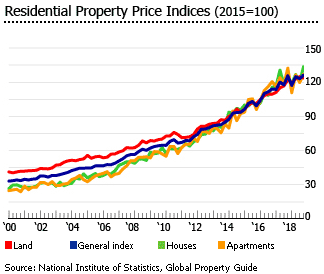 Sousse, 140 km south of Tunis, has world-class resorts and sandy beaches, adjoining orchards and olive groves. The Medina (Old City) of Sousse is listed as an UNESCO Heritage Site. House prices range between TND 1,500 (US$500) and 2,500 (US$835) per sq. m.
Monastir, a traditional town 165 km south of Tunis, is famous for its well-preserved Ribat, a fortified Muslim monastery overseeing the Mediterranean Sea. Houses are priced from TND 1,000 (US$334) per sq. m. to TND1,800 (US$600) per sq. m. In Djerba, a Mediterranean island in the southern coast of Tunisia, houses are fairly priced at TND1,200 (US$400) per sq. m. to TND2,000 (€668) per sq. m.
Sfax, an industrial city located 270 km southeast of Tunis, is however very modern and pleasant. It is also one of the towns in Tunisia with the cheapest housing units. In Sfax, house prices are around TND 800 (US$267) per sq. m.
Tourist arrivals rising again
Major European tour operators started to return to Tunisia last year, after three years of shunning the country following two militant attacks on tourists in 2015.
In 2018, the total number of tourist arrivals reached almost 8.3 million, the highest level since 2010, according to Tourism Minister René Trabelsi. As a result, tourism revenues surged 45% to TND 4.09 billion (US$1.36 billion) in 2018 from a year earlier.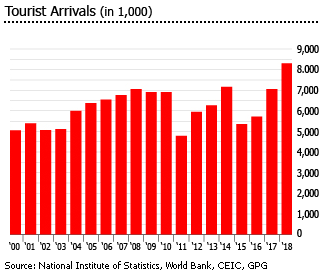 The government aims to increase tourist arrivals further to 9 million this year, mainly by encouraging more European visitors to return to Tunisia.
A sizeable portion of tourists chooses to rent while vacationing in Tunisia. Foreign rental demand, mostly from Europe and neighboring countries such as Libya and Algeria, therefore complements strong domestic rental demand.
Tourism is of vital importance to the Tunisian economy, accounting for about 8% of the country's GDP.
Foreign ownership of Tunisian property
In 2005 the government passed a law permitting foreign ownership of properties for economic and tourism purposes. Since it became effective in 2006, the government has continuously encouraged foreign companies and tourists to invest in the country and buy properties in its prime cities. Official figures of the Foreign Investments Promotion Agency in Tunisia (FIPA) show that a total of €36.5 million (US$48.6 million) were invested in Tunisia´s real estate and tourism sectors.
A foreigner can buy a property in Tunisia, a villa or an apartment, but cannot own agricultural land. In fact, agricultural land cannot be sold to foreigners, whatever the reason of the purchase.
According to Giambrone Law, if the land is included in the national development plan, it must be considered as "residential"; but if not covered by the plan, it should be considered as agricultural and, therefore, not available for acquisition by a foreigner.
Purchase of property in Tunisia by a foreigner is subject to prior authorization, to be given by the governor of the region where the property is located. Despite this, in recent years more favourable legal provisions have been recognized as regards certain land and real estate operations carried out by foreigners. All purchases of real estate by non-resident foreigners are also necessarily subject to authorization by the Central Bank of Tunisia, according to the actual legislation of monetary exchange.
According to World Bank´s Doing Business 2019 report, registering property there requires 4.0 procedures, takes 39.0 days and costs 6.1% of the property value. Globally, Tunisia stands at 87 in the ranking of 190 economies on the ease of registering property (with first place representing the greatest ease of doing business). Tunisia is 19 notches down from Morocco (68) but higher than the Middle East and North Africa average.
Summary of time, cost and procedures for registering property in Tunisia
No.
Procedure
Time to Complete
Cost to Complete
1
Consultation of pending encumbrances on the property at the Regional Land RegistryThe parties generally conduct a search for pending encumbrances of the property prior to the notarization of the contract. They can do this by going to the property registry and looking up the property on the computers there, where titles are kept electronically. The property registry delivers to the parties (requesting it) a certificate showing the legal situation of the land (or the building).Agency: Land Registry (Conservation de la Propriété Foncière)
1 day (for the consultation of the records at the land registry
TND 8 (nonencumbrance certificate)
2
Preparation and notarization of the contractThe contract agreement is prepared by a lawyer, notary public, or redacteur (CPF employee) at the Conservation de la Propriété Foncière after consultation with the property registry services. Both parties are summoned to sign it. Then the contract is notarized by a public notary or redacteur. Costs for this procedure vary according to who prepares the contract agreement. Businesses considered in the Doing Business case are likely to consult a lawyer even if fees are slightly higher. The lawyer fees are set freely between the parts while the notary fees vary from 1% to 5% of the property value. It is useful to note that redacteurs charge a minimum of TND 30 and a maximum of TND 300 for their service depending on the property and type of contract. The fees charged by the redacteurs are based on the decree N° 92-2114 of November 30, 1992.Agency: Lawyer, notary or redacteur of the Land Registry (CPF)
7 days
TND 30 - 300 (contract) + TND 0.5 per signature (notarization)
3
Pay the transfer tax and the registration fee at the Local Tax OfficeFees and taxes should be paid during the application for registration at the local tax office.Agency: Local Tax Office
1 day
5% of property value (transfer tax) + 1% of property value (registration fee)
4
The buyer files for a title deed at the Land Property AdministrationThe Land Registry studies the application. If accepted, the operation is deposited and transcribed onto the Regional Land Registry. The documentation shall include:

Power of attorneys.
Identification of representatives to the parties.
Certificate of Company Registration
Topographic plans of the property provided by the seller.
Notarized contract (obtained in Procedure 2)
Payment receipts for transfer tax and registration fees (obtained in Procedure 3)


Agency: Land Registry (Conservation de la Propriété Foncière)
30 days
TND 20 for deed and TND 8 for certificate
Source: World Bank Doing Business Report
A buying guide is published by the Global Property Guide.
Rental yields are low
Rental yields on long-term rentals in Tunisia are low, although it depends on the area. "Long-term rental returns are perhaps 3% to 4%," says Ouissem Hamila, owner of realtor and property managers Home in Tunisia. "But on student accommodation you can earn around 8% to 7%, and on social housing over 5%.
"The really high returns come from short-term rentals. Properties rented short-term to foreign tourists or to Tunisians from abroad earn median returns of from 8% to 12% over the whole period (i.e., taking account of vacancies). These properties tend to be occupied about 60% of the year."
Home in Tunisia provides a property management service for owners wishing to rent properties either long-term or short-term.
Taxes are much lower than in comparable developed countries. There´s no taxation on unfurnished property rentals, and the taxes on furnished properties are low. Taxation on furnished properties in Tunisia is described here.
Housing finance and interest rates
The size of the mortgage market in Tunisia is currently equivalent to about 8.6% of GDP, up from 6.5% of GDP in 2003.
The money market interest rate, on which housing loans are based,
has been rising rapidly in the past three years. In March 2019, the money market rate stood at 7.9%, up from 6.04% in March 2018, and 4.29% in March 2017, according to the Central Bank of Tunisia.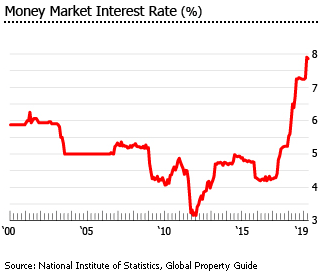 Roughly 23 private commercial banks in Tunisia have housing loan programs for individuals, mainly targeting middle and upper income families. The average interest rate for mortgages from commercial banks ranges from 7.23% to 7.57%, according to Africa Housing Finance Yearbook 2018.
Banks are allowed to issue mortgages of up to 25 years in duration but are obliged to fix the rates for mortgages which last more than 15 years, which makes financing them difficult. As a result most mortgages are for 15 years or less. Loans are capped at 80% of the value of the property (rising to 90% for subsidised loans for low income households). Monthly repayments are around one third of the typical borrower´s salary.
The present competitive mortgage market is a great improvement from the situation up till 2001, when the Banque de l´Habitat (BH), in which the Tunisian state owns a 57% controlling stake, was the only mortgage lender, offering loans for house purchase, home improvement and residential land acquisition. It now only accounts for 23% of real estate lending according to figures cited in the local press.
In February 2017, the government launched the "Programme Premier Logement" which benefits middle-class families (with income between 4.5 and 10 times the minimum wage) who want to purchase their first home. The program will help those families to finance their downpayment up to 20% of the total house price. The loan can finance houses priced TND 200,000 or less (US$66,780) over a period of 12 years with no repayment during the first 5 years.
Other institutions and funds helping the poor include:
The Housing Promotion Fund for Salaried Persons (FOPROLOS, Fonds de Promotion des Logements pour les Salariés), managed by BH. Loan rates for mortgages range from 2.5% to 5.75% for three different income eligibility brackets, targeted at households earning a regular salary at between minimum wage and up to 4.5 times minimum wage (set at US$152 a month - from May 2015 onwards).
The National Fund for House Improvement and Rehabilitation (FNAH, Fond National pour l´Amélioration de l´Habitat), which disburses loans for home improvement to those whose salaries are below a set minimum.
The National Solidarity Fund 26-26 (Fonds de Solidarité Nationale 26-26) which supports the poorest of the poor, mainly through funding housing improvements of the very poor who live in upgrading and rehabilitation areas in Greater Tunis and other large towns.
Al Jadid Savings
The BH has recently added a range of three "supplemental" loan schemes, which are based on prior family savings, called Al Jadid 1 Al Jadid 2, and Al Jadid 3. These target families with incomes higher than those qualified for the FOPROLOS schemes. All interest rates are fixed at 7% per year for a maximum loan term of 15 years.
In essence, Al Jadid Savings schemes are at or near money market rates. Also, they do not have maximum income requirements to qualify, nor is the amount of the downpayment set (presumably to encourage larger equity contributions by beneficiaries). Thus Al Jadid Savings can be considered a "liberal" housing loan system, one much more in tune with market realities.
MAIN INDIVIDUAL HOUSING LOAN SCHEME, MANAGED BY BH
Loan Scheme
FOPROLOS 1
FOPROLOS 2
FOPROLOS 3
Al Jadid (HP1)
Al Jadid (HP2)
Al Jadid (HP3)
Income
1 to 2 times SMIG
2 to 3 times SMIG
3 to 4.5 times SMIG
variable
variable
variable
Unit Area
Individual 50 sqm; Family 65 sqm
75 sqm
80-100 sqm
variable
variable
variable
Nominal Cost of Unit
TD 39,000
TD 50,000
TD54,00 to TD67,500
variable
variable
variable
Downpayment
10% of cost
10% of cost
15% of cost
4 years prior saving
5 years prior saving
6 years prior saving
Term
25 years plus 3 years grace
25 years plus 3 years grace
20 years plus 1 year grace
15 years
15 years
15 years
Interest Rate
3.50%
5.0%
5.75%
7.0%
7.0%
7.0%
Maximum loan amount
90% of cost to maximum of 130 times SMIG
90% of cost to maximum of 170 times SMIG
90% of cost to maximum of 210 times SMIG
TD 53,000
TD 67,000
TD 83,000
Source: UN-HABITAT
Housing is a key national priority
Tunisia has successfully reduced its housing shortage and cut the number of substandard dwellings in recent decades. The ratio of statistically defined ´rudimentary dwellings´ has declined from almost 24% in 1975, to 4.9% in 1989, and to 0.3% in the 2009 census.
Tunisia has also eliminated its ´housing deficit´ (i.e. the number of un-housed households) and now has 580,000 more housing units than households, hence a 17.7% national vacancy rate. Total housing stock stood at 3,289,903 units, increasing by 789,103 units since the last census in 2004. The number is now well above the number of households, which is 2,712,976.
Of formal units, about 80% are built by individual households, 2% by public developers and 18% by registered developers, catering to middle to high income groups.
Acquiring permits to build houses is relatively easy and cheap by international standards. Tunisia ranked 77th out of 190 economies in the "dealing with construction permits" category - in the World Bank´s 2019 Doing Business Report.
Though obtaining a building permit requires 17 separate administrative procedures, the process is quite fast, taking an average 95 days, compared to 137.4 across the region as a whole and 153.1 for wealthier OECD countries. The costs involved represent 5.9% of the value of a standard warehouse, higher as compared to 4.7% and 1.5% for MENA and high-income OECD countries, respectively.
Economy is improving; unemployment remains high
Tunisia's economy grew by 2.5% in 2018, up from expansions of 2% in 2017, 1.1% in 2016 and 1.2% in 2015, according to the National Institute of Statistics.
The economy is expected to improve further, with projected GDP growth of 2.7% this year and 3.2% in 2020, based on estimates from the International Monetary Fund (IMF).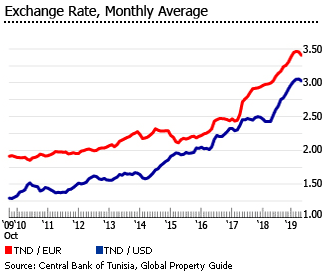 Yet, jobless rate remains high. In Q4 2018, nationwide unemployment stood at 15.5%, unchanged from a year earlier. Female unemployment was 22.9% in Q4 2018, far higher as compared to the jobless rate among men of just 12.5%.
In 2018, Tunisia´s trade deficit reached a record TND 19.04 billion (US$6.36 billion), up from TND 15.59 billion (US$5.21 billion) in 2017 and TND 12.6 billion (US$4.21 billion) in 2016, according to the National Institute of Statistics.
This led to currency weakness. The dinar, whose exchange rate is controlled by the Central Bank, has depreciated in relation to the dollar and the euro. In April 2019, the dinar lost almost 20% of its value against the US dollar from a year earlier, to reach an average exchange rate of TND 3.0291 = USD 1. Likewise, the dinar also depreciated against the euro by about 12.1%, at an average exchange rate of TND 3.4088 = EUR 1 in April 2019.
In April 2o19, nationwide inflation was 6.9%, down from 7.1% in the previous month and 7.5% a year earlier, according to INS. Inflation surged to 7.3% in 2018, the highest level since 1991.
Terrorism dampening political stability efforts
Tunisia, the first Arab country to rebel against dictatorship, inspired similar revolts across other Arab countries - giving birth to what is now known as the Arab Spring Revolution.
The 2011 a revolution ousted President Zine al-Abidine Ben Ali; and a new legislative body, the National Constituent Assembly, was elected to navigate Tunisia´s political transition. In October 2014, successful Parliamentary elections went smoothly, and Habib Essidof of the anti-Islamist Nidaa Tounes (Tunisia´s Call) party, which won the most seats in October 2014´s parliamentary election, was nominated prime minister. This was followed by the victory of the 87-year old Beji Caid Essebsi, also of Nidaa Tounes, in the November and December 2014 presidential elections. Mr Essebsi also served in the governments of post-independence leader Habib Bourguiba as well as Ben Ali.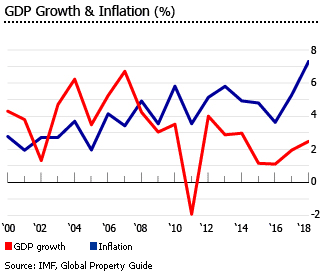 The Islamist party Ennahda, which led Tunisia´s last government but was beaten by Nidaa Tounes in October´s parliamentary election, did not field a candidate. Essebsi´s main opposition came from Moncef Marzouki, the interim president and a human rights campaigner who has cast himself as a guardian of the spirit of the revolution.
However, security risks remain as terrorist operations have been staged by jihadi groups affiliated with al-Qaeda such as Uqba Bin Nafi Battalion and others by groups pledging allegiance to the Islamic State.
Since the terrorist attack of June 2015, there has been just one significant terror attack in Tunisia. Terrorist attacks have killed over 70 civilians including foreign tourists. Tourism, one of the biggest contributors to Tunisia´s economy, took a major hit. It was only in 2018 that tourism showed a major comeback.
Sources: