Qatar's housing market is gradually improving
Qatar´s housing market is now showing signs of improvement.  The key fact is that the government is effectively mitigating the economic and financial fallout of the ongoing blockade.
The nationwide real estate price index rose by 1.56% (1.99% inflation-adjusted) during the year to Q2 2019, in sharp contrast to a y-o-y decline of 16.6% in Q2 2018, according to the Qatar Central Bank (QCB).  However quarter-on-quarter, prices were down 5.08% (-5.66% inflation-adjusted) during the latest quarter.  And sales remain weak. In Q2 2019, residential transaction volumes fell by 14% from a year earlier, according to leading consulting firm ValuStrat.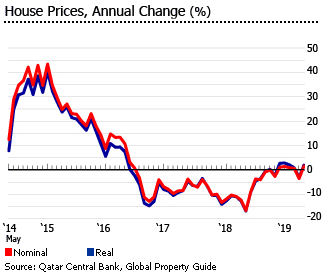 At The Pearl-Qatar, a QAR36.4 billion (US$10 billion) Riviera-style development located on the coast of Doha, two-bedroom second-hand freehold apartments in Porto Arabia are currently offered for less than QAR13,000 (US$3,570) per square metre (sq. m.), while newly built studio and one-bedroom apartments in Viva Bahriya are priced above QAR16,000 (US$4,394) per sq. m., according to DTZ Qatar.
Qatari real estate had previously boomed for three glorious years, fuelled by rapid population growth and a construction boom in preparation for the 2022 FIFA World Cup:
In 2013, the real estate price index surged 20.74% (16.45% inflation-adjusted).
In 2014, the real estate price index soared by 34.67% (31.81% inflation-adjusted).
In 2015, real estate prices rose by 14.39% (10.75% inflation-adjusted).
However in 2016, the housing market slowed sharply, with the value of real estate transactions plunging by about 50%, and prices falling by 4% (-5.15% inflation-adjusted). Real estate prices fell a further 9.9% (-10.4% inflation-adjusted) in 2017 and by another 2.6% (-2.4% inflation-adjusted) in 2018, as Saudi Arabia's hostility adversely affected Qatar's economy. In Q2 2019, transaction volumes for houses fell by 14% from a year earlier, following y-o-y growth of 20.5% in Q1 2019 and 1% in Q4 2018, according to ValuStrat. The highest transacted prices can be seen in The Pearl, New Salata, Lusail and Abu Hamour.
Qatar's housing market is expected to improve during the remainder of the year, amidst the introduction of a new foreign property ownership law that is expected to boost foreign demand. In March 2019 Law No. 16 of 2018 became effective, increasing the number of freehold zones in Qatar from 3, to 10.
"The recent reform to change freehold ownership law will contribute to a positive transformation of the real estate sector which will now embrace its cultural diversity through new initiatives designed to encourage investments and positively change business perspectives to ultimately result in overall economic growth," said Pawel Banach of ValuStrat.
Aside from The Pearl, West Bay Lagoon, and Al Khor, foreigners are now allowed to obtain freehold ownership in Rawdat Al Jahaniyah, Al Qassar (Area #60), Al Dafna (Area #61), Onaiza (Area #63), Al Wasail (Area #69), Al Khraij (Area #69), and Jabal Theyleeb (Area #69).
Foreigners who buy in any of these areas are automatically granted permanent residency, which extends to the owner's family, for the whole duration of the ownership. Those qualified include:
children of Qatari mothers who are married to foreigners;
people with special talents "needed by the state";
other individuals who extended notable services to the country.
However, citizenship will still be off-limits to foreigners.
Permanent residents of Qatar will be treated like Qatari nationals and enjoy benefits such as access to healthcare and education systems, priority (after locals) for military and civilian public jobs, and will have permission to operate commercial activities without a local partner, and permission to own a property. Three-fourths of Qatar's population are foreigners, according to the Qatar Statistics Authority (QSA). About 82% of the population lives in Doha and Al Rayyan.
Qatar National Bank (QNB), the country's leading financial institution, offers home and land financing at rates as low as 3.5%. The maximum loan offered to expatriates is QAR3 million (US$824,200) with a term of not more than 15 years. One can borrow up to 70% of the value of the property.
Property weakness expected to be temporary
In the long term the weakness of the housing market is not expected to last, given the country's rapid population growth of around 8.8% per annum from 2000 to 2018.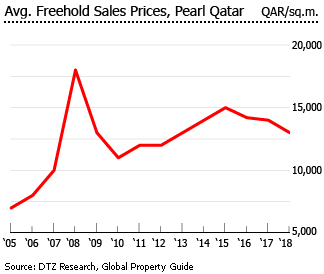 "Future demand for residential property will be driven by population increases. It is anticipated that the majority of the population increase in the coming years will be generated by expatriates in the service industry, as construction projects complete," according to DTZ Research.
DTZ also expects that there will be a rise in demand for 'affordable' residential properties due to the expected boom in the service sector as the 2022 FIFA World Cup comes near.
In the first five months of 2019, a total of 1,754 transactions were registered with a total value of QAR9.5 billion (US$2.61 billion). Of which, 274 units were sold at The Pearl and West Bay Lagoon with a total value of QAR612 million (US$168 million).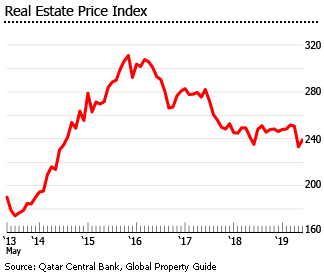 Doha registered the highest amount of real estate deals of QAR10.7 billion (US$2.94 billion) in 2018, according to the Ministry of Development Planning and Statistics. It was followed by Al Rayyan with total transactions worth QAR6.37 billion (US$1.75 billion); Al Daayen, QAR2.76 billion (US$760 million); and Al Wakrah, QAR1.84 billion (US$510 million).
Supply continues to rise
In Q2 2019, about 1,700 apartments and villas were added tohe market, bringing the total stock to 294,700 units, according to ValuStrat.
1,500 apartment units were completed in The Pearl, Lusail, Fereej Bin Mahmoud, Old Ghanim, Ferrej Abdul Aziz, Musheireb and Al Dafna
200 villas were completed in Al Kheesa, Al Wajba, Umm Salal Ali and The Pearl.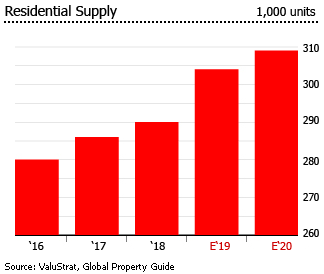 An additional 9,000 residential units are expected to be completed in the second half of 2019, bringing the total supply to almost 304,000 units by end of this year. About 35% of these new units are expected in Lusail, 35% in The Pearl and the remaining units across other areas such as Fereej Bin Mahmoud, Nuaija, Musheireb, Onaiza, Al Dafna, Al Sadd, Ain Khaled, Al Khor, Abu Hamour, based on ValuStrat estimates.
Falling rents; moderate to good rental yields
Residential rents continue to fall. In Q2 2019, the residential median asking rent in Qatar dropped 1.5% from the previous quarter and by 5.6% from a year earlier, according to ValuStrat.
In Q2 2019:
For apartments, the median monthly asking rent fell by 1.1% q-o-q and 5.4% y-o-y. Secondary apartment areas such as Al Wakrah, Old Airport, Najma and Al Mansoura saw the biggest y-o-y declines of up to 13% in Q2 2019.
For villas, the median monthly asking rent fell by 4% q-o-q and 7.1% y-o-y. Muraikh, Al Gharrafa, Ain Khaled, Abu Hamour, Al Khor and Umm Salal Mohammad recorded annual rent declines of up to 12%.
"Some landlords of new residential properties in The Pearl and Lusail offered incentives in the form of rent-free periods of up to 2-months, on minimum one year contracts, in addition to waiving utility expenses," said ValuStrat.
About 59% of all occupied housing units in Qatar are rented, according to QSA. The average expat household in Qatar spends more than a third of its annual income on rent, according to Colliers International.
Prime apartment rents, in Q2 2019:
At The Pearl-Qatar, one-bedroom apartments rent for about QAR8,500 (US$2,335) per month while two-bedroom apartments are offered for QAR10,500 (US$2,884) per month. The average monthly rent for three-bedroom apartments is QAR12,500 (US$3,433).
In Lusail City, one- and two-bedroom apartments rent for QAR5,250 (US$1,442) and QAR7,250 (US$1,991) per month, respectively. Three-bedroom apartments are rented for about QAR8,250 (US$2,266) per month.
In Al Mansoura, the average monthly rent for one-bedroom apartments is QAR4,750 (US$1,305). Two-bedroom apartments rent for around QAR5,750 (US$1,579) per month while three-bedroom apartments rent for QAR6,250 (US$1,717) per month.
Gross rental yields for residential properties in Qatar range from 4.3% for villas to 6% for apartments, according to ValuStrat.
Interest rates and the mortgage market
Qatar Central Bank has kept its overnight lending rate unchanged at 5% as of June 2019. During the same period the overnight deposit rate was kept unchanged at 2.5%, while the repo rate remained at 2.5%.
In May 2019, the amount of real estate loans outstanding, which include land purchases, property developments, and residential and commercial buildings, increased by 5.9% y-o-y to about QAR 156.26 billion (US$42.92 billion).
The size of Qatar's mortgage market was equivalent to about 21.4% of GDP in 2018, down from 24.3% of GDP in 2017 but a significant growth from less than 8% of GDP a decade ago.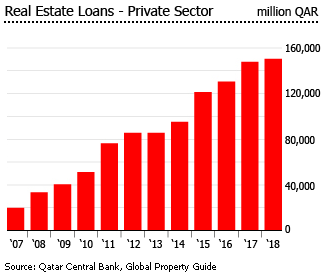 Expats can borrow up to QAR3 million (US$824,000) with maximum tenure of 15 years. The loan-to-value (LTV) ratio is typically 70%.
Foreigners can buy in various massive freehold areas:
The Pearl-Qatar
The Pearl is a QAR36.4 billion (US$10 billion) Riviera-style development, on a vast man-made island off the coast of Doha, the capital city. It provides over 40 kilometres of new coastline, linked to the mainland by a 4-lane, palm-tree lined highway. Doha's international airport is only 20 km away. It was here that Qatar offered its first freehold properties.
Developed by the United Development Company, The Pearl-Qatar has 16,000 villas and 25,000 apartments.
West Bay Lagoon
West Bay Lagoon is a 2 million sq. m. private beachfront compound, centred on the Zigzag Towers. At the northern tip of Doha's West Bay district, it is surrounded by artificial lagoons.
Barwa - Al Khor City
The Barwa - Al Khor project is a complete city, including seafront chalets, villas and elite apartments, covering 5.5 million sq. m. in Al Khor, 57 km north of Doha. The QAR30 billion (US$8.24 billion) Barwa Real Estate development will house 63,000 residents in 24,114 elite residential units. It also has hotels and sports facilities.
Recently, Law No. 16 of 2018 was passed, which effectively increases the number of freehold residential zones from 3 to 10.
The additional freehold areas include:
Rawdat Al Jahaniyah
Al Qassar (Area #60)
Al Dafna (Area #61)
Onaiza (Area #63)
Al Wasail (Area #69)
Al Khraij (Area #69)
Jabal Theyleeb (Area #69)
"The potential market for residential sales has been expanded by Law No 16 of 2018, which was implemented in March of 2019, as the number of freehold zones in Qatar has been increased from three to 10," said DTZ Qatar.
There are also 16 leasehold areas for foreigners
Foreigners can alternatively buy leasehold property for 99 years, renewable, in 16 designated areas, including the multi-billion dollar Lusail project, under Cabinet Decision No. 6 of February 2006. Foreigners can use the properties commercially or residentially, transfer the lease to another party, and sublet or rent.
Lusail City is an QAR164 billion (US$45 billion) waterfront community on the northern coast of Umm Salal, 15 km north of Doha. It is expected to house over 200,000 residents in 10 hotels, 3,000 villas, 12,000 apartments and retail areas.
Developed by Qatari Diar, Lusail will cover an area of around 21 million sq. m. This mega project, in 16 zones, will contain an Energy City costing QAR9.5 billion (US$2.6 billion), and an Entertainment City, costing QAR5.5 billion (US$1.5 billion). The Lusail Iconic Stadium is also expected to be built in the city. The massive development is planned to be completed by 2020.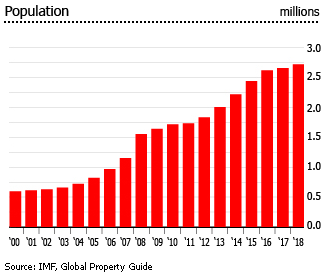 Another mixed use development project is Al Waab City, owned by Nasser Bin Khaled Group, which covers about 1.2 million sq. m. Incorporating "green strategies" and sustainable design principles, it is estimated to cost QAR13 billion (US$3.6 billion). The development includes 2,411 residential units, 232,715 sq. m. of commercial space, and a 425 room hotel complex.
Another notable development is Asia Towers, which will have four 55-storey towers near West Bay. Each tower will contain about 1,600 residential apartments. Developed by Ezdan Real Estate Company, it is estimated to cost QAR2.5 billion (US$686 million).
Other leasehold property developments in Qatar:
Musheireb (Area #13)
Frij Abdul Aziz (Area #14)
Doha Al Jadeed (Area #15)
Ghanem Al Qadeem (Area #16)
Al Rifa Al Hitmi (Area #17)
Al Salata (Area #18)
Fereej Bin Mahmoud (Area #22)
Fereej Bin Mahmoud (Area #23)
Rawdat Al Khail (Area #24)
Al Mansoura & Fereej Bin Dirham (Area #25)
Najma (Area #26)
Umm Ghuwailina (Area #27)
Al Khulaifat (Area #28)
Al Sadd (Area #38)
New Mirqab Al Jadeed & Fereej Al Nasr (Area #39)
Doha International airport (Area #48)
Based on the new stipulations, owners of real estate valued at least QAR728,000 (US$200,000) will be issued permanent residency cards for as long as they own the property.
Surprisingly resilient economy, strong exports
The Qatari economy expanded by a modest 2.2% in 2018, up from the prior year's 1.6% growth but still down from annual average growth of 3.8% during 2012-16, according to the International Monetary Fund (IMF). In fact, this is far behind Qatar's economic performance during the mid-2000s, when its economy grew by an average of 16.5% annually from 2004 to 2011. Qatar even performed well despite the global crisis, with double-digit growth rates of 17.7% in 2008, 12% in 2009, 18.1% in 2010, and 13.4% in 2011.
The economic blockade to Qatar in early June 2017 made by several countries including Saudi Arabia, United Arab Emirates, Bahrain, and Egypt, has severely hit Qatar's economy. The country's economic growth in 2017 was the lowest since 1994. The participating Arab nations cited Qatar's support for Islamist groups, violating a 2014 agreement with the members of the Gulf Cooperation Council (GCC), as one of the main reasons for the blockade. Qatar was also criticized by its neighbours for its amicable relations with Iran.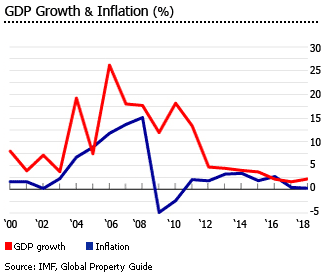 The four Arab nations issued a list of 13 demands on June 22, 2017, which includes curbing diplomatic ties with Iran and shutting down Al-Jazeera. Qatar refused to comply, stating that it will not agree to measures that threaten its sovereignty.
In a surprise move in December 2018, Qatar ended its nearly 60-year membership of the Organisation of the Petroleum Exporting Countries (OPEC) – the oil cartel dominated by Saudi Arabia.
The economy is expected to improve in coming years, with projected GDP growth of 2.6% this year and 3.2% in 2020, partly driven by the country's success in attracting foreign direct investments despite the blockade.
Qatar's foreign trade grew by 19% to reach US$116 billion in 2018 from a year earlier. Total exports surged 25% to US$84 billion last year, resulting in a 40% rise in trade surplus, which reached US$53 billion.
In 2018, the country saw a budget surplus of 2.2% of GDP, a sharp improvement from deficits of 6.6% of GDP in 2017, 9.2% in 2016 and 0.7% in 2015, thanks to higher energy revenues, according to the Qatar Central Bank (QCB). Qatar will continue to record surplus this year, amounting to QAR4.3 billion (US$1.2 billion), mainly due to an expected sustained rise in energy prices.
Though spending is also set to rise, as Qatar prepares to host the 2022 Football World Cup. Expenditures are expected to increase almost 2% in 2019 to QAR206.7 billion (US$56.77 billion).
In 2018, external debt amounted to QAR156.4 billion (US$), up 36.9% from a year earlier, according to QCB. As percent of GDP, Qatar's government debt stood at 48.4% last year, down from 49.8% in 2017 but still the second highest level since 2001, based on figures from the IMF.
In June 2019, inflation stood at -0.41% - the ninth consecutive month of falling consumer prices, according to the MDPS.
In 2018, unemployment was 0.1%, unchanged from a year ago and the lowest level in the Middle East, according to the MDPS. Qatar's highest-ever unemployment rate was 3.9%, seen in December 2011.
Sources: