Egypt's house prices falling sharply; but outlook remains positive
Despite robust economic growth Egypt's house prices are falling.  The probable reason is nervousness. 
Under President El-Sisi, Egypt is a police state run by the army, with high levels of corruption, so there are people who want to move money abroad.  And for the past two years it has been possible to freely move money out of Egypt, which reduces the attractions of local real estate as an inflation hedge.   On the other hand, tourism is booming again, the currency is free-floating, the economy is recovering, and Egyptian real estate is cheap.  So the likely outlook is medium-term falls, but longer-term recovery.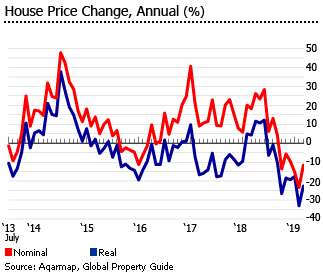 The nationwide real estate price index fell by 11.7% during the year to Q1 2019, in contrast with the y-o-y growth of 18.2% seen in the same period last year, according to Egypt's leading real estate portal Aqarmap. When adjusted for inflation, the decline almost doubled to 22.6%. Egypt´s high inflation rate is the reason for the huge gap between the nominal and the real price changes.
Five years after President El-Sisi assumed power, much has changed in Egypt. While formally a democracy, Egypt now has a tightly controlled press and media, and many political prisoners. On the economic front, in November 2016 Egypt floated the Egyptian pound (EGP), causing a dramatic depreciation against major currencies.
In turn this sparked extraordinarily high inflation. Egypt's headline inflation peaked to 33% in July 2017. Inflation has subsided since, slowing to 14.2% in March 2019 – though it is still far higher compared to an annual average inflation of 9.4% from 2012 to 2016.
It may come as something of a surprise therefore, that Egypt's housing market is widely expected to rise strongly in value in coming years - and high-end construction is booming to meet demand.
Consider the situation from the perspective of the wealthy Egyptian. If he lives abroad, Egyptian property has suddenly become much less expensive, because of the currency depreciation. In March 2019, the average exchange rate stood at EGP 17.37 per USD 1 – about 49% decline from its value of EGP 8.88 per USD 1 before the decision to float the currency. For those who live in Egypt, the decline in prices makes houses more affordable, making it the right time to purchase. There is a huge, real demand for housing in Egypt, as the country's population increases by 2.5 million annually and there are about one million marriages taking place every year.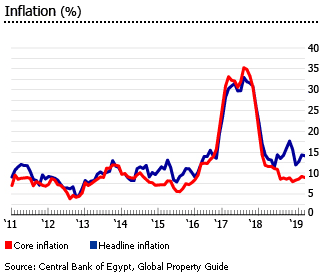 But the economic transition is full of risks. The competence of the Egyptian government is low. Grand schemes such as the expansion of the Suez canal and the move of the administrative capital out of Cairo have been adopted with too little input from rational economic planners.
Yet for all that, other reforms seem likely to boost the economy, and hence the property market.
In 2015, Law 17/2015 was ratified by President al-Sisi, relaxing restrictions on foreign ownership of land and property, and allowing the government, Egypt's biggest landowner, to contribute land to the private sector as part of public-private partnership schemes against a share of the revenue.
In addition, the government implemented several reforms recently, in line with the three-year IMF reform programme:
A value-added tax (VAT) was introduced.
Egypt's Investment Law was amended to attract more foreign investors.
Fuel and electricity subsidies will be cut by 40.5% and 75%, respectively, in the FY 2019-20.
The price of sugar was raised by 40%.
The CBE has abolished a 'priority list' for imports.
The time and day limits during which banks are allowed to execute foreign currency exchanges have been extended.
The economy grew strongly by 5.3% in 2018, up from annual GDP growth rates of 4.2% in 2017, 4.3% in 2016, 4.4% in 2015, and 2.9% in 2014, according to the International Monetary Fund (IMF). In fact, it was the highest growth since 2008, thanks to strong tourism and natural gas activity. The economy is expected expand by 5.5% this year and by another 5.9% in 2020, based on IMF estimates.
Foreigners can buy property in Egypt, under Law No 230 of 1996. However, foreigners cannot buy more than two pieces of real-estate, which cannot exceed 4,000 square metres (sq. m.), and their purpose must be for a family member to live in the property. If registered, the property cannot be sold or rented for five years.
Erratic house price movements
Egypt has seen erratic house price movements in the past few years, buffeted by economic and political events.
Property prices in Egypt rose by 13.7% (4.5% in real terms) in 2005 but dropped 0.4% (-4.4% in real terms) in 2006 and by another 0.6% (-10.4% in real terms) in 2007, according to the 2008 Egypt Housing Survey conducted by Bearing Point Inc, which had a cross-Egypt sample. House prices fell further in 2008, due to the global crisis. In fact by end-2009, house prices in the secondary market had fallen by about 37%, in real terms, according to local real estate analysts.
Egypt's housing market strongly recovered in early-2010, mainly due to robust economic growth. House prices were estimated to have risen by about 10% in 2010. The housing market had been strong since, with the nationwide real estate price index rising by 9% (-2.4% in real terms) in 2013 and by another 11.4% (1.1% in real terms) in 2014, according to the Aqarmap Real Estate Index.   
In 2015, house prices dropped 4.7% (-14.2% in real terms), amidst political uncertainty and civil unrest. But the property market bounced back immediately, with house prices rising by 24.7% (1.2% in real terms) in 2016.
In 2017, house prices rose by 7.9% in nominal terms, but actually dropped 11.5% when adjusted for inflation. The wide difference between the nominal and real figures was mainly due to extraordinarily high inflation during the period, after the government floated the Egyptian pound (EGP) in November 2016, causing a dramatic depreciation against major currencies.
The housing market continued to struggle in 2018, with house prices falling by 9.6% (-19.2% in real terms).
Local house price variations
Places near the centre of Cairo notably still command higher per sq. m. prices than locations further out. A prime example is Zamalek. Despite being very dense and noisy Zamalek is still popular because of its very central location, and apartments there command an average of US$1,234 per sq. m., as opposed to Garden City´s US$940 per sq. m. and Dokki´s US$605 per sq. m.
By contrast, even a luxurious gated community, such as Sheikh Zayed City, commands lower per sq. m. prices (US$515). This largely reflects people's dislike of commuting.
At the Fifth Settlement, one of New Cairo's most affluent districts, the average price of apartments fell by 5.7% y-o-y to EGP 9,150 (US$533) per sq. m. in Q1 2019 while villa prices dropped 5.9% to EGP 17,400 (US$1,013) per sq. m., according to Aqarmap.
In the 6th of October, one of the largest industrial zones in Egypt, apartment prices fell by 12.1% to an average of EGP 5,100 (US$297) per sq. m. during the year to Q1 2019, and villa prices plummeted by 18.4% to EGP 12,200 (US$710) per sq. m.
In Nasr City, one of Cairo's biggest and ugliest neighborhoods, the average apartment price fell by 11.4% to EGP 5,850 (US$340) per sq. m. while the average villa price dropped sharply by 36.9% to EGP 9,050 (US$527) per sq. m.
In El Maadi, a posh suburban district south of Cairo, the average apartment price fell by 12.3% to EGP 6,050 (US$352) per sq. m. and villa prices plunged by 25.8% to EGP 13,200 (US$768) per sq. m.
In El Sheikh Zayed City, an upscale integrated city known for its quietness, green areas, and moderate temperatures, apartment prices fell by 11.1% to EGP 8,850 (US$515) per sq. m. and villa prices dropped 9.2% to EGP 15,850 (US$923) per sq. m. during the year to Q1 2019.
AVERAGE RESIDENTIAL PROPERTY PRICES (IN SQ. M.), Q1 2019

Apartments
Villas
EGP
USD
EGP
USD
New Cairo – Fifth Settlement
9,150
533
17,400
1,013
6th of October
5,100
297
12,200
710
El Sheikh Zayed City
8,850
515
15,850
923
Heliopolis – Masr El Gedida
6,800
396
15,750
917
Nasr City
5,850
340
9,050
527
El Maadi
6,050
352
13,200
768
El Oubour
4,400
256
9,500
553
El Hadabah El Wosta
5,000
291
-
-
El Zamalek
21,200
1,234
-
-
El Mohandeseen
9,200
535
8,950
521
Dokki
10,400
605
13,400
780
El Haram
2,700
157
6,650
387
El Jizah District
3,300
192
6,300
367
Mokattam
5,450
317
15,100
879
Helwan
3,150
183
9,150
533
Ain Shams
2,650
154
10,850
632
Badr City
3,350
195
5,550
323
10th of Ramadan
2,700
157
9,550
556
Garden City
16,150
940
-
-
Downtown
4,200
244
-
-
El Koba Gardens
5,000
291
-
-
Hadayek El Ahram
3,500
204
4,950
288
Shoubra
5,600
326
-
-
El Agouza
8,200
477
-
-
Manial
10,600
617
-
-
El Abbasiya
5,550
323
-
-
15th of May
3,600
210
12,750
742
New Heliopolis
5,100
297
16,750
975
New Administrative Capital
9,400
547
18,050
1,051
Sources: Aqarmap, Global Property Guide
In El Zamalek, an affluent district of western Cairo surrounding the northern portion of Gezira Island in the Nile River, the average apartment price stood at EGP21,200 (US$1,234) per sq. m. in Q1 2019, according to Aqarmap.
El Gouna, a premier resort town located in the Red Sea, has one of the most expensive housing in Egypt, with apartment prices ranging from EGP18,500 (US$1,077) to EGP19,500 (US$1,136) per square metre (sq. m.), according to Colliers. Villa prices range from EGP26,000 (US$1,514) to EGP38,000 (US$2,213) per sq. m.
On the North Coast apartment prices range from EGP9,000 (US$524) to EGP21,000 (US$1,223) per sq. m. while villa prices start at EGP10,000 (US$582) per sq. m.
About 73,000 residential units are scheduled for delivery from 2019 to 2021. Most are located in New Cairo and 6th of October, according to JLL.
Several major construction projects, mostly fully-integrated communities, have been launched in recent months:
Palm Hills Development recently unveiled the expansion of its integrated residential community in West Cairo. Palm Hills launched the first phase of a new 12.6 million sq. m. project last year. The development is expected to add residential build up area ranging from 6 to 8 million sq. m.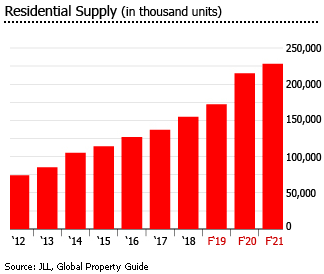 El Mostakbal Urban Development Company is also developing Mostakbal City, a 45 million sq. m. fully integrated green community near the New Capital City. The project is divided into 5 phases, with many residential compounds.
iCity October is another fully integrated community in Sheikh Zayed City, in West Cairo. It is being developed by Mountain View Sisban Alliance, in partnership with the New Urban Communities Authority (NUCA). The same developer has also launched iCity New Cairo, a new mega project in the heart of New Cairo being built on 500 acres which will offer a wide range of properties, from apartments to townhouses and standalone villas. The project is expected to be completed in 2020 and will add about 18,000 residential units to the market.
However, investments in the lower segments of the market remain weak. The country's major developers tend to cater exclusively to the upper middle and upper classes due to the absence of an efficient mortgage law.
Approximately 50% of the population is classified as lower income and around 37% of urban space in Egypt consists of informal settlements, while "unsafe slums" are roughly 1% of urban areas, according to Sherif El-Gohary, of the Ministry of Urban Renewal and Informal Settlements.
The Sisi regime and army rule
Previous President Mohammed Morsi succeeded Hosni Mubarak in June 2012, but was ousted by a military coup in July 3, 2013. Current president Abdel Fattah al-Sisi, the ex-general who led the coup, has launched a crackdown on Muslim Brotherhood supporters, and cemented army rule.
Amid the thousands of Muslim Brotherhood sympathizers in jail are dozens, if not hundreds, of secular activists jailed for their political activities. Meanwhile a growing number of liberals have left the country to go abroad, since no opposition is allowed, and any opposition, even humorous comment, can result in immediate arrest and long prison terms. Authorities have also ordered travel bans and asset freezes against prominent human rights organizations.
Under the Sisi regime, the commercial reach of the military has greatly expanded. The army is all over the place. More than 50 hotels are run by the army, their profits never declared; new petrol station licenses go exclusively to Wataneya, an army-controlled company, with soldiers manning the petrol pumps; pasta is sold by Macarona Queen, an army company; mineral water is sold by Safi, an army-controlled company; all the major roll roads are run by the military; an army department called the Engineering Department of the Armed Forces buys houses and lands for commercial purposes, again wholly exempt from any audit or taxation.
This is not all. In August 2018, President Sisi inaugurated a 500-hectare cement production complex located in the city of Beni Suef. The US$1.1 billion cement plant, considered as the largest in the Middle East, is owned by El-Areesh Cement Co for Cement, which is controlled by the armed forces. There is also a plan that the area around the pyramids will be controlled by an army department called the Sector of the Civil Service, with tickets sold to the benefit of the military. There is no Parliamentary oversight of any of these activities.
It is a system of daily corruption. Military-controlled projects are mostly built by the Engineering Department of the Armed Forces (building civil and military infrastructure, bridges, schools, tourist projects, the development of all sports activities, plus low-income housing projects, plus urbanistic projects).
These projects are then run by the Department of the National Service Projects (which runs companies dealing with petrochemicals, cement, petroleum, land and agriculture; any project to do with industrialisation and mechanisation and to do with agriculture); mineral water (Safi); pasta (Macarona Queen); plus a maritime shipment company; and, under the Department of Clubs and Hotels for the Military, run by field marshals Nabil Salamah and Ismael el Behery, hotels, clubs and rest houses - examples being Queen Service which controls the Wi Fi restaurants and the hotel chains Tolip and Tiva).
All these companies are run by military men, in military uniform, with conscript soldiers often doing the menial work. Unsurprisingly, some claim that the military's commercial reach expanded rapidly in recent years, now constituting between 20% and 25% of GDP.
The army is happy to sell land to foreign companies, such as to the French supermarket chain Carrefour. But foreign enterprises become involved at their own risk, always open to the likelihood of being squeezed, in a situation where the army makes the law.
In May 2017, Sisi approved a new law that aims to regulate nongovernmental organizations (NGOs) in Egypt. The law makes it impossible for NGOs to function independently, as it strictly controls the funding of NGOs and gives the government the authority to monitor and challenge their day-to-day activities.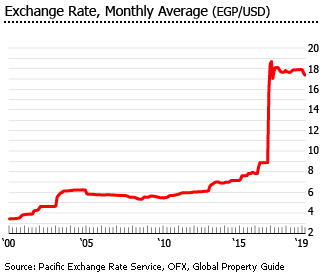 Despite these abuses, the sycophantic press daily signs the praises of the regime. Egyptian TV channels, which are very numerous and have enormous audiences in a country of high illiteracy, talk about the wonderful achievements of Sisi, the great genius of Sisi, the admiration of foreign leaders for Sisi, and complain about the viciousness of the Qatari-Iranian-Turkish conspiracies against Egypt.
In March 2018, Sisi won a second four-year term against a sole minor opposition candidate. More serious challengers, including human rights lawyer Khalid Ali and former PM Ahmad Shafiq withdrew from the race, and former armed forces chief of staff Sami Anan was arrested.
Strong economic growth; improving government finances
Egypt's economy grew strongly by 5.3% in 2018, up from annual GDP growth rates of 4.2% in 2017, 4.3% in 2016, 4.4% in 2015, and 2.9% in 2014, according to the IMF. In fact, it was the highest growth since 2008, thanks to strong tourism and natural gas activity.
The economy is expected to remain strong, with projected real GDP growth rates of 5.5% this year and another 5.9% in 2020, as various economic reforms are expected to support business investment and private consumption in the coming years, according to the International Monetary Fund (IMF).
The government's IMF-spurred policy reforms have contributed to an upgrade of its sovereign credit rating by Fitch Ratings in March 2019.
"It seems likely these reforms will continue to generate better economic outcomes beyond the IMF agreement," said Fitch Ratings. "General government debt/GDP is on a downward path, underpinned by structural improvements to the budget and the emergence of primary budget surpluses."
Egypt's budget deficit fell to 9.5% of GDP in 2018, down from 10.4% in 2017, 11.2% in 2016, 11.6% in 2015, 12% in 2014 and 13.3% in 2013, according to the Ministry of Finance. In fact, it was the lowest deficit recorded since 2010. The deficit is projected to decline further to 8.6% of GDP this year, according to Fitch Ratings.
The country's consolidated general government debt is also forecast to decline to 83% of GDP this year, from 93% of GDP in 2018 and a peak of 103% of GDP in 2017.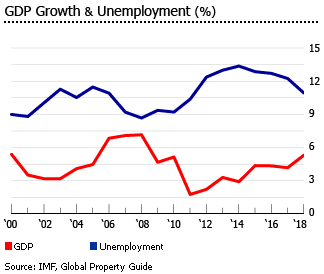 In addition, the floating of the pound has helped the country narrow its current account deficit. In 2018, the deficit fell to 2.5% of GDP, from 3.5% of GDP in 2017. During the current fiscal year, the current account deficit is expected to fall further to 2.3% of GDP, supported by growth in tourism revenues, non-oil exports, and rising gas production.
Tourist arrivals surged 37% to 11.3 million visitors in 2018 from a year earlier, according to World Tourism Organization. This improvement is surprising, given that Egypt's tourist industry was very badly hurt by the country´s political turmoil, and by the ISIL bombing of Russian Metrojet Flight 9268 over the Sinai peninsula in 2015, which killed 224 people, indefinitely halting all Russian flights to the country, and by the deadly bombing of Coptic churches in Tanta and Alexandria in 2017.
The twin problem of high inflation and high unemployment
High inflation has aggravated social tensions, given the country's persistently high unemployment and poverty incidence. Around half of Egypt's 97 million people are living near or below the poverty line. Unemployment was 8.9% in Q4 2018, down from 10% in the previous quarter and 11.3% during the same period last year, according to state statistics agency CAPMAS.
There were about 2,491,00 unemployed people in 2018, including 1,445,000 men and 1,046,000 women.
Egypt's unemployment rate averaged 12% from 2010 to 2017, according to the IMF.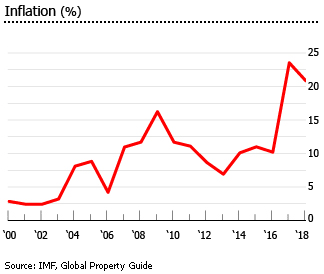 High inflation is also a major concern. In March 2019, annual inflation stood at 14.2%, slightly up from 13.3% a year earlier, according to the CBE.
The prime cause of the high inflation was the devaluation of the Egyptian pound.  On November 3, 2016, the CBE devalued the pound tentatively to EGP 13 per USD 1 (46.3% down from its previous rate of EGP 8.88 per USD 1). But the EGP quickly depreciated further, reaching EGP 18.12 = USD 1 in June 2017.
Inflation surged to 23.5% in 2017 and to 20.9% in 2018, as a result to Egypt's dramatic step of allowing its domestic currency, the Egyptian pound, to trade freely – a necessary condition for the IMF to grant the country a US$12 billion loan.
The domestic currency has slightly strengthened in recent months, with the average exchange rate improving at EGP 17.37 = USD 1 in March 2019.
Key interest rates unchanged
In March 2019, the Central Bank of Egypt (CBE) kept its benchmark interest rate – the overnight deposit rate – unchanged at 15.75%. Likewise, the overnight lending rate and the discount rate were also kept at 16.75% and 16.25%, respectively.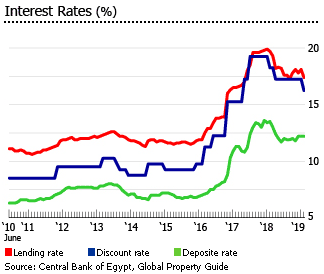 After reaching a record high of 18.75% in July 2017, the key rate was cut three times in the past 13 months, amidst a moderation of underlying inflationary pressures and slowing global economic growth.
Mortgage market is expected to grow rapidly
The Egyptian mortgage market dates back to 2001, when Presidential Decree No. 277 created the Mortgage Finance Authority (MFA). But currently Egypt's mortgage market is equivalent to less than 1% of the country's GDP, according to Mona El-Baradei of Egyptian Banking Institute.
However, the mortgage market is now expected to grow rapidly due government initiatives.
To address the housing shortage, the Central Bank of Egypt (CBE) launched a mortgage finance program in 2014 to finance low income housing projects - allocating LE 20 billion (USD 1.16 billion) to banks in the forms of deposit, to benefit low income citizens. Qualified borrowers can borrow money at an interest rate of 7% for low-income citizens and 8% for the middle-income segment.
In February 2016, the program was expanded to increase the number of beneficiaries and to add a new segment of low-income citizens at a lower interest rate of 5%. In addition, above middle-income citizens were also included at an interest rate of 10.5%.
Earlier in 2016, the CBE allocated EGP500 million (USD29.1 million) to mortgage companies for the first tranche of the program. Moreover, 14 banks provided EGP 5 billion (USD291 million) to finance 62,000 housing units as part of the program, according to Mai Abdel Hamid, the head of Mortgage Finance Fund.
In March 2019, Hamid revealed that the Fund is currently negotiating with the World Bank for US$500 million new funds to finance its social housing programs. The Fund's loans are currently estimated at EGP 22 billion (US$1.3 billion).
About 90,000 Egyptians benefited from the Fund's loans, said Hamid, noting that the subsidy will be disbursed by the beginning of the next fiscal year 2019/20.
The number of mortgage finance companies (MPC) operating in Egypt increased to from only 2 in 2005 to 13 last year. These include Sakan, Al-Qula, EHFC, Egyptian Housing Finance Co., EMRC, Amlak, Al-Tayasor, Tamweel, Tamweel Emirates, Naeem, Al-Ahly, Arab African International, Al-Ahly United, and El Masreyin, according to the Egyptian Financial Supervisory Authority (EFSA).
Rents are rising again
Rents for high-end residential properties in Cairo, which are sometimes paid in US dollars, are now rising again, amidst slight gains in the value of the domestic currency. Rents dropped substantially in recent years, mainly due to the dramatic decline in the USD value of local salaries due to devaluation.
In New Cairo, rentals for apartments rose by 3% in 2018 from a year earlier – in sharp contrast to a y-o-y fall of 24% in 2017. On a quarterly basis, New Cairo apartment rents registered a 1.5% rise in Q4 2018, according to Jones Lang Lasalle. Likewise, villas in New Cairo registered year-on-year rentals growth of 9% in 2018, with latest quarter rentals rising slightly by 0.3%.
In the 6th of October district, apartment rentals surged 17% y-o-y in 2018, in contrast to a 4% decline in 2017. In Q4 2018, apartment rents rose by 5% from the previous quarter. Over the same period, villa rentals increased 14% year-on-year, with latest quarter rentals rising by 2%.
"There has been a noticeable increase in rents across the monitored submarkets as this sector moves into the early upturn stage of its cycle," said JLL. "This increase in rentals can be partly attributed to a shift of resident's lifestyle, with more interest in renting rather than purchasing units, other tenants are leasing units on a temporary basis awaiting the delivery of their off-plan units."
In 2018, rents for three-bedroom apartments in the Fifth Settlement, New Cairo ranged from EGP10,300 (US$600) to EGP30,000 (US$1,750) per month.
Expats looking for apartments prefer direct methods rather than using realtors. One of the most popular methods is going to the American University in Cairo to look for apartment ads. Another one is going directly to the residential building of choice, and ask the bawab or doorman for vacancies.
Affordability a big issue for the poor
With a population of 95 million plus, Egypt needs around 175,000 to 200,000 additional housing units each year, and has a housing shortage of about 3 million. While there are approximately 5.6 million vacant units nationwide, most of these are beyond the means of the low and middle income classes.
In response, President El-Sisi spearheaded the construction of one million housing units for low income youth. The USD 40 billion project is a collaboration with Arabtec Holding, a UAE company, and is the largest construction contract in the region. About 150,000 units have already been delivered under the program and another 260,000 units are under construction. Called "For the Youth", the project is expected to be finished by 2022, housing low income people in 13 cities across the country.
About 44.4% of Egypt's housing stock is occupied by owners, while about 35.7% of the housing stock is rented. Other tenure types are gifts, and in-kind privileges (14.1%), and public housing (5.5%).
Residential supply in Cairo stood at 155,000 units by end-2018, up 109% from 2012's 74,000 units, according to JLL. Another 73,000 units are expected to be constructed over the next three years. Low-income housing, usually priced around US$14,000 per unit remains unaffordable and most developers do not supply houses to this income group.
The price of the cheapest social housing units has risen by 14% per year over the last eight years, while average incomes only increased by 1% per year over the same period.
Ambitious 'New Administrative Capital' now under construction
The Cairo metropolitan area is now nearing 20 million people, making it one of the most congested cities in the world. In fact, traffic costs amounted to about 4% of Egypt's entire GDP, according to World Bank estimates.
In 2015, the Egyptian government unveiled plans to build a new administrative and financial capital, dubbed "Cairo Capital" and "global city for Egypt's future", in an effort to address crowding, pollution, and rising house prices in Cairo. The proposed city will be developed in phases over 40 years, according to Mostapha Madbouly, Egypt's housing minister. Phase 1 is estimated to cost about US$45 billion.
The new capital, which will be located about 40 km east of Cairo, is being built on 69,000 hectares – about two times the size of Cairo.
Cairo Capital could house up to 7 million people, with the initial plans including 21 residential districts housing 1.1 million residential units, 40,000 hotel rooms, 663 health care facilities, 1.8 million sq. m. of residential space and 1,250 mosques and churches.
The new capital city is envisioned as a "Smart City" which will "take advantage of the sustainable technologies of today as well as be adaptable to future technologies," according to Cairo Capital's website. Cairo Capital will include 91 sq. m. of energy farms employing renewable energy sources.
Prime Minister Mustafa Madbouly denied that the new capital city will only cater to wealthy people. However, the smallest apartment, measuring about 120 sq. m., is expected to cost about US$73,000, which is out of reach to mid-level employees with an annual average income of just US$4,800.
The Suez Canal project
A key project of the Sisi government has been the Suez Canal Development Plan, consisted of the construction of new Suez Canal and the establishment of four tunnels to facilitate commercial and civilian access to Sinai and the East Suez Canal Development Zone.
The New Suez Canal project, largely funded by popular contribution, was completed in July 2015. It adds a new 35-kilometre-long second shipping lane in the existing 164-kilometre-long canal, allowing ships to pass in opposite directions, and deepens and expands a 37-kilometre-long section of the existing canal.
Most commentators believe that the Suez Canal project has been a flop. This isn´t something we have the expertise to comment on, so we´ll just repeat what we´ve been told. 
During the FY 2017/2018, the new canal has raised the total revenues of the Suez by EGP25 billion (US$1.46 billion) to reach EGP99.1 billion (US$5.77 billion), according to Suez Canal Authority Chairman Mohab Mamish.
Then in October 2018, President Sisi inaugurated the four sets of tunnels, beneath the new and old Suez Canals. The construction of the tunnels, which costs about EGP 18 billion (US$1.05 billion), aims to develop major residential and industrial centers in the governorate of Ismailia.
According to Kamel el-Wazir, Chairman of the Armed Forces' Engineering Authority, the four tunnels will operate as follows:
The first tunnel, located in southern Port Said, will connect Salloum on the western border with Rafah in the east through the international coastal road in the canal region.
The second tunnel, located in northern Ismailia, will connect the international western border with northern Cairo through the Regional Ring Road.
The third set of tunnels, located in Sarabium, will connect the northern part of the Regional Ring Road to Taba
The fourth tunnel will extend from Ahmed Hamdy tunnel to connect the western international border with the southern part of the international regional road.
"What we are doing is a very strong linking between the East and West of the canal, and between Sinai and Delta," said President Sisi. "We are talking about developing and reconstructing 60,000 kilometers, this is a huge project that cannot be completed in 10 or 15 years."
Investment hotspots
Buying opportunities in Egypt - and particularly the newly-built opportunities - can be conceptually divided into three areas: Cairo, the Red Sea, and the Mediterranean Coast.
1. Cairo
The EGP 12 billion (US$698.45 million) Uptown Cairo is currently being constructed by the developer EmaarMisr. The development offers several residential villages, a golf course, malls, sports and leisure facilities, as well as a business park. This is the first wholly foreign-owned developer to enter the Egyptian market.
During the year to Q1 2019, apartment prices rose by 9.26% to an average of EGP 23,900 (US$1,391) per sq. m. while villa prices increased 11.15% to EGP22,050 (US$1,283), according to Aqarmap.
2. Red Sea
The super-luxurious Katameya Heights launched prior to Uptown Cairo, covers an area of about 1.5 million sq. m. Katameya Heights, introduced in 1997, were purely local. Formerly a stretch of desert, Katameya Heights is now a large suburban area, with large houses, and has attracted enormous interest. The resort offers marvelous clubhouse, beautifully designed golf course and luxurious villas.
Rehab City, a real estate development located in New Cairo, is being developed by TalaatMoustafa Group (TMG). The development is located on the Cairo-Suez road. It offers many shopping malls and a cinema complex. Rehab City is preferred by many upper middle class locals.
In March 2019, the average apartment price stood at EGP 12,350 (US719) per sq. m. while villa prices averaged EGP 17,600 (US$1,024) per sq. m., based on figures from Aqarmap.
With a total budget of EGP 60 billion (US$2.91 billion), Madinaty is considered one of the biggest and most expensive real estate developments in New Cairo. Developed by TalaatMoustafa Group(TMG), it includes 80,000 residential villas, townhouses and apartments. There are also recreational and commercial areas, schools, medical facilities and hotels. Madinaty is adjacent to El Shrouq City.
Construction began in July 2006 and stopped for 7 years while the developer was in prison accused of murdering his mistress.
In March 2019, the average apartment price was EGP 12,350 (US719) per sq. m. while the average villa price was EGP 17,600 (US$1,024) per sq. m., according to Aqarmap.
EmaarMisr is also building a 5,000-home 3.8 m sq. m. project, New Cairo City. The development is considered a new extension to Cairo, the capital. New Cairo City, when completed, is expected to feature several villages offering gated villas, townhouses and high-rise apartments.
Mivida is a EGP 6 billion (US$349.2 billion) residential development located at the fifth district in the New Cairo City. The 3.8 million sq. m. development features 5,000 apartments, townhouses and villas. In March 2019, the average apartment price stood at EGP 19,300 (US$1,123) per sq. m. while villa prices averaged EGP 23,000 (US$1,339) per sq. m., according to Aqarmap.
2. Red Sea
Sharm el Sheikh is now the country's most luxurious and attractive resort, newer and more upscale than Hurghadaand is host to 5-star hotels and international conferences. Sharm has a vibrant nightlife, and boasts many nightclubs, the longest continuous bar in the Middle East, and a marina which can handle private yachts and sailboats. Zoning laws limit building heights, which have prevented the surroundings' natural beauty from being spoiled by high rises.
Sharm's development has been led by tourism, though hotels such as the Ritz-Carlton have sold private villas. New residential developments tend to follow this hotel-based pattern, such as the Sierra Resort Nabq Bay; the Laguna Vista Residence in Naqb Bay; the Carlton Resort, Hadava. Fully residential is Montazah in RasNasranr.
Hurghada is the most popular seaside resort in Egypt, though it is overcrowded and now slightly seedy. Hurghada has an international airport with direct flights to major European countries, as well as flights to Cairo. The city is divided into three parts: Downtown (the old part); Sekalla (the city center); and El Memsha (the modern part).
In Gamsha Bay, 60 kilometers north of Hurghada,a 320 million sq. m. tourism and housing project is being developed by Damac, which developed the Dubai Towers, and will be completed over 10 years. The development has a total budget of EGP 2.9 billion (US$168.8 billion).
Eighteen kilometers South of Hurghada lies Sahl Hasheesh Bay, where a purpose-built resort flanking 12.5 kilometres of sandy beach is being built. Covering 32 million square metres, by the time it was completed in 2014. Sahl Hasheesh has 20 5-star hotels and 8 golf courses. The Egyptian Resorts Company (ERC) owns the exclusive development rights.
Much further south near Marsah Alam, two and a half hours from Luxor, the Port Ghalib project is being developed by Al Kharafi Group of Kuwait along 18 kilometres of shoreline. It opened in November 2007, with around 100 properties for sale, and a further 350 in the pipeline. Marsah Alam has a newly-built international airport, an international convention centre, a man-made lagoon, and a multiplicity of sports facilities. A marina and the usual mix of hotel/residential mix are planned.
A two-bedroom apartment in Port Ghalib is currently listed for EGP11.2 million (US$651,900), according to Property Finder.
3. Mediterranean Coast
The Marassi resort, worth around EGP9.92 billion (US$1.74 billion), is being developed by Emaar. It is located on a 7-km coastline at Sidi Abdel Rahman on the Mediterranean near El Alamein. Marassi resort will offer up to 3,000 hotel rooms, luxury villas, chalets, a marina, an 18-hole golf course and healthcare facilities. A two-bedroom apartment in Marassi costs around EGP3 million (US$175,000) to EGP 5 million (US$291,000) , based on Property Finder listings.
Travco, the main German tour, launched Almaza Bayat Marsa Matruh in 2014, located on the Mediterranean between Alexandria and Libya. The Almaza Bay Resort has a total area of 5 million sq. m. and boasts about 2.5km of flawless beachfront in one of the most pristine beaches in the world. According to Travco's official website, Almaza Bay will feature almost 2,000 residential units, an active marina, a retail urban center, food & beverage and outdoor dining, a sporting club, and several open space activities.
The three major developments in Almaza Bay include the Jaz Almaza Beach Resort, Jaz Crystal Resort and Jaz Oriental Resort.
Sources: