Property prices still surging in Bahrain
As in the rest of the region, Bahrain's property prices are skyrocketing.
Property prices in Manama, the capital, have surged 600% over the past three years. In other parts of Bahrain, prices have climbed about 400%, according to developers.
In Juffair, a prime south Manama residential district, the average selling price of an apartment is now around BHD830 (US$2,202) per sq. m., up 66% from BHD500 (US$1,326) two years earlier.
Higher oil revenues and foreign investments have pushed up Bahrainis' purchasing power, stimulating housing demand. Liberal real estate laws, freedom from tax, and easy home financing have added to the real estate boom.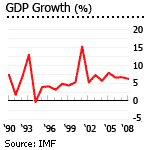 Land prices have followed apartment prices up, soaring by around 120% annually since 2003. In June 2008, the average selling price of residential land was BHD402 (US$1,066) per sq. m., according to Al Mazaya Holding Co.
On the supply side, the shortage of construction materials here as elsewhere in the Gulf, has intensified the escalation of property prices.
In 2007 total property transactions rose 56% y-o-y to BHD1.37 (US$3.62) billion. Bahrainis accounted for 93% of the total, non-Bahrainis for the remaining 7%.
Property prices surge
Manama's property prices are the highest in Bahrain. In Seef and Sanabis, on Manama's northern coast, the average selling price of a freehold apartment is BHD1,050 (US$2,785) per sq. m. In Seef's Avare Tower, a 75 sq. m. one-bedroom apartment costs BHD85,000 (US$225,458); 120% up from BHD38,000 (US$100,793) in 2005.
Similarly, the price of a 120 sq. m. two-bedroom apartment in Abraj Al-Lulu, another Seef freehold property development, has risen 88% over 3 years to BHD150,000 (US$397,868), according to Tameer Research.
Other Bahrain prices:
In Juffair, Manama, a freehold one-bedroom apartment sells for around BHD75,000 (US$198,934). A penthouse in the same region sells for BHD325,000 (US$862,046).
In Muharraq Island, north of Manama, a one-bedroom apartment sells for BHD60,000 (US$159,147).
In Saar, west of Manama, a resale five-bedroom villa costs BHD173,425 (US$460,000).
At the Durrat Al Bahrain's man-made Atoll Islands, on the southern coast, a modern villa sells for BHD490,000 (US$1,300,000).
In other huge property developments such as Amwaj Island (northern coast), Marina West and Al Areen Resort (both in the western coast), prices of one-bedroom apartments range from BHD50,000 (US$132,623) to BHD330,000 (US$875,309), according to Tameer.
Manama's land prices have also risen dramatically. Land prices in Sanabis have risen 300% over the past 3 years to BHD40 (US$106) per sq. ft. Similarly land prices in Seef have climbed 400% to an average of BHD275 (US$729) per sq. ft.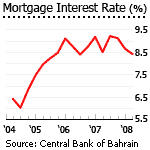 Mortgage interest rates low
In the first half of 2008, CBB repeatedly cut key interest rates to maintain exchange rate stability (the Bahrain dinar is pegged to the US dollar at 1BHD = 2.65US$).
Mortgage rates, however, have fallen less than other interest rates. In Q2 2008, mortgage interest rates stood at 8.42%, slightly down from 8.51% a year earlier.
The mortgage market is growing rapidly, albeit from a low base. In Q1 2008, outstanding mortgage loans had grown 72% y-o-y, to BHD452 (US$1,198) million. At the end of 2007, total outstanding credits were around 5.1% of GDP, up from 3.9% of GDP a year earlier.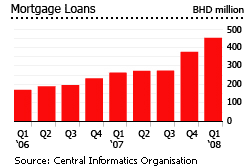 To cap the banking sector's exposure, the Central Bank of Bahrain (CBB) stepped in at end-2007 to limit the value of banks' real estate financing to 25% of loan portfolio value.
To make housing more available, in May 2008 the CBB raised the loan to value limit for residential mortgages from 70% to 90% of the total property value.
Acute housing shortage
Bahrain has plentiful luxury residential properties, but a severe shortage of housing for low to middle-income groups.
There are currently around 55,000 to 40,000 families registered with the Ministry of Works and Housing as having applied for either low-cost housing loans or state-provided accommodations.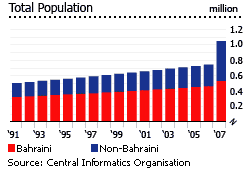 In addition, the rising number of expatriate workers has pushed up demand. Only half of the kingdom's 1 million population were non-Bahrainis in 2007, according to Central Informatics Organisation.
In 2001, there were 105,686 housing units in Bahrain, according to the latest population and housing census. Of this, 32,538 were in Manama.
Rental market tight
The rental market is almost entirely foreign-driven, propelled by Bahrain's rising expatriate workforce. In addition, many expats working in the Eastern Province of Saudi Arabia prefer to reside in the more liberal Bahrain.
The presence of the American Navy also boosts the rental market. In Juffair, luxurious apartments cater to American soldiers and other wealthy foreigners.
Rents have moved up swiftly. Despite an official ceiling on rent increases of 10% a year, landlords sometimes raise rentals by up to 40% annually.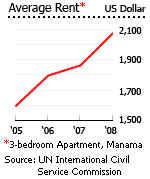 The average rent for a three-bedroom apartment in Manama was BHD781 (US2,072) per month in 2008, up 11.3% from BHD702 (US$1,862) per month in 2007, according to the UN International Civil Service Commission.
Seef has the highest luxury rental rates. A two-bedroom apartment in Seef rents for around BHD1,000 (US$2,652). Rents for similar apartments in other areas range from BHD650 (US$1,724) to BHD800 (US$2,122), according to Tameer Research.
Construction boom, cement shortage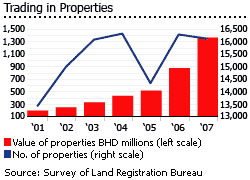 The construction boom continues. Real estate projects in Bahrain worth BHD3 (US$9) billion are currently under development.
The government actually wants to accelerate the pace of construction to ease the housing crisis, and plans 15,000 new housing units between 2007 and 2010, and more funds for housing loans.
Due to the Gulf-wide construction boom, the prices of building materials have skyrocketed. The cost of materials rose 30% in 2007, and a further 50% in the first half of 2008, according to Al Mazaya Holding Co.
Bahrain is experiencing a cement shortage, as Saudi Arabia has reduced its cement exports to the country from 50,000 tons per week to 25,000 tons per week.
The cost pressures and the cement shortage cooled construction in 2007, with only 9,830 construction permits issued, 7% down on a year earlier.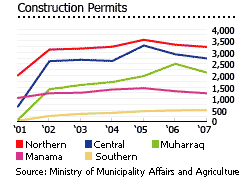 "The construction sector is losing around 3 to 4 million dinars a day as workers on-site remain idle. Projects are being severely delayed and construction costs are dramatically increasing," says Samir Nass, chairman of Bahrain Chamber of Commerce and Industry's contractors committee.
Alternative cement suppliers from Spain, Turkey and UAE are expected to step in. In addition, the launch of a Bahraini cement company worth around BHD0.75 (US$2) billion is planned by Gulf Finance House.
Mega real estate projects
Despite all this, the demand for housing is expected to increase, as Bahrain becomes more accessible to other Gulf countries, with the completion of the King Fahd Causeway, which connects Bahrain to Saudi Arabia, and the soon-to-be-built Bahrain-Qatar Friendship Causeway.
Major development projects:
Project

Location

Estimated value

Area
(sq. m.)

Completion date

Residential area

Amwaj Islands
Near Muharraq Island

BHD 0.4 (US$1) billion

30,000,000

2007

High-rise apartments, lofts, studios and villas
Al Areen
Sakhir, located in western coast

BHD 0.4 (US$1) billion

2,000,000

2008

Residential villages
Durrat Al Bahrain
Southern coastline

BHD 1.13 (US$3) billion

20,000,000

2009

More than 2,000 villas and 3,000 apartments
Bahrain Financial Harbour
Northern coastline of Manama

BHD 0.6 (US$1.5) billion

380,000

2010

Up-market residences; home for more than 7,000 residents
Bahrain
Bay
Northeastern coastline of Manama

BHD 0.6 (US$1.5) billion

1,100,000

2010

Condominiums, low-rise luxury lofts, exclusive water residences
Diyar Al Muharraq
Northern Muharraq

BHD 1.2 (US$3.2) billion

12,000,000

2010
(first facilities)

To house over 100,000 people in around 30,000 housing units
Reef Island
Northern coast of Manama

BHD 0.5 (US$1.2) billion

579,000

2010

Over 1,300 new luxury homes
Bahrain Investment Wharf
Hidd, southern part of Muharraq Island

BHD 0.6 (US$1.6) billion

1,700,000

2011

The Residential Park, with an area of 120,000 sq. m., will house 20,000 workers
Northern City
Northwestern part of Bahrain

BHD 1 (US$2.6) billion

7,400,000

2011

A total of 14,400 housing units
Dilmunia Health Island
Reclaimed land off Muharraq

BHD 0.6 (US$1.6) billion

1,250,000

2013

Total area of 440,000 sq. m. with exclusive villas, luxury condominiums, lofts, river apartments