Total transaction costs are moderate in Brazil
How high are realtors´ and lawyers´ fees in Brazil? What about other property purchase costs?
Transaction Costs

Who Pays?
Transfer Tax
2% - 4%
buyer
Notary Fees
1.25%
buyer
Registration Fee
0.75%
Legal Fee
2%
buyer
Real Estate Agent´s Fee
3% - 6%
seller
Costs paid by buyer
6% - 8%
Costs paid by seller
3% - 6%
ROUNDTRIP TRANSACTION COSTS
9% - 14%
See Footnotes
Source: Global Property Guide
How difficult is the property purchase process in Brazil?
Foreign individuals and nonresidents may invest in urban and rural properties through direct ownership from abroad, or through resident companies or partnerships. To be able to buy a property, a tax registration number from the Cadastro de Pessoa Fisica (CPF) is required.
However there are several restrictions on investments in rural properties. Foreign individuals who intend to migrate to Brazil may acquire rural properties directly from abroad only if they come to live in Brazil within three years from the date of acquisition. In addition, rural properties acquired by foreign companies shall be destined for the implementation of agricultural, industrial or settlement projects and these activities must be related to the companies´ purposes.
To close a sale, it is necessary for both parties to sign a public deed drafted by a (private) notary public, and to have him register the sale at the real estate registrar. Real estate registration in Brazil is well-developed and safe, and each piece of real estate can only be registered at a single registry, which keeps the entire commercial history and the physical identification of each property. Access to all information about a piece of real estate, e.g., its owners, mortgages and other burdens, is public. In the most important cities these services are automated.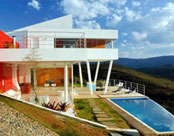 A sale can be entered into directly between seller and purchaser. But intermediation can only be carried out by accredited real estate agents or agencies. The rate at which they are remunerated through commissions (a percentage over the sale or rental value) is determined by the real estate agents legislation of each region, through the Real Estate Agents Regional Councils (CREI).
All 13 procedures to register a property will take around 42 days to complete.
---
Footnotes to Transaction Costs Table


The round trip transaction costs include all costs of buying and then re-selling a property - lawyers´ fees, notaries´ fees, registration fees, taxes, agents´ fees, etc.
Brazil - More data and information