Bolivia's construction boom continues
Bolivia is now experiencing a construction boom, thanks to the country's robust economic growth coupled with the government efforts to boost housing supply.
More than 60 construction projects are under way in Santa Cruz, the country's most populous and economically prosperous city, according to Bolivia's construction institute, Cadecocruz. Of which, 46 are residential projects, 13 for mixed residential and commercial use, four for office projects and five for hotels.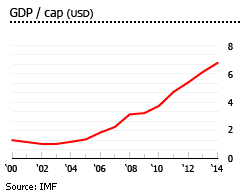 Mixed-used developments are increasing. For an instance, the Marriott hotel, which is currently being build alongside the 400-foot Riviera Towers skyscraper, includes residential apartments and a commercial center. Moreover, some of the planned condominium projects in the country include Turquesa Beach, with a planned artificial lake, and Urubo Golf, with 700 living units and a promised championship course.
Bolivian municipal authorities approved 30 million square feet of space for new construction in 2014, according to government statistics.
Despite rapid improvement in the past several years, Bolivia's housing market remains underdeveloped which offers a huge opportunity for foreign investors. "Businessmen from all over the world are interested in Bolivia's undeveloped market," said Carlos Saavedra, Bolivia's former government minister.
There is now a growing interest from Europeans, mainly Swiss and Germans. Though, "the market in terms of foreigners remains very much an insiders' one", according to HWZ Inc.
Bolivia's economy grew by about 5.2% in 2014, from real GDP growth rates of 6.8% in 2013, 5.2% in 2011-12, and 4.1% in 2010, based on figures from the IMF. GDP per capita more than tripled to US$3,031 in 2014, from just US$952 a decade ago, according to the International Monetary Fund (IMF). However, Bolivia remains one of the poorest countries in South America. Income inequality is high, with the majority of the population engaged in subsistence farming.
Very low prices
Residential properties in Bolivia are much cheaper than most parts of South America. One- to two-bedroom houses and condominiums are priced below US$50,000. On the other hand, larger houses with several bedrooms located in the city are sold below US$100,000.
"A normal U.S. style brick and concrete home with a 1,200 square feet interior, 3 bedrooms and 2 bathrooms on an 8,000 square feet lot 3 miles from the Central Plaza costs about $60,000," according to the real estate company Jackson Rivero Bienes Raices.
Residential rents are also low. The monthly rent for one-bedroom apartments starts at just US$75 while it is about US$150 for houses. In the capital city of La Paz, a two-bedroom apartment can be rented for only US$215 per month.
Low-quality housing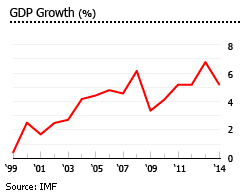 Bolivia has a total population of about 11.2 million in 2014, according to IMF. Almost half of the people are living below poverty line. In fact, over 60% of the population do not have access to drinking water and sewage services.
About 58% of Bolivian families live in huts that do not meet the minimum living standards, lack basic services and sanitation, according to the Habitat for Humanity. About 31% of Bolivian houses accommodate three or more people per bedroom. Moreover, almost 70% of the total housing units have dirt floors, making families susceptible to contract diseases.
Acute housing shortage
The country's total housing deficit was estimated at about 250,000 units, based on government data. With rapid population growth and the rise of the middle class, housing demand is expected to continue rising in the coming years.
In Santa Cruz alone, the country's business capital, the population tripled to almost 3 million over the past decade, according to the 2013 census.
The middle-class is also increasing, with the surge in salaries and the decline in unemployment in the country. Bolivia's minimum wage has quadrupled in six years, and average salaries have risen 20% since 2010, according to the country's labor ministry. Unemployment also declined to 6.3% in 2014, from 9.3% in 2004.
In an effort to increase the housing supply, the government plans to build about 25,000 houses every year for the coming years. Moreover, the government also approved a decree in December 2013 lowering the interest rates for housing loan to a range of 5.5% to 6.5%. This was part of the government's financial reforms aimed at making housing loans and credit to productive sector equivalent to 60% of the local banks' credit portfolios.
Energy sector fuels the construction sector
The energy industry is boosting the country's construction sector. The sharp increase in revenues from the export of gas, minerals and grains in the past three years has helped fuel a 32% rise in construction spending since 2012, according to Cadecocruz.
Moreover, international oil companies such as Spain's Repsol SA of Spain, France's Total, Russia's Gazprom OAO and China's Sinopec LMTD have built headquarters in Santa Cruz. Some other international companies, including 3M Co., are building their presence in the country.
The construction sector generates about 500,000 jobs for the country in the past five years.
Economic growth to continue after Morales' reelection
President Evo Morales, who first became president in 2006, led the country's strong economic growth in the past nine years. Bolivians also saw dramatic increases in the minimum wage during his administration, rising to US$205 in 2014 from just US$65 in 2005. Some of the notable projects during his administration include improving education, healthcare and increasing low-income housing supply for the poor.
Morales, Bolivia's first indigenous President, was reelected during the October 2014 elections. He is now considered as the longest-serving president of the country.
During his inauguration, Morales vowed to continue to reduce poverty, reform the country's floundering judicial system, implement universal health insurance and continue to expand basic services like potable water and electricity for the next five years.