Argentina defaults again; currency controls to hurt the housing market further
Argentina has been here before - not once but several times!
In 1989, Argentina experienced a period of hyperinflation, with annual inflation reaching almost 5,000%. Combined with power cuts, this led to the downfall of Raul Alfonsín's presidency. A similar crisis in 2001 forced another president, Fernando de la Rua, to vacate his seat, leading to what is now considered the largest ever sovereign default, amounting to US$95 billion.
After experiencing robust growth of 6.4% from 2003 to 2011, Argentina suffered another crisis under populist leader Cristina Fernández, forcing it to default again on its debt in 2014. Stubbornly high inflation persisted and the peso lost more than 50% of its value from 2012 to 2015.
Now the economy is in recession once more, after a short-lived recovery. Mauricio Macri's popularity is plunging. Inflation is skyrocketing. The peso has been crashing. The government deferred payments on roughly US$100 billion of debt last month, which led Standard & Poor's and Fitch Ratings to downgrade the country's credit rating to "selective default" and "restricted default", respectively.
Argentina's economic and financial turmoil is now jinxing the country's property market. In August 2019, property prices in Buenos Aires fell by 2.5% y-o-y to US$2,333 per square meter (sq. m), based on data published by Clarín. When adjusted for inflation, prices actually plunged by a whoping 37%.
Demand is now at its lowest level, with property sales transactions in Buenos Aires falling for 14 consecutive months. In fact in the first seven months of 2019, sales plummeted 47.5% to 18,783 units from a year earlier, according to an article by Infobae.com using data from the Colegio de Escribanos de la Ciudad de Buenos Aires.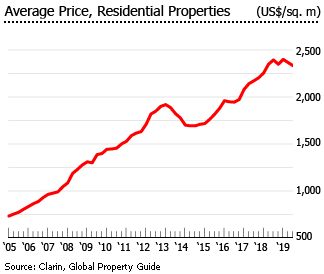 "If everything continues as before, the projection of property sales transactions [in Buenos Aires] for all 2019 is about 30,000. That figure is even below 2001, the lowest level so far, which was 36,000," said Claudio Caputo, the president of the College of Notaries of the Autonomous City of Buenos Aires. "This is going to be the worst year of history for the real estate sector."
Things are expected to get worse, after the government implemented currency controls in early-September 2019, effectively limiting the purchase of US dollars to just US$10,000 monthly. This measure is expected to paralyze the housing market.
"The main issue in Argentina is that the real estate market has historically been transacted in dollars so when you make it impossible for people to source dollars liquidity gets disrupted," says Bret Rosen, managing director of research at Jamestown Properties LLC in New York.
Local house price variations
High inflation is deceptive – it makes it appear that house prices are rising strongly.  Not so!
During the year to Q2 2019, the average price of new dwellings in Buenos Aires rose by 25.8%, according to the Instituto de Economía – Facultad de Ciencias Económicas UADE.  But inflation-adjusted prices actually fell 19.2%.
Likewise, prices of existing dwellings rose by 23% but declined 21.1% in real terms.
The capital city's major neighborhoods have been the worst hit.
New dwellings:
In Recoleta, the average price increased 7% y-o-y to US$4,117 per sq. m. in Q2 2019, but dropped 31.3% when adjusted for inflation
In Palermo, prices fell by 0.6% y-o-y in Q2 2019 to an average of US$3,909 per sq. m. (-36.2% inflation-adjusted)
In Belgrano, prices fell by 3.3% y-o-y in Q2 2019 to US$4,000 per sq. m. (-37.9% inflation-adjusted)
In Núñez, prices were down 4.3% over the same period to US$3,541 per sq. m. (-38.6% inflation-adjusted)
Old dwellings:
In Recoleta, the average price of old dwellings fell by 2.2% y-o-y in Q2 2019 to US$3,236 per sq. m. (-37.2% inflation-adjusted)
In Palermo, prices fell by 3.4% y-o-y to US$3,310 per sq. m. in Q2 2019 (-38% inflation-adjusted)
In Belgrano, prices plunged 13.7% y-o-y to an average of US$3,279 per sq. m. in Q2 2019 (-44.6% inflation-adjusted)
In Núñez, the average price fell by 4.2% y-o-y to US$3,204 per sq. m. (-38.5% inflation-adjusted)
Economic and financial woes worsen
Macri's and Argentina's problems stem from the adoption of tough IMF-mandated policies to stem the rocketing inflation which was the legacy of the previous administration.
Immediately after taking office in December 2015, President Mauricio Macri began to reverse the economic legacy of populist former president Fernández, including devaluing the currency and lifting tight capital controls.
President Macri also ended Argentina´s 15-year long default status by repaying the so-called "vulture funds" that sued it over nine billion U.S. dollars in defaulted bonds. Putting an end to the debt saga to regain access to global credit markets was a key campaign promise in 2015 elections.
Last year, Argentina received a whopping US$57 billion loan agreement with the IMF – the organization's biggest ever aid package – aimed at shoring up the country's ailing finances. The loan, US$44 billion of which has already been disbursed, comes with stringent conditions, including a commitment to a zero deficit for 2019.
On October 1, 2018, the BCRA introduced a new monetary policy scheme to cut the amount of pesos in circulation, in an effort to tame inflation and stabilize the peso. The new rule sets a zero monthly growth target in the monetary base by means of conducting daily transactions of Liquidity Bills (LELIQs) with banks. This means that the benchmark interest rate is set by the supply and demand of liquidity,  to move in the direction of zero nominal growth in the monetary base.
However the actual result of these policies has been a dramatic economic contraction, combined with higher inflation – due to the drop in the currency combined with economic austerity.
The economy contracted by 5.8% in Q1 2019 from a year earlier, following y-o-y declines of 6.1% in Q4 2018, 3.7% in Q3 2018 and 3.8% in Q2 2018, according to the National Institute of Statistics and Censuses (INDEC). In fact the last two quarters marked the biggest contractions since Q2 2009. In a quarterly basis, GDP fell by 0.2% in Q1 2019, after falling by 1.3% in the previous quarter.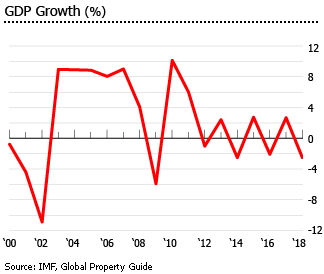 The country's budget deficit stood at 5.5% of GDP last year, following shortfalls of 6.1% of GDP in 2017, 4.6% in 2016, 5.4% in 2015, and 3.8% in 2014. Government debt ballooned to 86.2% of GDP in 2018, from just 56.6% of GDP in 2017, mostly because of currency depreciation.
Argentina's stubbornly high inflation is a serious problem, not least for the housing market. In August 2019, nationwide inflation rate stood at 54.5%, sharply up from 34.4% a year earlier and one of the highest in the world, largely due to lifting currency controls. Banks are unwilling to lend in these circumstances.
The government expects the economy to shrink by 2.6% this year – but this might be an optimistic projection given the country's worsening financial crisis.
The state of the economy has had inevitable political consequences.  In the primary poll conducted August 11, 2019, Mauricio Macri lost to Peronist candidate Alberto Fernández – an indication that Macri's bid for reelection in October now appears in serious jeopardy.
Macri's surprise poll defeat caused the value of the peso to plunge by 20% a day after the poll.  This forced the government to postpone payments on some short-term maturities and to seek a "voluntary reprofiling" of longer-term debt, which led the Standard & Poor's and Fitch Ratings to downgrade the country's credit rating to "selective default" and "restricted default", respectively.
Argentina immediately re-imposed currency controls to shore up the peso and protect its depleted foreign exchange reserves.
Currency controls reintroduced
In September 11, 2019, the central bank unveiled new round of currency controls in an effort to tame speculation and stem a spiraling debt crisis. The new measure requires anyone purchasing foreign currency to present a sworn oath promising to wait at least five days before using it to purchase bonds.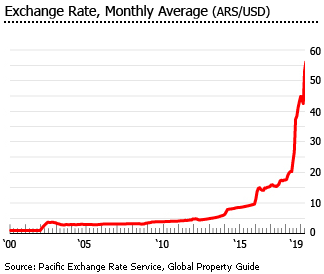 Individuals seeking to purchase dollars now face a monthly limit of US$10,000 and transferring money abroad will now require government permission. The government also requires companies and exporters to obtain permission from the central bank to access the foreign exchange market.
How capital controls thwarted housing market growth
However currency controls will kill an already severely ill housing market.  In 2011 capital controls were introduced by then President Cristina Fernandez made it extremely difficult for most Argentines to acquire property. On the one hand, sellers demanded to be paid in dollars, proven safer than the peso. On the other hand, buyers were prevented from acquiring these dollars by strict currency controls. It didn't help that indexation of peso loans has been forbidden since 2004, at the height of Argentina's currency crisis.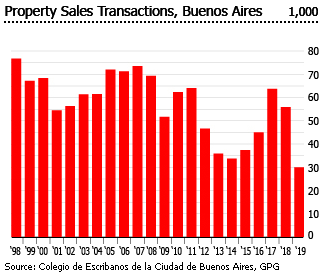 Coupled with high inflation, these factors caused the country's real estate market to enter a three-year crisis. In 2014, just 2,000 property sales per month were registered in Buenos Aires, a city of about 3 million people. That compares with 7,000 in 2010 and a historic average of 5,000, according to the Buenos Aires Notary College.
In 2015, the number of new mortgages in Argentina slumped to its lowest level in 15 years, accounting for just 1.3% of the country´s total GDP - the lowest in Latin America, according to the Housing Finance Information Network, and down from 5.3% in 2000, The drop would have been considerably larger without the help of the government´s Procrear housing programme, according to a report by Ecolatina consultancy.
Interest rates rising sharply, amidst terrible inflation
Interest rates have risen dramatically in recent months, amidst the country's staggering inflation, and ongoing economic and financial crisis. In August 2019, the average mortgage rate was 50.74%, sharply up from 35.61% in August 2018 and 19.14% in August 2017, according to the Banco Central de la República Argentina (BCRA).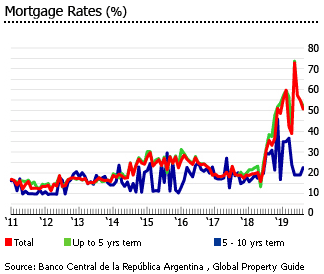 In August 2019:
Up to 5-year term: 52.26%, up from 38.4% a year earlier and 19.17% two years ago
Over 5 and up to 10-year term: 22.5%, up from 29.01% in August 2018 and 18.63% two years ago
Mortgage market dying!
At the beginning of Macri's term things looked so promising!  Elected in December 2015, Macri made a campaign promise to offer one million mortgages during his tenure. Within three months he had devalued the currency and lifted tight exchange controls – and there was an immediate surge in the number of requests for property quotes. "For the first time in years, homeowners want to exchange properties instead of sitting on their assets," says Alejandra Bugna, a property lawyer at Baker & McKenzie.
In April 2016 of an inflation-linked mortgage credit system called Acquisition Value Units or Unidad de Valor Adquisitivo (UVA), similar to the system used in Chile and Uruguay, was introduced.
Under the scheme, real-estate prices either for rent or for purchase will no longer be denominated in US dollars or in pesos but instead will be denominated in UVA. The system guarantees that the transaction represents the same number of consumer price index baskets if, for example, there's a tighter or looser monetary policy. Rents will be priced at the same amount of UVA if the peso gets stronger or weaker. While the payment would be nominally higher with a devaluation, the payment's UVA value would remain constant.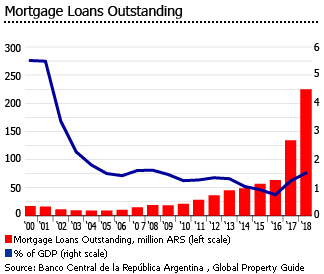 In addition to the introduction of UVA, the government launched a subsidized mortgage scheme in March 2017 to grant subsidized mortgages to around 90,000 locals with monthly incomes ranging from ARS 16,000 (US$283) to ARS 32,000 (US$566).
Despite these measures, first-time homebuyers are now either delaying their plans to purchase homes or cancelling their loans, mainly due to plummeting peso. In the first seven months of 2019, the number of homes bought with a mortgage plunged by 86.5% to just 1,484 units compared to the same period last year. Homes in Argentina are priced in US dollars, even though buyers can only take out mortgages in pesos.
The situation was aggravated by soaring interest rates and the government's recent decision to reintroduce currency controls.
Rental yields are poor in Buenos Aires
Gross rental yields on apartments in Buenos Aires are poor, ranging from just 1.8% to 3.5% in 2018 – sharply down from 4.5% to 5.7% two years ago, based on the recent Global Property Guide research. As always, rental yields are higher on smaller apartments.
Given that a typical landlord's expenses are around 2% per annum in maintenance, repairs, empties, etcetera, this means that many landlords will effectively earn nothing.
Renting has till recently been the only option for many who have no means of saving and buying property, owing to limited mortgage lending. In Buenos Aires, rents, which are expressed in pesos, have risen by about 25% in 2018 – but was still very far from the actual inflation level which was closer to 45%, according to José Rozados, President of Reporte Inmobiliario de Argentina. Then in July 2019, rents in the capital city rose further by 17.2% from a year earlier, according to Zona Prop. Despite these rent increases, the rental market remains unattractive to landlords and property owners  because of very high inflation and poor rental yields.
"…nobody is investing in properties to rent because profitability is not good, and some people are postponing the decision to rent their properties until prices are slightly normalized, because we are with 40% annual inflation, and the rents did not rise more than inflation or as much as the dollar," said Sebastián Sosa, president of Re/Max in Argentina and Uruguay.
A two-bedroom apartment in Buenos Aires is currently offered for ARS 15,708 (US$278) per month.
Puerto Madero has the most expensive rents for two-room apartments, with an average rent of around ARS 26,942 (US$477) per month in July 2019, based on figures from Zona Prop. Next are Las Cañitas (ARS20,006 or US$354), Palermo (ARS19,864 or US$352), and Recoleta (ARS18,407 or US$326), while Núñez (ARS18,333 or US$325), Chacarita (ARS17,669 or US$313) and Belgrano (ARS17,571 or US$311) trail behind.
Residential rents in Buenos Aires are expected to increase up to 30% in 2019, taking into account the inflation projections for this year.
Construction activity falling, amidst growing supply overhang
With very limited demand, there is now a growing supply overhang. "Since the recession began, the amount of properties for sale grew by almost 50%," said Re/Max. "There is an oversupply, the market faces a situation of stock accumulation.
As a result, construction activity in Argentina fell by 1.7% during the year to July 2019, according to the data on Synthetic Indicator of Construction Activity (ISAC) from the National Institute of Statistics and Censuses (INDEC). For the first seven months of 2019, construction activity went down by 8.3% y-o-y, in contrast to a 9.9% growth a year earlier.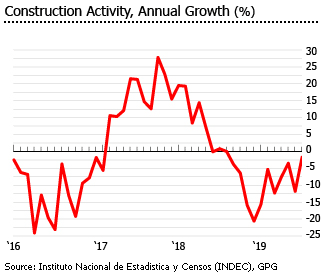 Though in contrast to construction activity, the total covered surface of building permits issued rose by 10.6% y-o-y to almost 5.1 million square meters (sq. m.) in the first seven months of 2019, following a 7.9% decline in 2018 and an 11.2% growth in 2017, based on figures from INDEC.
Sources:
Argentina - More data and information