Transaction costs are very low in Denmark
How high are realtors´ and lawyers´ fees in Denmark? What about other property purchase costs?
Transaction Costs

Who Pays?
Solicitor´s Fee
0.1% - 0.5% (+ 25% VAT)
buyer
Registration Fee
DKK1,400 (€188) + 0.60%
buyer
Real Estate Agent´s Fee
0.5% - 2%
seller
Costs paid by buyer
0.73% - 1.23%
Costs paid by seller
0.5% - 2%
ROUNDTRIP TRANSACTION COSTS
1.23% - 3.23%
See Footnotes
Source: Global Property Guide
How difficult is the property purchase process in Denmark?
Denmark is not open
Despite Denmark´s association with liberalism, it is not easy to acquire property here.
Nonresidents may not purchase real property here unless the person:
Has previously resided in Denmark for at least five years;
Is an EU national working in Denmark; or,
If a non-EU national, has a valid residence or business permit.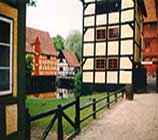 There are some special restrictions on foreign ownership in some areas, especially when buying summer holiday homes. This is particularly prevalent in coastal areas. These are popularly known as the ´anti-German rules´; because they are designed to prevent coastal areas from being overrun by German second home owners.
However, the purchase of "all-year-round" properties, which are not located in popular areas along the coast, is possible as long as you satisfy the aforementioned requirements.
Corporate Route
Since it is extremely difficult to buy Danish property as a nonresident foreign individual, forming your own local limited company to do the buying for you is an option. An ApS (Anpartsselskab), the Danish version of a private limited company, is recommended.
Resident legal entities are allowed to acquire property.
When you have found the right property, it is advisable to get someone to check for damp or building construction errors. As a prospective buyer, the seller gives you a property report which describes the physical condition of the property, including noticeable defects as well as conditions that may cause new defects. Though a property report is not a requirement, it is necessary if you want a transfer deed. If there is no property report, you can hold seller responsible up to 20 years for defects or damages occurring after you have made the property deal. Thus, it is common practice to have the property report. When buying a property (except weekend cottages and co-operatives) the seller is required to inform you about the energy expenses and suggestions on how to lower the energy consumption. Then your seller´s real estate agent drafts a "purchase agreement".
Once a contract has been drawn up, a deed of conveyance (Skøde) is subsequently drawn up, normally by the buyer´s attorney. The Skøde assures the buyer of clear title to the subject property once the deed has been recorded at the local land registry office. The real estate agent will correspond with a solicitor/lawyer in negotiating the purchase price, before the buyer and seller sign the final document contracts. The solicitor/lawyer will notarize them on your behalf and issue the official owner document. You have six days after signing the purchase agreement to nullify the deal by giving written notice, but you are required to pay compensation, which is 1% of the nominal purchase price (i.e. the financed selling price), to the seller.

When the purchase agreement has been signed, you deposit the first part of the down payment, which is 5% of the cash price, with the real estate agent. The rest of the down payment is deposited usually in seller´s bank, or into a commercial escrow bank account once the transfer deed has been signed. The funds can be released only when the buyer has received unconditional title to the property. Escrow typically lasts between 60 to 120 days.
A private limited company need have only one founder; there is no fixed maximum number of members. The minimum capital is DKK125,000 (€16,733), with no maximum limit. A company can be formed in very short time. You can also buy a shelf company, which can be arranged within a few days. The costs involved in the formation of a new company with the minimum share capital amount to approximately DKK7,000 (€937) to DKK15,000 (€2,008).
Remember that forming a company will create administrative burdens. You will have to file more documents than if you bought the property as an individual. You will have to keep accounts, and your books will require auditing each year, while financial statements will have to be filed with the Danish Commerce and Companies Agency not later than five months after the year-end.
It takes around three to seven days to complete the three procedures needed to register a property in Denmark. You can expect to move in your new home in six month´s time from the moment you first saw the property.
---
Footnotes to Transaction Costs Table
The round trip transaction costs include all costs of buying and then re-selling a property - lawyers´ fees, notaries´ fees, registration fees, taxes, agents´ fees, etc.




Solicitor´s Fee:
Solicitor´s fee is negotiable and is not expected to exceed 0.5% of the property value, even if you include the 25% VAT.



Registration Fee:
Registration fee is levied at DKK1,400 (€188) plus 0.6% of property value. It is paid at the Land Registry.



Real Estate Agent´s Fee
Real estate agent´s fee is generally negotiable, ranging from 0.5% to 2%, depending upon the value of the property and the amount of work.
Denmark - More data and information