Albania's beaches are drawing buyers
Albania is the property market's latest darling. It has miles and miles of beautiful and pristine coasts along the Adriatic Sea. Two of the biggest destinations in the country are the holiday town of Durrës and the nearby resort of Golem. Of the two, Durrës is more built up, with hotels, bars, and restaurants. Interest from foreign property investors and second home buyers is steadily increasing.
Albania is a quieter alternative to other more crowded tourist destinations. "Savvy travelers can soak up plenty of sunshine and avoid the crowds that plague the more popular beach spots," said Shermans Travel.com.
The number of visitors is already high: in 2014, foreign arrivals rose by 12.8% y-o-y to more than 3.67 million people, according to INSTAT. More than 85% of the total foreign arrivals were by land, 9% were by sea and the remaining 5% were by air.
"The future is looking bright for Albania. With an increasing number of tourists visiting each year combined with the new BA flights, the country looks set to explode as a tourist destination," said Walshe. "One of Albania's biggest attractions - aside from its cultural and historical charms, balmy Mediterranean climate and stunning beaches - is definitely its rock-bottom cost of living."
Huge potential
The improvement in the housing market can be partly attributed to the offering of new flights and the low costs of living in Albania. "We are certainly seeing a growing number of enquiries from people interested in buying property in the beautiful coastal region of Lalzit Bay, for both their own use and having recognized its investment potential," said Peter Walshe of Lalzit Bay Resort and Spa. "Albania is proving a popular choice for buyers in a wide range of nations."
In the Lalzit Bay Resort and Spa, the country's first high-end resort, prices of one- to two-bedroom apartments start from €35,000 while three- to four-bedroom villas sell for about €360,000. Lalzit Bay Resort is just 30 minutes from Durrës and features restaurants and bars, a beach club, tennis courts, and boutique shops.
The local market is weak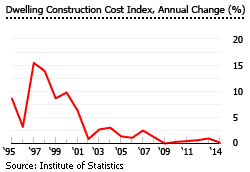 Albania is very much a two-speed market. And domestic demand, i.e., the non-tourist market, remains depressed, with the mortgage market continuing to shrink. In August 2015, the total amount of housing loans outstanding fell slightly by 0.2% to ALL 102.71 billion (€741.7 million) from the same period last year, according to the central bank.
Property prices surged by more than 300% from 1996 to 2006, according to Inf-93 a Tirana-based real estate agency. However since 2010, house prices have fallen.
Yet Albania's property market is now showing some signs of improvement. During the year to end-Q2 2015, the house price index rose by 2.3% in real terms, in contrast with the annual decline of 3.7% in the previous quarter, thanks to improved consumer confidence and eased mortgage loan standards, according to the Bank of Albania, the country's central bank.
Despite this, house prices remain about 20% below the peak levels seen in 2010.
Likewise, the dwelling construction cost index also rose slightly by 0.43% y-o-y in Q2 2015, according to the country's Institute of Statistics (INSTAT). On the quarterly basis, the index increased 0.28% in Q2 2015.
There are no restrictions on the purchase of private residential property by foreigners in Albania, except for agricultural land.
Poor and corrupt
The Republic of Albania is still struggling to emerge from the shadows left by its communist past. The Democratic Party led by President Sali Berisha took over after the defeat of the Communist Party in 1992. Reforms were gradually adopted but corruption and pyramid schemes brought the economy and the government down in 1997.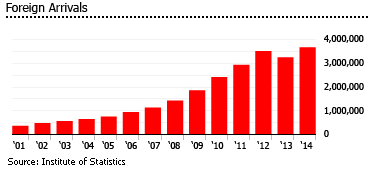 With anarchy on the streets, the Socialists and its allies won the elections in 1997 and held power until 2005. The socialist government was followed by the Democratic Coalition government under Sali Berisha. However Berisha's endemic corruption, selling of national infrastructure to foreign firms at bargain prices and political intimidation of his rivals was very unpopular and he was unseated as Prime Minister by the leader of the Socialist Party and former mayor of Tirana 2000-2011, Edi Rama.
In 2013 Rama secured a landslide election win for the Socialists. Rama is a painter and a writer and a leader of popular protests against corruption.
Albania is one of the poorest countries in Europe with a GDP per capita of US$4,787 in 2014. The government has already had some success with market reforms, but corruption problems persist. There is lack of transparency, substandard transportation and infrastructure, an inadequate electricity supply and a thriving (and very successful) informal market.
Rama has vowed to revive the country's struggling economy, combat widespread corruption and crime, and speed up Albania's integration into the European Union. In June 2014, Albania was recommended by the European Commission as a candidate for European Union membership.
Residential construction mixed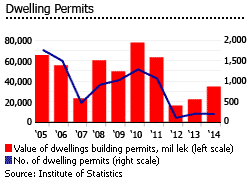 Indicators showed that residential construction activity had improved in 2014:
The total value of dwelling permits rose by 55.4% y-o-y to ALL34.4 billion (€248.4 million) in 2014, up from an annual rise of 38.7% in 2013 and a drop of 74.7% in 2012.
The total area of dwelling permits rose by 35.8% y-o-y to 979,000 square meters (sq. m.) in 2014, an improvement from an annual increase of 31.3% in 2013 and a drop of 75.3% in 2012.
Mortgage market shrinking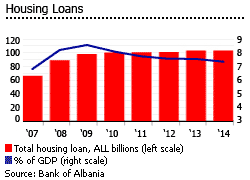 Albania's mortgage market continues to shrink, amidst low domestic demand. The size of the mortgage market contracted to about 7.34% of GDP in 2014, down from 7.54% in 2013 and 8.56% in 2009. Of total housing loans, 59% were denominated in euro, 40% in Albanian lek, and the remaining 1% in U.S. dollar.
The key interest rate was kept unchanged at 2% in August 2015 by the Bank of Albania, after a rate cut of 25 basis points in January 2015.
Rents falling, yields are moderate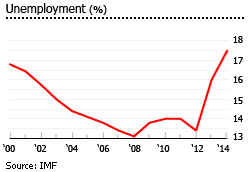 House rents remain 16.2% below the peak levels seen in 2010, with y-o-y decline of 6.3% in the first quarter, according to the Bank of Albania, and a 0.3% drop in real terms during the year to Q2 2015.
Rental yields are moderate, estimated at around 5% to 7% per annum. Property buyers count more on capital appreciation than on rental income for a return on their investment.
The country's rental market is small and caters mainly to expatriates, exchange students, diplomats and aid workers. Due to the privatization of public housing after the fall of Communism, Albania is a country of homeowners.
Low economic growth, high unemployment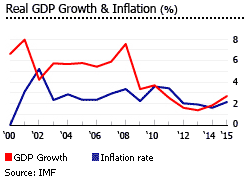 In the second quarter of 2015, Albania's economy grew by 2.53% from the same period last year, thanks to the recovery of the construction and energy sectors, according to INSTAT.
The economy is projected to grow between 2.5% and 3% this year, after GDP growth of 1.9% in 2014, 1.4% in 2013, 1.6% in 2012, and 2.5% in 2011, according to the International Monetary Fund (IMF) - in sharp contrast growth rates of 7.3% annually between 1998 and 2005.
Albania's economy is supported largely by remittances from Albanians working in Greece and Italy.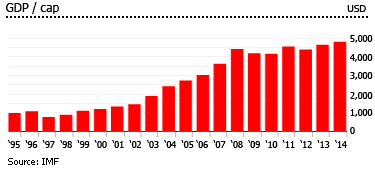 Unemployment remains stubbornly high at 17.3% n Q2 2015, down from 17.7% in a year earlier. 2014's jobless rate was the highest level in 15 years, according to the IMF.
Inflation is expected to be 2.15% this year, from 1.6% in 2014, according to the IMF.
The country has reserves of oil, gas, coal, iron as well as hydroelectric potential, all still largely unexploited.