Puerto Rico: house prices are now surging, buoyed by strong demand
Puerto Rico's housing market is gaining momentum, after several years of house price falls. During the year to Q2 2019, the seasonally-adjusted purchase-only house price index rose by 14.01% (13.24% inflation-adjusted), a sharp improvement from the previous year's minuscule growth of 1.35%, according to the Federal Housing Finance Agency (FHFA).
It was the highest y-o-y growth ever recorded since FHFA started publishing data in 1995. During the latest quarter, house prices increased almost 5% (3.76% inflation-adjusted) in Q2 2019, in contrast to a q-o-q decline of 6.7% (-7% inflation-adjusted) in the same quarter last year.
During 2018, sales for newly built houses surged 78% from a year earlier while existing home sales rose by 17%, according to Estudios Técnicos, Inc. (TSI). Home sales are projected to continue rising this year.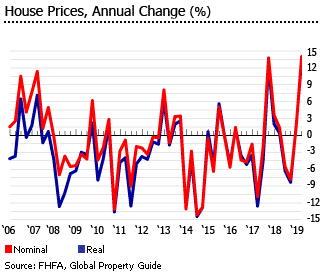 Demand is rising sharply, thanks to new initiatives, including tax incentives and other housing stimulus measures. Insurance and federal aid money are pouring in, coupled with growing interest from Americans looking for a bargain.   The top three municipalities with the highest number of home sales included Ponce, Mayagüez and San Juan.
The momentum is expected to continue this year, with total home sales rising by 3.5% to 5,393 units in the first half of 2019 as compared to the same period last year.  Likewise, The total value of home sales rose by 16.1% to USD 845.35 million in the first half of 2019 from a year earlier.
Yet construction remains weak, amidst low investor confidence. In 2018, the value of residential construction fell 28.2% y-o-y to USD364.5 million, according to the Puerto Rico Planning Board - far below 2007's USD2.33 billion. Private and public residential construction fell by 27.9% and 34.2%, respectively.
The housing market is expected to remain fragile, given the island's prolonged economic crisis, massive debt and continuing population loss.
The economy is projected to contract by 1.1% this year and by another 0.7% in 2020, after almost 14 years of depression, according to the International Monetary Fund (IMF). Puerto Rico filed for the equivalent of bankruptcy protection in May 2017, unable to pay its massive debt or provide its citizens effective services.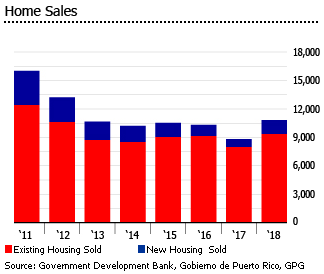 Foreigners can freely buy property in Puerto Rico. It is important to hire a real estate agent as knowledge of Spanish is essential. A foreigner can alternatively buy through a corporation (US$300 for Corporate Resolution). Registering a property by a corporation can be completed in around 15 days.
The economic crisis and the housing market
Historically, Puerto Rico's economy has closely mirrored trends in the United States. However the latest economic downturn has been more intense and has lingered longer in Puerto Rico.
After huge annual house price increases in the early 2000s, the housing market came crashing down in 2008. House prices fell by more than 31% (41.3% inflation-adjusted) from Q2 2007 to Q3 2018.
Puerto Rico's recession began in the fourth quarter of 2006. GDP has grown very little or declined over the past decade, contracting every year from 2005 to 2017, with an exception in 2012 when the economy grew by a meager 0.03%.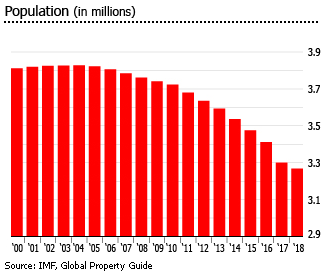 Puerto Rico has lost about 20% of its jobs since 2007. The population has shrunk by about 13% in the past decade. The poverty rate is now at 45%. And public health and retirement systems are insolvent. There's been high unemployment, massive emigration, and a near-catastrophic national debt crisis and credit rating downgrades.
Nearly half of Puerto Rico's population lives in poverty, and household income is about US$18,000 annually – less than half that of Mississippi, the poorest U.S. state.
In 2018, Puerto Rico's real GDP contracted by -2.3%, after falling by 2.4% in 2017, 1.3% in 2016, 1% in 2015, 1.2% in 2014 and 0.3% in 2013, according to the International Monetary Fund (IMF).
While unemployment has fallen, gradually reaching 7.7% in August 2019 - down from 16.4% in 2010, and 15.9% in 2011 - it remains far above the United States' 3.6% jobless rate. Many of the new jobs are in rebuilding, which has created many construction jobs. These additional jobs, however, are temporary.
The loss of net worth among Puerto Ricans associated to the collapse of real estate prices in the past several years has been close to USD30 billion, according to economic consulting firm Estudios Tecnicos's director, Jose Villamil.
Two laws, which came into effect in early 2012, provided significant new tax benefits to foreign individuals and businesses relocating to Puerto Rico:
The Export Services Act 20 offers tax incentives to export services.
The Individual Investors Act 22 provides total exemption from Puerto Rican income taxes on all passive income realized or accrued after becoming a bona fide resident of Puerto Rico.
Then in December 2014, the government expanded the coverage of both Act 20 and 22, expanding the period of tax exemption.  On July 11, 2017, Act 45 further expanded Acts 20 and 22, adding "medical tourism services" and "telemedicine facilities" as eligible services under Act 20; abolishing the minimum number of employees required for most Act 20 businesses.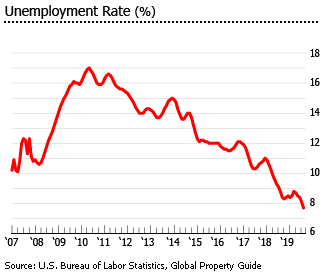 However so far none of these incentives have been sufficient to pull Puerto Rico out of its decline.
Puerto Rico's banking crisis is also a major concern, with non-performing loans at elevated levels. Most of the problem is in the housing market, which represents about two-thirds of total loans, according to Scotia Bank. In 2006, before the crisis, the prime interest rate stood at 7.26%. It dropped to 3.25% in 2009 and remained very low since, but despite this about 80,000 families have been unable to refinance their loans and risk losing their homes.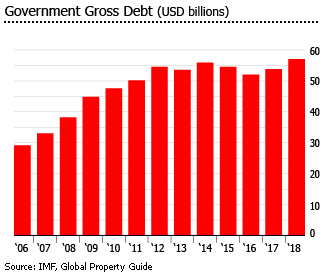 Puerto Rico filed for the equivalent of bankruptcy protection in May 2017, unable to pay its massive debt or provide its citizens effective services. With US$70 billion in debt and US$50 billion in pension liabilities, Puerto Rico's bankruptcy filing was the biggest in the history of the United States, dwarfing Detroit's US$18 billion bankruptcy filing in 2013.
Hurricane Maria
Hurricane Maria struck the island on September 2017 – killing an estimated 2,975 people, severely damaging the island's infrastructure, adversely affecting thousands of small businesses, and destroying nearly all agricultural production. The category 4 storm caused an estimated US$90 billion in damage. A total of 357,492 homes in Puerto Rico were damaged by Hurricane Maria, according to the Federal Emergency Management Agency (FEMA). Overall, about 23% of the island's housing stock was affected, with around a third of them located in the San Juan metropolitan area and other coastal counties.
In response, the US Department of Housing and Urban Development (HUD) approved USD 1.5 billion for the Community Development Block Grant-Disaster Recovery (CDBG-DR) Action Plan in July 2018 to assist rebuilding. The grant includes USD1 billion for housing projects, USD 100 million for infrastructure and USD 10 million for rental assistance to vulnerable households and the elderly.
Then in March 2019, HUD allocated another USD 8.2 billion funds to the program – the largest funding approved by HUD for the recovery after a disaster. Of which USD 2.85 billion is allocated for housing.
COMMUNITY DEVELOPMENT BLOCK GRANT-DISASTER RECOVERY ACTION PLAN

Activity/Projects
USD 1.5 B Allocation
USD 8.22 B Allocation
Total Allocation
Housing Projects
USD 1.01 Billion
USD 2.85 Billion
USD 3.86 Billion
Economic Development
USD 145 Million
USD 1.38 Billion
USD 1.52 Billion
Infrastructure
USD 100 Million
USD 1.38 Billion
USD 1.48 Billion
Multi-sector
-
USD 1.9 Billion
USD 1.90 Billion
Program Administration
USD 75.4 Million
USD 411 Million
USD 486.4 Million
Planning
USD 175.25 Million
USD 309.7 Million
USD 484.9 Million
Total
USD 9.7 Billion
Source: McConnell Valdes
Puerto Rico´s government has also reformed the business permits system, to attract investment.
Major reforms:
Effective June 7, 2019, new and existing businesses in the island can obtain a single permit, consolidating all licenses, authorizations and certifications;
A Unified Information System for the filing and processing of permits, authorizations, licenses and certifications for land uses and operation of businesses.
Time limits for the issuance of permits. In 2019, getting building permits take only 20 days, on average, instead of 98 days two years ago.
 "Puerto Rico is now open for business, and our permitting reform is an important pillar as we rebuild our island after Hurricanes Irma and María," said Governor Ricardo Rosselló. "My administration will continue to cut red tape as part of our efforts to turn Puerto Rico into an attractive destination in which to do business."
The Housing Stimulus Act
These measures come on top of the existing "Impulso a la Vivienda" (Act 152) program passed in 2010 to stimulate new housing construction.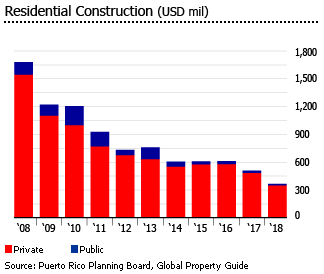 Act 152 provided:
Loan-to-value mortgage ratios of 105%
A 100% exemption from net rental income tax, for a 10-year period.
A 100% exemption from capital gains tax at the time of resale of new property, and a 100% exemption from fees, stamps and vouchers,  and a five-year exemption from property taxes.
Residential construction still falling
During 2018, residential construction investment in the islands fell sharply by 28.2% to USD364.5 million from a year earlier, according to Puerto Rico Planning Board.
Private residential construction fell by 27.9% to USD346.4 million in 2018 from a year earlier. This was far below the US$2.1 billion residential construction recorded in 2007.
Public residential construction was just USD18.1 million in 2018, down 34.2% from a year earlier and just one-eighth of 2007's US$223.1 million public residential construction.
Cement sales, the construction industry's key indicator, rose by 38.9% to 14.3 million bags in 2018 from the previous year, according to the Office of the Commissioner of Financial Institutions (OCIF). However in the first seven months of 2019, cement sales dropped 7.4% y-o-y to 7.9 million bags. Similarly, cement production also declined 12.8% y-o-y to 7.28 million bags over the same period.
As of Q1 2019, there were about 1,446 newly built homes from 151 new residential projects, down 10.9% from the housing inventory in the previous quarter, according to the research firm Estudios Tecnicos. About 70% of the housing stock are units priced below USD200,000.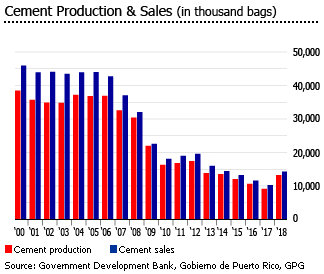 But with rising demand, residential construction activity is projected to improve in the coming months. According to Graham Castillo of Estudios Técnicos, future construction developments should focus on the following niche markets:
Mixed developments like Ciudadela or the developments of live-work-play communities
Small housing units for the aging population who wants to downscale and live a simple life
Oceanfront luxury properties for investors who want to take advantage of tax incentives under Acts 20 and 22 (discussed below)
The Community Development Block Grant-Disaster Recovery (CDBG-DR) plan for Puerto Rico's reconstruction also presents huge opportunity for the construction industry, particularly for new housing construction.
Mortgage delinquency to rise again, as foreclosure moratorium expires
Delinquent mortgages swelled to 143,200 in the immediate aftermath of the storm. A foreclosure relief program was introduced to help struggling Puerto Rican homeowners.  As a result, the number of foreclosures in Puerto Rico dropped almost 36% y-o-y to just 2,942 units in 2018 – the lowest level since 2009, according to the Office of the Commissioner of Financial Institutions (OCIF).
In addition, the Federal Housing Authority (FHA) introduced a new Disaster Standalone Partial Claim option, which helps struggling borrowers to resume their mortgage payments without a payment shock. The program wraps up to 12 months of missed mortgage payments into an interest-free second loan on the mortgage. The second loan is then payable when the borrower sells their home or refinances.
Though the foreclosure moratorium was extended thrice – giving homeowners a year to recuperate from the impact of the storm - the final deadline came in September 16, 2018. With the moratorium expired, mortgage delinquency is expected to surge again in the coming years.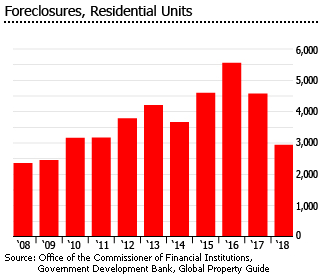 "It's clear that FHA homeowners in these areas need more help to get back on their feet as they recover from these storms," said HUD Secretary Ben Carson.
In fact a group of attorneys from Legal Help Puerto Rico, led by Ariadna Godreau-Aubert, along with Ricardo Ramos and Tania Morales-Cruz, warn that there is a mortgage crisis in the island, with foreclosures already at critical levels. They noted that foreclosures and delinquency ratios should have risen sharply in the past two years, "but moratoriums on mortgage payments and temporary closure of courts postponed cases, creating an artificial decline".
"Official data doesn't say it all. According to OCIF, the number of homes executed by the banks, between 2016 and 2018, has dropped, but that's an artificial depletion as OCIF does not include sold loans or bankruptcy court cases, neither auctions or reverse mortgages," said Ramos.
Rental yields are good, but rental market remains soft
Rental yields in Puerto Rico remain good, according to the Global Property Guide research. Average rental yields on 2 bedroom apartments in San Juan stood at 7.1%, slightly down from 7.3% a year earlier. For 3-bedroom apartments, the average rental yield stood at 7.3%, down from 8.3% the previous year.
There was insufficient data on apartments in coastal areas of Puerto Rico such as Condado, Miramar and Dorado, but two years ago they had much lower rental returns at 3.8%.
Despite good yields, Puerto Rico's rental market remains soft, with currently about 12.8% vacancy rate, up from 10% in 2010 and 7.4% in 2000, according to the U.S. Department of Housing and Urban Development (HUD).
"Continued population loss in Puerto Rico has led to increasingly soft rental market conditions and rising vacancy rates," said HUD.
San Juan metro area's average monthly rent for 2-bedroom apartments amounted to about US$720 while the average rent on 3-bedroom apartments was US$850 per month.
Round trip transaction costs, i.e., the costs of buying and selling a property, are very low in Puerto Rico.
Tourism remains weak
Despite efforts by the government to encourage vacationers into the island, tourism remains down. In 2018, the total number of tourist arrivals plummeted 13.5% to about 4.26 million people from a year earlier, far worse than the y-o-y declines of 1.5% in 2017 and 1% in 2016, according to the Puerto Rico Planning Board.
During 2018:
Stay-over visitors fell by 12.7% y-o-y to 3.07 million people, following a 6% decline a year ago
Excursionists were down 15.7% y-o-y to 1.19 million people, in contrast to a 11.6% growth in 2017
Likewise, total visitor expenditures fell by 14.7% to USD 3.28 billion in 2018 from a year earlier.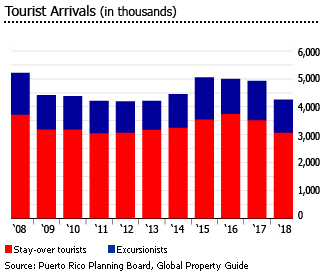 There are signs of improvement this year, with the total number of tourist hotel registrations rising by almost 34% y-o-y to 1,376,979 in the first seven months of 2019, based on figures from Puerto Rico Tourism Company.
About 87% of stay-over visitors in Puerto Rico in the past three years came from the United States.
Tourism accounted for about 7% of Puerto Rico's GDP last year.
Sources:
Puerto Rico - More data and information