Buying costs are moderate in Taiwan
How high are realtors' and lawyers' fees in Taiwan? What about other property purchase costs?
How difficult is the property purchase process in Taiwan?
Foreign individuals and companies are allowed to buy Taiwanese real estate with government approval, achievable by registering with the Ministry of Economic Affairs (MOEA), and conditional on the existence of a reciprocal arrangement allowing Taiwanese to invest in the home country of the individual, or in the place where his company has its head office. Foreigners can only purchase land for personal, investment, and social welfare purposes.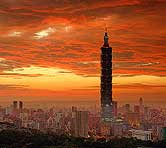 A homebuyer is expected to register with the respective Land Registration Office the change in ownership of a property. A registration certificate lists the transfer date, property size and owner of the land and building and title of the lien, if any. Registration is usually processed through a land notary and it takes one day to change the property title after filing with the Land Registration Office.
The whole process of registering property takes around five days to complete with three procedures.
---
Footnotes to Transaction Costs Table
The round trip transaction costs include all costs of buying and then re-selling a property - lawyers' fees, notaries' fees, registration fees, taxes, agents' fees, etc.


Currency:
Taiwan uses Taiwan Dollar. Exchange rate is at US$1=TW$33.22551 as of 27th October 2006.

Deed Tax:
Deed tax is levied on the transfer of title of the real estate through sale, except where land value increment tax is in effect. As a result, the deed tax is levied only on buildings and not on land. Deed tax is payable by the buyer at the time of transfer.

Stamp Duty:
Stamp duties are imposed on the sale, exchange, donation, or subdivision of real property executed within the territory of Taiwan at 0.1% of the contract value.

Registration fee:
Transfer of ownership of registered land and constructional improvement is imposed on the registration fee of 0.1% of the official value of the land.

Legal fee:
Transfer of ownership of registered land and contructional improvement is imposed on the registration fee of 0.1% of the official value of the land.

Legal fee:
Legal fees are negotiable and generally around TWD5,000 (US$167).

Agent's fee:
According to the "Real Estate Broking Management Act" prepared by Department of Land Administration, Ministry of Interior, the agency fees payable by either the seller or purchaser, or both, cannot exceed 6% of the transacted price for any single property transaction. In practice, the purchaser pays around 1% to 2% and the seller pays around 3% to 4% of the transacted price.


Notorization Fees:
Notarization is a certification issued by court. The notarization fees are based on a mandatory sliding scale as follows:
NOTARY FEE

CONSIDERATION TWD (US$)
FEE, TWD (US$)
Up to 200,000 (US$6,667)
1,000 (US$33)
200,000 - 500,000 (US$16,667)
2,000 (US$67)
500,000 - 1 million (US$33,333)
3,000 (US$100)
1 million - 2 million (US$66,667)
4,000 (US$133)
2 million - 5 million (US$166,667)
5,000 (US$167)
5 million - 10 million (US$333,333)
6,000 (US$200)
10 million - 20 million (US$666,667)
8,000 (US$267)
20 million - 30 million (US$1,000,000)
10,000 (US$333)
30 million - 40 million (US$1,333,333)
12,000 (US$400)
40 million - 50 million (US$1,666,667)
14,000 (US$467)
50 million - 60 million (US$2,000,000)
15,000 (US$500)
60 million - 70 million (US$2,333,333)
16,000 (US$533)
70 million - 80 million (US$2,666,667)
17,000 (US$567)
80 million - 90 million (US$3,000,000)
18,000 (US$600)
90 million - 100 million (US$3,333,333)
19,000 (US$633)
Over 100 million (US$3,333,333)
1,000 (US$33) for every
10 million (US$333,333)
Taiwan - More data and information