Malaysia's house prices continue to rise, albeit at a slower pace
Malaysia's housing market is slowing sharply, after the introduction of higher stamp duty on high-value properties, and slower economic growth.
During 2018, the nationwide house price index rose by 3.31% (3.14% inflation-adjusted, down from 6.13% in 2017, 6.97% in 2016, and 6.47% in 2017, according to the Valuation and Property Services Department (JPPH)). On a quarterly basis, the house price index rose by 2.45% (1.94% inflation-adjusted) in Q4 2018.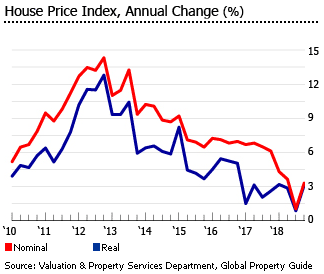 Malaysia's average house price stood at MYR 416,993 (US$ 100,685) in 2018.
By property type:
Terraced house average prices rose by 6.4% (5.4% inflation-adjusted) to MYR 378,474 (US$ 91,384) during 2018.
High-rise residential properties' average price fell by 1.2% y-o-y (-2.1% inflation-adjusted) to MYR 338,698 (US$ 81,780).
Detached house average prices were down by 1.8% y-o-y (-2.7% inflation-adjusted) to MYR 658,668 (US$ 159,039).
Semi-detached house average prices increased 2% y-o-y (1% inflation-adjusted) to MYR 657,239 (US$ 158,694).
Kuala Lumpur has Malaysia´s most expensive housing, with an average price of MYR 786,800 (US$ 189,662), followed by Selangor, at MYR 479,894 (US$ 115,681); Sabah, at MYR 452,965 (US$ 109,189); and Sarawak, at MYR 440,515 (US$ 106,188).
The cheapest housing in Malaysia can be found in Kelantan, Perlis and Melaka, with average prices of just less than MYR 200,000 (US$ 48,211).
Demand is stable. In 2018, the number and value of residential property transactions rose by just 1.4% and 0.4%, respectively.
From January 1, 2018, stamp duty was increased from 3% to 4% on properties worth above MYR 1 million (US$ 241,245).
Although the housing market remains weak, some experts expect the market to improve gradually, supported by Malaysia's healthy economy, liberal policies, and better political conditions since the 2018 general elections.
"In 2019, we expect to see more motivated sellers and discerning buyers to be present in the residential market," said Kelvin Yip of Knight Frank Malaysia. "Malaysia's residential properties will continue to be attractive in the eyes of foreign buyers as a result of our liberal policies, reasonable valuations and coupled with no extra stamp duties," Yip added.
The Malaysian economy expanded by 4.7% in 2018, lower than the 5.9% growth in 2017, according to Bank Negara Malaysia (BNM). Projected GDP growth is 4.7% this year and 4.8% in 2020, according to the International Monetary Fund (IMF).
House prices still below Asian crisis levels
Amazingly, house prices in Malaysia are still below pre-Asian Crisis 1997 levels, in inflation-adjusted terms.
Malaysian house prices had risen rapidly in the early 1990s in two particularly dramatic surges - in 1991 house prices rose 25.5% (20.3% in real terms), and in 1995 they rose 18.4% (14.4% in real terms). The Asian crisis partly undid these gains.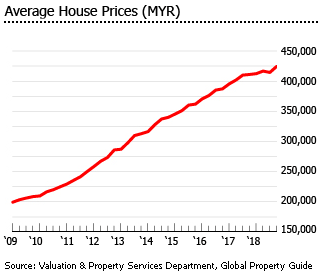 Since the Asian crisis Kuala Lumpur's house prices have significantly outperformed the rest of the country especially after the economic downturn of 2008-2009, when the property market was revitalized with the help of the Greater Kuala Lumpur Plan, targeting developing key locations, including "The MRT Project". From 2005 to 2015, Kuala Lumpur house prices surged by almost 122% (73% inflation-adjusted).
In contrast national price rises have been more muted. From 2005 to 2015, Malaysia's house prices rose by 96.1% (52.4% inflation-adjusted).
From 2016 to 2018, nationwide house prices rose by an annual average of 5.5% (3.6% inflation-adjusted).
Demand is steady
Residential property transactions rose in 2018 by 1.4% to 197,385 units, according to JPPH. In terms of value, transactions were up 0.4%.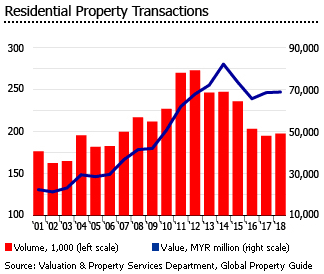 Johor registered the biggest y-o-y rise in residential property transactions at 7.8% in 2018, followed by Kuala Lumpur (6.8%) and Pulau Pinang (3%). In contrast, Selangor recorded a marginal decline of 0.4%.
Residential construction depressed due to government freeze on high-end developments
New launches fell 14.9% in 2018 to 66,040 units, according to the JPPH. Kuala Lumpur and Selangor saw declines of 56.1% and 9.9%, respectively. New launches in Johor increased by 17.3% in 2018.
Housing starts fell by 8.6% y-o-y in 2018 and completions declined slightly by 0.7%.
The weakness in residential construction can be partly attributed to the government's decision to freeze approvals for high-end property developments to address the luxury segment supply glut. The restriction, which became effective in November 2017, covers properties which cost over MYR 1 million (US$ 241,245).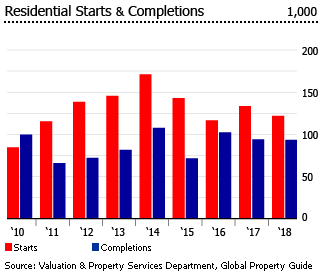 "This will be temporary until we can clear all the excess supply," said Second Finance Minister Datuk Seri Johari Abdul Ghani. "There is a stark imbalance between supply and demand and we have to review the strategy in real estate development as we do not want such a situation to adversely affect the economy."
Meanwhile, the government continues to promote the development of affordable homes, particularly those priced below MYR 300,000 (US$ 72,374), in order to meet the strong demand in this segment.
"In this sector, there is a disparity between the 48% demand for affordable homes and the supply that only meets 28% of that. This is the area that needs to be addressed swiftly," Johari added.
In January 2017 total loan coverage was increased to 100% under the Malaysia People's Housing (PR1MA) Bill 2011, which gives first time buyers easier financing and reduced stamp duty for houses below MYR 400,000. Borrowers with a monthly income up to MYR 7,000 per month qualify for the scheme. The stamp duty exemption was also raised from 50% to 100% on instruments of transfer and housing loan instruments for houses worth below MYR 300,000 (US$ 72,374).  
Mortgage market continues to expand
Housing loans outstanding increased 7.6% y-o-y to MYR 534.81 billion (US$129.02 billion) to March 2019, according to Bank Negara Malaysia (BNM). The mortgage market is now about 36.6% of GDP, up from 22.3% in 2008 and 13.1% in 1996, despite stricter lending guidelines in recent years.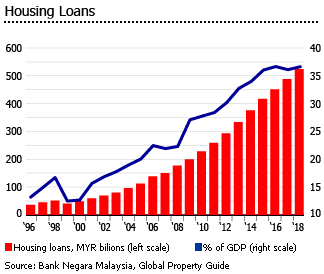 However the rate of growth is slowing. The value of housing loans rose by an annual average of 7.9% from 2016 to 2018, down from annual average growth of 13.1% in 2007-2015 and 19.3% in 2000-2006.
Tighter lending and anti-speculation measures
Bank Negara Malaysia (BNM) introduced stricter lending guidelines on January 1, 2012, requiring mortgage eligibility assessments to be based on net income, considering:
Statutory deductions for tax;
Employees Provident Fund (EPF) contributions, and;
All other debt obligations.
In July 2013, BNM reinforced responsible lending practices:
The new maximum home loan period was reduced to 35 years, from the previous period of 45 years.
The maximum personal loan period was shortened to 10 years from 35 years.
Pre-approved financing products are no longer possible.
Some other anti-speculation measures introduced by the government:
Fly-by-night developers targeted. Housing license project deposits of 3% of total estimated project cost were recently introduced. A MYR 500,000 fine, plus maximum of three-year jail term for developers who abandon projects, have been proposed by the Housing and Local Government Ministry.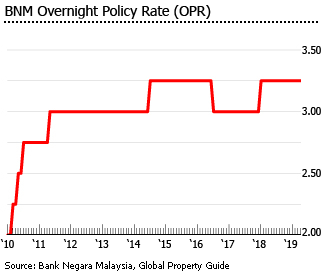 Capital gains tax rises. On January 1, 2014, the Real Property Gains Tax (RPGT) rose from 15% to 30% on properties sold within three years from purchase.
Taxes on gains on properties sold after four to five years rose to 20% and 15%, respectively. No RPGT will be imposed on citizens for properties sold after six or more years, while companies will be taxed at 5%.
For non-citizens, RPGT on properties sold within a holding period of up to five years is 30%, while RPGT on properties sold within six years or more from purchase is 5%.
The end of the Developer's Interest Bearing Scheme (DIBS). The government has forbidden banks from offering financing via the DIBS, introduced in 2009 to boost condominium sales, where the developer paid the interest on buyers´ loans during construction of a project.
Bulk sales. The Malaysian government also requires property developers to obtain permission before making bulk sales of more than four units.
Minimal restrictions on foreign buyers
Foreigners can purchase any kind of property with a minimum value of MYR 1 million (US$ 241,245) as of 2014. They are allowed to purchase up to two residential properties - two condominiums (max. 50% foreign ownership within a block) OR one condominium and one of the following:
Terrace or linked houses above two storeys, but limited to 10% of the total number of units built of this type
Lands/bungalows and semi-detached houses, but limited to 10% of units built of these types
Aside from this, there are no other restrictions that hinder non-resident foreign buyers in Malaysia. In fact, there has been an upward trend in "Malaysia My Second Home" (MM2H) applications in recent years. From an annual average of 1,700 approvals from 2002 to 2011, the number of approved applications increased to an average of 3,200 annually in the past seven years, thanks to the surge of Chinese visitors as the Malaysian government raised its efforts to attract the Chinese tourists after the MH370 tragedy in 2014. From its inception in 2002 to 2018, more than 40,000 applications have been approved from more than 130 countries, with China accounting for about 30% of all approvals.
MM2H is a programme promoted by the Ministry of Tourism, Arts and Culture (MOTAC) which permits foreigners to live in Malaysia for a period of 10 years, provided that they meet certain criteria. Successful applicants are also allowed to bring their spouse, an unmarried child under the age of 21, and parents who are over 60 years old.
MOTAC is expected to set up a task force this year to speed up the approval process of the MM2H programme.
Kuala Lumpur's rental yields have fallen; small rental market
Gross rental yields of apartments and condominiums in Kuala Lumpur generally range from a little above 2% to 5%. Bungalows have lower rental yields at around 2.5%, according to Global Property Guide research.
Malaysia has a small rental market. Only 6% of the housing stock is in the private rental sector. About 85% of total stock is owner-occupied, while government-provided housing accounts for 7% of the stock.
Rents have not kept pace with prices. The 120 sq. m. condominium category has average gross returns of 4.5%, but three years ago, rental yields for this size averaged over 8%.
A 50% tax exemption on residential rental income of individuals up to MYR 2,000 (US$ 482) per month was introduced last year and will be effective until 2020. This is expected to boost demand for rental properties. In order to protect both tenants and landlords, the Malaysian government also proposes to formulate a Residential Rental Act.
In 2018, rents continue to rise in almost all of the country's major cities, albeit at a slower pace. George Town recorded the highest annual increase with rental rates rising by 2.8% during 2018, according to the Valuation and Property Services Department (JPPH). It was followed by Johor Bahru (2.7%), Kuala Lumpur (1.9%), Klang Valley (1.7%), and Selangor (1.6%).
Kuala Lumpur and Klang Valley have the highest rental rates last year of MYR 52.54 (US$12.68) per sq. m. and MYR 47.61 (US$11.49) per sq. m., respectively.
The government's Economic Transformation Programme (ETP) has helped to increase the demand for luxury condominiums in Klang Valley, which caters mainly to foreigners, according to C.H. Williams Talhar & Wong.
Economic slowdown
The Malaysian economy expanded by 4.7% in 2018, notably lower than the 5.9% growth in 2017, according to Bank Negara Malaysia (BNM).
During 2018:
Services sector grew by 6.8%, following a 6.2% growth in 2017
Manufacturing sector grew by 5%, down from 6% growth in 2017
Construction expanded by 4.2%, a slowdown from the prior year's 6.7% growth
Mining and quarrying contracted by 1.5%, from a marginal growth of 1% in 2017
Agriculture contracted 0.4%, from a growth of 7.2% in 2017
"In 2018, the country saw a moderation in growth after an exceptionally strong performance in 2017," said Bank Negara governor Datuk Nor Shamsiah Mohd Yunus. "The economy was impacted by one-off factors, namely, supply-side shocks and post-election policy uncertainty."
From 2002 to 2008, economic growth averaged 5.7%, but growth fell sharply to 1.5% in 2009, during the global financial crisis. In 2010 GDP growth bounced back, surging by 7.5%. The economy has been strong since, registering an annual average growth rate of 5.2% from 2011 to 2017.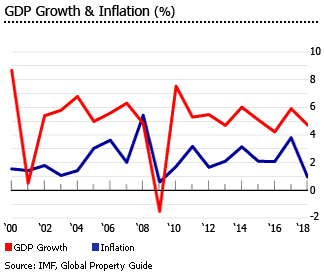 Malaysia's economy is projected to expand by 4.7% this year, mainly driven by strong private consumption, according to the World Bank. "Household spending will be buoyed by stable labour market conditions and income support measures such as the Cost of Living Aid (Bantuan Sara Hidup)," said World Bank's lead economist for Malaysia Richard Record.
In March 2019, Malaysia's inflation was 0.2%, following two months of negative inflation (-0.7% in January and -0.4% in February), according to the Department of Statistics Malaysia. Malaysia's inflation in 2018 was 1%, sharply down from 3.8% in 2017.
The BNM's Monetary Policy Committee (MPC) kept its Overnight Policy Rate (OPR) at 3.25% in March 2019 – unchanged since raising it by 25 basis points in January 2018.
Unemployment was at 3.3% in February 2019, unchanged since September 2018, based on the figures from the Department of Statistics Malaysia.
After continuously falling for a decade, Malaysia's budget deficit widened again to 3.7% of GDP in 2018, from 3% of GDP in 2017, according to the Ministry of Finance. The shortfall is projected to fall again to 3.4% of GDP this year and to 3% of GDP in 2020, based on World Bank projections.
Government debt stood at 51.8% of GDP in 2018, up from 50.7% of GDP in 2017 but down from 52.7% of GDP in 2016.
The Malaysian ringgit slides against the US dollar
The Malaysian ringgit (MYR) wasone of Asia's worst-performing currencies this year after it fell by as much as 5.5% in a year to reach a monthly average exchange rate of MYR 4.1139 = USD 1 in April 2019, as caution swept through Asia following the IMF's downward revision of the global growth forecast.
The domestic currency was also weighed down by political uncertainty surrounding the 1MDB scandal and Malaysia's dispute with the European Union over palm oil.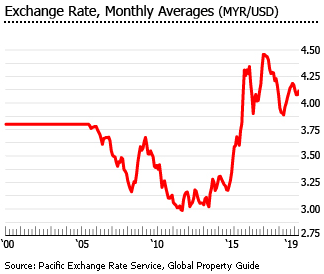 The decline partially offsets the almost 15% gain of the ringgit against the dollar from December 2016 to April 2018, mainly due to the country's improved balance of payments. Malaysia's balance of payments registered a higher surplus of MYR 33.5 billion (US$8.08 billion) in 2018 from a year earlier, according to the Department of Statistics Malaysia.
1MDB scandal led to UMNO's collapse
Former Prime Minister Najib Tun Razak is currently facing trial over his role in the multi-billion dollar 1MDB corruption scandal that triggered international outcry and brought down his UMNO-led government during last year's general elections. The United Malays National Organisation (UMNO) is the political party that governed Malaysia since its independence.
The 1Malaysia Development Berhad (1MDB) is a strategic development company run by the Malaysian government. Set up in 2009, it aims at building strategic investments to boost the country.
The scandal gained attention in early 2015, with reports of the company amassing a total of MYR 42 billion (approximately US$ 11 billion) worth of debt, and missing the payment of this debt to banks and bondholders. The Wall Street Journal exposed the channeling of US700 million from 1MDB to Najib on July 2, 2015. In July 2016, the US Department of Justice filed a lawsuit alleging that more than US$3.5 billion had been plundered (it later raised the figure to more than US$4.5 billion). Several countries, including the United States and Singapore, have launched corruption investigations into 1MDB.
Najib denied the allegations. While in office, the Malaysian authorities cleared him of all wrongdoings. But the case was reopened after UMNO's surprise defeat at last year's general elections. At least 42 charges are currently filed against him for alleged corruption, money laundering and abuse of power.
Malaysia's newly elected prime minister, Mahathir Mohamad, capitalized on public mistrust of Najib to win the general elections last May 2018. A former UMNO leader and mentor to Najib, Mahathir vowed to bring his former protégé to justice.
penang property, city of dreams penang, the cove penang, the landmark penang, moonlight bay penang, house for sale, apartment penang, garden ville penang, imperial grande, house for rent in penang, one world penang, setia pinnacle, jazz residence penang, tropicana bay residences, fairview residence, penang apartment, the ceo penang, one imperial condominium, mira residence, property penang, imperial grande penang, fettes residence, maritime penang, central park penang, penang property for sale, golden triangle penang, crystal point penang, summerskye, arte s penang, artis 3 penang, tropicana bay residence, mansion one penang, landmark penang, land for sale malaysia, skyhome penang, waterfront penang, u garden penang, arte s, mont residence, quayside penang, setia pinnacle penang, mont residence penang, mar vista penang, bj court, summer place penang, artes penang, negeri bawah bayu, orchard ville penang, h residence penang, villa emas, the clovers penang, the light condo penang, the light penang, one tanjung penang, fairview residence penang, long term rentals penang, setia triangle, one tanjung, d´piazza condominium, skyridge garden, platino penang, bayswater penang, n park penang, krystal point penang, one tanjong, pen properties, suntech penang, penang affordable housing, the pulse penang, one imperial penang, marina bay penang, bayan bay penang, southbay penang, moulmein rise, halaman kristal, rubber estate, arena residence penang, sabah size, nautilus bay penang, putra place, apartment for rent, the peak penang, iconic skies penang, orchard ville, one imperial, the light collection penang, artis 3, 8 gurney, the light linear, university heights penang, penang address, apartment for rent in penang, affordable housing penang, mira residence penang, gurney tower, the light collection, fairview penang, tree sparina, fiera vista, setia triangle penang, island resort penang, 98 nibong residence, university heights, sunrise garden penang, summerton penang, penang world city, solaria residence, pine residence penang, melody homes, beverly hills penang, tropicana bay residences penang, summerskye residences, permai garden, tamarind penang, surin penang, miami green, sri york condominium, sierra east penang, the latitude penang, lexis penang, sri perdana penang, medan lumba kuda, elit heights penang, the spring penang, harmony residence, penang house for sale, gold coast penang, mm2h penang, one foresta, agriculture land for sale in perak, marina tower penang, latitude penang, taman pekaka, the clover penang, marinox penang, the address penang, golden triangle condominium, pearl regency penang, gembira parade, skyridge garden penang, symphony park penang, serina bay, baystar condominium, skycube penang, sierra east, apartment in penang, the penthouse, i avenue penang, azuria condo, zan pavillon, arena curve penang, marinox, solaria residences, iconic skies, tri pinnacle, vista condo, factory for rent, elite height, tri pinnacle penang, the light collection 2, casa impian, bay garden penang, melody homes penang, setia sky vista, bellisa row, tropicana bay residence penang, sunny ville, moulmein rise penang, arena residence, miami green penang, apartment for sale in penang, penang property for rent, penang condominium, sandilands condominium, penang affordable housing 2018, arte penang, sandilands penang, johor land for sale, vertiq penang, sri sayang apartment, bukit jambul complex, olive tree residence, reflection condo penang, mutiara indah, delima palace, penang condo, taman pekaka penang, sierra residence, northam tower penang, meridien residence, midlands condo, d´piazza, all season park, harmony view penang, harmony view, property guru, ppa1m, rumah selangorku, property guru malaysia, iproperty malaysia, propertyguru my, propertyguru malaysia, lppeh, board of valuers, property, rumawip, ckht 1a, property malaysia, perjanjian sewa rumah, eco majestic, tenancy agreement malaysia, surat perjanjian sewa rumah, taman desa house for sale, eco grandeur, razak city, kl traders square, i property, arte mont kiara, ecoworld, eco ardence, iproperties, datum jelatek, pr1ma, house for rent, prima, house for sale, denai alam, penang property, bandar malaysia, contoh perjanjian sewa rumah, pepijat, developer in malaysia, maisson ara damansara, empire damansara, contoh surat perjanjian sewa rumah, m centura, house for sale in kuching, mortgage calculator malaysia, ppa1m bukit jalil, setia sky residence, m vertica, lumi tropicana, gamuda cove, apartment for rent, malaysia property, land for sale, rent house, studio apartment for rent in kl, eco forest, imperial grande, setia alam, house for rent in penang, greenfield regency, melayu seks, trion kl, sp setia, isola klcc, tenancy agreement, sunway serene, sentral suites, aera residence, aster residence, tropicana metropark, riana dutamas, apartment for rent in kl, arcoris mont kiara, pinnacle sri petaling, rumah prima, ccris report, eco world, ritz communities, house for sale in melaka, puchong, alila bangsar rent, strata title, the vyne sungai besi, melupuskan aset di bawah akta cukai keuntungan harta tanah 1976, platinum oug, citizen 2, house loan calculator, nadi bangsar, rpgt act, propertyguru singapore, selangorku, ecosky, trinity aquata, pavilion bukit jalil, amaya maluri, tria seputeh, maxim residence, parkhill residence, house for rent in kl, setia eco park, ekocheras, citizen 2 old klang road, property guru singapore, verve suites, razak city residence, desa park city, the era duta north, prima house, hda malaysia, residensi pandanmas, potpourri ara damansara, tenancy agreement sample malaysia, mizumi residence, ceria residence, housing development act malaysia, razak city residences, rent to own malaysia, tropicana avenue, the elements ampang, forest city, casa green, damansara perdana, setia pinnacle, kl gateway residence, greenfield residence, united point kepong, pj midtown, bovea, tenancy agreement sample, eco botanic, kenwingston avenue, setia eco templer, rumah sewa, bandar saujana putra, sunway geo, eco sky, 9 seputeh, house for rent near me, equine residence, 28 dutamas, property for sale malaysia, rumah lelong, apartment, the hub ss2, tropicana gardens, kepong house for sale, propertyguru penang, shamelin star, binjai 8, petalz residence, citizen old klang road, majestic maxim, hampton damansara, one foresta, mutiara ville cyberjaya, quit rent, r&f princess cove, nova saujana, rica residence sentul, oug parklane, 28 boulevard, deed of assignment, z residence, the havre bukit jalil, property investment, 8 teen, pacific place ara damansara, sentul point, verde ara damansara, i property malaysia, real estate, suasana bukit ceylon, the address taman desa, home loan calculator malaysia, house for sale kota kinabalu, empire damansara studio, ativo suites, ppam, ipoh property, empire damansara for rent, saville cheras, aragreens residences, cubic botanical, holmes 2, mont residence, taman desa, land for sale malaysia, shorefront penang, rental income tax malaysia, one imperial condominium, tiara damansara, parc3, residence, alam impian, the holmes 2, ijm land, pavilion residences, propertyguru.com.my, parc 3, sales and purchase agreement malaysia
Sources: