Tax on property income in Macau
INDIVIDUAL TAXATION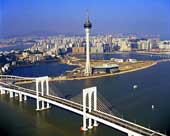 Nonresidents are taxed only on their income from sources in Macau. Married couples are taxed separately on professional income.
RENTAL INCOME
Income from property is taxed separately from other income.
Property Tax
Property tax is levied on real property (buildings) situated in Macau. The property owner is liable to pay for this tax.
For leased property, the tax is levied at 10% on the net rental income. A standard deduction of 10% is granted to cover repairs and maintenance, and certain property-related expenses. A standard annual deduction of MOP3,500 (US$438) is allowed for all properties.
CAPITAL GAINS
Complementary Tax
Capital gains are subject to complementary tax, which is levied at progressive rates.
COMPLEMENTARY TAX 2017

TAX BASE, MOP (US$)

TAX RATE

Up to 600,000 (US$75,000)

0%

Over 600,000 (US$75,000)

12%
PROPERTY TAX
Land Tax
Leasehold land is subject to land tax. The calculation of the tax payable depends on the location and type of land.
Macau - More data and information