House price growth subdued in Lebanon - Beirut property is surely overvalued
February 20, 2018

The Lebanese property market has been lively - but prices are static or falling.  There are too many new builds on the market, depressing values;  Beirut seems overpriced; yields are low; economic growth is anaemic, and construction is weak.

The truth is, the stimulus of the influx of Gulf money in 2008-2010 still haunts the market.  House prices in several areas of Lebanon doubled from 2008 to 2012, after the oil price surge.  Now those high prices seem at risk.

Nevertheless in 2017 the number of sales was up by 14.5%, and the total value of sales was up 18.5%. 

However property prices fell by 3.52% y-o-y to Q3 2017 when adjusted for inflation, though the average nominal value of property transactions increased by 1.91%, according to the Directorate of Real Estate and Cadastre.

By region:

In Beirut, which has the most expensive housing in Lebanon, property prices fell by 5.6% (-10% inflation-adjusted) to an average of LBP 768.55 million (US$ 508,632) during the year to Q3 2017.
In Metn, property prices rose by 3.9% y-o-y (-0.9% inflation-adjusted) to LBP 334.97 million (US$ 221,684) in Q3 2017.
In Kesserwan, property prices rose by 11.3% y-o-y (6.1% inflation-adjusted) to LBP 209.53 million (US$ 138,668) in Q3 2017.
In Baabda, property prices sharply fell by 10% y-o-y (-14.2% inflation-adjusted) to LBP 204.59 million (US$ 135,398) in Q3 2017.

The rather weak performance in terms of prices can be attributed to developers offering price discounts averaging around 20%. "The currently prevailing conditions in the local realty market, notably constrained demand and a growing stock of unsold flats, have been warranting efforts on behalf of developers to seal a sales deal," according to Bank Audi's recent real estate report.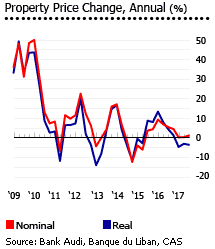 "It is true that the improving political conditions have somewhat favored sales, but there is a very large stock of apartments put up for sale across the country as well. This means that flats for sale outnumber buyers and that consequently developers are forced to grant some discounts to entice investors," Bank Audi added.

Foreign ownership of real estate property is allowed in Lebanon. Foreigners can acquire up to 3,000 square meters (sq. m) of land. Any bigger than this, a prior decree from the Council of Ministers is needed. Foreigners can only own up to 3% of the total land area of Lebanon. In the case of Beirut, foreigners can acquire up to 10% of the total area of the city.


Analysis of Lebanon Residential Property Market »
Lebanon's residential price rises have continued
It is really amazing how much things have changed.  Six years ago, when we first set out to look at rental returns in Lebanon, gross rental yields averaged 10% to 11%.

In 2013, you would be lucky to receive a return of 4.5% on your property, and larger properties will yields less, at 3.5%.

Central Beirut apartments are now, in 2013, priced at around US$3,700 to US$4,700 per square metre.

When we did our first survey in 2004, prices averaged around US$1,200! So prices have risen a lot, which explains the much lower yields.

Round trip transaction costs are low in Lebanon.   See our residential transaction costs analysis for Lebanon and Residential property transaction costs in Lebanon compared to the continent.
Rental income tax is moderate in Lebanon
Rental Income: Net rental tax is taxed at a flat rate of 15%.

Capital Gains: Capital gains tax is levied at a flat rate of 10%.

Inheritance: Inheritance taxes are levied at progressive rates from 3% to 45%.

Residents: Residents are taxed on Lebanese-sourced income and foreign-sourced income from movable income at progressive rates. Ddifferent set of tax bands and tax rates apply to business income and employment income.
Buying costs are moderate in Lebanon
Round-trip costs, i.e., the total costs of buying and selling a property, amount to around 5.90%. This includes the 5% transfer tax. Some fees can be avoided, for instance, if a lawyer is not hired, and/or if the property is registered directly with the Land Registry, without going through a notary public.
Rental law is neutral in Lebanon, but courts are slow
Lebanese rental law is neutral between landlord & tenant.

Rent: Rents can be freely agreed between landlord and tenant for contracts signed after 23 July 1992.

Tenant Security: The tenant who signs a one-year contract has the right to hold on to the property for three consecutive years. Thereafter, the landlord is entitled to end the contract, or to renegotiate.
PM Hariri resigns, then withdraws resignation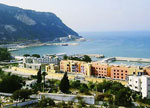 Lebanon´s religious communities maintain a watchful equilibrium. To maintain the balance of power between religious groups, the president must be a Maronite Catholic Christian, the prime minister a Sunni Muslim, the deputy prime minister an Orthodox Christian and the speaker of parliament a Shi'a Muslim. The 128 parliamentary seats are equally divided between Christian and Muslims.
The country's economy was ravaged during the Lebanese Civil War from 1975 to 1990. From the 1990s to the early-2000s, there was an uneasy calm, with external forces and militant groups occupying different parts of the country.
In 2005, former Prime Minister Rafik Hariri was assassinated. Then in July 2006, the Israel-Hezbollah War erupted, which caused large-scale damage to Beirut, undoing much of the good work done in the post-Civil War reconstruction programme. In May 2007, the violent Nahr al-Bared conflict, the most severe internal fighting in almost two decades, exploded and ravaged some parts of the country.
Finally in May 2008, the Doha Accord marked the end of an 18-month long political crisis. Local political and security conditions improved considerably, with the Lebanese government determined to pursue reforms focused on achieving economic revival, sustainable growth and political stability.
The political stability in the country helped the economy grow strongly, with an average annual GDP growth rate of 9.2% from 2007 to 2010.
However the Syrian conflict that erupted in March 2011 spilled over into Lebanon, causing deadly clashes between Sunni Muslims and Alawites in Tripoli and Beirut. Lebanon's economy slowed sharply, with GDP growth rates of just 0.8% in 2011.
Political tensions brought down the government of Prime Minister Saad al-Hariri in January 2011. He was succeeded by Najib Mikati, whose cabinet is dominated by Hezbollah and its allies.
In June 2011, the UN issued arrest warrants for four members of Hezbollah in the murder of former PM Rafik Hariri. Hezbollah was uncooperative and refused to allow any suspects to be arrested. Tensions were exacerbated by the Arab Spring which began in December 2010.
By mid-2012, the Syrian conflict had spilled over into Lebanon in deadly clashes between Sunni Muslims and Alawites in Tripoli and Beirut. The number of Syrian refugees in Lebanon rose to over one million in April 2014, from about 700,000 people in September 2013. With a population of just 4.5 million, this means that one in every five people in the country is a Syrian refugee, placing a severe strain on the country´s resources.
General elections, due in November 2014, were put on hold due to security concerns over the conflict in Syria. The election date was moved to May 2016, after the cabinet approved a new electoral law which would come into effect in June 2017. The new law is based on proportionality, dividing the country into 15 electoral districts.
In October 2016, Michel Aoun was elected by parliament, ending a political stalemate that had left Lebanon without a head of state since May 2014. Shortly after being elected, President Aoun named Saad Hariri as prime minister. He took office in December 2016.
The country faced another crisis on November 4, 2017 when Prime Minister Hariri announced his resignation while he was in Saudi Arabia, citing fears of assassination and the excessive power of Iran and Hezbollah. President Aoun and other Lebanese officials believed that Saudi Arabia had coerced Hariri, and Iran and Hezbollah saw his resignation as a plot by Saudi Arabia, the United States, and Israel to raise regional tensions. The prime minister eventually withdrew his resignation on December 5, 2017, and emphasized Lebanon's neutrality in all regional conflicts during his speech.
Lebanon's slow-growing economy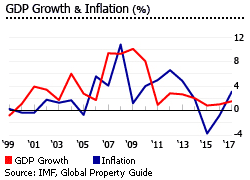 The economy grew by 1.5% in 2017, an improvement on 1% in 2016 and 0.8% in 2015. Prior to that, the economy had been growing above the 2% mark for three years, with annual GDP growth of 2% in 2014, 2.6% in 2013, and 2.8% in 2012, according to the IMF.
The country's economy is partly driven by tourism. The number of tourist arrivals rose by 11.2% to 1,688,000 persons in 2016, following growth rates of 12.1% in 2015 and 6.3% in 2014. The rising trend seemed to continue in 2017 as tourist arrivals reportedly increased by 12.8% y-o-y during the first five months of 2017, according to the World Bank. Prior to that, tourist arrivals in the country saw an average decline of 16% per year from 2011 to 2013.