House prices in Slovakia continue to rise strongly, with demand buoyed by low interest rates and robust economic growth.

The nationwide average residential property price rose by 7.02% to €1,494 (US$1,698) per square metre (sq. m.) during the year to Q1 2019, following y-o-y rises of 7.57% in Q4 2018, 3.99% in Q3, 4.53% in Q2 and 4.8% in Q1, according to the National Bank of Slovakia (NBS).

When adjusted for inflation, property prices rose by 4.53%. During the latest quarter, property prices increased 2.12% (0.79% in real terms).

Despite this, Slovakia's house prices are still 3.6% below their Q2 2008 peak (-18% in real terms).

In Bratislava region, which has the country's most expensive housing, residential property prices rose by 5.55% y-o-y to €2,053 (US$2,334) per sq. m. during the year to Q1 2019, after rising by 3.84% a year earlier.

All other regions also saw robust house price increases, except Kosice.

Nitra experienced the biggest rise of about 27.06% y-o-y to €878 (US$998) per sq. m., a sharp improvement from the previous year's 7.3% growth.
In Trencin, house prices rose by 19.49% y-o-y to €895 (US$1,017) per sq. m., up from the prior year's 6.4% increase.
In Zilina, house prices increased 18.46% y-o-y to €1,046 (US$1,189) per sq. m. in Q1 2019, more than thrice the growth in the previous year.
In Presov, house prices surged 17.71% y-o-y to €977 (US$1,111) per sq. m. – almost 6 times the growth in Q1 2018.
In Trnava, house prices rose by 12.4% y-o-y to €1,124 (US$ 1,278) per sq. m., up from an increase of 9.7% in Q1 2018.
In Banska Bystrica, house prices increased 5.55% y-o-y to €809 (US$920) per sq. m., a slowdown from a rise of 8.5% a year earlier.
In Kosice, house prices fell by 3.54% y-o-y to €1,035 (US$1,177) per sq. m., in contrast to a 7.3% growth in a year earlier

The housing boom in Slovakia lasted from 2006 to Q2 2008. The surge stopped in late 2008, and in following years prices either fell or only increased a little.

House prices in Slovakia are expected to continue rising during the remainder of the year. Property demand, both from local and from foreign investors, is surging, according to local property experts.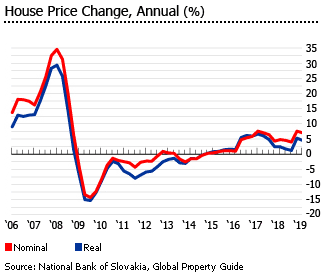 That's largely because Slovakia's economy is projected to expand by a robust 3.8% this year, according to the European Commission. Slovakia registered economic growth of 4.1% in 2018, after GDP growth of 3.2% in 2017, 3.1% in 2016, 4.2% in 2015, and 2.8% in 2014. This strong economic growth is likely to continue boosting house prices in the coming years.

There are no legal restrictions on foreigners buying buildings in Slovakia.