---
Anguilla's property<br> market hit by global crisis
April 17, 2009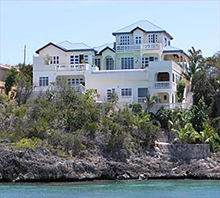 Anguilla's real estate market is cooling fast, reflecting the contagious impact of the global crisis.
House prices started to decline in Anguilla in early 2009, according to a report by Scott Hauser of Sotheby´s International Realty. Property sales also fell, as foreign demand weakened.
In the second half of 2008, construction slowed sharply due to financing difficulties faced by developers. Numerous tourism and residential projects were cancelled or delayed.
The sharp property price increases that began in late-2004 were driven by strong foreign demand, partly the result of celebrity sightings which have made the island 'chic'. Brad Pitt and Jennifer Aniston spent their final days as a couple in the island. Denzel Washington celebrated his 50th birthday in Anguilla.
Anguilla experienced a construction boom in 2005, as demand for real estate increased.
A new extended runway enables private jets to comfortably land on the island
The Temenos development was launched, with its Golf Club (the first golf course in Anguilla)
The Viceroy Anguilla Resort and Residences was also unveiled
Anguilla's economy relies mainly on tourism and financial services. The tourist industry targets the luxury market, catering mainly to visitors from North America and Europe. However, tourism weakened in 2008. As of September 2008, there were just 102,607 visitor arrivals, down 24.2% from 135,304 arrivals last year.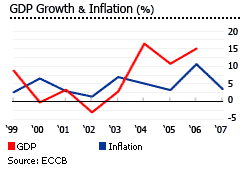 With the drop in tourist arrivals, Anguilla's economy slowed sharply in 2008, compared to previous years.
From 2004 to 2006, average annual GDP growth was 14% (official real GDP growth statistics are published two years late). Inflation rose to 7.7% in September 2008, as the cost of imported food and fuel products increased. In addition, local banks' liquidity tightened, due to the global credit crunch.
Construction projects halted
Property sales dropped in 2008, as investors and homebuyers become more cautious. The pace of construction activity slowed sharply due to numerous cancelled or delayed projects. Workers were laid off, as financing for these projects dried up.
Construction of The Flag project at Temenos was stopped
The Flag's golf course development at Rendezvous Bay was closed
Expansion plans for Altamer at Shoal Bay West were delayed
The Rendezvous Bay Hotel was delayed
Privee at Shoal Bay was postponed
Fairmont Anguilla at Forest Bay was also put on hold
Development on Shoal Bay East has not yet proceeded
"Anguilla's managed community and preconstruction mega villa experiment has hit some very hard bumps—some of which can be blamed on irrational exuberance locally and some of which can be blamed on the same irrationality internationally…sadly, however, at least for the time being, the bloom is off the rose," says Scott Hauser.
Local price variations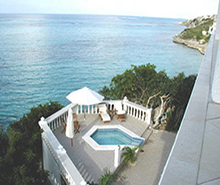 Despite sharp price increases in the past years, property prices in Anguilla have been lower than in nearby Caribbean islands, such as the BVI or US Virgin Islands.
Western Anguilla has seen the greatest amount of development over the past years. In Cul de Sac, a posh neighborhood near Sandy Point beach, three-bedroom houses are sold for an average price of around XC$4.3 million (US$1.6 million).
Viceroy Anguilla Resort and Residences, opened in 2008, is a luxury real estate development located in Meads and Barnes Bays. California-meets-Caribbean style residences sell from XC$2.7 million (US$1 million) for studio resort homes to XC$26.8 million (US$10 million) for beachfront villas.
In The Residences in Rendezvous Bay, scheduled to be completed in 2010, pre-sale prices for luxury houses range from XC$8 million (US$3 million) to XC$53.6 million (US$20 million). In the Temenos Resort & Residences, villas sell from XC$3.8 million (US$1.4 million) to XC$33.5 million (US$12.5 million).
Recently, the northern coast has seen tremendous growth, as the western coastlines became increasingly crowded. In Sea Feathers Bay and Mimi Bay, three-bedroom homes with pool have an initial asking price of about XC$4 million (US$1.45 million).
Mortgage market
Anguilla's mortgage market grew sharply, to almost 77% of GDP in 2007 from an average of 61% of GDP from 2001 to 2006.
In 2007, total loans for the acquisition of property were about XC$378.8 million (US$141.3 million), up 48.5% from a year earlier, according to the Eastern Caribbean Central Bank. Of this, XC$280 million (US$104.5 million) was used for home construction and renovation, while the remaining XC$99 million was used for house and land purchase.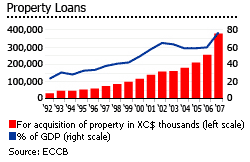 The maximum loan-to-value ratio is 70% of the property value, with loan terms of 15 years.
Mortgage interest rates are linked to the US prime rate or the US LIBOR. The Eastern Caribbean dollar, the official currency of Anguilla, is pegged to the US dollar, at XC$2.68 to US$1.
Foreign property ownership restrictions
While advertisements on timeshares and fractional ownership in Anguilla are widespread on the internet, there is no law in the islands that allows for these types of property ownerships.
With its area small (102 sq. km), the government restricts foreign land ownership. The Anguillan law prohibits non-belongers (local term for foreigners) to own sandy waterfront or beachfront properties. These locations are reserved strictly for tourism or commercial developments.
Government's policy allows non-belongers to purchase real estate only on rocky coastline, Cliffside or inland lots of up to half acre for building a house with a minimum gross external floor area of 2,000 sq. ft. Construction should be completed within 18 months from the date the license is issued otherwise penalties are charged or worse, the land may be forfeited.
Celebrities' haven
With its 33 immaculate white-sand beaches, Anguilla has become a haven for the rich and famous. Yet it remains relatively uncrowded, and has avoided the damage done elsewhere by over-development.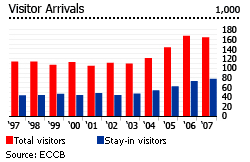 A flat island, Anguilla is covered with arid scrub, growing out of solid rock, devoid of dramatic scenery. Visitors come to this island not for the scenery, but for its exceptional beaches.
Small and lightly populated, Anguilla's residents (pop:15,000) are easy going. Since the island isn't good for farming, its people became seafarers, known throughout the Caribbean for boat building and fishing skills.
Of its 33 pristine beaches, Shoal Bay is the most famous where A-list American celebrities have traditionally flocked. It made the decision in the 1980s to develop upper-end tourism, and concentrated on luxury hotels and villas.
Anguilla - More data and information