House prices static in Malaysia
March 19, 2018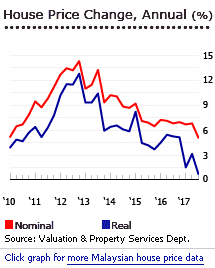 Malaysia's nationwide house price index rose by 5.10% (or rose only by 0.73% after adjusting for inflation) during the year to end-Q3 2017.  This was the lowest price increase since Q3 2009, according to the Valuation and Property Services Department (JPPH).  During the latest quarter, the house price index rose by 0.7% (or fell by 0.5% when adjusted for inflation).
Malaysia's average house price stood at MYR 404,835 (US$ 103,379.55) in Q3 2017.
By property type:
Terraced house average prices rose by 7.1% (+ 2.6% inflation-adjusted) to MYR 354,725 (US$ 90,583) during the year to Q3 2017.
High-rise residential properties' average price rose by 4.2% y-o-y (- 0.2% inflation-adjusted) to MYR 344,201  (US$ 87,896).
Detached house average prices were up by 2.9% y-o-y (- 1.39% inflation-adjusted) to MYR 670,916 (US$ 171,327 ).
Semi-detached house average prices increased by 2.9% y-o-y (- 1.37% inflation-adjusted) to MYR  647,941 (US$ 165,459).
Melaka registered the highest annual increase with a house price rise of 5.4% (+ 1% inflation-adjusted) during the year to Q3 2017. It was followed by Selangor (5.1%), Kuala Lumpur (5.1%), Negeri Sembilan (5.1%), Sabah (4.6%), Johor (4.5%), and Sarawak (4.3%).
Other states saw moderate house price hikes including Pulau Pinang (3.6%), Kedah (3.5%), Perlis (3.2%), Pahang (3.1%), and Kelantan (3%). During the year to Q3 2017, the weakest house price rises were seen in the states of Perak and Terengganu, which had annual price increases of 1.8% and 1.4%, respectively. 
Kuala Lumpur has the most expensive housing in Malaysia, with an average price of MYR 785,327 (US$ 200,543) in Q3 2017. On the other hand, Kelantan had the cheapest housing, at an average price of MYR 164,300 (US$ 41,956).
From January 1, 2018, stamp duty on properties worth more than MYR 1 million (US$ 225,759) was increased from 3% to 4%. This is expected to lower demand for more expensive properties.
Although the housing market remains weak, some experts expect the market to improve, as the Malaysian economy got stronger in 2017.
"The signs of recovery are slowly emerging at certain good locations," says Real Estate and Housing Developers Association Malaysia (Rehda) President Datuk Seri FD Iskandar.
"Developers are shifting their focus to affordable housing to cater for the demand. Projects in good locations as well as those near public transport hubs will receive good response,"
"Overall, the domestic property market in 2017 is still softening but at a slower rate compared with 2016. The number of launches by developers, as well as sales performance, is declining," says Sulaiman Saheh , director of Rahim & Co International Sdn Bhd.
"Developers are strategising to provide products in demand targeting the mass market, mainly affordably-priced products, albeit with smaller built-ups."
House prices still below Asian crisis levels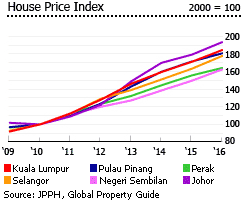 Amazingly, house prices in Malaysia are still below pre-Asian Crisis 1997 levels, in inflation-adjusted terms. They rose rapidly in the early 1990s in two particularly dramatic surges – in 1991 house prices rose 25.5% (20.3% in real terms), and in 1995 they rose 18.4% (14.4% in real terms).
After the Asian Crisis, prices of luxury detached Kuala Lumpur houses then slumped 39% between 1997 and 1999. However, since then Kuala Lumpur's house prices have significantly outperformed the rest of the country, especially after the economic downturn of 2008-2009, when the property market was revitalized with the help of the Greater Kuala Lumpur Plan, targeting developing key locations, including "The MRT Project". From 2005 to 2015, Kuala Lumpur house prices surged by almost 122% (73% inflation-adjusted).
In contrast national price rises have been more muted. From 2005 to 2015, Malaysia's house prices rose by 96.1% (52.4% inflation-adjusted).
In 2016, house prices in Kuala Lumpur rose by 7.77% (5.57% inflation-adjusted), while nationwide house prices went up by 7.05% (4.86% inflation-adjusted).
Number of transactions down
In Q3 2017, the total number of residential property transactions declined by 4.2% to 47,501 units, from a year earlier, according to the Valuation and Property Services Department (JPPH). However, in terms of value, residential transactions actually rose by 8.9% y-o-y during the same period. Residential transactions accounted for 62.7% of all property transactions in Q3 2017.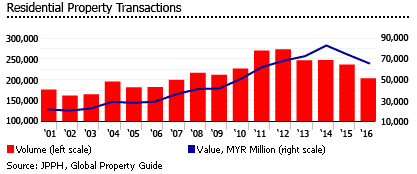 The value of residential property transactions fell by 11.1% in 2016 and by 10.5% in 2015, after increases in value of 13.9% in 2014 and 6.3% in 2013.    
Malaysia puts a freeze on property approvals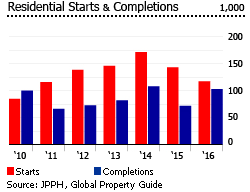 In November 2017, Malaysia implemented a freeze on approvals for the development of properties which cost over MYR 1 million (US$ 255,362), including condominiums and serviced apartments. According to Knight Frank, while the freeze has been causing market uncertainties, it also provides "a breather to the oversupplied market". 
Kuala Lumpur saw a surge in the number of new launches during H1 2017, posting a 166% y-o-y increase to 8,480 units. In contrast, other major states, particularly Selangor, Johor, and Pulau Pinang, saw huge declines in the number of new launches, ranging from 38% to almost 60% y-o-y, according to the JPPH.
In H1 2017, housing starts rose by 16% y-o-y to 67,662 units. However, housing completions plunged by 18.1% y-o-y to 43,132 units over the same period, according to the JPPH.
Mortgage market still expanding; more loans approvals in 2017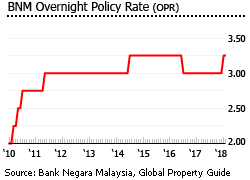 Malaysia's mortgage market expansion continues, although activity may fall in the following months as in January 2018 Bank Negara Malaysia (BNM) raised its Overnight Policy Rate (OPR) by 25 basis points to 3.25%.
Malaysia has a high loan rejection rate, at 58% in 2017.  This hasn't prevented approvals for residential property purchase loans rising 15.9% from January to December 2017 compared to last year, to MYR billion (US$ 25.93 billion).  Total outstanding housing loans rose by 8.1% to MYR 487.75 billion (US$ 124.55 billion), according to Bank Negara Malaysia (BNM). At 36.4% of GDP in 2017 the market's size is slightly down from 36.7% in 2016, but still up from 36.1% in 2015, 18.9% in 2004, and 13.1% in 1996.
To make home-buying possible for those on low incomes and young people, the Malaysia People's Housing (PR1MA) Bill 2011 was launched in July 2011, causing developers to switch from high-end developments to mid-range, to lure first time buyers with easier financing and reduced stamp duty for houses below MYR 400,000. Borrowers with a monthly income up to MYR 7,000 per month qualify for the scheme.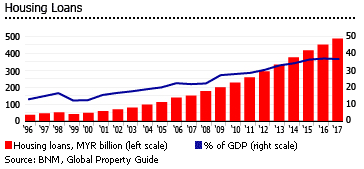 A new end-financing scheme for PR1MA houses was implemented on January 1, 2017 to make financing more accessible to homebuyers, with total loan of up to 100%.
The 2017 budget also raised stamp duty exemption from the current 50% to 100% on instruments of transfer and housing loan instruments. According to the Real Estate and Housing Developers Association (REHDA), the exemption was applicable only to houses worth up to MYR 300,000 (US$ 67,728) for first time buyers, and will be implemented between January 1, 2017 and December 31, 2018. In contrast, the stamp duty on instruments of transfer of properties worth MYR 1 million (US$ 225,759) will be raised to 4%, from the current rate of 3%, beginning January 1, 2018.
Tighter lending and anti-speculation measures
Bank Negara Malaysia (BNM) introduced stricter lending guidelines on January 1, 2012, requiring mortgage eligibility assessments to be based on net income, considering:
Statutory deductions for tax;
Employees Provident Fund (EPF) contributions, and;
All other debt obligations.
In July 2013, BNM reinforced responsible lending practices:
The new maximum home loan period was reduced to 35 years, from the previous period of 45 years.
The maximum personal loan period was shortened to 10 years from 35 years.
Pre-approved financing products are no longer possible.
Some other anti-speculation measures introduced by the government:
Fly-by-night developers targeted. Housing license project deposits of 3% of total estimated project cost were recently introduced. A MYR 500,000 fine, plus maximum of three-year jail term for developers who abandon projects, have been proposed by the Housing and Local Government Ministry.
Capital gains tax rises. On January 1, 2014, the Real Property Gains Tax (RPGT) rose from 15% to 30% on properties sold within three years from purchase.
Taxes on gains on properties sold after four to five years rose to 20% and 15%, respectively. No RPGT will be imposed on citizens for properties sold after six or more years, while companies will be taxed at 5%.
For non-citizens, RPGT on properties sold within a holding period of up to five years is 30%, while RPGT on properties sold within six years or more from purchase is 5%.
The end of the Developer's Interest Bearing Scheme (DIBS). The government has forbidden banks from offering financing via the DIBS, introduced in 2009 to boost condominium sales, where the developer paid the interest on buyers' loans during construction of a project.
Bulk sales. The Malaysian government also requires property developers to obtain permission before making bulk sales of more than four units.
Tougher restrictions on foreign buyers
The Malaysian government has partly retreated from its December 2006 liberalization of foreign property purchases. In January 2010, the price floor below which foreign buyers cannot buy was hiked to MYR 500,000, twice the previous level. From January 2014 the floor was raised again to MYR 1 million (US$ 302,892). Foreign purchases above the threshold are placed under the "purview of the State Authorities" under the regulations, with approval usually taking one to two months.
Aside from this pricing threshold, there are no other restrictions that hinder non-resident foreign buyers in Malaysia. Malaysia along with Hong Kong and Singapore is one of the Asia-Pacific countries that impose minimal restrictions on foreign property buyers (see Knight Frank's July 2013 Asia-Pacific Residential Review).
There has been an upward trend in "Malaysia My Second Home" (MM2H) applications in recent years. The number of application approvals increased slightly to 3,347 in 2017, mostly thanks to the surge of Chinese visitors as the Malaysian government raised its efforts to attract the Chinese tourists after the MH370 tragedy in 2014. 
During the first eight months of 2017, there were around 3,084 approved applications under the MM2H programme. Most foreign buyers came from China (46.7%), Korea (9%), Bangladesh (8.2%), Japan (5.8%) and Hong Kong (4.9%), according to the figures from the Malaysia My Second Home (MM2H) Centre.
Kuala Lumpur's rental yields have fallen; small rental market
Gross rental yields of apartments and condominiums in Kuala Lumpur generally range from a little above 2% to 5%. Bungalows have lower rental yields at around 2.5%, based on the Global Property Guide research in November 2017.
Malaysia has a small rental market. Only 6% of the housing stock is in the private rental sector. About 85% of total stock is owner-occupied, while government-provided housing accounts for 7% of the stock.
Rents have not kept pace with prices. The 120 sq. m. condominium category has an average gross returns of 4.5%, but returns are dramatically down on the up to 8% gross rental yields for the same size property, eight years ago.
A 50% tax exemption on residential rental income of individuals up to MYR 2,000 (US$ 510.72) per month has been proposed from 2018 to 2020. This is expected to boost demand for rental properties. In order to protect both tenants and landlords, the Malaysian government also proposes to formulate a Residential Rental Act.
In Kuala Lumpur, rents of existing high-end condominiums generally remained flat during the second quarter of 2017. In H2 2017, monthly rents in KL City range from MYR 2.2 (US$ 0.56) per sq. ft. to MYR 5.20 (US$ 1.33) per sq. ft., according to Knight Frank. Rents are much lower in other areas outside the city, ranging from MYR 1.8 (US$ 0.46) per sq. ft. to MYR 4.5 (US$ 1.15) per sq. ft. per month.
In Penang, large-sized high-end condominiums have monthly asking rents ranging from MYR 1.2 (US$ 0.31) per sq. ft. to MYR 2 (US$ 0.51) per sq. ft. with the upper band ranging from MYR 2.1 (US$ 0.54) per sq. ft. to MYR 2.56 (US$ 0.65) per sq. ft. per month, according to Knight Frank. Asking rents for smaller-sized units are much higher, ranging from MYR 2.42 (U$ 0.62) per sq. ft. to MYR 2.8 (US$ 0.72) per sq. ft. per month, with some landlords asking for even asking, above MYR 3 (US$ 0.77) per sq. ft. per month.
In Johor Bahru, asking rental prices are ranging from MYR 2  (US$ 0.51) per sq. ft. to MYR 2.6 (US$ 0.66) per sq. ft., according to Knight Frank.
The government's Economic Transformation Programme (ETP) has helped to increase the demand for luxury condominiums in Klang Valley, which caters mainly to foreigners, according to C.H. Williams Talhar & Wong.
Ringgit rebounded in 2017; strong economic growth persists in 2018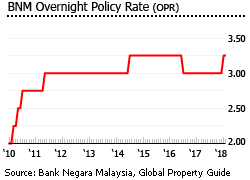 During the last quarter of 2017, the Malaysian economy expanded by 5.9% y-o-y, slightly down from 6.2% growth during the previous quarter.  The Malaysian economy had robust growth of 5.9% for the whole year 2017, following economic expansions of 4.2% in 2016, 5% in 2015, 6% in 2014, 4.7% in 2013, 5.5% in 2012, and 5.3% in 2011, according to the International Monetary Fund (IMF).
From 2002 to 2008, economic growth averaged 5.7%, but growth fell sharply to 1.5% in 2009, during the global financial crisis. In 2010 GDP growth bounced back, surging by 7.5%.
The economy is expected to continue its robust growth in 2018, albeit at a slower pace, ranging from 5% to 5.5%, according to the IMF. "Risks to the near–term outlook are balanced. Strong global demand for electronics, which has benefited Malaysia's exports, could last longer than anticipated, while downside risks include policy uncertainty in advanced economies and tighter global financial conditions. Going forward, striking the right balance in policies will be key," according to a statement from IMF team leader Nada Choueiri.
In January 2018, Malaysia's nationwide annual inflation was at 2.7%, down from 3.5% the previous month, according to the Department of Statistics Malaysia. Malaysia's inflation in 2017 had been of the country's highest rates in a decade at 3.7%, up from 2.1% in 2016. Last year's price surge was mainly attributed to fuel prices. Other factors include higher import prices and factory gate prices.
The BNM's Monetary Policy Committee (MPC) decided to raise the central bank's Overnight Policy Rate (OPR) by 25 basis points in January 2018, after implementing a 3% OPR for 18 consecutive months since July 2016.
Unemployment was at 3.3% in December 2017, slightly down from the 3.5% unemployment rate in the same period last year, based on the figures from the Department of Statistics Malaysia.
From being one of Asia's worst-performing currencies in 2016, the Malaysian ringgit became one of the region's best performing currencies in 2017, gaining more than 10% against the dollar, as compared to the end of 2016. Analysts attributed these gains to the country's improved balance of payments (BOP) in 2017, thanks to stronger exports and relatively higher oil prices, as well as to the continued weakening of the US Dollar.  The Malaysian ringgit (MYR) had been one of Asia's worst-performing currencies in 2016, falling by more than 20% against the US dollar over the previous two years. The situation worsened after Donald Trump's win in the US presidential elections, causing capital to flow back to the US.
"The ringgit's problems also lie with the fact that the 1MDB scandal has not left the headlines despite a lot of rhetoric otherwise, and this is agitating global investors," according to foreign exchange firm Oanda's senior trader, Stephen Innes.
The 1MDB scandal is an ongoing political scandal about Malaysian Prime Minister Najib Tun Razak transferring around US$ 700 million to his personal account. The 1Malaysia Development Berhad (1MDB) is a strategic development company run by the Malaysian government. Set up in 2009, it aims at building strategic investments to boost the country.
The scandal gained attention in early 2015, with reports of the company amassing a total of MYR 42 billion (approximately US$ 11 billion) worth of debt, and missing the payment of this debt to banks and bondholders. The Wall Street Journal exposed the channeling of US700 million from 1MDB to Prime Minister Najib on July 2, 2015, which was later denied by PM Najib.
UMNO likely to win August 2018 general election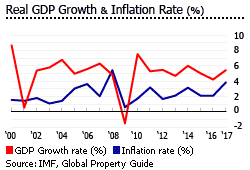 Despite corruption allegations against PM Najib, his party is still poised to win the upcoming August 2018 general elections. The negative impact of the 1MDB scandal has waned. Aside from that, Malaysia's Attorney General Mohamed Apandi Ali has cleared the prime minister of any wrongdoing.
Another factor that could raise UMNO's chances is the government's proposed 2018 budget, which "has been loaded with vote-getting goodies", according to a paper by Saleena Saleem and Amalina Anuar of tje Nanyang Technology University in Singapore.
Malaysia - More data and information