South Africa's house price appreciation remains below inflation
Lalaine C. Delmendo | July 04, 2019

There has been little to celebrate for the South Africa's home owners for a decade. From 2008 to 2018, real house prices in South Africa -i.e., after inflation - dropped by about 4.8%.

During the year to Q1 2019, while South Africa's nominal house prices rose by 3.96% according to ABSA, when adjusted for inflation house prices again declined - by 0.51%.  This reflects pressure on household incomes and a depressed macroeconomic environment, according to First National Bank's analyst Siphamandla Mkhwanazi.

"We expect house prices to remain confined within the 3.5% to 4.5% range for an extended period," said Mkhwanazi - well below the central bank's annual inflation forecast of 4.7% this year, and 5.4% in 2020.

In Q1 2019, South Africa's economy contracted by 3.2%, the biggest quarterly fall since Q1 2009, according to the Statistics South Africa. The South African Reserve Bank (SARB), the country's central bank, has slashed its 2019 growth projection to 1%, from its earlier estimate of 1.3%.  In 2018, the economy grew by a minuscule 0.8%, following a 1.3% expansion in 2017.

South Africa is Africa's second biggest economy, with an estimated population of 57.7 million and an estimated GDP per capita of US$ 6,377 in 2018. It has formidable manufacturing and financial sectors. It is the world's largest exporter of gold and platinum. Tourism is also a key source of foreign exchange.

Foreigners can own immovable property in South Africa without restriction. However, all foreign funds remitted to the country must be declared and documented. The property must also be endorsed 'non-resident', as a condition for repatriation of funds.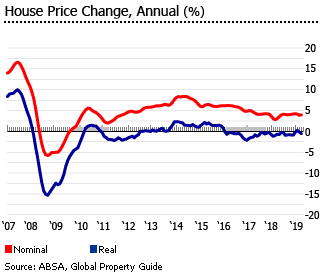 Non-resident investors have to pay Capital Gains Tax when they later sell their properties. The purchaser of the property is required to deduct a prescribed percentage from the proceeds of the sale and remit it directly to the South African Revenue Service before paying the balance to the seller.