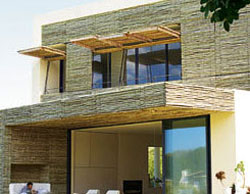 The Republic of South Africa occupies the southern end of the African continent, bordered in the north by Botswana, Namibia and Zimbabwe and in the east by Mozambique and Swaziland. The country faces the South Atlantic Ocean, and contains within it the independent enclave of Lesotho.

South Africa has nine provinces (Eastern Cape, Free State, Gauteng, KwaZulu-Natal, Limpopo, Mpumalanga, North West, Northern Cape and Western Cape) and three capitals (Pretoria, the executive capital; Bloemfontein, the judicial capital, and Cape Town, the legislative capital). Its largest city is Johannesburg.
South Africa's recent history has been dominated by the system of legal racial segregation known as apartheid—instituted in 1948 by the Afrikaner-dominated National Party—and the struggle against it by black South Africans and those who sympathized with them.
The fight against apartheid brought many brave and notable men and women to prominence in South Africa and around the world. Foremost among them is Nelson Mandela, who served as South Africa's first black president from 1994 to 1999. He was also the first South African president to be elected to the position by universal suffrage.The former militant activist, who had been incarcerated in a small cell for 27 years until he was released in 1990, was awarded the Nobel Peace Prize in 1993. He is now recognized as a South African hero and an international symbol of freedom and hope.
Mandela belongs to the African National Congress, which has been South Africa's governing party since apartheid was dismantled in 1994. The country is a constitutional democracy headed by the President.
South Africa is the continent's economic powerhouse, its leading industrial and manufacturing centre. Its abundant natural resources make it both the top producer of minerals in Africa and a leading tourist destination. Quite impressively, South Africa's economy has been robust and growing since 1999, its longest expansion on record.
---