South Africa's housing market accelerates
February 13, 2018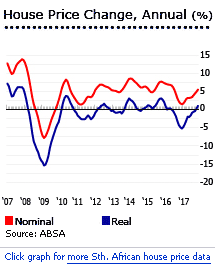 It has been a long wait. The country's house prices rose by only around 3.7% in 2017, according to the First National Bank (FNB), and in real terms significantly less  -  house prices declined by 2.4% in (after-inflation) terms, based on CPI data.  After 7% nominal growth in 2014, annual house price growth slowed to 5% in 2015, and to 4.8% in 2016. But in real terms there has been little to celebrate for a decade. 
However, things are looking up.  The house price trend for the last few months of 2017 suggests that prices are recovering. The house price index rose by 5.47% during the year to November 2017, according to the FNB. When adjusted for inflation, the average house price rose by 1%, the second consecutive month of y-o-y real house price growth, following 0.24% growth in September. Prior to that, South African house prices had declined y-o-y in real terms for 16 consecutive months. 
The previous weak performance of the housing market was mainly attributable to the country's weak economy. The central bank also tightened the mortgage market by raising the repurchase rate by about 200 basis points, from 5% in early 2014 to 7% in 2016.
The newly positive outlook for the housing market was reflected in ABSA's Homeowner Sentiment Index (HSI) for Q3 2017 with an overall score of 81%, up from 74% in the previous quarter. While country credit rating downgrades negatively affected property market sentiment for the first two quarters of 2017, improving macro conditions positively affected property market sentiment for Q3.
"After 3 years of slowing annual average house price growth, we believe that 2018 could see a slightly stronger growth rate, but would caution against expecting too much. From an average house price growth rate of 3.7% last year, we project the 2018 average to shift a little higher to nearer to 5%," according to FNB's Property Economist John Loos. However, Loos pointed out some risks that might affect the price growth such as the political uncertainty leading to the 2019 general elections, as well as credit rating downgrades.
Falling trend of foreign homebuyers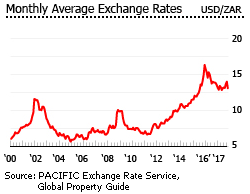 Property in South Africa is now dramatically less expensive for foreign buyers than six years ago. The rand has fallen from US$ 1 = ZAR 6.76 in July 2011, to US$ 1 = ZAR 13.12 in December 2017.
Despite that, home-buying by foreigners has recently declined, according to the First National Bank (FNB). From a peak level in Q4 2014, FNB's Foreign Home Buying Confidence Index ―an index reflecting the level of foreign buying on a scale of +2 (a lot more foreign buying) to -2 (a lot less), has gone down since 2015 and was in negative territory in four out of the last six quarters. As of Q3 2017, the index was at a slightly negative level (-0.01), indicating less foreign buying from a year ago. FNB attributed this to:
Weaker investor sentiment towards South Africa, due to the country's stagnation
Uncertainty about the country's future economic policy
Negative news, such as credit rating downgrades
Foreigners own around 3% of all South African properties, a proportion which is still growing, according to Tyson Properties' Sharon Cockerell Brown. Most foreign owners are based in Europe, mostly in the United Kingdom, as well as Germany, Italy, Holland, and France. There are also buyers from African countries such as Mozambique, Zimbabwe, Angola, Cameroon, and Nigeria. An increasing number of buyers from China and Dubai are also eyeing properties in the KwaZulu-Natal and the Durban area, according to Craig Hutchison, chief executive of Engel & Völkers Southern Africa.
Foreigners can own immovable property in South Africa without restriction. However, all foreign funds remitted to the country must be declared and documented. The property must also be endorsed 'non-resident', as a condition for repatriation of funds.
Non-resident investors have to pay Capital Gains Tax when they later sell their properties. The purchaser of the property is required to deduct a prescribed percentage from the proceeds of the sale and remit it directly to the South African Revenue Service before paying the balance to the seller.
The rand has partially reversed its losses in recent months. After reaching an all-time low of ZAR 16.36 = US$ 1 in January 2016, 29.3% down on a year earlier, it has gained around 24% against the US dollar, reaching an average exchange rate in December 2017 of ZAR13.12 = USD 1.
Lower mortgage interest rates, but the key rate remains at 6.75%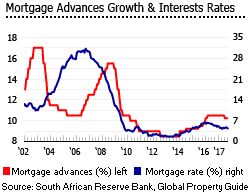 Prime and variable mortgage rates were at 10.25% in November 2017, slightly down from 10.5% during the same month last year.
In its recent meeting in November 2017, the Monetary Policy Committee (MPC) of the South African Reserve Bank (SARB), decided to keep its benchmark repurchase rate at 6.75%. This followed a surprise rate cut made by the central bank in July, lowering the rate by 25 basis points to 6.75% from an earlier rate of 7%.
"In the light of the high degree of uncertainty prevailing in the economy and the balance of risks, the monetary policy committee has decided that it would be prudent to maintain the current stance of monetary policy at this stage," according to SARB Governor Lesetja Kganyago.
The July rate cut was the central bank's first for the past five years. Before that, the rate was raised six times from 5% in 2012, to 7% in 2016 as the central bank focused on lowering South Africa's high inflation, which peaked at 7% in February 2016. Inflation eased during the first half of 2017, allowing the central bank to reduce its key rate.
In November 2017 inflation was 4.6%, down from 6.4% in 2016, according to the Statistics South Africa (Statistics SA). While the inflation is predicted to stay within the target range of 3% to 6% by end of 2017, the MPC noted in its November 2017 statement that upside risks to inflation had risen "mainly due to higher international oil prices and a weaker rand exchange rate".
Household finances still troublingly weak
South Africa's households remain under financial strain, because of slow economic growth, low employment levels, high interest rates, as well as weaker consumption.
Although still extremely low, the country's net saving rate has improved since the economic stagnation in 2012. From net household saving rates of -2.3% of disposable income in mid-2013, there was a net savings rate of 0.2% in Q2 2017.  
"Despite the still-low level, the improvement from a far worse rate in 2013 does point to a desire of increasingly concerned households to adapt to weak economic conditions by becoming financially more cautious. But the fact that improvement in the savings rate is so slow going is arguably reflective of the poor economy and the mounting constraints it places on disposable income growth," according to John Loos of FNB.
Meanwhile the debt-to-disposable income ratio has declined, although still high at 72.6% in Q2 2017, according to the First National Bank (FNB).
"In view of current trends in and the outlook for the economy, the state of household finances and consumer confidence, growth in household credit balances, including mortgage balances, is forecast to remain well in single-digit territory up to the end of 2017 and in 2018," according to ABSA.
The amount of outstanding mortgages rose by 4.39% to around ZAR 1.33 trillion (US$ 107.19 billion) during the year to September 2017, according to the South African Reserve Bank (SARB).
Recalling the boom years
During South Africa's housing boom (from 2000 to 2006), national house prices rose by an average of 20% annually. House price rises peaked in October 2004 with 35.7% annual growth (32.5% in real terms), based on the figures from ABSA.
However in Q1 2008 the boom ground to a halt, following the global financial crisis.
In 2008, house prices fell by 0.5% (-9% in real terms)
In 2009, house prices rose 0.3% (-5.4% in real terms)
In 2010, house prices rose 2.3% (-1% in real terms), encouraged by South Africa hosting the 19th FIFA World Cup
In 2011, house prices rose by just 1% (-5. 1% in real terms), due to lower economic growth, rising inflation, and political corruption concerns
In 2012, the housing market bounced back. House prices rose by 9.2% (3.3% in real terms)
In 2013, house prices rose by 3.6% (-1.6% in real terms)
In 2014, house prices rose by 7.5% (2.1% in real terms)
In 2015, house prices rose by 5% (-0.2% in real terms)
The 2000 to 2006 boom was driven by 4 main factors:
The emergence of a financially stable black middle class had a tremendous impact on housing demand, encouraged by individual tax reliefs, in the context of a growing economy.
South Africans who had parked money offshore during the Apartheid era were allowed (and required) to bring it back by September 2004. Much of this money went into property.
Better stability and security helped. During Apartheid and its sequel, property prices had badly lagged the economy, as the security situation went from bad to worse.
Lastly, the Financial Sector Charter in 2003 boosted mortgage loan growth. Financial institutions committed to provide ZAR 42 billion (US$5.45 million) of housing finance to the low-income market. Then in 2006, the CGT exemption on primary residences was raised from ZAR1 million (US$72,649) to ZAR1.5 million (US$108,973). Transfer duties on properties were lowered too. For example, no transfer duty is payable on properties valued at ZAR500,000 (US$36,324) or less.
The subsequent slowdown of house prices in 2008 can be attributed to the full implementation of the National Credit Act in mid-2007, interest rate hikes, and to the global financial crisis.
The National Credit Act aimed to protect borrowers from over-indebtedness, by limiting the amount of funds that can be borrowed, and requiring every lender to assess borrowers' credit-worthiness. It requires lenders to disclose every term in the contract and gives the borrowers the right to request their credit report, and to challenge the report if there are inaccuracies.
The act has tended to reduce the supply of mortgage loans.
Residential construction remains weak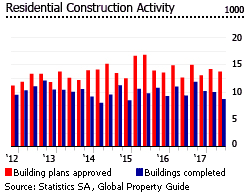 Residential building approvals rose by 1.4% during the first ten months of 2017 to 47,330 from the same period last year, most of the increase was attributed to smaller houses (less than 80 sq. m.), according to Statistics South Africa.
For houses measuring less than 80 sq. m, approvals rose by 9.7% y-o-y to 16,577 in the first ten months of 2017.
For houses measuring 80 sq. m and above, approvals are still down by 4.3% y-o-y to 12,856 in the first ten months of 2017.
For flats and townhouses, approvals also fell by 1.2% y-o-y to 17,897 in the first ten months of 2017.
Residential completions, on the other hand, declined by 3.6% to 32,081 units in the first ten months of 2017 from the same period last year.
For houses measuring less than 80 sq. m, completions fell by 2.9% y-o-y to 12,210 in January to October 2017.
For houses measuring 80 sq. m and above, completions plunged by 16.3% y-o-y to 8,432 in the first ten months of 2017.
For flats and townhouses, completions sharply rose by 7.6% to 11,439 over the same period.
Credit rating downgrades in 2017, a moderate growth outlook in 2018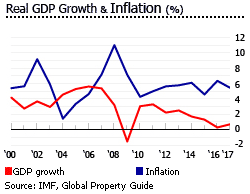 On an annual basis, South Africa's economy grew at only 0.8% during the year to Q3 2017, following stronger y-o-y expansions of 1.3% and 1% in Q2 and Q1 2017, respectively. 
In 2016, South Africa had its slowest expansion for seven years with only 0.3% growth. The economy remained subdued in 2017, and is projected to have grown by 0.7%, mainly due to low business and consumer confidence. The economy is expected to have moderate growth of around 1.2% in 2018 and 1.5% in 2019, according to the South African Reserve Bank (SARB).
Before the slowdown in 2016, the economy expanded by 1.3% in 2015, 1.7% in 2014, 2.3% in 2013, 2.2% in 2012, 3.3% in 2011, and 3% in 2010, according to the IMF.
The current pace of growth will not be enough to reduce unemployment. In the third quarter of 2017, South Africa's unemployment was at 27.7% to about 6.2 million, according to Statistics South Africa. Unemployment in the country is persistently high, averaging at around 24.9% from 2000 to 2016. 
To cut the high jobless rate to 14% by 2020, real GDP would need to grow an annual average of 5.4%, according to the government's National Development Plan. However, this is unlikely to happen.
In November 2017, the ratings agency Standard & Poor's (S&P) downgraded South Africa's credit rating for the second time in 2017 from 'BB+' to 'BB', citing the country's weak economic growth and deteriorating public finances. S&P made its first rate cut in April 2017, lowering the rating to 'junk' status, after former finance minister Pravin Gordhan was dismissed following a cabinet reshuffle. The other two ratings agencies, Fitch and Moody's, also downgraded South Africa's credit ratings earlier in 2017.
"We expect that offsetting fiscal measures will be proposed in the forthcoming 2018 budget in February next year, but these may be insufficient to stabilize public finances in the near term, contrary to our previous expectations," according to S&P.
South Africa is Africa's biggest economy, with an estimated population of 56.5 million and an estimated GDP per capita of US$ 6,089 in 2017. It has formidable manufacturing and financial sectors. It is the world's largest exporter of gold and platinum. Tourism is also a key source of foreign exchange.
Cyril Ramaphosa in, Jacob Zuma out. 
At time of writing - February 2018 - the African National Congress's (ANC) top executive was on the verge of a meeting that seemed certain to lead to ANC leader Jacob Zuma's departure - an event long-awaited by all informed opinion in South Africa.
Zuma became president of South Africa in 2009, despite corruption charges. Zuma is an economic leftist who supports wealth redistribution, a polygamist who has married 6 times and is reported to have 20 children, including one "love-child". He has pledged to create 5 million jobs by 2020, but that target is obviously unrealistic.
Zuma has faced more than 700 corruption, tax-evasion, money-laundering, and fraud charges, among others. Controversy rumbles on over Zuma´s relationship with the Gupta family, funding for the construction of his home.
In December 2015 he fired the well-respected Finance Minister Nhlanhla Nene, replacing him with an unknown backbencher, David van Rooyen. The reasons were obvious: Nene had opposed extravagant state spending, including on state-owned South African Airways (whose chairwoman Dudu Myeni is Zuma's close friend). Nene had also barred an acquisition of a new presidential jet, and advised that South Africa could not afford a trillion-rand Russian nuclear deal.
Zuma revised his decision a few days later, appointing Pravin Gordhan as finance minister. Investors calmed after Gordhan's appointment, since he had already served in the same position from 2009 to 2014.
In the August 2016 municipal elections, the African National Congress (ANC) had its worst-ever election result, its share of the national vote falling to 53.9%, and losing control of three cities - The City of Johannesburg, Nelson Mandela Bay, and City of Tshwane.
A cabinet reshuffle was announced by Zuma in March 2017 led to the dismissal of Gordhan as finance minister along with his deputy Mcebisi Jonas. Malusi Gigaba took over as the new finance minister. This move was highly criticized by Deputy President Cyril Ramaphosa, and other leaders of ANC and the South African Communist Party (SACP), intensifying the call for a motion of no confidence and impeachment. On April 3, 2017, a few days after Gordhan's dismissal, the ratings agency Standard & Poor's downgraded South Africa's credit rating from BBB- to BB+. Fitch Ratings followed suit, cutting the country's credit rating from BBB- to BB+, on April 7, 2017.
In August 2017, Zuma was able to survive his eighth motion of no-confidence, which was defeated by 198 votes to 177, with 25 abstentions. But in December Zuma's ex-wife Nkosazana Dlamini-Zuma lost the ANC leadership to Ramaphosa, in an election held during the ANC National Conference.
Cyril Ramaphosa is a trade union leader, MP, long-time ANC stalwart, and successful businessman, with a fortune of $675 million (Forbes estimate). Ramaphosa was Nelson Mandela's choice for future president. His business career has not been without controversy, with several accusations of bribery and corruption against his name, but nothing on the scale of the accusations against Zuma. He was also implicated in the August 2012 Marikana massacre, when 34 striking miners were shot dead. Since 2014 he has been Deputy President under Zuma.
South Africa - More data and information