South Africa's house price appreciation remains below inflation
There has been little to celebrate for the South Africa´s home owners for a decade. From 2008 to 2018, real house prices in South Africa -i.e., after inflation - dropped by about 4.8%.
During the year to Q1 2019, while South Africa´s nominal house prices rose by 3.96% according to ABSA, when adjusted for inflation house prices again declined - by 0.51%.  This reflects pressure on household incomes and a depressed macroeconomic environment, according to First National Bank's analyst Siphamandla Mkhwanazi.
Source: ABSA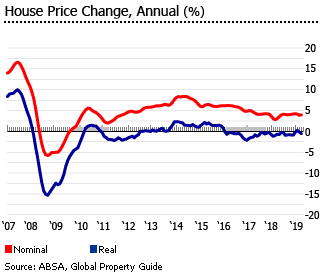 "We expect house prices to remain confined within the 3.5% to 4.5% range for an extended period," said Mkhwanazi - well below the central bank's annual inflation forecast of 4.7% this year, and 5.4% in 2020.
In Q1 2019, South Africa's economy contracted by 3.2%, the biggest quarterly fall since Q1 2009, according to the Statistics South Africa. The South African Reserve Bank (SARB), the country's central bank, has slashed its 2019 growth projection to 1%, from its earlier estimate of 1.3%.  In 2018, the economy grew by a minuscule 0.8%, following a 1.3% expansion in 2017.
South Africa is Africa's second biggest economy, with an estimated population of 57.7 million and an estimated GDP per capita of US$ 6,377 in 2018. It has formidable manufacturing and financial sectors. It is the world's largest exporter of gold and platinum. Tourism is also a key source of foreign exchange.
Foreigners can own immovable property in South Africa without restriction. However, all foreign funds remitted to the country must be declared and documented. The property must also be endorsed 'non-resident', as a condition for repatriation of funds.
Non-resident investors have to pay Capital Gains Tax when they later sell their properties. The purchaser of the property is required to deduct a prescribed percentage from the proceeds of the sale and remit it directly to the South African Revenue Service before paying the balance to the seller.
Recalling the boom years
The South African housing market´s present dolldrums are a far cry from the previous decade´s housing boom (from 2000 to 2006), when national house prices rose by an average of 20% annually. House price rises peaked in October 2004 with 35.7% annual growth (32.5% in real terms), according to ABSA.
The boom was driven by 4 main factors:
The emergence of a financially stable black middle class, which had a tremendous impact on housing demand, encouraged by individual tax reliefs, in the context of a growing economy.
South Africans who had parked money offshore during the Apartheid era were allowed (and required) to bring it back by September 2004. Much of this money went into property.
Better stability and security helped. During Apartheid and its sequel, property prices had badly lagged the economy, as the security situation went from bad to worse.
Lastly, the Financial Sector Charter in 2003 boosted mortgage loan growth. Financial institutions committed to provide ZAR 42 billion (US$2.83 billion) of housing finance to the low-income market. Then in 2006, the CGT exemption on primary residences was raised from ZAR 1 million (US$ 67,279) to ZAR1.5 million (US$ 100,919). Transfer duties on properties were lowered too. For example, no transfer duty is payable on properties valued at ZAR500,000 (US$ 33,640) or less.
However the boom ground to a halt following the global financial crisis. From 2008 to 2009 house prices fell by 3.2% (-16.5% in real terms). Aside from the global crisis and rising interest rates, the decline in prices was prompted by the implementation of the National Credit Act in mid-2007.
The National Credit Act aimed to protect borrowers from over-indebtedness, by limiting the amount of funds that can be borrowed, and requiring every lender to assess borrowers' credit-worthiness. It requires lenders to disclose every term in the contract and gives the borrowers the right to request their credit report, and to challenge the report if there are inaccuracies. The act has tended to reduce the supply of mortgage loans.
The housing market rose a little in 2010, encouraged by South Africa hosting the 19th FIFA World Cup, and from 2011 to 2018, house prices have risen by 45.7%. But after the ravages of inflation are deducted, that works out at a meagre 1.1% growth in real terms.
HOUSE PRICES, ANNUAL CHANGE (%)

Year
Nominal
Inflation-adjusted
2010
3.10
-0.23
2011
4.36
-1.84
2012
5.77
-0.04
2013
7.69
2.32
2014
6.38
0.99
2015
6.14
0.91
2016
4.82
-2.10
2017
3.70
-0.77
2018
4.23
-0.17
Sources: ABSA, Global Property Guide
Housebuilders aren´t betting on the future.
Residential completions soared by 47.9% to 11,890 units in Q1 2019 from a year earlier, following an increase of 3% in 2018.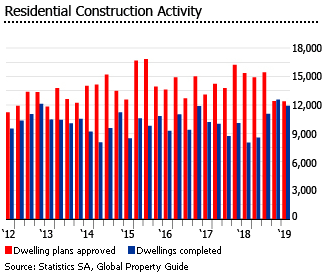 However building approvals fell by 19.3% in Q1 2019 from the same period last year, according to Statistics South Africa.  Notice that smaller units have been particularly hit.
For houses measuring less than 80 sq. m, approvals plummeted by 58.7% y-o-y to 2,204 in Q1 2019.
For houses measuring 80 sq. m and above, approvals were down by 15.7% y-o-y to 2,918 in Q1 2019.
For flats and townhouses, approvals rose by 10.9% y-o-y to 7,263 over the same period.
Mortgage market shrinking
In 2018, the amount of new mortgage loans granted fell by 1.21% to ZAR 352.8 billion (US$ 23.7 billion) from a year earlier, following 6.67% growth in 2017, according to SARB. About 62.3% of these were residential mortgages.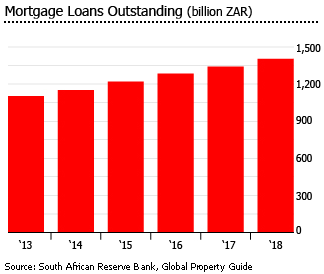 The size of the mortgage market contracted to about 28.8% of GDP in 2018, down from 29.5% of GDP in 2016 and 31.1% of GDP in 2013.
Household finances troublingly weak
Many households in South Africa are under financial strain, because of slow economic growth, low employment levels, and high interest rates. 
Debt-service cost to disposable income increased to 9.3% in Q4 2018 from 9.1% in the previous quarter, according to Statistics South Africa. The net savings rate fell to -0.5% of disposable income and the ratio of debt-to-disposable income in South Africa rose to 72.7%, from just 55% in 1991.
"Household debt increased at a faster pace in the fourth quarter of 2018," said the central bank. "Mortgage advances, the largest component of household debt, contributed the most to the increase."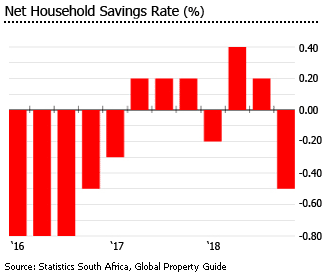 General loans and advances at all monetary institutions also increased notably, suggesting that consumers borrowed to sustain spending. "Household debt as a percentage of nominal disposable income edged higher from 71.8% in the third quarter of 2018 to 72.7% in the fourth quarter, as the quarter-to-quarter increase in household debt exceeded that in disposable income."
Foreign homebuyers declining
In the context of South Africa´s economic stagnation, it is maybe not surprising that home-buying by foreigners has declined in recent years, according to a 2018 report by the First National Bank (FNB).
Property in South Africa is now dramatically less expensive for foreign buyers than eight years ago. The rand lost about 52.5% of its value against the US dollar from a monthly average exchange rate of US$ 1 = ZAR 6.85 in May 2011, to US$ 1 = ZAR 14.43 in May 2019.  Yet foreign homebuyers represented only about 4.33% of total home buying in South Africa in Q1 2018, significantly down from 5.72% in Q3 2016 and 6.5% in 2008.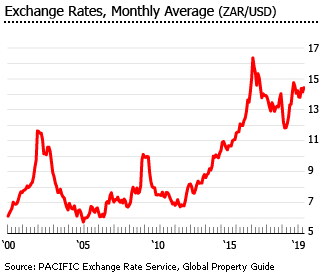 FNB attributed this to:
Weaker investor sentiment towards South Africa, due to the country's multi-year economic stagnation
Uncertainty about the country's future economic policy
Negative news, such as credit rating downgrades to "junk status"
Most foreign owners are based in Europe, mostly in the United Kingdom, as well as Germany, Italy, Holland, and France. There are also buyers from African countries such as Mozambique, Zimbabwe, Angola, Cameroon, and Nigeria. An increasing number of buyers from China and Dubai are also eyeing properties in the KwaZulu-Natal and the Durban area, according to Craig Hutchison, chief executive of Engel & Völkers Southern Africa.
Rental yields are good
Despite all this, from one perspective property owners should be happy.  In Johannesburg, gross rental yields for apartments, i.e., the gross rental return on a property if fully rented out, are good, ranging from 6.5% to 9.3%, according to Global Property Guide research.
The most desirable neighborhoods in Johannesburg are in the north of the city, including suburbs like Dunkeld, Hyde Park, Houghton, Illovo, Inanda, Melrose, Parkhurst, Parktown, Parkview, Sandhurst, Saxonwold and Westcliff. Nelson Mandela has a house in Houghton.
In Cape Town, gross rental yields on apartments are slightly lower, ranging from 5% to 8.3%.
Cape Town is the most popular tourist destination in Africa. Its amazing beaches and weather are ideal for retirees and foreign property buyers. Atlantic Seaboard properties are among the most sought-after because of the beaches and cliffs - upscale neighbourhoods like Bakoven, Bantry Bay, Camps, Clifton, Fresnaye, Green Point and Mouille Point. Some houses nestled on cliffs have sweeping views of the Atlantic Ocean. City Bowl, which includes the central business district of Cape Town, is another upscale residential suburb. It is one of the most stable residential markets in Cape Town, because of its prime central location and vibrant cosmopolitan lifestyle.
A typical Johannesburg apartment rents for around US$ 9 to US$12 per sq. m. per month, while the same property in Cape Town is offered for a monthly rent of about US$ 15 to US$ 17 per sq. m.
Lower mortgage interest rates
Because of the weak economy, prime and variable mortgage rates are falling.  They were 10% in March 2019, down from 10.5% during the same month last year, according to the South African Reserve Bank (SARB).
"The MPC assesses the risks to the growth forecast to be on the downside," said SARB Governor Lesetja Kganyago. "Weak business confidence, possible electricity supply constraints and high debt levels in certain state-owned enterprises will continue to limit investment prospects. The escalation of trade tensions could significantly impact global trade with likely negative impacts for South Africa as a small open economy."
"Against this backdrop, the MPC decided to keep the repurchase rate unchanged at 6.75% per year," Kganyago added.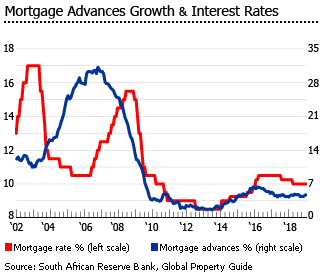 In April 2019, core inflation dropped to 4.1%, from 4.4% in March 2019.
Headline inflation is expected to average 4.5% this year, before accelerating to 5.1% in 2020, according to SARB.
Economy struggling; unemployment remains high
In Q1 2019, South Africa's economy contracted sharply by 3.2%, the biggest quarterly fall since Q1 2009, according to the Statistics South Africa.
Manufacturing contracted by 8.8% q-o-q, driven mostly by declines in petroleum, transport and wood and paper
Mining remains in recession, declining by 10.8% q-o-q – the biggest contraction since Q1 2016
Trade industry was down 3.6% q-o-q, its second quarter of negative growth, mainly due to weaker wholesale, retail and motor sales
Agriculture slumped by 13.2% q-o-q, in sharp contrast to a 7.9% growth in the previous quarter
Construction was down 2.2%, its third consecutive quarter of decline.
"Seven of the ten industries took a knock, with manufacturing, mining and trade the biggest contributors to the fall," said Statistics SA. "Construction, mining and trade are in recession."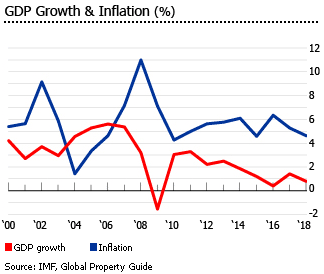 In the first quarter of 2019, nationwide unemployment was 27.6%, up from 27.1% in the previous quarter and 26.7% a year earlier, according to Statistics South Africa. Unemployment has averaged 25.2% from 2000 to 2018.
Both S&P and Fitch downgraded South Africa to non-investment grade in 2017. In March 2019, Moody's has skipped its much-anticipated assessment of South Africa's sovereign credit rating and moved it until November 2019, which means that the country stays at its current Baa3 rating, which is one notch above sub-investment grade.  In May 2019, the ratings agency Standard & Poor's (S&P) kept South Africa's foreign- and local-currency credit ratings in "junk" territory.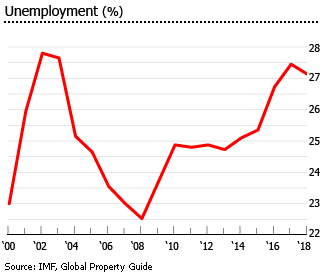 Cyril Ramaphosa in, Jacob Zuma out.
Cyril Ramaphosa was elected president by parliament in February 2018 after his predecessor, Jacob Zuma, resigned over corruption allegations. Ramaphosa inherited an ailing economy, a divided party, and the problem of entrenched corruption.
Zuma became president of South Africa in 2009, despite corruption charges. Zuma has faced more than 700 corruption, tax-evasion, money-laundering, and fraud charges, among others. Controversy rumbles on over Zuma's relationship with the Gupta family, funding for the construction of his home.
Cyril Ramaphosa is a trade union leader, MP, long-time ANC stalwart, and successful businessman, with a fortune of US$675 million (Forbes estimate).
Ramaphosa was Nelson Mandela's choice for future president. His business career has not been without controversy, with several accusations of bribery and corruption against his name, but nothing on the scale of the accusations against Zuma. He was also implicated in the August 2012 Marikana massacre, when 34 striking miners were shot dead. Since 2014 he has been Deputy President under Zuma.
Ramaphosa passed his first test when the African National Congress (ANC) won the May 2019 parliamentary elections, although its 57.5% share of the vote was its lowest margin of victory since apartheid was overturned 25 years ago.
Ramaphosa currently faces an enormous task of tackling the country's many problems – from a struggling economy which more than a quarter of the workforce is jobless to land ownership issues and entrenched crime and corruption.
houses for sale in cape town, property for sale cape town, farms for sale, property, farms for sale western cape, alchemy pam golding, mauritius property for sale, game farms for sale, houses for sale in stellenbosch, goldnet pam golding, property for sale somerset west, houses to rent in bloemfontein, houses for sale in mauritius, houses for sale, 16 on bree, midstream estate, flats to rent in cape town, houses for sale cape town, farm for sale, farms for sale in namibia, guest house for sale, farms for sale in south africa, flats to rent in bloemfontein, houses for sale in pretoria, farms for sale south africa, property for sale in mauritius, house for sale in cape town, pam golding nelspruit, monaghan farm, houses for sale in somerset west, farms for sale eastern cape, distressed properties, property for sale knysna, apartments for sale cape town, property for sale mauritius, property valuation, property for sale in greyton, property for sale in mozambique, houses for sale in hermanus, mauritius property, houses for sale northern suburbs, properties for sale in mauritius, property to rent bloemfontein, property mauritius, western cape farms for sale, houses for sale somerset west, property in mauritius, rental properties, fnb repossessed houses, property somerset west, pam golding durban north, estate agents cape town, properties for sale, farms for sale namibia, houses to rent, flats for sale in cape town, hotels for sale in south africa, land for sale, farms for sale limpopo, houses for sale grahamstown, commercial property for sale, guest houses for sale, property to rent in cape town, eagle canyon, properties to rent, absa repossessed houses, pam golding mossel bay, farms for sale in kzn, houses for sale in pretoria east, properties, houses for sale in mitchells plain, properties for sale in cape town, steyn city, game farms for sale south africa, farms for sale kzn, property cape town, hotel for sale, houses for sale in durban, property to rent cape town, pam golding wellington, houses for sale knysna, bank repossessed houses, blue valley golf estate, property in mauritius for foreigners, guest house for sale western cape, farm for sale eastern cape, houses for sale hermanus, mauritius property for sale beachfront, serengeti golf estate, guest house for sale cape town, somerset west property, property to rent, property to rent in bloemfontein, botswana property for sale, houses for sale in port elizabeth, houses for sale in ermelo, house for sale, beachfront property for sale, property for sale western cape, copperleaf, smallholdings for sale western cape, houses for sale mauritius, property for sale in cape town, knysna property for sale, farms for sale botswana, estate agents, property for sale hermanus, mauritius properties for sale, houses for sale in grahamstown, serengeti estate, le boulevard umhlanga, apartments for sale, farm for sale western cape, eye of africa, short term rentals cape town, bond repayment calculator, vacant land for sale, baronetcy estate, farms for sale in gauteng, somerset west property for sale, cape town rentals, houses for sale durban north, namibia property, fnb quicksell, harbour arch, fractional ownership, houses for sale in durban north, houses for sale stellenbosch, property for sale in wilderness, property to rent stellenbosch, property for sale ballito, flats to rent in stellenbosch, houses for sale in constantia, commercial property, townhouses for sale, houses for sale in sandton, eagle canyon golf estate, houses for sale port elizabeth, farms for sale in botswana, houses for sale in howick, obs court, house to rent bloemfontein, property for sale in somerset west, iq brooklyn, jeffreys bay property, property for sale in knysna, houses for sale langebaan, houses for sale in wilderness, rentals cape town, farms for sale zambia, property for sale in pretoria, park central rosebank, namibia farms forkingswood golf estate, jackal creek golf estate, small holdings for sale, property for sale in botswana ,standard bank, public holidays 2019, seriesonline, businesstech, business tech, ster kinekor, standard bank internet, nedbank, absa online banking, finance, black friday 2017 south africa, makro black friday 2017, petrol price, sterkinekor, dstv packages, mmm, nuus24, moneyweb, bitco, university of pretoria, dollar to rand, game black friday 2017, news south africa, black friday south africa, vodacom, rand to dollar, bank zero, cyber monday south africa 2017, city of johannesburg, south african porn sites, mybroadband, durban news, vodacom deals, amazon south africa, alexander forbes, petrol price increase, black friday south africa 2017, cabinet reshuffle, land expropriation, tesla south africa, public holiday 2018, black friday south africa 2017 specials, dstv packages 2017, gautrain prices 2019, sars, mxit, pick n pay, land expropriation without compensation, restaurants, richest people in south africa, rain coverage, ebucks, 8ta, jet, matric results 2017, makro black friday, afrihost fibre, save, internet banking, dimension data, fuel price, bonitas, holidays 2018, boardmans, highest paying jobs in south africa, game stores, pick n pay black friday, torga optical, pick n pay black friday 2018, woolworths online, www.eskom.co.za, public holidays south africa, johannesburg water, best universities in south africa, private property, cell c, petrol price south africa, budget speech 2018, drivers licence renewal, rain data, south africa elections 2019, is weed legal in south africa, checkers liquor, paternity leave south africa, mtn black friday deals 2018, rain.co.za, edgars, rand news, black friday specials south africa 2017, tyme bank, public holiday 2019, cyril ramaphosa, fuel price increase, mtn black friday 2017, vodacom contract deals, trevor noah house, fnb connect, ramaphosa cabinet, drivers licence renewal online, greenbacks, license renewal, investec, modular homes south africa, south african public holidays, ford ranger, south africa today, south african news, rand dollar, smsportal, douw steyn, pioneer foods, showmax dstv, sterkinkor, best fibre deals, hippo.co.za, dstv packages 2018, amazon cape town, poverty in south africa, www.ebucks.com, container homes south africa, webuycars, gautrain, anc website, business loans south africa, crime in south africa, drivers license renewal, starbucks south africa, steyn city school, petrol price april 2017, rain sim card, weed legal south africa, makro black friday deals, cannabis south africa, petrol price january 2018, dstv login, finbond, petrol price may 2017, diesel price, edgars home, fnb pricing guide, ramaphosa, huawei p smart price, petrol price july 2017, best medical aid south africa, multiply, prefab homes south africa, mustek, how to prepare for an interview, capitec news, south africa visa free countries, tygervalley movies, junk status, takealot south africa, south, uct online courses, most expensive schools in south africa, the glen movies, weed legal in south africa, momentum multiply, bonitas medical aid, yuppiechef, makro black friday 2018, takealot, rand, pnp black friday 2018, richest man in south africa, game store black friday 2017, marijuana south africa, election results south africa, petrol price november 2017, top universities in south africa, visa free countries for south africans, mtn data bundles, eoh, uber south africa, retirement villages, top 5 medical aid schemes in south africa, petrol price june 2018, moodys south africa, voting results south africa 2019, may, liberty life, banking, petrol price june 2017, tinder south africa, cabinet ministers 2019, salaries in south africa, petrol price august 2017, standard bank internet banking login, top, gautrain fares, expropriation without compensation, showmax vs netflix, best bank in south africa, best medical aid in south africa 2017, vodacom contracts, public servants salary increase 2017/18, crawford college, richest person in south africa, best credit card south africa
Sources:
South Africa - More data and information