New Zealand's house prices are rising rapidly again, the impact of the ban on foreign homebuyers having waned. During 2019, the nationwide median house price soared by 12.3% to NZ$629,000 (US$ 414,599), according to the Real Estate Institute of New Zealand (REINZ), a sharp improvement from the previous year's rise of 1.8%.

When adjusted for inflation, house prices rose by 10.8% in 2019. And during the latest quarter (Q4 2019), house prices increased by 5.4%.

However Auckland, which accounts for about 30% of total property sales in New Zealand, saw a modest house price growth of 3.5% during 2019.

The highest price increase was in the Southland, where prices surged by 32% during 2019. There were also double-digit house price hikes in Manawatu/Wanganui (27.8%), Gisborne (21.3%), Otago (21.2%), Hawke's Bay (14.5%), Taranaki (14.1%), Tasman (12.5%), Northland (12.3%), Wellington (11.4%), and Marlborough (10.5%).

Strong to modest house price rises were seen in Nelson (9.4%), Waikato (9%), Bay of Plenty (4.1%), and Canterbury (1.1%). Only West Coast recorded a house price decline of 13.6% during 2019.

Auckland has average prices of NZ$ 890,000 (US$ 586,635) - the country's most expensive - followed by Wellington, with an average price of NZ$ 685,000 (US$ 451,511), and Tasman, with an average price of NZ$ 655,000 (US$ 431,737).

The cheapest housing can be found in the West Coast, with an average price of NZ$ 190,000 (US$ 125,237), followed by Southland (NZ$ 330,000 or US$ 217,516), Manawatu/Wanganui (NZ$ 402,500 or US$ 265,304), and Gisborne (NZ$ 410,000 or US$ 270,247).

New Zealand saw spectacular house price rises of about 114% (82.5% inflation-adjusted) from 2001 to 2007. Then after a pause, there were six further years of substantial price rises 2012-2017, supported by strong economic growth. Because of this, housing in New Zealand has become really expensive, for a country with such a small population relative to its landmass.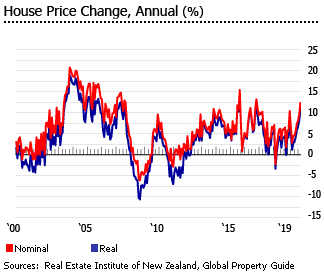 New Zealand's economy expanded by 2.5% in 2019, according to the International Monetary Fund (IMF). For the last six years the economy's performance has been robust, with growth of 2.8% in 2018, 2.6% in 2017, 4.2% in 2016, 4% in 2015 and 3.1% in 2014.

The economy is projected to grow further by 2.7% this year and by another 2.6% in 2021, according to IMF estimates.