Greek house price falls continue for seventh year, albeit at a slower pace
May 22, 2016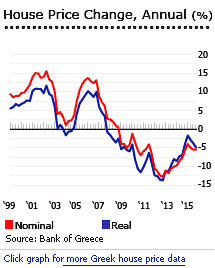 House prices are now falling at a slower pace in Greece, compared to the sharp price drops of 2012 and 2013 - but are unlikely to begin rising before the end of next year.  
In Greece's urban areas, house prices dropped 5.47% (4.91% in real terms) y-o-y in 2015, the lowest annual fall in house prices since 2009, based on figures from the Bank of Greece.  House prices in Greece's urban areas dropped 1% (-1.5% in real terms) q-o-q in Q4 2015.
This improvement was also seen in the country's other major cities.
In Athens, the average price of apartments fell by 4.9% (-4.34% in real terms) during 2015, an improvement from annual declines of 6.8% in 2014, 11.45% in 2013, 12.91% in 2012, and 8% in 2011, according to the Bank of Greece. Compared to the previous quarter, house prices in Athens fell by 0.44 % (-0.94% in real terms) in Q4 2015.
In Thessaloniki, the country's second largest city, house prices fell by 5.9% (-5.4% in real terms) in 2015, the lowest annual decline since 2008. From the previous quarter, house prices fell 1.3% (-1.7% in real terms) in Q4 2015.
In other cities (excluding Athens and Thessaloniki), there was a 6.1% drop in house prices (-5.6% in real terms) in 2015, an increase on last year´s 5.5% annual house price decline, but down from declines of 9% in 2013, 12.2% in 2012. During the latest quarter house prices fell by 1.8% (-2.3% in real terms) in Q4 2015.
The Bank of Greece has not yet released its house price figures for other urban areas for 2015.
Greek residential property prices are down by 42% (-45.3% in real terms) from the peak year of 2008.
Despite the slight improvement, activity is amazingly depressed. In 2015, the number of residential property appraisals-transactions was down by 24.1% from the previous year. Also, only 13,257 building permits were issued in 2015, a striking contrast from the 70,000 to 80,000 permits issued annually from 2004 to 2007.
"What is happening here is extreme," says an investor interviewed by consulting firm PwC. "The collapse is so big and has lasted so long that it has totally disorganized the property sector."
House price falls are expected to continue easing this year, according to local real estate experts. Fitch Ratings projects that Greek house prices will keep falling for another two years.
"The downward trends in house prices are expected to continue in the upcoming period," said the central bank. "The housing market is expected to recover with a relative time lag, largely depending on the increase in households' disposable income, a rise in employment, as well as an improvement in bank financing conditions."
To revive the housing market, the Greek government recently offered residence to non-EU investors purchasing or renting property worth over €250,000. The residence plan, which is similar to measures adopted by Hungary, Spain and Portugal, is valid for five years and open to renewal.
Real estate transfer tax was also reduced from 10% to 3%. Moreover, the introduction of a capital gains tax on property, originally scheduled for introduction in summer of 2014, has been pushed back to December 31, 2016.
Contrary to some beliefs that Greece's economic woes had disappeared, the country is once again on the verge of bankruptcy, as the economy returns to recession, and public debt and deficits remain sky-high. Worse, the political uncertainty and social unrest are aggravating the already miserable situation of the Greeks. The Greek economy contracted by 0.23% in 2015, after meagre growth of 0.65% in 2014 and annual declines of 3.2% in 2013, 7.3% in 2012, 9.1% in 2011, 5.5% in 2010, 4.3% in 2009 and 0.3% in 2008.
Tracking the decline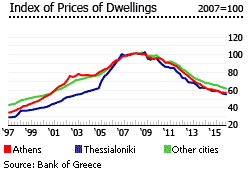 There was a surge in house prices after the 2004 Athens Olympics with increased demand for second homes and holiday villas, especially in Greece's southernmost and biggest island, Crete. Real estate agents reported 30% to 40% annual price rises for properties near the sea. The boom was also facilitated by improvements in local infrastructure and building quality.
In Athens, house prices rose 8.7% in 2005 and 11.2% in 2006, before slowing to 6.2% in 2007.
But then the crisis hit and in 2009, the average house price dropped by around 1.8%. Residential property prices have been falling in Athens since 2008:
In 2008, house prices in Athens fell by 0.77% (-3.59% in real terms)
In 2009, house prices fell by 4.21% (-5.99% in real terms)
In 2010, house prices fell by 5.83% (-10.45% in real terms)
In 2011, house prices fell by 7.97% (-10.43% in real terms)
In 2012, house prices plunged by 12.94% (-13.92% in real terms)
In 2013, house prices plunged by 11.45% (-9.48% in real terms)
In 2014, house prices fell by 6.65% (-4.90% in real terms).
Mountain of debt, mounting misery
Greece's debt problem is deeply rooted and, unfortunately, there is no easy way out. When the euro was first introduced in 1999, Greece was left out because of its high budget deficit and inflation. Embarrassed by the isolation, Greece appeared to clean up its act and fix its finances and macroeconomic fundamentals. By January 2001, it was able to adopt the euro as official currency.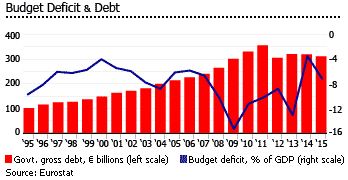 In November 2004, however, Greece admitted that it had fudged its figures to gain entry into the Eurozone. Its budget deficit had never been within the EU limit of 3% of GDP since 1999. It was also revealed in early 2010 that Greece had paid Goldman Sachs and other banks to hide the true amount of its debt and borrowing.
Euro adoption by Greece led to a cycle of debt-financed growth and deficit-spending. Access to cheap funds allowed it to continually pump-prime the economy, leading to higher growth.
With higher growth, government officials found it right to reward themselves with higher incomes and pensions and generous leave credits and bonuses. The bureaucracy is also bloated and overstaffed.
The increase in spending pushed the national debt from €224.2 billion in 2006, to €319.2 billion in 2013, a 42.4% increase. The national debt declined slightly to €314 billion in 2015, according to the IMF. In terms of percentage share of GDP, national debt went up from 102.9% of GDP in 2006, to 159% of GDP in 2012, and finally to 178.4% of GDP in 2015.
The price of irresponsible spending
When it was clear that the spending spree was unsustainable, creditors and the EU together with other international institutions such as the IMF demanded that Greece cut its spending, including wages and pensions. This was met with severe resistance, manifested in public protests and rioting.
One of the biggest casualties of the crisis was the ruling government. Seeking a fresh mandate to deal with the crisis, the New Democracy Party called for a snap election two years earlier than required, and was soundly defeated by the Pan-Hellenic Socialist Movement (PASOK) headed by George Papandreou, who then became prime minister.
After assuming office in October 2009, Papandreou revealed that the deficit was much higher than the previous government had claimed. His response included austerity measures: spending cuts and tax increases. He also vowed to downsize the public sector and fight rampant tax evasion. In May 2010, European leaders and the International Monetary Fund (IMF) agreed to a three-year, €110 billion bailout for Greece which was tied to additional austerity measures through cuts in the public spending (civil servants' salaries, freezing pensions, raising the retirement age) and hikes in taxes and fuel duty. The general sales tax was raised from 19% to 21%. These moves lead to a 4% economic contraction in 2010.
Violent protests, rallies, and strikes followed.
The EU offered another bailout loan worth €130 billion in February 2012, saving the country from leaving the Euro. The bailout loan, however, included as condition that Greece should approve a further austerity package.
The continued demand for cuts and more cuts in the face of already-high levels of public misery led to the rise of the radical leftist party Syriza, a coalition of diverse elements. Its leader, Alexis Tsipras, led Syriza to victory when the government's majority collapsed and assumed office on January 26, 2015. The new anti-austerity coalition vowed to renegotiate the EU-IMF bailouts arguing that austerity had even helped to devastate the economy which makes it harder for Greece to reduce its mounting debt.
There followed intense negotiations in Europe. The Greek government secured a four-month bailout extension, which the German parliament approved on February 27, 2015, despite Tsipras having earlier pledged "No more bailouts, no more submission, no more blackmailing." In July 2015, Tsipras has no choice but to start negotiations for a third bailout program, amidst mounting debt and struggling economy.
More than one year after taking power, Syriza government is now facing a wave of popular discontent as it needs to give in with the troika's demand for more spending cuts. Mass rallies are conducted all over the country, as the government promotes a neoliberal reform that requires immediate cuts to pensions and increases in taxes, including VAT.
Pension and tax reform bill passed amidst wave of violent protests
In May 2016, Greece's leftist-led coalition has approved the bill that aims to overhaul the country's tax and pension system, amidst a three-day general strike and widespread violence on the streets that had brought much of the country to a halt. The bill is part of the requirements the country must meet under its third, $86 billion international bailout. It is set to raise taxes and increase social security and pension contributions for most Greeks to bring about €5.4 billion in budget savings. The reform is regarded as the toughest measures that the country had been forced to undertake since its debt crisis began.
Approving the bills is difficult for Syriza, which is known for its anti-austerity stance and for leading protests against it. However, Tsipras was forced to agree with it when faced with the stark choice of signing up to a third rescue package or leaving the euro currency.
In July 2016, Greece faces €3.5 billion in debt repayments and without the bailout aid, the country confronts the possibility of default and the likely ejection from the single currency bloc.
Mortgage market a shadow of its former self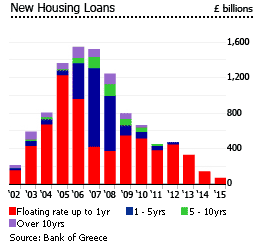 By end of 2015, the mortgage market was equivalent to 38.3% of GDP. Outstanding housing loans amounted to €67.4 billion in 2015, only a 2.6% decline from the previous year, but this glorious total is an illusion, reflecting the fact that many house-owners cannot repay.
New housing loans fell to just €686 million in 2015, from €15.4 billion in 2006 - i.e., the new loans market has virtually collapsed.
The percentage of non-performing housing loans increased to 31.6% in 2015, from 28.6% in 2014, and 10% in 2010, according to the Bank of Greece.
Despite the expiration of the "Katselis Law" protecting foreclosure of primary homes at the end of 2014, the government continues to provide protection for primary residences, especially to families with incomes below the poverty line. The government signified last November 2015 that about 25% of the 400,000 homeowners unable to meet mortgage payments would continue to receive foreclosure protection, while others were given three years to restructure their bank debts.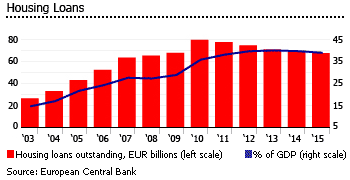 The law, which was enacted in 2010, was intended to freeze foreclosures on houses with outstanding mortgage debt worth up to €200,000, where a family's annual income is lower than €35,000. These homeowners should also pay at least 10% of their net monthly income towards their mortgage.
Mortgage interest rates are low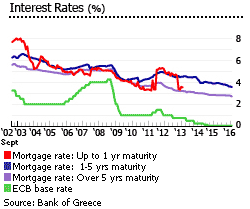 Mortgage rates in Greece started declining from mid-2011, and are now low. Mortgage rates for new loans with initial rate fixation (IRF) of up to one year stood at 2.55% in February 2016, slightly up from 2.36% in February 2015 but far lower than the interest rate of 4.67% in February 2008.
There are no interest rate figures for loans with longer IRFs, as such lending has ground to a halt.
For outstanding housing loans:
Average mortgage rates for loans with IRF of between 1 and 5 years declined to 3.57% in February 2016, down from 3.90% in February 2015 and 5.49% in February 2008.
Average mortgage rates for loans with IRF of over 5 years declined to 2.72% in February 2016, down from 2.84% in February 2015 and 5.06% in February 2008.
The Greek housing market is vulnerable to interest rate movements as the majority of housing loans have an IRF of up to one year only. Since 2H 2009, 70% or more of new housing loans have had interest rates adjustable at least annually.
Rental yields remain poor; rents falling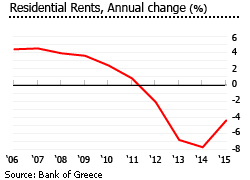 Gross rental yields in Greece remain poor, despite falling residential property prices.
Gross rental yields on 120 sq. m. central Athens apartments are at about 3.8%, according to Global Property Guide research of July 2015. This is not a good yield. It would be difficult to justify becoming a landlord at yields at this level. On the other hand, small apartments in Athens generate slightly higher yields, at 4.3%.
Apartments within the suburbs of Athens have even lower yields ranging from 3.37% to 4.09%. Likewise, houses in the suburbs have very low yields ranging from 3.34% to 3.56%.
In Crete, gross rental yields of apartments range from 2.42% to 3.67%. As in Athens, smaller apartments tend to earn higher yields.
Residential rents are also falling. In 2015, the central bank's rent index for dwellings dropped 4.4% from a year earlier, after annual declines of 7.7% in 2014, 6.8% in 2013, and 2.1% in 2012, according to the Bank of Greece.
In Athens, monthly rents per sq. m. range from around €9 to €12 per sq. m., according to Global Property Guide. In Crete, monthly rents per sq. m. of apartments range from around €4 to €6.
Around three fourths of the Greeks are homeowners. The homeownership rate in Greece was relatively high at 75.9% in 2012, according to the European Mortgage Federation (EMF). The rental market comprised 20% of the dwelling stock in 2004, down from 24% in 1991.
Rapid urbanization has led to a sharp dichotomy between urban and rural areas. A report in 2001 revealed that around 34% of the housing stock is vacant, mostly in rural areas. These units are typically dilapidated, or in need of total rehabilitation.
On the other hand, dwellings units in urban areas are amongst the most crowded in Europe. Most children continue to live with their parents after they enter adulthood. The reduction of notary fees from 1.2% to 1% of the real estate's value was clearly insufficient in reducing the high transaction cost, which adds to the burdens of first-time homebuyers.
Low construction activity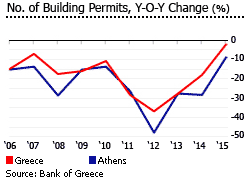 Construction activity in Greece peaked in 2005, a year after the Athens Olympics. Almost 200,000 dwellings were completed in 2005. By 2013, the number of dwellings completed had fallen 94% to 11,748 units - and the numbers continue to fall.
In 2015, the number of building permits in Greece was 13,257 units, down by 2.3% from 2014 and by 18.1% from 2013 - a striking contrast from the 70,000 to 80,000 permits issued annually from in 2004 to 2007. In Athens, building permits dropped 9% in 2015 from a year earlier.
Despite these massive declines, there remains an "excess" of housing supply, judging by the large stock of unsold property. According to some property market analysts, the number of dwellings available for sale is hard to estimate, but may have gone beyond 200,000 units due to homeowners and construction companies seeking liquidity and wishing reduce their tax burden.
According to the European Mortgage Federation (EMF), the excess in supply is attributed to the considerable drop in demand due to "a surge in unemployment, a fall in households' disposable income, real estate tax hikes and an unstable – at least until recently – tax regime, coupled with liquidity shortage against the backdrop of banks' tightened credit standards".
Greek economy slips back into recession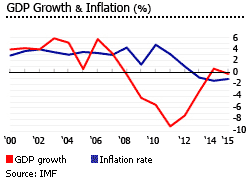 After a short-lived recovery in 2014, Greece's economy returned to recession after contracting by 1.4% in Q3 2015, and by another 0.6% in Q4 2015, according to Hellenic Statistical Authority. This was amidst the imposition of capital controls and the shutting down of most of its banks. The Greek economy contracted by 0.23% in 2015.
Greece bounced back to growth in 2014 with GDP rising by 0.6%, after six years of depression. Before this, the country's real GDP had contracted by 3.8% in 2013, almost 7% in 2012, 7.10% in 2011, 4.9% in 2010, 3.1% in 2009 and 0.2% in 2008, according to the IMF.
The economy is expected to contract again this year by 0.6% before growing by 2.7% in 2017, based on IMF forecasts.
The nationwide unemployment rate stood at 25% in 2015, far higher than the average of just 9.6% between 2001 and 2009. The jobless rate is expected to remain unchanged at 25% this year.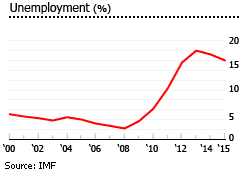 In 2015, Greece was able to sustain a primary budget surplus of around €2.27 billion, up from a surplus of €1.87 billion in 2014, although it fell short of the government's €3.26 billion target.
In 2013, the country recorded its first primary budget surplus in a decade of €691 million.
However, if the money spent on bank recapitalization is included, Greece's budget deficit was 7.2% of GDP in 2015, up from 3.6% in 2014.
Greece's national debt reached 178.4% of GDP in 2015, unchanged from a year earlier but sharply up from 159% of GDP in 2012 and 108.8% in 2008.
Consumer prices in Greece are still declining, with headline consumer price index falling by 1.3% in April 2016 from a year ago, according to the Hellenic Statistical Authority.
Greece - More data and information