Saint Kitts and Nevis: cheaper and quicker Citizenship-by-Investment boosts foreign demand
April 02, 2017

The federation is attracting an increasing number of wealthy foreign investors. St Kitts even opened a new private jet terminal at its international airport recently, to cater to this elite market. And with the increased profits from this boom, the government has also managed to substantially improve housing conditions for its own poor.

What has helped is an accelerated application process for St. Kitts & Nevis' Citizenship-by-Investment Program (CIP), introduced in October 2016. Foreignerscan now get citizenship applications processed in just 60 days, down from about 3 to 4 months. Then from January 1, 2017, the CIP became more affordable for families.

"After the closure of the sugar industry in 2006, we made a strategic decision to shift our visitor demographic towards the higher end of the market," says Minister of Tourism Richard Skerritt.

In St Kitts, the pace of real estate developments has increased rapidly, spurred by the arrival of the Marriott Hotel in Frigate Bay, and an increased number of air flights into the islands.  "Since the Marriott opened, property sales and prices have increased dramatically," says local real estate agent Brian Kassab.

The newest development in St. Kitts is the five-star Park Hyatt hotel, which is partly financed by the government's citizenship-by-investment programme.

Property investors need to pay XC$1.16 million (US$430,000) upfront and, in exchange, they acquire a limited partnership share. A foreign investor gets permanent St Kitts & Nevis citizenship for himself and his dependents. There is no residency requirement.

"Park Hyatt will raise our visibility as a tourist destination throughout the world," says Skerritt. "The Citizenship by Investment has been in place for years, and generally worked well, but this is taking the concept to a new level."

In Nevis the Four Seasons Resort is offering 73 villas set in 350 acres, with land for the most recent phases of development on sale from XC$1.89 million (US$700,000) to XC$6.75 million (US$2.5 million). Second-hand villas are among the most expensive on the island, at from XC$2.7 million (US$1 million) to XC$13.5 million (US$5 million) for two- to six-bedroom properties.

"The arrival of the Four Seasons Resort in 1991, and the creation of their first branded residences [in 1995], put Nevis on the map," says Suzanne Gordon, owner of Sugar Mill Real Estate. "That heralded the beginning of the boom in luxury developments."

Now the much-anticipated Aman Resort in Nevis, now under construction, offers 40 palatial villas, off-plan, from XC$6.75 million (US$2.5 million) to XC$32.4 million (US$12 million).

"Nevis has always been known as the more exclusive island," says Aman Resort developer Simon Lowe.

"Nevis is essentially a villa island," adds Gordon, "attracting artists, celebrities, and people in the know, since the 1970s."

With these new developments, the property market is expected to thrive in coming years, according to local real estate experts.

In 2016, tourist arrivals increased 3.7% to 1,072,877 people, according to the Eastern Caribbean Central Bank (ECCB). Visitor arrivals averaged 655,000 people per year from 2008 to 2014, up from an average of 318,000 from 2000 to 2007. Most stay-over visitors come from the US, the UK, Canada, and other Caribbean nations.

The Eastern Caribbean dollar, the official currency of St. Kitts and Nevis, is pegged to the US dollar, at XC$2.7 to US$1. This offers long-term financial security. There is no capital gains tax or tax on personal income.


Analysis of St. Kitts & Nevis Residential Property Market »
Investment Properties in St. Kitts and Nevis: rental yields range from 4.90% to 5.31%
Rental yields in St. Kitts have improved, based on the latest Global Property Guide survey . Investment properties located in Frigate Bay, Half Moon Bay and the South East Peninsula, the upscale neighborhoods of St. Kitts, cost less now than last year, but their rental income remains stable. Last year, condos and houses cost an average of US$690,000 and are rented at an average of US$2,180, earning a poor rental yield of 4.07%.

The investment climate now is better with the price of condos and houses dropping to an average of US$575,000, but the monthly rental income remains the same, and rental yields have risen to 5.11%.

In Nevis, house prices remain stable. Prices per square metre have fallen very slightly, from US$3,700 per sq. m last year to US$3,500 this year.
Minimal taxation of properties in both St. Kitts & Nevis
Rental Income: Rental income is not taxed.

Rental income remitted to individuals or companies outside of St. Kitts is subject to 10% withholding tax.

Capital Gains: No capital gains tax is levied, except on assets sold within one year, which are taxed at 20%.

Inheritance: There are no inheritance taxes.

Residents: The economic citizenship program of St. Kitts and Nevis was established in 1984 to attract foreign investors.
Buying costs are very high in St. Kitts & Nevis
Roundtrip transaction costs range between 22.5% and 37.5% of the property's value, the bulk of the cost being the stamp duty.

Sellers pay stamp duty, which is 18.5% for properties the South East Peninsula, 14% in Special Development Areas, 5% for condominiums, and 12% for other properties. The seller also pays the real estate agent's commission, at approximately 6%.

Buyers pay for an Alien Land-Holding License at 10% of the property's value, and legal fees (1% - 2.5%).
The law is pro-landlord in St. Kitts & Nevis
Rent: Rents are freely negotiable between landlord and tenant. Most rental agreements are short-term contracts. Long-term contracts are possible, but usually last only one year.

Tenant Eviction: Evicting tenants is not difficult. The legal system is based on English common law.
Modest economic growth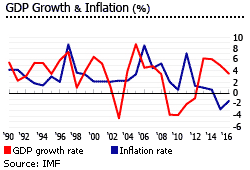 The Federation of St. Christopher (St. Kitts) and Nevis (pop 60,000, spread over 100 square miles) is an autonomous British colony.
An amicable relationship between the two islands has fostered political stability over the past decades.
St. Kitts and Nevis offers it all, beaches, tropical forests and fantastic scenery, in a way that no other Caribbean islands quite do. Economic progress led to significant improvements in living standards with a GDP per capita of US$14,618 in 2015.
In June 2011, IMF named St. Kitts and Nevis as the country with the second highest gross national debt in the world at XC$ 3 billion or at around 200% of its GDP, only below Japan. The IMF and the government agreed to a SDR 52.3 million (about US$84 million) Stand-By Arrangement (SBA) over 36 months in July 2011, conditional on a comprehensive debt restructuring.
An IMF delegation reported in October 2012 that St. Kitts and Nevis had met all the performance criteria set by the IMF, and would register a budget surplus of around 1.7% of GDP in 2013.
In 2016, the economy grew by a modest 3.5%, after GDP growth of 5% in 2015 and 6.1% in 2014, and 6.2% in 2013. This was a sharp turnaround from prolonged contractions of 0.9% in 2012, 1.9% in 2011, 3.8% in 2010 and 3.7% in 2009, thanks to foreign investments.
Before experiencing a recession in 2009, St. Kitts and Nevis' economic growth rate averaged 4.2% during the period 1993 to 2008.
Economic growth is expected at 3.5% this year and at 3.4% in 2018, according to the IMF.