Saint Kitts and Nevis: cheaper and quicker Citizenship-by-Investment boosts foreign demand
April 02, 2017
The federation is attracting an increasing number of wealthy foreign investors. St Kitts even opened a new private jet terminal at its international airport recently, to cater to this elite market. And with the increased profits from this boom, the government has also managed to substantially improve housing conditions for its own poor.
What has helped is an accelerated application process for St. Kitts & Nevis' Citizenship-by-Investment Program (CIP), introduced in October 2016. Foreignerscan now get citizenship applications processed in just 60 days, down from about 3 to 4 months. Then from January 1, 2017, the CIP became more affordable for families.
"After the closure of the sugar industry in 2006, we made a strategic decision to shift our visitor demographic towards the higher end of the market," says Minister of Tourism Richard Skerritt.
In St Kitts, the pace of real estate developments has increased rapidly, spurred by the arrival of the Marriott Hotel in Frigate Bay, and an increased number of air flights into the islands.  "Since the Marriott opened, property sales and prices have increased dramatically," says local real estate agent Brian Kassab.
The newest development in St. Kitts is the five-star Park Hyatt hotel, which is partly financed by the government's citizenship-by-investment programme.
Property investors need to pay XC$1.16 million (US$430,000) upfront and, in exchange, they acquire a limited partnership share. A foreign investor gets permanent St Kitts & Nevis citizenship for himself and his dependents. There is no residency requirement.
"Park Hyatt will raise our visibility as a tourist destination throughout the world," says Skerritt. "The Citizenship by Investment has been in place for years, and generally worked well, but this is taking the concept to a new level."
In Nevis the Four Seasons Resort is offering 73 villas set in 350 acres, with land for the most recent phases of development on sale from XC$1.89 million (US$700,000) to XC$6.75 million (US$2.5 million). Second-hand villas are among the most expensive on the island, at from XC$2.7 million (US$1 million) to XC$13.5 million (US$5 million) for two- to six-bedroom properties.
"The arrival of the Four Seasons Resort in 1991, and the creation of their first branded residences [in 1995], put Nevis on the map," says Suzanne Gordon, owner of Sugar Mill Real Estate. "That heralded the beginning of the boom in luxury developments."
Now the much-anticipated Aman Resort in Nevis, now under construction, offers 40 palatial villas, off-plan, from XC$6.75 million (US$2.5 million) to XC$32.4 million (US$12 million).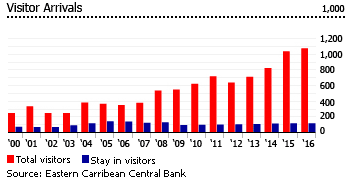 "Nevis has always been known as the more exclusive island," says Aman Resort developer Simon Lowe.
"Nevis is essentially a villa island," adds Gordon, "attracting artists, celebrities, and people in the know, since the 1970s."
With these new developments, the property market is expected to thrive in coming years, according to local real estate experts.
In 2016, tourist arrivals increased 3.7% to 1,072,877 people, according to the Eastern Caribbean Central Bank (ECCB). Visitor arrivals averaged 655,000 people per year from 2008 to 2014, up from an average of 318,000 from 2000 to 2007. Most stay-over visitors come from the US, the UK, Canada, and other Caribbean nations.
The Eastern Caribbean dollar, the official currency of St. Kitts and Nevis, is pegged to the US dollar, at XC$2.7 to US$1. This offers long-term financial security. There is no capital gains tax or tax on personal income.
Recent changes in the Citizenship-by-investment program
The Economic Citizenship Program has options: (a) investment in real estate; (b) or cash donation to the Sugar Industry Diversification Foundation (SIDF).  So it gives foreigners citizenship, the right to live and work in the Federation, visa-free access to Schengen countries, and a large range of other benefits, through house purchase. 
Starting January 2012, new regulations for the Economic Citizenship by Investment Programme came into effect:
Under the real estate option, the minimum investment requirement in an approved real estate development in St. Kitts and Nevis is now XC$1,078,744 (US$400,000).
The buyer can sell the property after five years.
Payment of a cash sum of XC$134,843 (US$50,000) for the head of the household, XC$67,421 (US$25,000) for the spouse as well as for each child below 18 years, and XC$134,843 (US$50,000) for every unmarried dependent child of the applicant between the ages of 18 to 25.
Neither Iranian nor Syrian nationals can apply.
In January 1, 2017:
The age of children who can be considered dependents of the applicant was raised from 25 years to 30 years
The age of a dependent parent who can be included in the application was lowered from 65 years to 55 years
The SIDF option has meanwhile been simplied:
Single applicants make a donation of US$250,000
Applicants with up to three dependents can donate US$300,000
The additional contribution for each additional dependent after the first three dependents, regardless of age, was reduced to US$25,000.
APPROVED DEVELOPMENTS FOR ECONOMIC CITIZENSHIP

SAINT KITTS
NEVIS
Calypso Bay Resort
Botanical Gardens
Christophe Harbour
Bush Hill
Golf View
Carino Hamilton Estate
Half Moon Bay Villas
Cliffdwellers
Heritage Plantation
Fern Hill Villa Development
Horizons Villas
Fort Ashby Beach Club
Kittitian Hill
Four Seasons Resort Estates
Leeward Cove
Jones Estates and Red Hawk Ridge
Marriot Vacation Club
Sunset Ridge (Live Nevis)
Ocean's Edge
Mount Nevis Hotel
Pirate's Nest
Nelson Springs Beach Villas and Spas
Royal St. Kitts Hotel and Casino
Oualie Beach Resort
Sea Lofts
Paradise Garden Estate
Silver Reef Resort
Rawlins Plantation
St. Christopher Club
Royal Getaway Estate
Sundance Ridge
The Hermitage Plantation Inn Villas and Estates
Sunrise Hill Resort
The Economic Citizenship Program provides the following benefits:
Full citizenship, for the applicant and all eligible family members
Dual citizenship is permitted, without the requirement to notify the applicant's home country, and without any need to reside in St. Kitts and Nevis
Passports will be issued, and may be easily renewed
Visa-free travel to more than 60 countries worldwide, including the Schengen Zone countries
Full residency status and the right to work in St. Kitts and Nevis
Tax free status on foreign income, capital gains, gift, wealth and inheritance tax
As a Commonwealth citizen, the applicant receives preferential treatment in the UK (e.g. applicant's children may enter the UK to study without the need to apply for student visas. After studying, they may work in the UK for 2 years without needing a work permit.)
Increasing citizenship approvals
The result?  While no official figures for 2016 yet exist, the number of passports issued under the programme is expected to have sharply risen.
In 2005, 6 primary passports were issued under the citizenship-by-investment programme;
In 2006, 19 primary passports were issued;
In 2007, 75 passports were issued;
In 2008, 202 passports were issued;
In 2009, 292 passports were issued;
In 2010, 664 passports were issued;
In 2011, 1,092 passports were issued;
In 2012, 1,758 passports were issued;
In 2013, there were 2,044 passports issued;
In 2014, there were 2,329 passports issued, and;
In 2015, there were 2,296 passports issued under the programme.
The programme has become more transparent under Prime Minister Harris, who took office in February 2015. The new administration has introduced several reforms:
Adding expert staff to the Citizenship-by-Investment-Unit;
Creation of a more client-focused team;
A new citizen case management system to speed processing of applications;
Commissioning a Technical Committee that institutes a more formal and documented process in case an application is denied.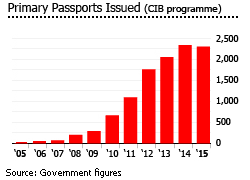 According to the Nomad Passport Index 2017, St Kitts and Nevis passport was ranked as the most powerful passport in the Organization of the Eastern Caribbean States (OECS), 2nd in CARICOM and 50th among 199 countries and territories included in the survey.
"The methodology used in this most recent passport ranking considered among other factors visa-free travel, which they accorded a high score of 50 percent, taxation policy, issues to do with freedom, and the facility with which persons can have more than one citizenship among others," said Prime Minister Timothy Harris.
"It is amazing that in two years international confidence in our passports is now at an all-time high."
A resilient housing market
The global real estate crisis did not hit St Kitts and Nevis until early 2010, when home prices declined by an average 20%, according to Nevis Style Realty's proprietor Wayne Tyson. The year before the crisis St. Kitts and Nevis had enjoyed an increase of 5% to 10% in home values. Yet due to the Citizenship-by-Investment Programme the market remained buoyant.
"I would estimate that at least 60 percent of real estate sales are linked to the Citizenship-by-Investment Program," says Tyson.
House price variations
Saint Kitts
Residential properties in the Marriot Residences St Kitts have been on sale from January 26, 2012 at XC$ 1.1 million (US$ 400,000) for studio apartments, to around XC$ 5.6 million (US$ 2.09 million) for four-bedroom penthouses.
In Ocean's Edge, an exclusive residential development located in Frigate Bay, St. Kitts, properties start at XC$ 1.1 million (US$ 405,500).
Poolside studio apartments sell for around XC$ 1.13 million (US$ 420,000).
Hillside apartments are priced from XC$ 1.3 million (US$ 480,000) to XC$ 2.4 million (US$ 875,000), depending on the number of bedrooms.
Luxury villas sell for about XC$ 5.1 million (US$ 1.9 million) to XC$ 7 million (US$ 2.6 million).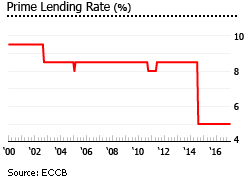 Silver Reef, a 'green' resort in St. Kitts, offers one and two bedroom apartments with freehold prices starting from XC$ 1.1 million (US$ 400,000). Prices of residential properties offered in Silver Reef ranged from XC$ 1.13 million (US$ 420,000) for a one bedroom apartment to XC$ 1.4 million (US$ 530,000) for a two-bedroom apartment.
An ambitious development that is fast becoming a destination for property investors, Christophe Harbour, is a 2,500-acre project located in the southeastern coast of St. Kitts. Residential property prices in the Christophe Harbour were almost unchanged for several years now. The starting price for villas was at XC$ 1.2 million (US$ 450,000) and can go up to XC$ 18.2 million (US$ 6.8 million). Christopher Harbour also includes a Tom Fazio golf course, a superyacht marina and a Mandarin Oriental hotel.
Nevis
In the Sunset Ridge, situated near Mount Nevis, the price of a Columbus model villa is XC$1.9 million (US$715,000), while a Nelson model is priced at XC$2.15 million (USD$795,000).
In Nelson Springs Beach Villas & Spas, located in Charlestown:
Prices for property units range from XC$ 1.1 million (US$ 400,000) to XC$ 4.6 million (US$ 1.7 million).
The beach resort's condominiums sell for about XC$ 1.4 million (US$ 530,000) to XC$ 1.8 million (US$ 650,000).
Prices of luxury villas and estate homes in Fern Hill Estates range from around XC$ 1.7 million (US$ 615,000) to XC$ 3.1 million (US$ 1.2 million).
In fractional ownership developments in Nevis, such as Seaside at Cliffdwellers,  a one-eighth ownership of a four-bedroom home by the sea costs around US$1.08 million (US$400,000). It also comes with a shared 85ft pool.
Solving housing problems
Till recently, many of the local population weren't very well-housed. Former Prime Minister Denzil Douglas began to address the housing problems in St. Kitts and Nevis as soon as he took office in 1995.
About 2,500 affordable and middle-income homes have been built during the past 13 years via National Housing Corporation (NHC) programmes. In Nevis, the Nevis Housing and Land Development Corporation (NHLDC) has embarked on a comprehensive home construction program to make affordable housing available. Over the years, the NHLDC has funded housing developments at Hardtimes, Prospect #1, Cherry Gardens, Butlers, New River, Nisbett Settlement, Eden Brown, Colquhoun, Cotton Ground, Stoney Grove, New River, Craddock Road, and the most recent at Maddens.
In 2014, the NHC launched yet another two programmes, the NHC House Refinancing and Incentive Programme  and the NHC Land Refinancing and Incentive Programme, which lower interest rates for housing loans, provide waiver of interest arrears, and make land and house much more affordable to first time homebuyers.
Aside from affordable housing, the government is committed to raise housing standards.
"85% of the housing stock was damaged by Hurricane George in 1998," says Housing Minister Cedric Liburd. "In response, the government joined with USAID and the OAS…to create a plan of action for repair and upgrading of existing housing, so that these structures might be better suited to withstand future storms. The Parliament also upgraded the building codes in 2000."
A recent study by the Caribbean Development Bank showed that poor quality housing in St. Kitts has been cut by 23% over the past 8 years. The percentage of population living in poor quality housing fell to 7.5% in 2008, as compared to 30.5% in 2000.
In an attempt to further promote homeownership among its citizens, as well as to stimulate the economy, the government implemented the Building Materials Investment Programme (BMIP) in 2012, a tax incentive programme encouraging private home construction. Under the BMIP, all duties and customs service charges will be removed for the first XC$ 400,000 (US$ 150,000) of building materials throughout 2012.
In 2016, the government allocated about XC$30 million (US$11.11 million) for the construction of houses in St. Kitts and Nevis as part of its housing initiative. In addition, for the next two to three years starting in the first half of 2017, the NHC will invest more than XC$50 million (US$18.5 million) to build about 300 homes in St. Kitts under its new program - Fresh Start Home Development Programme Developing Affordable Homes for All. A similar housing programme is expected to be initiated in Nevis this year. 
Shrinking mortgage market
The prime lending rate stood at 5% in December 2016, down from 8.5% in the past three years, according to the according to the ECCB.Yet despite these declines, since the crisis the mortgage market has shrunk from 24.95% of GDP in 2012, to 18.39% of GDP in 2016, according to the ECCB.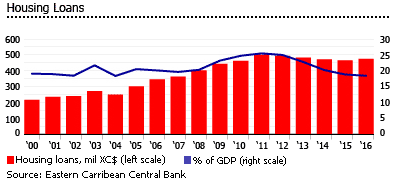 Foreign buyers still mostly pay cash, though local banks do offer home financing to non-residents. The maximum loan-to-value ratio is usually 60%, with loan terms of 15 years. Mortgage interest rates are typically tied to the US prime rate or LIBOR.
Moderate yields, strong rental demand
Gross rental yields in St. Kitts and Nevis range from 4.9% for two-bedroom condos and houses to 5.31% for three-bedroom units, based on the latest research conducted by the Global Property Guide.
Despite the decline in the cost of investment properties located in Frigate Bay, Half Moon Bay and the South East Peninsula, the upscale neighborhoods of St. Kitts, their rental income remains stable.
The (small) long-term rental market in St. Kitts and Nevis remains stable due to strong demand from non-resident workers and foreign students. St Kitts is home to two American universities.
Occupancy rates are difficult to determine and vary enormously, due to the influx of short-term vacationers during "season" from December to mid-April. During the high seasons, short-term rent for a three-bedroom house ranges from US$ 2,500 to US$ 3,000 per week, while low season rentals range from US$ 1,200 to US$ 1,500 per week. Long-term rentals, which usually last for three months onwards, have rents starting from US$ 1,000.
Modest economic growth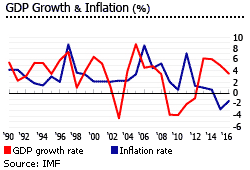 In June 2011, IMF named St. Kitts and Nevis as the country with the second highest gross national debt in the world at XC$ 3 billion or at around 200% of its GDP, only below Japan. The IMF and the government agreed to a SDR 52.3 million (about US$84 million) Stand-By Arrangement (SBA) over 36 months in July 2011, conditional on a comprehensive debt restructuring.
An IMF delegation reported in October 2012 that St. Kitts and Nevis had met all the performance criteria set by the IMF, and would register a budget surplus of around 1.7% of GDP in 2013.
In 2016, the economy grew by a modest 3.5%, after GDP growth of 5% in 2015 and 6.1% in 2014, and6.2% in 2013.  This was a sharp turnaround from prolonged contractions of 0.9% in 2012, 1.9% in 2011, 3.8% in 2010 and 3.7% in 2009, thanks to foreign investments.
Before experiencing a recession in 2009, St. Kitts and Nevis' economic growth rate averaged 4.2% during the period 1993 to 2008.
Economic growth is expected at 3.5% this year and at 3.4% in 2018, according to the IMF.
St. Kitts & Nevis - More data and information