---
Saint Kitts and Nevis: ever better Citizenship-by-Investment scheme boosts foreign demand
Lalaine C. Delmendo | November 03, 2019
Here's a place that successfully attracts the wealthy: St Kitts and Nevis. It even opened a new private jet terminal to cater to this elite, and with the profits from what´s turned out to be a mini-boom, the government has also managed to improve conditions for its own poor.
In October 2016, St. Kitts & Nevis introduced an accelerated application process for its Citizenship-by-Investment (CBI) Program. Foreigners can get citizenship applications processed in just 60 days, down from about 3 to 4 months. Then from September 2017, the CIP became more affordable for families through the introduction of the Hurricane Relief Fund (HRF), recently replaced by the Sustainable Growth Fund (SGF), both of which allow single applicants to contribute only US$150,000 to gain citizenship – sharply down from the previous US$250,000.
From April 1, 2018, applicants are offered two options:
Single applicants invest at least US$400,000 in any approved real estate development in St. Kitts and Nevis. The buyer can sell the property after five years.
Two applicants can now invest US$200,000 each in any government-approved luxury resort development. But the property can only be sold after seven years.
"After the closure of the sugar industry in 2006, we made a strategic decision to shift our visitor demographic towards the higher end of the market," says Minister of Tourism Richard Skerritt.
As a result of these positive changes, the twin-island nation's CBI Program has improved significantly, particularly in terms of high security standards, residence requirements, convenient travel, and a more efficient citizenship timeline, according to the Financial Times Professional Wealth Management's 2019 CBI Index.
In St Kitts, the pace of development has increased rapidly, spurred by the arrival of the Marriott Hotel in Frigate Bay, and by an increased number of air flights into the islands. "Since the Marriott opened, property sales and prices have increased dramatically," says local real estate agent Brian Kassab.
One of the newest developments in St. Kitts is the five-star Park Hyatt Hotel, which is partly financed by the government's citizenship-by-investment programme. Property investors who pay XC$1.16 million (US$430,000) upfront acquire a limited partnership share in Park Hyatt hotel and get permanent St Kitts & Nevis citizenship for himself and his dependents. There is no residency requirement.
"Park Hyatt raises our visibility as a tourist destination throughout the world," says Skerritt. "The Citizenship by Investment has been in place for years, and generally worked well, but this is taking the concept to a new level."
In Nevis, construction activity is also increasing. Notable developments either under construction or in planning stage include Wyndham Grand Hotels and Resorts, Aman Resort, Oasis Hotel, and Spring Air Resort.
"The arrival of the Four Seasons Resort in 1991, and the creation of their first branded residences [in 1995], put Nevis on the map," says Suzanne Gordon, owner of Sugar Mill Real Estate. "That heralded the beginning of the boom in luxury developments."
"Nevis has always been known as the more exclusive island," says Aman Resort developer Simon Lowe.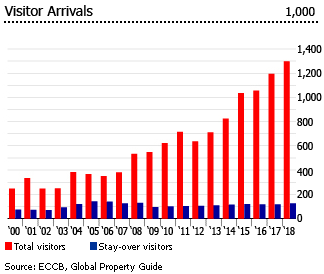 "Nevis is essentially a villa island," adds Gordon, "attracting artists, celebrities, and people in the know, since the 1970s."
These developments, coupled with the second cruise pier at Port Zante, now 90% complete, will make the property market boom in coming years, local real estate experts believe.
In 2018, tourist arrivals increased 8.8% to 1,297,385 people, according to the Eastern Caribbean Central Bank (ECCB).
Visitor arrivals in St Kitts and Nevis:
2015-1018: 1.14 million people per year
2008-14:      655,000 people per year
2000-07:     318,000 people per year.
Most stay-over visitors come from the US, the UK, Canada, and other Caribbean nations.
The Eastern Caribbean dollar, the official currency of St. Kitts and Nevis, is pegged to the US dollar, at XC$2.7 to US$1. This offers long-term financial security. There is no capital gains tax or tax on personal income.
Recent changes in the Citizenship-by-investment program
The Economic Citizenship Program has options: (a) investment in real estate; (b) or contribution to the Sustainable Growth Fund (SGF). So it gives foreigners citizenship, the right to live and work in the Federation, visa-free access to Schengen countries, and a large range of other benefits, through house purchase.
Real estate investments
The minimum investment requirement in an approved real estate development in St. Kitts and Nevis is US$400,000.
The buyer can sell the property after five years.
Payment of government fees amounting to US$35,050 for the head of the household, US$20,050 for the spouse and US$10,050 for any other dependent regardless of age.
Payment of due diligence and processing fees amounting to US$7,500 for the main applicant, and US$4,000 for each dependent who is over 16 years old.
Effective April 1, 2018, two applicants can now invest US$200,000 each in any government-approved luxury resort development. Though, the holding period is seven years. Additional fees are also applied for accompanying family members.
SGF donation
Saint Kitts and Nevis recently launched the new SGF to replace the temporary HRF. It became effective in April 1, 2018.
A single applicant is required to donate US$150,000.
A family of four (main applicant, spouse, and two children) should make a contribution of US$195,000.
Additional dependents, regardless of age: US$10,000
Neither Iranian nor Syrian nationals can apply.
In January 1, 2017:
The age of children who can be considered dependents of the applicant was raised from 25 years to 30 years
The age of a dependent parent who can be included in the application was lowered from 65 years to 55 years
The Economic Citizenship Program provides:
Full citizenship, for the applicant and all eligible family members
Dual citizenship is permitted, without the requirement to notify the applicant´s home country, and without any need to reside in St. Kitts and Nevis
Passports will be issued, and may be easily renewed
Visa-free travel to more than 60 countries worldwide, including the Schengen Zone countries
Full residency status and the right to work in St. Kitts and Nevis
Tax free status on foreign income, capital gains, gift, wealth and inheritance tax
As a Commonwealth citizen, the applicant receives preferential treatment in the UK (e.g. applicant´s children may enter the UK to study without the need to apply for student visas. After studying, they may work in the UK for 2 years without needing a work permit.)
The programme has become more transparent under Prime Minister Timothy Sylvester Harris, who took office in February 2015. The new administration has introduced several reforms:
Adding expert staff to the Citizenship-by-Investment-Unit;
Creation of a more client-focused team;
A new citizen case management system to speed processing of applications;
Commissioning a Technical Committee that institutes a more formal and documented process in case an application is denied.
As a result of these changes over the past three years, the number of government-approved real estate developments has almost tripled.
APPROVED DEVELOPMENTS FOR ECONOMIC CITIZENSHIP

Saint Kitts
Beach & Golf Residence Ltd Beacon Heights Beaumont Park Brimstone Village Calypso Bay Caribbean Galaxy Real Estate Corporation Caribbean Scenic Resort Central Park Estates Christophe Harbour Christophe Harbour - Range Development (Park Hyatt) Christophe Harbour - Windswept Residence Club Clay Villa Condominium Development Coast to Coast Development Dove Properties Ltd ERA Development Golden Rock Commercial Park Golf View Half Moon Bay Villas Heritage Plantation Hotel (DBA Scotch Bonnet Condominiums) Hillsboro Sunset Suites Horizon Villa King´s Pavilion Hotels Kittitian Hill Kittovation Ltd Koi Resort and Residences Leeward Cove Majestic Gardens Condominium Developments Manor By The Sea Marriott Hotel Marriott Residences Montebello Residences
Ocean Grove Ocean Terrace Inn Condominiums Ocean´s Edge Oray´s Development Ottleys Plantation Inn Pelican Bay (Embassy Suites by Hilton St. Kitts) Pirate´s Nest (T-Loft) Port Zante Prime Developments Ltd Ramada Hotels Range Developments (La Valle) - Six Senses St. Kitts Rendezvous Hills Limited Royal Golf Estates Royal St.Kitts Beach Resort Limited Royal St. Kitts Hotel´s Vacation for Life Condominium Sea Lofts Seaview Gardens Seaview Heights Resort and Residences Seavista Development Selsoleil Silver Reef St Christopher Club St. Kitts Castle Starboard House Sundance Ridge (Peninsular Associates) Sunrise Hill Villas SV Condos Ltd 2014 The Avenue By Caribbean Dreams Investments Ltd The North Wing (St. Kitts Marriott Resort Beach Casino) University Gardens Condominiums Vista Villas Inc
Nevis
Belmont Gardens Botanical Gardens Busch Hill Gardens Butlers Estate Resort Residences Carino Hamilton Estate Castle Bay Villas Cliff Dwellers Clifton Gardens Fern Hill Villa Development Fisherman's Cabanas Ltd Fort Ashby Beach Club Four Seasons Resort Estates Golden Rise Villas and Spa Hamilton Villas and Spa Hermitage Hotel HTRIP Candy Resort Jones Estate Villas Kingfisher Club
Live Nevis Live Nevis Life Ltd Montpelier Plantation Inn Mount Nevis Hotel Nelsons Spring Beach Villa and Spa Nevisian Sunset Condominiums Oasis Resorts & Spa Paradise Palms Ltd Pinney´s Hotel Development Ltd Rivere House Cottages Development Royal Gateway Estate Serenity Palms Condominium Development Spring Aire Resort Sunset Heights Condominiums Tamarind Cove Marina Development Ltd Turquoise Waterfront Condominiums Development Victoria Gardens Resort Zenith Nevis Alpha Condominium
Source: Government of St. Kitts & Nevis
Increasing citizenship approvals
The result? The number of passports issued under the programme has reached record high, mainly due to the introduction of the SGF which allows foreign investors to gain citizenship at a sharply reduced investment amount, according to Les Khan, the CEO of the Citizenship by Investment Unit.
"A record number of applicants applied for St. Kitts & Nevis Citizenship in 2018 and it is anticipated that the St. Kitts and Nevis Citizenship by Investment Program will be the most sought after Caribbean Citizenship by Investment program in 2019," said JH Marlin Attorneys at Law. "St. Kitts & Nevis Citizenship offers the most visa free countries with citizens having access to visa free travel to over 150 countries."
Over 16,000 passports were already issued under the Saint Kitts and Nevis Citizenship-by-Investment program, according to PM Harris.
St Kitts and Nevis passport was ranked as the most powerful passport in the Organization of the Eastern Caribbean States (OECS), and the 26th worldwide in terms of its passport strength, according to the Henley Passport Index 2019.
"The St. Kitts and Nevis program is the oldest in existence, so it is considered to be the platinum standard," said Nuri Katz of Apex Capital Partners.
A resilient housing market
Due to the Citizenship-by-Investment Programme the property market remains buoyant.  "I would estimate that at least 60% of real estate sales are linked to the Citizenship-by-Investment Program," says Nevis Style Realty´s proprietor Wayne Tyson.
House price variations
Saint Kitts
Residential properties in the Marriot Residences St Kitts have been on sale from XC$ 1.1 million (US$ 400,000) for studio apartments, to around XC$ 5.6 million (US$ 2.09 million) for four-bedroom penthouses.
In Ocean's Edge, an exclusive residential development located in Frigate Bay, St. Kitts, properties start at XC$ 1.1 million (US$ 405,500).
Poolside studio apartments sell for around XC$ 1.13 million (US$ 420,000).
Hillside apartments are priced from XC$ 1.3 million (US$ 480,000) to XC$ 2.4 million (US$ 875,000), depending on the number of bedrooms.
Luxury villas sell for about XC$ 5.1 million (US$ 1.9 million) to XC$ 7 million (US$ 2.6 million).
Silver Reef, a 'green' resort in St. Kitts, offers one and two bedroom apartments with freehold prices starting from XC$ 1.1 million (US$ 400,000). Prices of residential properties offered in Silver Reef ranged from XC$ 1.13 million (US$ 420,000) for a one bedroom apartment to XC$ 1.4 million (US$ 530,000) for a two-bedroom apartment.
An ambitious development that is fast becoming a destination for property investors, Christophe Harbour, is a 2,500-acre project located in the southeastern coast of St. Kitts. Residential property prices in the Christophe Harbour were almost unchanged for several years now. The starting price for villas was at XC$ 1.2 million (US$ 450,000) and can go up to XC$ 18.2 million (US$ 6.8 million). Christopher Harbour also includes a Tom Fazio golf course, a superyacht marina and a Mandarin Oriental hotel.
Nevis
In the Four Seasons Resort, located in Pinney´s Beach, Charlestown, 73 villas are being offered for XC$1.89 million (US$700,000) to XC$6.75 million (US$2.5 million). Second-hand villas are among the most expensive on the island, at from XC$2.7 million (US$1 million) to XC$13.5 million (US$5 million) for two- to six-bedroom properties.
In the Sunset Ridge, situated near Mount Nevis, the price of a Columbus model villa is XC$1.9 million (US$715,000), while a Nelson model is priced at XC$2.15 million (USD$795,000).
In Nelson Springs Beach Villas & Spas, located in Charlestown, prices for property units range from XC$ 1.1 million (US$ 400,000) to XC$ 4.6 million (US$ 1.7 million). The beach resort's condominiums sell for about XC$ 1.4 million (US$ 530,000) to XC$ 1.8 million (US$ 650,000).
Prices of luxury villas and estate homes in Fern Hill Estates range from around XC$ 1.7 million (US$ 615,000) to XC$ 3.1 million (US$ 1.2 million).
In fractional ownership developments in Nevis, such as Seaside at Cliffdwellers, a one-eighth ownership of a four-bedroom home by the sea costs around US$1.08 million (US$400,000). It also comes with a shared 85ft pool.
Economic growth up
St. Kitts and Nevis wasn´t always so fortunate. In June 2011 St. Kitts and Nevis had the second highest gross national debt in the world at around 200% of its GDP, only below Japan. It suffered a prolonged economic recession after the global crisis. The economy contracted by 1% in 2009, 2.9% in 2010, 0.9% in 2011 and 0.8% in 2012. In July 2011 its government was forced to agree to a SDR 52.3 million (about US$84 million) Stand-By Arrangement (SBA) with the International Monetary Fund (IMF), with a comprehensive debt restructuring.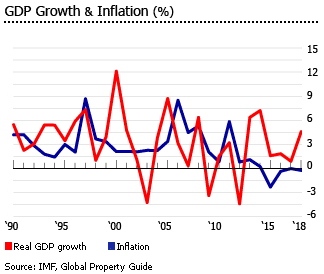 The economy has continuously grown since, with GDP growth rates of 6.4% in 2013, 7.2% in 2014, 1.6% in 2015, and 1.8% in 2016. In 2017, the economy continued to expand, albeit at a much slower rate of 0.9%, mainly due to the disruptions caused by two category 5 hurricanes – Hurricane Irma and Hurricane Maria. In 2018, the economy bounced back strongly, with GDP growth of 4.6%.
Economic growth is expected to be 3.5% this year and at 3.2% in 2020, according to the IMF.
Mortgage market expanding
Foreign buyers mostly pay cash. The maximum loan-to-value ratio is usually 60%, with loan terms of 15 years. Mortgage interest rates are typically tied to the US prime rate or LIBOR, and ranged from 5.5% to 11% in Q2 2019.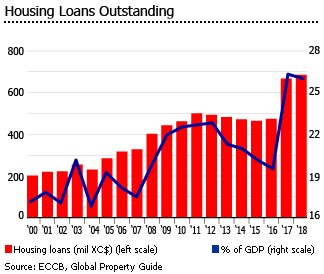 The mortgage market has expanded to about 26% of GDP in the past two years, from around 20% of GDP in 2014-16.
Moderate yields, strong rental demand
Gross rental yields in St. Kitts and Nevis range from 4.9% for two-bedroom condos and houses to 5.31% for three-bedroom units, based on the latest research conducted by the Global Property Guide.
Despite the decline in the cost of investment properties located in Frigate Bay, Half Moon Bay and the South East Peninsula, the upscale neighborhoods of St. Kitts, their rental income remains stable.
The (small) long-term rental market in St. Kitts and Nevis remains stable due to strong demand from non-resident workers and foreign students. St Kitts is home to two American universities.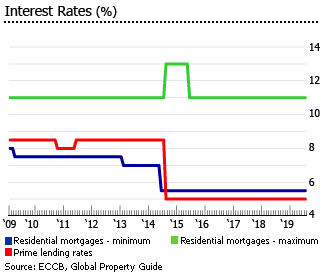 Occupancy rates are difficult to determine and vary enormously, due to the influx of short-term vacationers during "season" from December to mid-April. During the high seasons, short-term rent for a three-bedroom house ranges from US$ 2,500 to US$ 3,000 per week, while low season rentals range from US$ 1,200 to US$ 1,500 per week. Long-term rentals, which usually last for three months onwards, have rents starting from US$ 1,000.
Solving housing problems
Till recently, many of the local population weren't very well-housed. However the government hasn´t been asleep.  About 2,500 to 3,000 affordable and middle-income homes have been built during the past 13 years via National Housing Corporation (NHC) programmes. In Nevis, the Nevis Housing and Land Development Corporation (NHLDC) has embarked on a comprehensive home construction program to make affordable housing available. Over the years, the NHLDC has funded housing developments at Hardtimes, Prospect #1, Cherry Gardens, Butlers, New River, Nisbett Settlement, Eden Brown, Colquhoun, Cotton Ground, Stoney Grove, New River, Craddock Road, and the most recent at Maddens.
During the past 7 years government intervention has picked up pace. In 2012 the government introduced tax incentives to encourage private home construction, the Building Materials Investment Programme (BMIP), which removed all duties and customs service charges for the first XC$ 400,000 (US$ 150,000) of building materials during that year.
In 2014, the NHC launched the NHC House Refinancing and Incentive Programme, and the NHC Land Refinancing and Incentive Programme, lowering interest rates for housing loans, waiving interest arrears, and making land and houses much more affordable to first time homebuyers.
Since 2015, more than 300 families have received homes under another programme, the First Time Home Owners Programme.
"Since 2015, 525 applications have been approved and building materials totaling $147 million dollars," said Prime Minister Timothy Sylvester Harris.
"We are encouraging home ownership. In addition in response to Hurricanes Irma and Maria we have supported well over 2000 families with renovation and repair work and in exceptional cases some new homes were built."
Moreover, the government has restructured its three-tiered income-based repayment plan on NHC homes. Individuals who have a monthly income below $3,500 will pay 2% interest rate on a 30-year mortgage; 3% for those who have a monthly income of $3,500 to $5,000; and 5% for those who have a monthly income of more than $5,000.
With the help of these various government programs, homeownership in St. Kitts and Nevis have significantly increased in the past four years, according to PM Harris.
Sources:
St. Kitts & Nevis - More data and information