---
Indonesia's property market pauses
August 03, 2015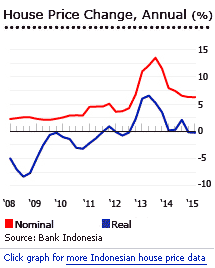 Prices of Indonesian properties continue to rise, or at least so it seems, judging by asking prices.  But in inflation-adjusted terms, prices have stopped rising.  The Indonesian residential property price index (14 major cities) rose by 6.27% during the year to Q1 2015, according to Bank Indonesia - less than the 7.92% growth y-o-y to Q1 2014, and a significant decline from the 13.51% growth recorded y-o-y to Q3 2013.
And when adjusted for inflation, property prices in the country actually fell by 0.26% during this past year.
Nominal property price figures can be particularly misleading in Indonesia, because inflation has been high, and remains high. Residential property has been attractive to rich Indonesians and others partly as a protection against inflation.
All Indonesia's major cities saw nominal property price rises. Manado led the price hikes with house prices rising by 21.90% (14.42% inflation-adjusted) during the year to Q1 2015. It was followed by Makassar (17.21%), Balikpapan (12.58%), Bandung (10.61%), Surabaya (8.80%), Batam (8.37%), Banjarmasin (8.35%), Semarang (8.30%), and Palembang (6.99%).
RESIDENTIAL PROPERTY PRICES IN INDONESIA'S MAJOR CITIES, Q1 2015

Major cities
Y-O-Y (%)
Q-O-Q (%)
Nominal
Real
Nominal
Real
Bandung
10.61
3.81
0.90
-0.78
Bandar Lampung
0.67
-5.51
0.26
-1.41
Banjarmasin
8.35
1.70
4.59
2.85
Denpasar
3.13
-3.20
0.27
-1.40
Palembang
6.99
0.42
3.38
1.66
Semarang
8.30
1.65
4.40
2.67
Yogyakarta
2.06
-4.21
0.64
-1.03
Padang
2.52
-3.77
0.95
-0.73
Medan
3.86
-2.52
0.80
-0.88
Makassar
17.21
10.01
5.05
3.30
Manado
21.90
14.42
1.75
0.06
Surabaya
8.80
2.12
1.11
-0.57
Pontianak
2.65
-3.66
1.63
-0.06
Batam
8.37
1.72
4.39
2.65
Balikpapan
12.58
5.67
2.17
0.47
Jabodebek-Banten
4.65
-1.78
0.83
-0.85
Composite 16 Cities
6.27
-0.26
1.44
-0.25
Some cities registered nominal price rises so small that in fact they were actually declines in value, in real terms.
Jakarta had an after-inflation price drop of around 1.78% y-o-y. Jakarta is classified by Bank Indonesia under Jabodebek-Banten, which includes Jakarta´s component cities (acronym: Jakarta, Bogor, Depok and Bekasi).
Other cities with real price declines included Medan (3.86%), Denpasar (3.13%), Pontianak (2.65%), Padang (2.52%), Yogyakarta (2.06%), and Bandar Lampung (0.67%).
Bank Indonesia's survey also revealed that the recent surge in residential property sales somewhat decelerated in Q1 2015. After robust growth of 40.07% q-o-q in Q4 2014, property sales growth slowed to 26.62% q-o-q for all property types, with medium-sized houses being the most affected.
This is mostly due to stricter Loan-to-Value regulations, imposed to curb the rise of property prices.  This has been effective - apartment price rises slowed in 2014, compared to the strong surge from 2012 to 2013.
Demand is likely to continue slowing in coming quarters, predicts Colliers International.
What motivates people in Indonesia to buy property? "Rich [local] investors care mostly for capital appreciation although they also buy apartments to get rental income," says Hasan Pamudji, head of research at Knight Frank, Indonesia. "Yield for high-end apartments can command between 8% and 11%."
But there are more mundane motives, adds Pamudji. "Typical investors in high-end residential in Jakarta comprise of rich Indonesians with some foreigners married to Indonesians. Because of traffic jams, those rich Indonesians have second homes or apartments near their workplaces and they go back to primary houses or apartments in the suburbs.
"There are a growing number of rich Indonesians who are young couples with overseas education who live in high-end apartments, as they are accustomed to living in vertical housing.
"Expatriates tend to rent houses in Kemang, Pondok Indah, Menteng, Kuningan etc where the area has more greenery, international schools, hospitals and entertainment. They also like to rent in high-end apartments or serviced apartments in the CBD and in the south such as Kemang, Pondok Indah, Pejaten."
Prices of strata title apartments in Jakarta range from US$ 3,283 per square metre (sq. m.) in Jakarta CBD, US$ 2,433 in South Jakarta, and US$ 1,583 in the capital's non-prime areas, according to Colliers International.
About 3,255 units were completed in Jakarta in Q1 2014, including Belmont Residence (350 units), The Royal Springhill (192 units), Titanium Square (725 units), Northern Ancol Residence (800 units), La Venue - South Tower (341 units), Botanica Apartment (626 units), and Woodland Park (221 units).
Around 29,451 units are expected in total this year.
Poor recent housing market performance.
From 2008 to 2011, the Indonesian property market saw very weak real growth (if any) relative to its neighbouring Asian countries.
Property prices rose by 2.56% (-7.68% inflation-adjusted) in 2008
Property prices increased by 2.3% (-0.28% inflation-adjusted) in 2009
Property prices rose 2.91% (-3.21% inflation-adjusted) in 2010
Property prices rose by 5.05% (0.89% inflation-adjusted) in 2011
There is tremendous pent-up housing demand in Indonesia, which has the world's fourth-largest population - 252.8 million people (2014). Factors hampering the development of Indonesia's housing market are:
High mortgage interest rates
Foreign ownership restrictions
High costs of building materials
High tax rates
Government red tape
New President, new hope
Joko Widodo ("Jokowi"), the Democratic Party nominee, became president of Indonesia on 20 October 2014. A man of the people, a campaigner for clean government, and a highly successful and popular former mayor of Jakarta, Jokowi is a symbol of the demand for reform which is increasingly sweeping Indonesia.
Quite aside from his popular appeal, and his "blusukan" - regular visits to poor areas across Jakarta wearing simple informal clothes and chatting to people about problems like the price of food, housing, local and flooding and transport problems - Jokowi was an effective reformer during his time as mayor, creating a bureaucratic recruitment system called "lelang jabatan", giving every civil servant the same opportunities by fulfilling the required qualifications and passing the test, whose results were announced transparently.
In addition Jokowi introduced a "Healthy Jakarta card" for health insurance, inaugurated the construction of the Jakarta MRT, and re-started the construction of the green line of the Jakarta Monorail. He also initiated programs aimed towards transparency, such as online taxes, e-budgeting, e-purchasing, and a cash management system.
Jokowi was supported by former president Megawati Sukarnoputri, and almost half his cabinet appointees were her people, which has disappointed many observers. But he has been keeping his reform promises. In mid-November he raised the government-subsidized petrol price by more than 30%. Previously fuel subsidies had consumed $21 billion, or 13% of Indonesia´s national budget. Wealthy car drivers, who make up a tiny fraction of Indonesia's 250m population, benefited the most from cheap petrol, as well as smugglers. Jokowi promised to cushion the effect of the price rise for poorer Indonesians by distributing benefits through its new education, health and welfare cards.
In November 2014, Fitch re-affirmed Indonesia´s sovereign credit rating at BBB- with a stable outlook citing "strong commitment of the new Government in continuing structural reforms and improving the investment climate´ as one of the key factor." But given a largely hostile legislature stuffed with vested interests, Jokowi faces tough challenges in moving ahead with his reform agenda.
In early 2015, the Indonesian government risked souring relations with other countries as Jokowi refused to grant any clemency for drug offenders facing death penalty. The first batch of executions happened in January, involving one Indonesian and foreigners from Netherlands, Malawi, Nigeria, Vietnam, and Brazil. The second round was in April, which includes one Indonesian and seven foreigners from Australia, Brazil and Nigeria. In this round, two foreign nationals (from the Philippines and France) were temporarily reprieved.
In an interview last May, Jokowi defended that "the death penalty is our positive law". He argued that Indonesia is facing a drug crisis. "Eighteen thousand young people die in Indonesia every year because of drugs overdoses," according to Jokowi. "We are serious about our war on drugs." 
Benchmark interest rate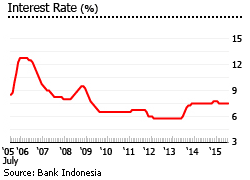 In February, Bank Indonesia made its first rate cut since February 2012, cutting the rate by 25 basis points to 7.50%, expecting a decline in inflation. It´s a big change from December 2005, when Bank Indonesia's policy interest rate stood at 12.75%.  Rates were down to 5.75% by February 2012, then moved up in six small steps to 7.75% in November 2014, then down again. 
The Rupiah is still vulnerable to weakness in moments of global crisis, but it is noticeable that the 2011 'crisis of the West' hardly affected Indonesia's exchange rate. In fact slow growth and low interest rates in developed countries since 2008 have pushed funds to emerging markets, including Indonesia.
Jakarta's apartment supply
Over the last three years, demand for apartments in Jakarta has been really strong, with almost completed apartment projects having a 90% sales rate, prompting developers to further increase their development projects.  In Q1 2015, 3,255 apartment units were completed in Jakarta, up by 2.3% from the previous quarter, adding to Jakarta's existing stock of  around 146,300 units, according to Colliers International.
Developers´ optimism shone through in the first quarter, with 7,276 new apartments launched, up 115% compared to the same period last year, according to Colliers International.
Before the Asian Crisis, according to Bank Indonesia, the supply of apartments in Jakarta rose from around 6,000 units in 1996 to around 18,000 in 1997, with an additional 2,000 units completed in 1998 and 1999. Scant new supply came onto the market from 2000 to 2003, mostly projects started pre-crisis.
Real estate sales picked up in Q4 2001, encouraging developers to launch new projects, albeit slowly. With strong take-up and increasing occupancy rates, construction picked up pace in Jakarta.
Research carried out by Colliers International reveals that:
In 2004 around 9,500 new units were completed, bringing total supply of new apartments to around 31,500 units.
In 2005 and 2006, more than 5,000 units were completed annually.
In 2007 construction exploded, and more than 15,500 units were completed, pushing total supply to 57,353 units.
As of Q3 2009, total apartment stock in Jakarta reached 74,920.
In 2012, the total annual supply of apartments was 19,706 units, leading to a cumulative supply of 117,276 units by end of 2012. Apartment supply in Jakarta rose by 20.2% y-o-y from 2011 to 2012.
In 2013, the total annual supply was at around 15,068 units, with the cumulative supply of apartments reaching 132,344 units at the end of 2013.
In 2014, 10,701 units were added to the apartment supply. By end of 2014 the total stock of strata-title apartments in Jakarta were around 143,045 units.
South Jakarta has the highest share of these apartments at around 38%, North Jakarta 25%, followed by East Jakarta (22%), West Jakarta (11%) and Central Jakarta (6%).
Bali's stunning growth
Bali is one of Indonesia's wealthiest regions. Both Indonesians and foreigners are keen to invest here.  About 80% of Bali´s economy depends on tourism, and booming real estate is a result. Global media attention hasn´t harmed it, including the 2010 movie "Eat, Pray, Love".  It was named the world´s third-fastest growing upscale second-home market by Knight Frank in 2014, with prices up 15%. An estimated 30,000 expatriates live in Bali.
Current developments in Bali include Paradise Property Group's Double Six resort residential project, a beachfront property in Seminyak.  This is in its first phase, and its luxury apartments are priced in a range from US$ 350,000 to US$ 888,000.
Indonesia´s strong economy will likely trigger rising demand in Bali, causing prices to continue climbing. It is difficult to see what could stop the rise.
Mortgage market is small
All this building has taken place despite a relatively underdeveloped mortgage market. Outstanding credits for house and apartment purchases have risen from IDR 11,517 billion (US$ 0.86 billion) in 2002, to IDR 317,431 billion (US$ 23.60 billion) in 2014, yet the share of mortgage credits to GDP remains small, at around 3% of GDP in 2014, according to Bank Indonesia´s Q1 2015 Residential Property Survey.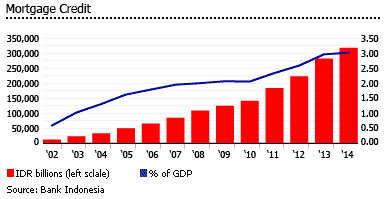 Around 75.45% of respondents used mortgage loans when buying small and medium houses, according to the same survey. 14.79% of buyers used progressive cash payments, while 9.75% bought using hard cash.
High interest rates impose a heavy burden.  For home buyers, prime lending rates for for Kredit pemilikan rumah (KPR) or home ownership credit range from 7.55% to 17.04% (as of May 2015), according to Bank Indonesia.  A majority of property buyers use KPR.  During the post-Asian Crisis period, interest rates by commercial banks typically exceeded 20%. 
Indonesian developers, in contrast, find financing challenging.  Memories of the Asian crisis are still vivid. Banks tend to be extremely cautious in extending housing loans to the real estate industry, although Indonesian banks are strong and adequately capitalized.
That´s why:
61.82% of residential property development projects were financed internally
Only 28.87% were financed through bank loans
6.9% of projects were financed by consumer payments (pre-selling)
In 2009, in an effort to provide decent housing to low income families and to boost a secondary mortgage market, the government and the central bank signed a joint decree to boost house financing through the sales of mortgage-backed securities. This would allow banks to get quick funds from selling their mortgage claims. The government also decided to increase its subsidy to low cost housing.
Rental yields good, but property investment may be unattactive for foreigners
Gross rental yields on high-end properties in Jakarta remain high, ranging from 7.63% to 9.55%, according to Global Property Guide research of April 2015. However these yields are lower than the 10% to 13% yields prevailing five years ago. Due to strong demand for high-end apartments, prices have risen significantly in recent years, eventually causing lower rental yields.
Despite these high rental yields, property investment is still relatively unattractive for foreigners, because of high tax rates on non-resident owners.
The tax levied on the average annual income on a rental apartment/property in Indonesia is 20% which is the third highest in Asia, only after Bangladesh (25%) and Malaysia (22.4%).
A 10% Value-added tax (VAT) is levied on gross rental income.
Capital gains realized by individuals from the sale of real property in Indonesia are taxed at a flat rate of 5%. The tax base is the transfer value of the property, without any deductions.
Property tax is levied at 0.5% on the assessed value of the property. The assessment value of taxable property is determined as a percentage of the deemed fair market value of the property
The total cost of buying and then re-selling a residential property (including Registration costs, Real estate agent fees, Legal fees, Sales and transfer taxes), is one of the highest in the region (see Indonesian round-trip property purchase costs, compared to the region).
Looser foreign ownership rules
Land titles (hak milik) can only be held by Indonesian citizens. Foreign land ownership is against the constitution.
For apartments, the 1996 regulation (No. 41/1996) states that foreigners who reside in Indonesia, or visit the country regularly for business purposes, can purchase a home, apartment or condominium as long as it isn´t a part of a government-subsidized housing development.
However, foreigners can only hold land-use (hak pakai) deeds, and most developments hold right-to-build deeds (hak guna bagunan). It is not possible for someone to have a land-use deed for a sub-unit of a right-to-build deed. The length of these titles varies as well. Therein lie some of the difficulties and unclear ownership issues.
So foreigners can effectively only lease, but not truly own, an apartment for up to 70 years - and not free-standing houses. Within this 70-year period, foreigners must also periodically renew their right to use. The initial hak pakai period is for 25 years, then renewed for an additional 25 years and finally 20 years.
Additionally, the threshold or minimum property sales price that a foreigner can purchase is 1.5 billion Indonesian Rupiah, which is around USD 111,990. This minimum "purchase" price is quite high in the Indonesian context.
Foreigners may purchase a house on freehold land by written consent from the landowner, for 25 years and extendable to a further 25 years.
In June 2015, the government reportedly planned to revise the Government Regulation No. 41/1996, allowing more relaxed rules on foreign ownership of property in Indonesia. According to Indonesian Minister for Agrarian Affairs and Spatial Planning Ferry Mursyidan Baldan, his office had been tasked to draft a new regulation on the matter. The new regulation is aimed at boosting the domestic real estate sector as well as to boost tax revenue.
Under the new policy, foreigners (expats) will be allowed to buy, own or trade luxurious apartments worth at least IDR 5 billion (US$ 373,301), and will be able to pass the property to their children. Foreigners, however, will only be entitled to "hak pakai" or "Right of Use" and not the "hak milik" or "Right of Ownership". On the upside, the "Right of Use"  will be permanent.  The government will not impose time limits, and will cancel the current regulation that specifies a period of 25 years, renewable.
This new regulation will be limited to the purchase of luxury apartments. Foreigners are still barred from owning low-cost apartment units or landed property. According to Minister Ferry, the draft regulation will replace the 1996 government regulation, and will be finished by the year-end.
"There are a lot of foreigners working in Indonesia now… some have been working well, some have been developing businesses. It is normal for them to purchase, instead of continually leasing properties," according to Vice President Jusuf Kalla, as he defended the proposed regulation. 
While this will be a welcome change, investors will still find it comes up short compared to regulations in other countries in the region, such as Malaysia and Singapore. Not least, the minimum threshold is rather high.
Economic deceleration in 2015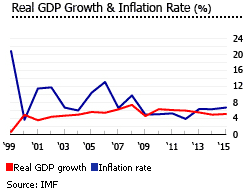 Indonesia's economy is very domestically-driven. It tends to be insulated from global economic trends. GDP growth is now slowing.  In the first quarter of 2015 GDP grew at its slowest rate since 2009, up 4.71% from last year.
A lot of sectors decelerated during the first quarter, according to Statistics Indonesia. The most notable was the mining and quarrying sector, whose output actually shrank by 2.32% during the year to Q1 2015.
Disappointing growth in Q1 2015 has made investors concerned about the rest of the year. Also, the weakening economies of Indonesia's two key trading partners, China and Japan, will negatively impact Indonesia's economy, according to IMF Deputy Director for the Asia and Pacific Region Kalpana Kochhar.
In recent years, Indonesia enjoyed robust growth. It was almost wholly unaffected by the global economic crisis, and the economy grew by 5.6% in 2013, after real GDP growth rates of 6% in 2012, 6.2% in 2011, 6.4% in 2010 and 4.7% in 2009, despite the global economic slowdown.
In February 2015, unemployment rose slightly to 5.81%. One of the reasons why it is hard to cut Indonesia's unemployment rate, aside from the slowing economic growth, is the tendency of investment in the country to be more capital-intensive than labour-intensive, according to Economic Minister Sofyan Djalil. The rapid rise of minimum wages is also a reason why investors are reluctant to engage in labour-intensive investments.
Inflation was 7.26% in June 2015, having surged to 8.36% in December 2014.  While this seems high, inflation is actually now less high than in the recent past, suggesting that the recent stepping-up in the key interest rate has worked, and that Indonesia's growing economy is becoming more flexible and productive as it grows. Since recent inflationary pressures are not as intense as expected, the central bank decided to maintain the benchmark rate at 7.5% in July 2015. The annual inflation rate is projected to be 6.8% in 2015, according to IMF, a little higher than the 5.4% average that prevailed from 2009 to 2014.  
Indonesia - More data and information