Uganda's property market remains depressed
January 06, 2015

Uganda's property market went through an acute depression in 2013, according to Judy Rugasira Kyanda of Knight Frank, because interest rates had shot from 16% to 30% in late 2011 and early 2012, after annual inflation had reached 30.5% in October 2011.

Property prices dropped significantly. More people preferred to rent instead of buying property. Mortgage defaults rose.

The property market continued to struggle in 2014, despite robust economic growth. Many new developers offered discounted prices to prospective buyers. Construction activity was down.

"Some of these developers are quoting rates as low as US$9 per square metre compared with similar space offered by bigger facilities like UAP Business Park located in Nakawa, which charges US$14 per square metre", said real estate analyst Moses Lutalo of UAP Properties Uganda. "This trend has also led to loss of clients by highly priced residential apartments located in the Kololo area."

Residential construction activity has been falling, with the price of construction materials falling. The construction sector price index for residential buildings fell by 9.9% in October 2014 from the same period last year, according to Uganda Bureau of Statistics (UBOS). The index measures the cost of given baskets of construction goods and services for residential buildings, relative to their cost in the base period (Q1 2006=100).

The 1996 Constitution grants land ownership rights solely to citizens of Uganda. Foreign nationals and corporations may, however, obtain leases for 49 or 99 years.

Uganda's economy was estimated to have expanded by a robust 5.9% in 2014, from real GDP growth rates of 5.8% in 2013, 2.8% in 2012, and 6.2% both in 2011 and 2010, according to the International Monetary Fund (IMF). The economy is projected to grow by 6.3% this year.

Uganda is a democracy with considerable issues with freedom of expression and human rights abuse.  This is ironic, because after President Yoweri Museveni came to power in a rebellion in 1986 he was widely seen as the best of a new wave of democratic leaders, after the horrendous regimes of former presidents Idi Amin (1971-1979) and Milton Obote (1980-1985). He stabilized the country, introduced democracy, liberalized the press, and responded effectively to the HIV/AIDS crisis, and cooperated with IMF stabilization programs despite an early Marxist background.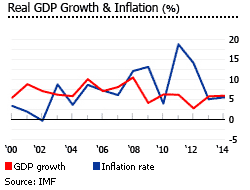 Recently things have deteriorated. In 2005 Museveni had the constitution changed to allow him to stand for a 3rd and then 4th term (2011- ). He has also repeatedly involved the Ugandan armed forces in external conflicts. Restrictions on press freedom have greatly increased, and the introduction of the death penalty for homosexuality (2014) caused international concern. Internally he is suspected of planning to hand over power to his son when he retires. Despite these concerns, no-one suggests that the abuses have reached the extreme levels of the previous Amin and Obote regimes.