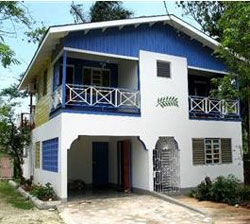 Different cultural influences have marked the character of Westmoreland, so named as it is the westernmost parish in Jamaica. It was discovered by Christopher Columbus on his second voyage and settled by Spaniards soon after in what is now the Bluefields district.

A great number of its current population consists of Indie Royals, the mixed-race descendants of Indian labourers who were brought in to work the fields following the emancipation of African slaves. Structures dating as far back as the 18th century can still be seen in its towns. The coastal town of Savanna-la-Mar is the principal town and capital of Westmoreland, but its main tourist destination is Negril.
Several rivers run through Westmoreland, making its agricultural lands fertile. Sugarcane and other crops are grown here, and cattle, horses, and mules graze the pastures. Over 10,000 acres of terrain consists of peat-rich morass land, including the Great Morass, a vast preserved area of land which is home to a variety of wildlife, including some endangered waterfowl.
Though in centuries past Westmoreland's coast was a haven for pirates, these days only fishing boats dock here. Westmoreland has protected coral reefs, 19 fishing beaches, over 200 resorts and a similar number of restaurants and bars.
Savanna-la-Mar
The coastal town of Savanna-la-Mar is the capital of Westmoreland. It lies on a strip of land surrounded by mangrove swamps.
The town has been hard-hit by hurricanes in the past, including one in 1780 which wiped out the town. Apart from its fort, most of its historic monuments date from the 19th century or later. Its unique, octagonal Cast Iron Fountain, built in 1887, draws camera-toting sightseers. Nearby is the court house, which was built in 1925. The Old Fort itself was actually never completed and is now partly submerged into the sea. It has become a popular site for swimming.
Negril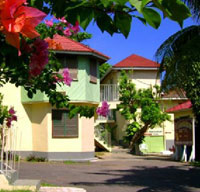 With its glorious sandy beach and extensive coral reef, Negril has been a popular resort town since the late 1950s. There are stark black cliffs overlooking the sea, thought to be the reason for the town's original Spanish name, Negrillo. Along the West End Road is Negril's 100-foot-high lighthouse, which guides ships around the cliffs. The scenery in this area is splendid. Inland is the Great Morass, a swamp where the Royal Palm Reserve is found.

Much of its reef is protected, making it a haven for scuba divers and snorkelers. Negril is especially famous for Seven Mile Beach, actually a 4-mile-long sandbar stretching from Negril River to Rutland Point. It is dotted with numerous restaurants and bars, and many travel magazines rate it one of the world's best beaches. One of the most famous joints here is Rick's Café, a place that affords a great view of Negril's sunsets and cliff jumpers.
The area is also known for some hotels and beaches where nude bathing is permitted. Drug users as well as sexual adventurers frequent certain establishments. In recent years, Negril has also become popular among American college students as a vacation spot.
---