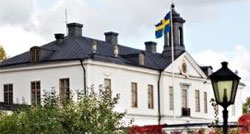 The northern county of Västerbotten County consists of the provinces of Västerbotten, Lapland, and some parts of Ångermanland. The terrain is beautiful, with wind-carved mountain summits, large forests, crystal-clear lakes, and spectacular falls. Sweden's largest nature reserve, the splendid 550,000-hectare Vindelfjällen, is in Västerbotten. The reserve includes mountains and glaciers, lush wetlands and forests, and Sami communities with protected areas for reindeer breeding.
Västerbotten is the home of the delicious cheese known as Västerbottensost. The district of Burträsk is even known as Ostiket, or the Kingdom of Cheese.

In Umeå, the open-air museum in the Gammlia area is a popular tourist attraction. Historic buildings from the 17th to the 19th centuries have been preserved here, including Sävargården, the headquarters of the Russian general Nikolai Kamensky during the Swedish-Russian War in 1809. In Skellefteå, the Nordanå cultural complex includes Skellefteå Museum, which features local art and sculpture and items from the town's earliest days.
The province has many old churches, some from the mining era, illustrating the role of churches in the formation of the community in Västerbotten. In the town of Stensele, the largest wooden church in all of Sweden holds the world's smallest Bible.
---