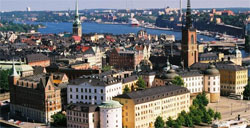 Sweden's sprawling capital is one of Europe's great cities. It is part of the large Stockholm archipelago, situated on 14 islands that are connected to each other by bridges over Lake Mälaren and the Baltic Sea.

Stockholm recently declared itself the Capital of Scandinavia, due to its being the largest city in the largest country in the region, with important ports, and the largest gross regional product and the highest number of large multinational companies of all of Scandinavia's urban areas.

But Stockholm doesn't want to be known only for these superlatives. It also wants to be Scandinavia's cultural, cosmopolitan capital. Buildings are going up that are fine examples of modern Swedish architecture—innovative and sophisticated on the outside, warm and inviting inside. Fine dining restaurants are increasing in number, offering locals and visitors an array of choices from the famous Swedish smorgasbord to international cuisines. And Stockholm's galleries and museums, expensive boutiques, restaurants, bars, clubs and cafés continue to attract visitors to the Swedish capital.
Stockholm's modern park system has been emulated throughout Europe. Spreading trees, wide lawns, leaf-strewn paths, lakes, sculptures and recreation areas make Stockholm a lovely green place.
Even as it leads in the field of design and innovation, Stockholm has not turned its back on its past. Sweden's neutral stance during the war has preserved much of the city's remarkable structures, and an afternoon's walk in the capital is like a quick lesson in the development of architecture; stroll around and you will see the 16th century Kungliga Slottet, or Royal Palace, the medieval Riddarholm Church, and the sprawling Stadshuset (City Hall) built in the 1920s.
Stockholm's residential areas include the posh neighbourhoods of Östermalm, trendy and bohemian Södermalm, and the quiet district of Kungsholmen.
Sweden's royal family resides in lovely, 17th century Drottningholm Palace, perched on one of the islands on Lake Mälaren. Except for their private rooms, the palace and its grounds are open to the public all year round.
---