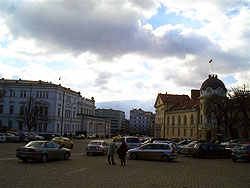 With a history going back 7,000 years, the ancient Bulgarian capital of Sofia shows the influences of the Roman, Byzantine and Ottoman cultures that have left behind their ruins and their architecture. But the old city on the Iskar River is now a modern European city, with all the good and bad that entails. Cellphones and wi-fi hotspots are everywhere, and the public transportation system is fast and efficient. Much of the city has an air of barely-checked chaos, with crass advertising all over the place, and a bewildering mix of haphazardly-planned new architecture.

Today it is a city of great contrasts: a mass of drab Communist-era apartment blocks and factories surrounding an elegant and cultured city centre, while a rash of striking new corporate headquarters compete with the city's elaborate cathedrals and stately Neoclassical buildings.

Sofia is a melting pot of religions and ethnicities. The majority of the populace is Slavic, but there are sizable minorities of Turks, Macedonians, Pomaks, and Roma (Gypsies). Orthodox and Catholic churches as well as mosques and synagogues stand practically next to each other.

Sofia is, even more prominently, Bulgaria's centre of finance and industry. The city is home to at least 17 industrial zones, which cater to iron ore processing, electronics, and mechanical engineering enterprises.

Tourism is growing as well. Although visitors to Bulgaria tend to favor its Black Sea resorts, Sofia is beginning to draw attention. It lies at the foot of towering Mount Vitosha and is an excellent place for a stopover on the way to the ski slopes. Its famous mineral water springs have attracted travelers since the city was first founded.

Sofia has its share of problems: it has a rapidly-expanding migrant population, and some of its poorer neighborhoods have high crime rates. It is a city still experiencing the growing pains of modernization.
---