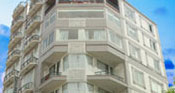 The Noi Bai International Airport is in Soc Son.

While it is a growing industrial zone, many of the people who live in the area still work in the agriculture and forestry industries.
Noi Bai
Noi Bai is situated at Soc Son District, Hanoi City. The International Airport and Industrial Park are here.
Noi Bai International Airport is the largest airport in northern Vietnam, with a number of Vietnamese and international airlines operating. The terminal has shopping, ATMs, currency exchange and transport services.
The 100-hectare Noi Bai Industrial Park is a free-trade zone. By 2009 it hosted 39 foreign investors and employed 15,000 local and foreign workers. Expansion of the park by more than 15.8 hectares was announced the same year.
---