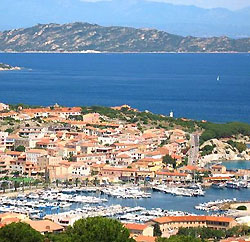 After Sicily, Sardinia is the largest Mediterranean island. Lying nearly 200 km west of the peninsula, and facing Rome, the island is a favorite summer holiday destination of tourists from all over the world and of Italians as well. Its main attraction is its natural beauty the dramatic coastline, idyllic beaches, richly forested mountains, and enchanting caves but it also has charming coastal towns and some of Europe's oldest archeological treasures, dating as far back as 1700 BC. The Sardinians are a colourful people, who speak a language of their own, one with roots in ancient Phoenician and Etruscan.
Sardinia's landscape is mostly mountainous. There is a great variety of fish and shellfish in its clear waters, golden wheat growing on its plains, and olive groves on its slopes.
Sardinia's climate is typically Mediterranean, though it gets a bit cooler and wetter up in the mountains than in the coastal plains, with snow occasionally falling in the highest peaks in the winter. Hence the winter winds are extremely cold for the Mediterranean, yet the summer heat is still terribly fierce. But the strong winds make the island less humid and make conditions here ideal for sports that require it, like sailing.
Costa Smeralda (Emerald Coast)
Costa Smeralda (Emerald Coast), on the northern side of Sardinia, is a long stretch of coastline marked by white sandy beaches unlike the high and rocky shores typical of the island. Once made up of sleepy fishing villages, Costa Smeralda today is lined with glamorous resorts, luxurious holiday villas, and glittering harbours for yachts.
---