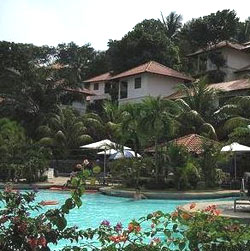 The Riau Islands is a province of 3,200 islands, including the larger islands of the Riau Archipelago, Lingga Islands, Natuna Islands and Anambas. It was originally part of Riau, but became a separate province in 2004. Tajung Pinang is its capital. Anambas and Natuna connect Indonesia to Malaysia and to Borneo.

Riau Archipelago is a rich fishing ground. Tajung Pinang is found here, on Bintan Island. Once the heart of an old Malay kingdom, Bintan has become part of Indonesia's rapid development, as it is chosen by Singapore, which is a mere 1 hour ride by ferry, as its weekend resort. Accommodations for tourists have begun popping up all around the area to take advantage of this strategic gateway for crossing travellers. Bantam and north Bintan are the most developed and richest parts of Indonesia, due to its accessibility from Singapore and Malaysia.
It is not a surprise that this Riau Islands has numerous beaches and diving spots. The most popular are Pasir Panjang on Rupat Island, Trikor on Bintan and Nongsa on Batam.

Riau Archipelago
The Riau Archipelago is the Riau Islands' core island group, consisting of Batam, Bintan, Combol, Rempang, Galang, Kundur, and Karimun, and thousands of smaller islands. Developments are concentrated in the large islands of Bintan and Batam, which are just south of Singapore. Batam is highly industrialized, while Bintan is made into a tourist resort.
Riau Archipelago's islands have many scenic beaches and dive sites. Some deserted beaches do not even have names. About a third of the islands are uninhabited. Most of its population reside in Batam, Bintan, and Karimun.
There are more plans to develop Riau Archipelago for tourism, but malaria remains a major concern in the islands, excluding Batam and Bintan.
Bintan Island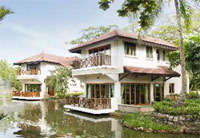 Bintan is one of the more developed islands in the province. It owes its modern development to Singapore, which turned its northern coast into a resort. The area is filled with expensive resorts that cater mostly to Singaporeans. Checkpoints, barbed wires, and armed guards all make sure that the Bintan Resorts area is strictly separated from the rest of Bintan.
 
Unlike its sister island Bantam, which is largely industrial and overdeveloped, Bintan is still largely forested. There are many fishing villages here. Humble beach resorts can be found on the eastern coast.
The port city of Tanjung Pinang is Bintan's capital. It is a vibrant place featuring a diverse ethnic community. The most interesting area here is the historic old town surrounding the harbour, which is full of stalls, coffee shops and bazaars. The old fishing market partly rests on stilts and stands on the sea.

Bintan Resorts/Lagoi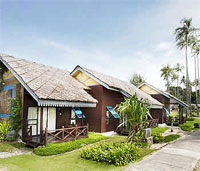 In the northern coast of Bintan Island, Riau Archipelago is Lagoi, more famously known as Bintan Resorts. A group of separate resorts and hotels comprise this international tourist development. Its construction, managed by Bintan Resort Corporation's Singaporean subsidiary, completely transformed the coast's landscape. The resort is separated from the rest of Bintan Island by barbed wires and armed security.
Bintan Resorts faces South China Sea, nestled with palm trees, and surrounded by white sand beaches. Bintan Resorts is actually a playground for Singaporeans who can afford its expensive facilities. Accommodations include hotel resorts, luxury villas, family bungalows, beachside chalets and cabanas and sea-view villas. The resort has four golf courses as well, one of which features 18 holes.
Bintan Resorts' waters are relatively better for swimming than most beaches in Singapore, but there are a few spots with a rather murky appearance.
 
Tanjung Pinang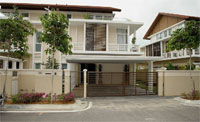 The harbour city of Tanjung Pinang is Bintan Island's capital. It is the largest town in Riau Islands, with a diverse ethnic population of over 150,000.
       
Tanjung Pinang is a bustling trade and shipping port, with hundreds of craft coming and going each day. The old town, which is mostly built on stilts, surrounds the harbour and has many interesting sites, such as Buddhist and Hindu temples and three Chinese pagodas. An old Chinese temple is interestingly intertwined with a banyan tree that had grown inside it. Tanjung Pinang has an old fish market also built on stilts. The city is the region's seafood centre.
Tanjung Pinang has many shopping malls and restaurants. It is a favourite weekend getaway of Singaporeans who want cheap but good food and shopping, and who do not want to worry about littering and smoking in public.

Batam Island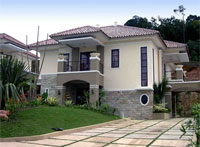 Batam is part of the Sijori Growth Triangle, joining neighbour islands Bintan and Karimun. The island has rapidly developed into an international industrial site with a free trade zone area. Many Singaporean's offshore operations and other international companies and factories are found here. The island's manufacturing industry is particularly strong in electronics and shipbuilding.
Batam and its main town Nagoya do not have much to offer tourists, not even some cultural sights, though there are luxurious hotels, golf courses, and quiet beaches. The big developments sadly killed the island's tropical beauty. One comes here for some great food, good golf, and nice shopping, or to just pass by.
There are about 2,500 expats in Batam, coming from other Asian countries, Australia, Europe, and the US. Expensive housing estates include Duta Mas and Sukajadi. Less expensive are housing compounds such as Nongsa and Taman Duta.
Nagoya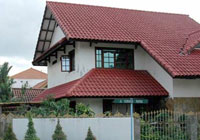 Nagoya, the capital of Batam, owes its name to the Japanese occupation, though it is now also called Lubuk Baja. Nagoya is Batam's trade, finance and business centre. It is not particularly attractive, with old and new buildings sprawled all over the city.