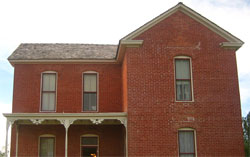 Odessa is a major seaport and duty-free zone on the Black Sea. It is home to a Ukrainian naval base and a fishing fleet.

Its stylish and decadent capital, Odessa City, is situated on the terraced hills overlooking the harbour. It is associated with the Russian Mafia. The city is also known for its gigantic Potemkin Steps, made famous by a dramatic scene in the film Potemkin by Sergei Eisenstein.
The city is a hodgepodge of nationalities, including Ukrainians, Russians, Germans, and even Koreans, as well as architectural styles, from 19th century limestone houses to pastel-coloured neoclassical buildings, to empty Soviet-era sanatoriums.
Odessa has a mild, generally dry climate. It is famous as a weekend resort for its sandy beaches and nightlife, which is reputably one of the wildest in Ukraine. It also has the Seven-Kilometre Bazaar a popular outdoor market that is the biggest of its kind in all Europe.
Odessa is also popular among adventurers for its "catacombs" – a gigantic, complicated labyrinth of underground tunnels built by miners under Odessa.
---