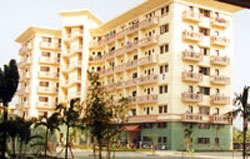 Tây Bắc, or the Northwest Region, covers a mountainous area of the country and is made up of four provinces: Dien Bien, Hoa Binh, Lai Chau and Son La.

Tây Bắc's appeal is its beautiful natural scenery and quiet villages. Serious backpackers make it to this part of the region to make the day-long hike up Mai Chau.
Other ways of exploring the region are via hired jeeps or motorbikes. There is also an overnight train to Sapa.

Recently, the border crossing into Laos near Dien Bien Phu has been opened, which gives travellers more reason to cross the Northwest Region.
Dien Bien
Dien Bien province is located in the remote north-western part of Vietnam. Its capital is Dien Bien Phu, famous as the site of the 1954 battle when the Viet Minh defeated the French colonial forces, ending the Indochina War. Several monuments now stand on the site, such as the Dien Bien Phu Museum.
Dien Bien Phu is surrounded by densely forested hills in the Muong Thanh Valley. The Ron River flows through the centre of town, dividing it in two. Most residences and the airport are located on the west back, while tourist facilities and attractions are concentrated on the east bank. Dien Bien Phu is visited by many French tourists, who are fascinated with its history and its setting.
Muong Thanh Valley
The heart-shaped Muong Thanh Valley in mountainous North-western Vietnam is surrounded by thickly forested steep hills, lakes, and rice fields.
Muong Thanh Valley is largely rural and undeveloped, but it contains the provincial capital, Dien Bien Phu. A famous battlefield where the Viet Minh defeated the French, the city is a big tourist attraction, particularly for backpackers. Nature sports tourism is now being developed in the valley, which includes trekking and mountain biking.
Muong Thanh Valley and Dien Bien Phu are home to ethnic minority groups, particularly the Thai, said to be of lowland Malay descent.
---